Although all artists evolve by a certain degree over the course of their careers, few bands have strayed so far from their genesis than moody soft rock legends Fleetwood Mac.
With guitar genius Peter Green at the helm, the band started out as a furious blues rock band, but after a chain of events triggered by the decline of Green's mental health, the Fleetwood Mac everyone knew and loved became something else entirely!
But change isn't always bad, folks, especially when it comes to Fleetwood Mac, as they continued to compose masterpiece albums stacked with generation-defining tracks, and today, I'm going to be listing 15 of the very best Fleetwood Mac songs.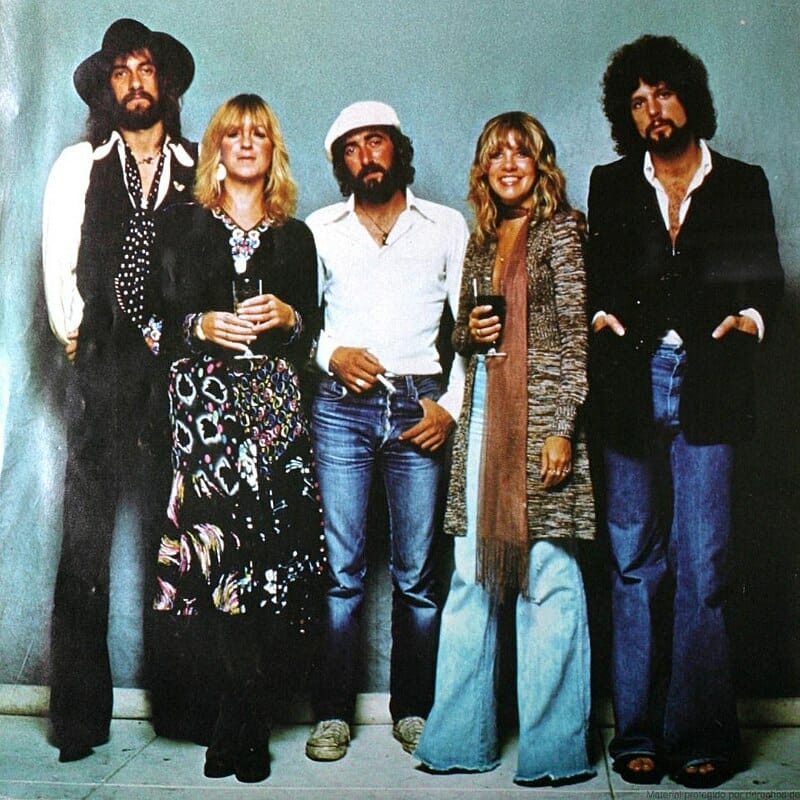 Without Further Adieu, Here Are 15 Of The Very Best Fleetwood Mac Songs
15. "Tusk" (Tusk, 1969)
When the lead single of the band's follow-up to the immensely successful Rumors hit the airwaves, people were left aghast.
Diverging from the overtly radio-friendly compositions of their previous endeavor, Fleetwood Mac struck audiences with a much more cinematic and meandering song structure driven by thumping drums and a walking baseline.
The song also saw the band delve into more instrumentally lush territories, with the University of Southern California's Trojan Marching Band brought into the fold to bring the song home in the tail end.
Yet, for all the aesthetic differences this song submits, "Tusk" is still steeped in the eerie, mythic vibes that Stevie Nicks cultivated to perfection on Rumours.
Although taking a new direction is always a gamble for an artist, it certainly paid off for Fleetwood Mac, as the pulsing rhythms of "Tusk" saw it march right into both the US and UK top 10 charts.
14. "Don't Stop" (Rumours, 1977)
If Fleetwood Mac altered the artistic consciousness of a generation, then "Don't Stop" is undoubtedly one of the tracks that grabbed its attention to begin with.
A transitory sound that bridged Green's blues rock bangers to the dreamy pop-enthused mediations to come, this track set a new course for the band, even if it wasn't the most original-sounding at the time.
In the simple, bouncing bass line, persistent piano, and blues-tinged chord progression, the influence of The Beatles is clearly identifiable.
But the vocal melody written by the newly appointed Christine McVie elevates the track a great deal, imbuing it with an infectious joy and optimism unseen elsewhere in the musical landscape of the day.
13. "You Make Loving Fun" (Rumours, 1977)
The opening track of Rumours perfectly showcases Buckingham's mastery of juxtaposition, layering bitter, tragic lyrics over decidedly chipper instrumentals.
12. "Everywhere" (Tango In The Night, 1987)
"Everywhere" is the flip side of the coin caught in the lovelorn palm of Rumours, focusing more on the dizzying electricity of love rather than its dreadful pitfalls.
Glimmering arpeggios open the track up perfectly for McVie's semi-whispered, tender lyrics about wanting to be with someone no matter where no matter what.
11. "Sara" (Tusk, 1979)
Stevie Nicks lays it all out on the table in "Sara" ruminating on the three Ls… love, loss, and life.
The delicate, angelic backing vocals and twinkling, jangling guitars provide a brittle backdrop that accentuates the vulnerability of the lyrics.
It's the kind of song all the heavy rockers would secretly weep to in their rooms alone after a long day of acting too cool for school.
10. "Songbird" (Rumours, 1977)
"Songbird" is a soft, lilting explosion of pure inspiration. According to McVie, the song came to her in the dead of night pre-fabricated, with the lyrics, melody, and chords all accounted for, so she stayed awake until morning so as not to forget a single detail.
Seeing great potential in the song, producer Ken Callait had her play it on a spotlit Zellerbach Hall stage surrounded by flowers in order to capture both the piano and McVie's vocals tinged with a soft, natural reverb.
9. "Albatross" (Single A-Side, 1969)
Want to hear something wild? "Albatross", the tentative, almost sensuous Peter Green instrumental, is to this day the only No. 1 UK single the band has ever had!
But this just goes to show what a remarkably talented musician Green really was.
Perhaps it didn't define an entire generation, but it taught an entire generation of budding musicians a whole lot, and perhaps some veteran players too, as BB King once admitted that "Green was the only living guitarist to make me sweat."
8. "Gold Dust Woman" (Rumours, 1977)
Nicks uses this soft-hitting, country-tinged song as a vehicle to deliver her semi-autobiographical tale of somebody in a poor relationship using drugs just to try and get by.
A slow-burning, intoxicating, and slightly apprehensive track, it provides Rumours with a cliffhanger "will-they-make-another-album" ending that clearly hints at the instability of the band.
7. "Man Of The World" (Single A-Side, 1969)
In "Man of the World", Green momentarily retires his blues rock bravado and gives us a glimpse into the sad reality of his psyche.
Lines such as "I just wish I'd never been born", howled over sudden flares of distortion in an otherwise laid-back instrumental don't just bring tears to the eye, they positively drag them.
But perhaps the truly tragic thing about this song was its timeliness. A year after its release, Green endured a horrendous acid trip from which he never really returned.
In hindsight, this song could be viewed as a fragment of the collective comedown after the drug-fueled communalism of the 60s, a sign that a generation was sobering up and realizing the world wasn't as peachy as they once believed.
6. "Go Your Own Way" (Rumours, 1977)
The lyrics of "Go Your Own Way" tell the story of a relationship teetering on the edge of oblivion.
Although the instrumental never delves into the overtly sad or angry, the vocal delivery adds an intensity to the song that separates it from the earlier transitional work of the band.
5. "Oh Well" (Single A-Side, 1969)
One of the most iconic blues tracks of all time, "Oh Well" positioned Peter Green as a formidable and inventive guitarist with a distinct musical voice.
Featuring rolling blues riffs and stylishly delivered tongue-in-cheek lyrics, it's really no surprise that this song reached the number 2 spot on the UK singles chart.
4. "Landslide" (Fleetwood Mac, 1975)
This folksy ballad is a sonic manifestation of uncertainty and disappointment. Landslide references a time in Stevie Nicks' life just one year prior, before she and Buckingham joined Fleetwood Mac.
The album the pair released together had failed to gain any traction, she was trying to make ends meet by waitressing, and she was concerned that putting so much stock in her relationship with Buckingham would wind up a mistake.
3. "Rhiannon" (Fleetwood Mac,1975)
"Rhiannon" is a gorgeous song that takes inspiration from Mary Leader's novel, Triad, a story about the possession of a woman by the beautiful princess of Welsh folklore named, you've guessed it… Rhiannon.
So profound was the cultural impact of this song that it actually caused a spike in the popularity of the name.
2. "The Chain" (Rumours, 1977)
"The Chain" has no right being as immaculately good as it is considering it was cobbled together with disparate fragments of separate sonic projects by Lindsay Buckingham, an endeavor that reflects the dynamic DNA of the band itself and the tensions within.
Despite Lindsay taking the initiative here, "The Chain" is the only song on Rumours accredited to every single member of the band.
Which is fitting, seeing as "the chain" referenced in the song is widely considered to be a metaphor for the music that held a group of clashing personalities together.
The blues guitar intro rolls into your ear like a dusty old tumbleweed from a desolate landscape, followed by soaring vocal harmonies that hold your attention until the storm cloud of a chorus blooms overhead and cuts to the quick with thunderclap lyrics — "And if you don't love me now, you will never love me again".
The sorrowful minor drone of McVie's keyboard saturates Nicks' high-drama, heart-splitting refrain, and even though the lyrics detail the death of love.
You feel an immense and profound sense of relief, like feeling rainfall for the first time after a lengthy drought.
1. "Dreams" (Rumours,1977)
Fleetwood Mac have a shed-load of hits, but "Dreams" is by far their most timeless.
Though a spare composition, the richness of Nicks' vocal melody, the tenderness of her voice, the fullness of the bass, and the shimmering cymbal work give it a smooth, decadent feel.
By all accounts, "Dreams" is Stevie's cool, measured response to Buckingham's embittered "You Can Go Your Own Way", in which he is essentially lyrically discarding her.
By contrast, in "Dreams", Nicks is acknowledging the end of their relationship by her wanting to be washed clean of the past.
A silken specimen of soft radio-kind rock, "Dreams" is utterly deathless, transcending generations, a rare piece of polished musical magic that simply refuses to dull with time!
Final Thoughts
Perhaps one of the reasons Fleetwood Mac have such generation-defining songs is that the band itself was a microcosm containing all the beauty and chaos of life.
A high-art soap opera teased out into musical episodes that speak to the timeless, universal humanism in us all.
The love and fury that toiled in the crucible of this band is, in a sense, the essence of creativity, an infinitesimal fragment of the entropy at play in the creation of stars, of worlds.
Thus, their songs were fated to remap the cultural landscape, carving out new paths for generation after generation to go their own way.
If you are a fan of Fleetwood Mac's Belladonna of a lead singer, make sure you check out our list of the best Stevie Nicks songs. Featuring tracks from before, during, and after her time with Fleetwood Mac.