As far as rock and metal core lead singers go, they don't come much more accomplished than famous singer Tatiana Shmailyuk. The lead singer of Ukrainian rock and metal band Jinjer, Tatiana has already had a successful career in the music industry and she's only 35 years old.
With most of her career still ahead of her, it's hard to imagine just how much more success this decorated artist could have. However, as famous as she is across Europe and other parts of the world, not everyone knows much about her.
In this article, we're going to change that. If you don't know much about Tatiana Shmayluk, you've come to the right place. We'll be taking you on a journey through her career, looking at who she is, her career path, her accomplishments, and what she plans to do next.
By the end, you'll know everything there is to know about this amazing rock singer, so let's not waste any more time!
Who Is Tatiana Shmailyuk?
Let's start by taking a closer look at who Tatiana Shmailyuk is. She is best known for her lead singer role in the popular rock and metalcore band Jinjer.
Shmailyuk is easily the biggest name in the Ukrainian rock and metal scene. In fact, many would argue that she is the biggest name in the entire Ukrainian music scene. Taking her career success into account, we'd have to say we agree.
As Jinjer's lead vocalist, the 35-year-old has played a huge part in the band's success. She has participated in the creation of a wide range of big hits and popular albums such as Cloud Factory (2014) and King of Everything (2016).
Along with the rest of the band, Tatiana has been signed to Napalm Records for most of her career. Aside from her work with Jinjer, Shmailyuk is also famous for her solo work and collaborations with other artists and bands.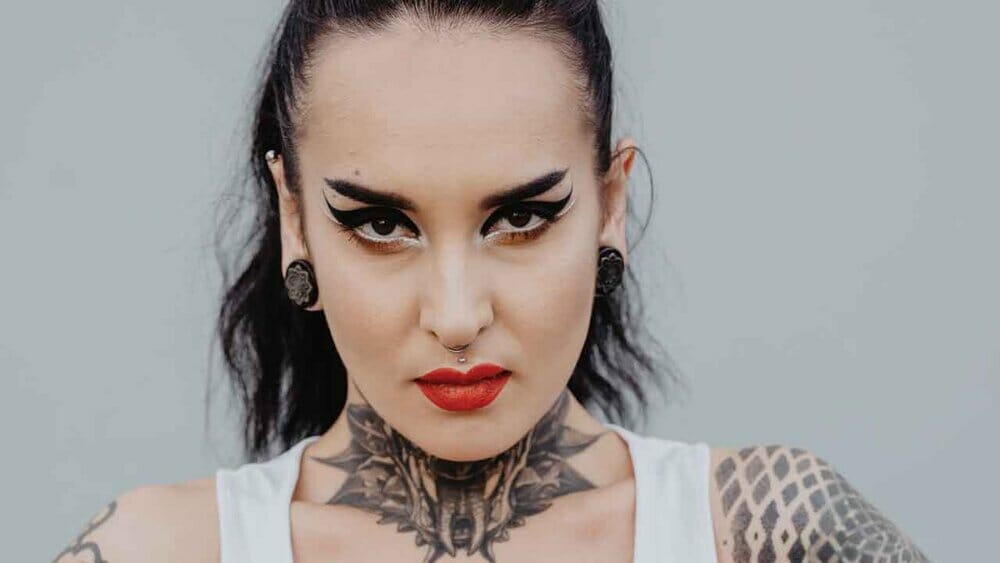 Tatiana Shmailyuk's Early Life
Tatiana Shmayluk was born in Donetsk, Ukraine on March 15th, 1987. She was raised by a hard-working family that worked tirelessly for minimum wage.
Shmailyuk herself has at times discussed how hard her life was. However, thanks to her family's Ukrainian spirit and determination, they were determined to make the best of what they had.
According to her mother Vera, Tatiana was already screaming and singing long before she ever became the face of Jinjer. According to her mother, one of her favorite songs growing up was "Lambada" which was a 1989 dance song.
Shmailyuk started singing at the age of eight. She started by taking vocal lessons for a couple of hours every month in a choir. It could be said that this was the start of what became an incredible career.
Interestingly, she didn't actually like performing in the choir because the singer was accompanied by dancing and she hated to dance. It was when Shmailyuk was introduced to Otep's music at the age of 15 or 16 that she started to take more interest in metal music.
---
RELATED: Who Is Victoria De Angelis?
---
Who Inspired Tatiana Shmailyuk?
There were a number of artists, bands, and songs that inspired Tatiana to take singing more seriously.
One band that inspired her at a very young age was Kaoma. Kaoma was the French-Brazilian group that produced "Lambrada". To this day, Tatiana maintains that this is one of her favorite songs.
It could be argued that Shmailyuk's biggest inspiration was Otep. Tatiana was just 15 or 16 years old when she quickly fell in love with Otep's music. It was during this time that she started to realize she might have the voice for metal and rock music.
When Tatiana was interviewed by Louder Sound, she said "there are many of them, there as many as there are genres that I listen to". She also went on to say that Bob Marley and Amy Winehouse were two people that inspired her to write music and sing.
Tatiana Shmailyuk's Career So Far
After taking inspiration from various artists and groups at the time, and from her brother, Shmayluk decided to head towards the rock/heavy metal scene when she was just 15 or 16 years old.
It was only a matter of time before her love for the genre and impressive talent were going to kick start her career. Tatiana's career was kickstarted in 2010 when she replaced Jinjer's previous vocalist, Maksym Fatullaiev.
During her time singing for Jinjer, Shmayluk has been able to demonstrate her musical talents on a national and global scale. Her ability to mix extreme gutturals with a clean voice is loved by many.
After the release of "Objects In The Mirror Are Closer Than They Appear" and "Hypocrites and Critics" Tatiana and Jinjer started to achieve more success and recognition. The first EP Shmayluk ever recorded was "Inhale, Don't Breathe in 2012.
With Jinjer, Shmayluk also released her first studio album. That album was Cloud Factory and it was released in 2014. Since then, Tatiana Shmayluk has been signed up to Napalm Records which has helped her and the band release more albums and tour the world.
Shmayluk continues to tour with Jinjer and she currently finds herself in America on a tour that will see her travel around the country and Europe. Tatiana also has a career away from Jinjer.
Who Are Jinjer?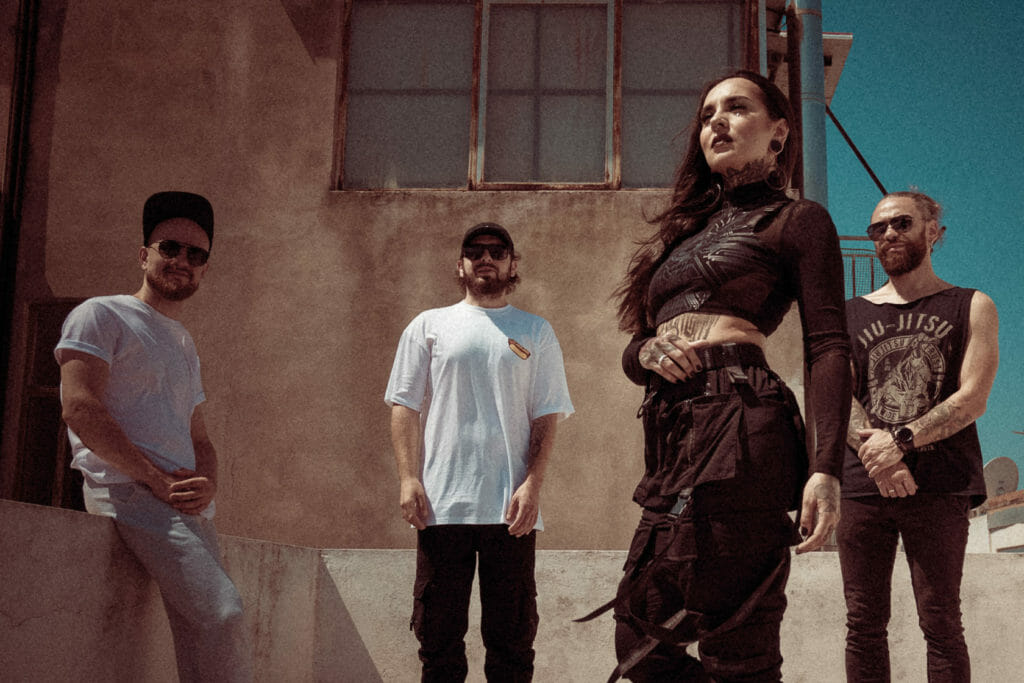 Jinjer is Ukraine's most internationally accomplished metalcore band. Signed by Napalm Records, the band has successfully toured the world for many years, sharing the stage with some of the biggest bands in the world.
Aside from being the biggest metal band in their nation's history, Jinjer is also one of the country's most followed bands in general.
Jijner was founded in 2008 in Donetsk, Ukraine. However, none of the founding members are still part of the band. The current lineup consists of Tatiana Shmayluk, Roman Ibramkhalilov, Eugene Abdukhanov, and Vladislav Ulasevich.
After the arrival of Shmayluk and Ibramkhalilov, the band decided to declare 2010 as the year the band was founded. The band's most recent album is Wallflowers which was released in August 2021.
The type of music Jinjer produces sits firmly in the metal, groove metal, and progressive metal genres. In recent years, the band has become quite political, releasing music and videos that aim to raise awareness of various political issues.
The main topic the band has focused on recently is the Russian invasion of Ukraine.
Jinjer's Musical Influences
We already know who influenced and inspired Tatiana Shmayluk but what about the band? Over the years, the band has talked about many of its musical influences. This includes the likes of Slayer, Death, Anathema, Pantera, Guana Apes, Gojira, and Twelve-Foot Ninja.
Whilst explaining their influences Jinjer also mentioned other metal bands like Karnivool, Opeth, and Textures. Like Shmayluk, the other band members were also inspired and influenced by groups across the soul, R&B, jazz, reggae, and funk scene. This includes House of Pain and Cypress Hill.
It's this wide spectrum of inspiration that's inspired Jinjer to experiment with different styles throughout their career. This is one of the reasons the band is seen as a progressive metal band. Before now, they've included reggae, funk, jazz, soul, and R&B in their tracks.
---
RELATED: Claire Olivia Newman – The Full Story
---
Forced To Leave Donetsk
Unfortunately, despite being from Donetsk, Tatiana, and her bandmates were forced to leave Donetsk behind. This came not long after an ongoing conflict between anti-government protestors, pro-Russian rebels, and the Ukrainian military in 2014.
Tatiana and the band moved to a quiet suburb close to the city of Lviv, approximately 800 miles away from Donetsk. However, it wasn't long before Tatiana and the band "got bored there because it's a city for tourists".
After that, the band moved on again in search of a better place to live. Some of the band have returned to Donetsk to live, whilst the others live nearby.
However, more often than not, Tatiana and the band live on the road as they tour the world. They've spent the last couple of years in America.
What Are Jinjer's Best Songs?
Jinjer has released four studio albums since they were formed in 2010. The band's first album was Cloud Factory which was released in 2014. The second album the band released was King of Everything in 2016. 
The last two albums Jinjer released were Macro in 2019 and Wallflowers in 2021. During their career, Jinjer has also released three EPs. The band's albums consist of a wide range of amazing songs that have helped the band reach new heights.
Some of the band's most notable tracks include "Pisces", "Outlander", "Vortex", "Dreadful Moments", "Home Back", and "Mediator". These are definitely the Jinjer songs we'd recommend you listen to first.
Jinjer's Accomplishments To Date
To date, Jinjer has been a roaring success. Whilst the whole band has played a huge part in this, Tatiana's vocals have helped increase the popularity of the band all over the world. Every album the band has released since it's inception has topped the charts in Ukraine, whilst six of their 16 singles also hit #1.
"Pisces" became one of the band's biggest hits and one that brought success worldwide. This song did well in the global charts and has to date sold more than 20 million copies. Jinjer's latest album Wallflowers was released in 2021. This album is already becoming the band's biggest success.
The Wallflowers album has broken the charts worldwide, changing the game for Jinjer completely. The album entered the US Billboard Top New Artist Albums chart and the Hard Music Albums chart in Canada at #1.
The album also found itself at #2 on the US Current Hard Music Albums chart. It has performed well in several other charts too.
The band's previous album Macro also saw success, ranking at #7 on the German charts and #5 on the official UK Rock & Metal Album charts. Their #7 ranking in Germany was the first time the band charted in the country.
Recently, Jinjer has also seen success in other international countries such as Austria, Switzerland, and Finland. Other Jinjer accomplishments include an array of different awards.
This includes Best Rock Album Of The Year, Album Of The Year, and Best Metal Performance Of The Year at the Grammy Awards.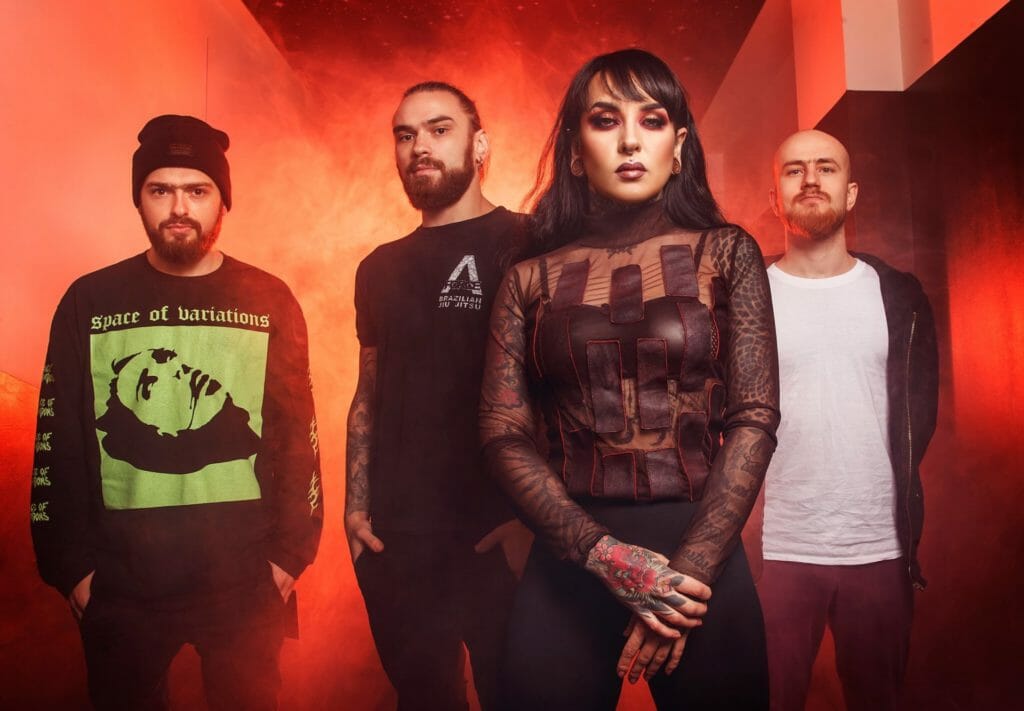 On The Rise In America
The band's continued success saw the band grow in popularity across America. This increase in the international fan base gave Tatiana and the band the opportunity to travel the world on tour. This included the band's debut US tour in 2018.
Jinjer played their first-ever tour of America in North America. The tour was a huge success, creating a demand for more. The meteoric rise of the group's fan base in America has made it possible for Jinjer to stay in America for longer.
In fact, since their last tour of America in 2021, Tatiana has set up a base in Los Angeles, California in the hope of touring more of America. Her last tour saw the band play 70 shows across America and a short tour of mainland Europe. Their next tour is expected to be even bigger.
Tatiana's Career Away From Jinjer
Tatiana Shmayluk's success has also seen her featured on tracks by other bands. Singles she has been a guest vocalist on include "Horror of Daniel Wagner" and "Through The Never (I Will Return)" by Ukrainian heavy metal band Morton.
She also featured on "Find My Way" which was released in America by the American band Lions At The Gate, and "Over and Out" by Twelve Foot Ninja. One of the biggest tracks she's performed on recently is "Hello Death", from Polish metal band Decapitated 2022 album Cancer Culture.
Tatiana Shmailyuk's Achievements & Personal Life
When it comes to achievements, Tatiana has won awards with and without Jinjer. Of course, the biggest and best awards she has won have been with the band, but there are notable awards she's been nominated for and won separately.
These awards include the Most Influential Personality at the 2022 FemMetal Awards, the 2021 FemMetal Best Brutal Vocals award, and the 2018 Metal Goddess Best Vocalist of The Year award. 
As far as Tatiana's personal life's concerned, we don't have much to tell you. Unlike most celebrities and musicians, Shmayluk actively tries to keep her life private. She very rarely opens up in interviews about her life, and you'll never hear of any scandals.
What we do know about her personal life is that she is currently happily married to ex-Suicide Suicide drummer Alex Lopez. In a recent interview with Blabbermouth, Shmailyuk opened up a little bit about her relationship with Lopez.
She discussed how she met him online before his band invited Jinjer to support them. She goes on to talk about how his physical appearance drew her in.
The only other updates we have into the pair's life come from their Instagram, where the two often share loving photos of each other and their cat.
We also know that Shmailyuk currently lives in Whittier, California with Lopez, just 30 minutes away from L.A. Aside from that though, little else is known about Shmailyuk's private life.
Final Thoughts
There you have it, everything you need to know about Tatiana Shmayluk. Tatiana Shmayluk is one of the best metal vocalists in the industry. With her band Jinjer, she has been able to grow a large audience of fans that love her style, tone, and personality.
At the young age of 35, she has already been able to tour the world, produce hit records, and make millions. She's not done there though!
Tatiana still has a long career ahead of her and if her career so far is anything to go off, it's probably safe to say she's going to continue to hit new heights with the band and maybe on her own in a solo career in the future.
Who knows! We'll just have to wait and see! Check out the 10 Questions With Tatiana Shmailyuk in the video below, and don't forget to check out the frequently asked questions after the video!
Frequently Asked Questions
How Much Is Tatiana Shmailyuk Worth?
Whilst a precise figure can't be given, it is widely believed that Tatiana Shmailyuk has a net worth of somewhere between $1 million and $5 million dollars. We know this figure is anything but precise but it's the best we can do, as the only person that knows the real figure is Tatiana.
Her primary source of income comes from her career as a singer-songwriter. Through her music career, she has also been able to earn money through paid sponsorship. 
This may not account for that much but Shmayluk regularly posts photos wearing different outfits and accessories provided by specific companies. Shmayluk still has a long career ahead of her so she's almost guaranteed to increase her net worth in the years that follow.
How Big Is Tatiana Shmailyuk's Fanbase?
We live in a world where social media platforms are used as powerful tools for celebrities to connect with their audiences. Without social media, it could be argued that most celebrities wouldn't be as big as they are today.
In Tatiana Shmailyuk's case, it's probably fair to say that she has an excellent social media presence. The importance of social media clearly hasn't been lost on Shmailyuk as she posts daily updates to her fans in the form of photos and videos.
Whilst most posts detail upcoming or past performances, she will occasionally post photos of her private life too. This usually includes a photo or video of her cat. At the time of writing this article, Tatiana has more than 400k followers on Instagram and almost 200k followers on Facebook.
To put this into perspective, Jinjer only has 60k more followers than Shmailyuk on Instagram. Having said that, Jinjer does have 200k more followers than Tatiana on Facebook
Does Jinjer Still Perform?
You'll probably be very pleased to hear that Tatiana Shmailyuk and Jinjer do still perform around the world. The band's 2023 tour plans to visit 6 different countries. Those countries are Switzerland, Finland, the United Kingdom, Germany, Canada, and the United States.
At the time of writing this article, the 2023 tour is well underway. With more than 44 tour dates already planned for the rest of the year, this could be the biggest tour the band has ever done.
Although, as the band continues to perform in new places, it wouldn't be a surprise to see their following grow even more. This could lead to even bigger tours in the future.