It's kinda nice to be remembered by your peers and your fans because you can achieve a lot of success and be a creep too! But we try to be nice, just normal people…

– Karen Carpenter
The Carpenters were the unlikeliest rock stars in the history of the music business. They didn't inflame the spirit of teenage rebellion, endorse or call for political and social change, and they didn't capture the hearts and minds of a generation by becoming the figureheads of a musical and cultural revolution.
Karen and Richard Carpenter didn't have to rely on a carefully constructed image or create an artificial larger-than-life persona for their band, they just did what they did best, they played music that the whole world fell in love with.
Honesty, integrity, and staying true to your creative vision are vital to any artist's success. Music fans are like sharks chasing a drop of blood in the water, they have an indefinable sixth sense and can always tell when their idols are faking whatever it is they're trying to sell or dialing their act in.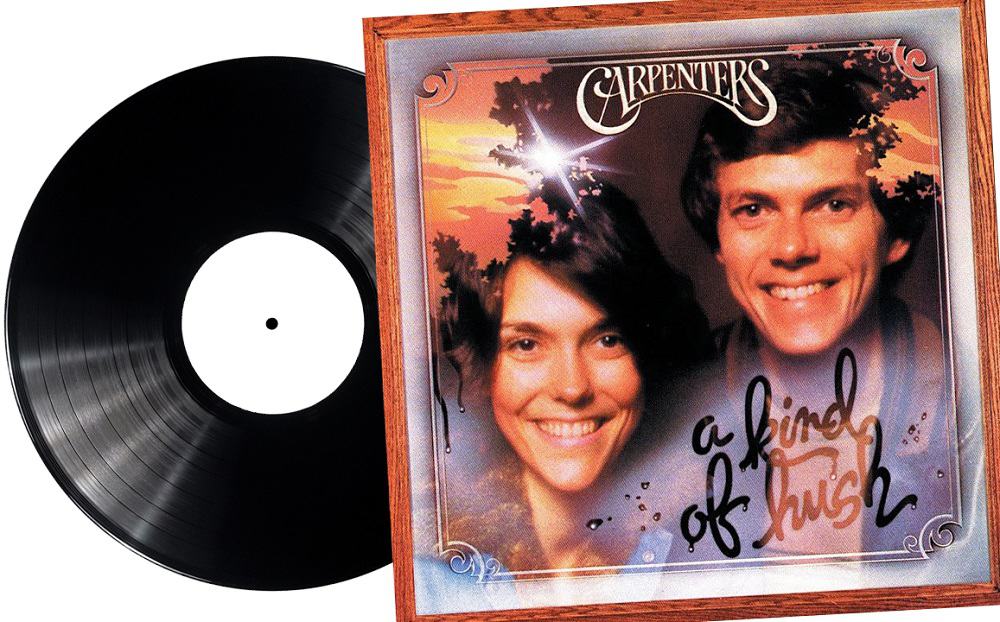 And that's why nearly forty years after the band originally came to an end, their fans still adore The Carpenters. They never pretended to be anything other than what they were, a duo who loved to write, record, and play music.
Richard and Karen were always true to themselves and to their fans, and their faithless dedication to the spirit of the Carpenters has ensured that just like rock and roll, their music will never die.
They've Got A Ticket To Ride
Forget everything that you thought you knew about The Carpenters and the softly muttered myths about the band being "put" together by a label and sold as a gimmick act.
From the get-go, they were the real deal, as Richard and Karen had been playing together, mostly as the Richard Carpenter Trio and Spectrum, before they signed with A&M Records in 1969.
And while Richard had always been a piano player, Karen started playing music as a drummer and only became a singer out of necessity, discovering somewhere along the way that she was born to use her voice.
Despite their years of experience as a tried and tested musical act who'd honed their craft through practice and playing any gig they could, when they eventually signed to A&M records as the Carpenters, following their television appearance on Your All American College Show, Karen needed her parent's permission as she was only 19 years old, and still a minor.
At the same time as they were offered their deal with A&M, Karen and Richard were approached by Ford to front their new advertising campaign, a deal that included a brand new car and a fifty thousand dollar salary.
But Karen being Karen, and Richard being Richard, they turned Ford down, because ultimately their music was more important to them, and their future than instant riches and a couple of new Mustangs on their, then, shared driveway.
Good Things Come To Those Who Wait
Signing on the dotted line with A&M as Carpenters, they dropped the definitive article as the siblings thought that losing it made them sound cooler and more down to earth and would put them on a par with bands like Jefferson Airplane.
The band was given total artistic freedom and tenured the studio to record their first album, Offering, which was released in October 1969. The album was adored by critics but didn't connect with the record-buying public or set the charts on fire.
Even the reworked and rearranged version of the Beatles song Ticket To Ride that was released as a single to try and boost album sales didn't manage to find its target audience and barely scraped into the Billboard Top Sixty.
Carpenters (definitive article notwithstanding) had their first taste of "failure", and it wasn't something that they or their label wanted to sample again.
Why Do Birds Suddenly Appear…
A&M wasn't thrilled by the poor commercial performance of Offering and if it hadn't been for Herb Alpert, one of the labels powerbrokers who insisted on signing the band, the Carpenters would probably have parted easy with their new label following the release of their debut record.
Alpert saw something in them that no one else at the label did, and believed that if they recorded and released the right song, they could be huge.
It was this belief that saved the Carpenters from the A&M chopping block, and it was also his unwavering belief that prompted Herb Alpert to ask Richard Carpenter what he thought about maybe re-working and recording an old Burt Bacharach song, (They Long To Be) Close To You.
While they initially struggled to get to grips with the tune, Richard and Karen finally found a way to make it work and released it as their second single on 14th May 1970. By the middle of July, it had climbed to the top of the Billboard Top One Hundred and stayed at Number One for four weeks.
Eager to capitalize on the success of Close To You, Richard stumbled across an advert for Crocker National Bank while flipping through the channels on television one night, and was instantly hooked by the jingle it used to encourage families to open a new account with the bank.
The song, We've Only Just Begun, had been written by a pair of aspiring musicians called Paul Williams and Roger Nichols, who readily agreed to let the Carpenters record and release it.
Three months after they secured their first number one, We've Only Just Begun, entered the Billboard Charts and climbed straight to Number Two.
Williams and Nichols would later say that they both thought that Karen and Richard's version of their song was, and is the definitive version, and the Carpenters included their Number One and Number Two hit singles on their second album, Close To You.
Released in August 1970, Close To You claimed the Number Two spot on the Billboard Chart and spent seventy-six weeks in the UK Top Fifty. Herb Alpert was right about the Carpenters, and they would never have to worry about the record deal or their position at the label ever again.
The Seventies Were A Blur…
When most rock stars say that they can't really remember a decade, the natural assumption is that they partied too hard and indulged in all of the things that they shouldn't have a little too much. But when the Carpenters said that the decade was a blur, they meant that they were too busy to notice what was going on around them in the world or to pay any attention to it.
When they released We've Only Just Begun, they had no idea how fortuitous the song's title was, as they spent the rest of the decade recording, writing, and touring.
During the next twelve years, they would release another nine studio albums, five of which would be certified Platinum (meaning that they sold over one million copies), three would be certified Gold (at least five hundred thousand sales), and their penultimate album, Made In America, and only record since Offering not to achieve either Platinum or Gold status was eventually certified as a Silver record, which meant that it had sold over two hundred and fifty thousand copies.
But it wasn't their album sales that kept them on the road, it was their singles. Between 1970 and 1983, the Carpenters had twenty Billboard Top Forty hits and at one point, it seemed like every record that bore their name had the Billboard Midas Touch.
If they released a record, it became a hit, and each and every hit single and album meant another tour, and so when they said the seventies were a blur, they meant it.
The only year they didn't write a new album, 1974 was the one they were supposed to take off because they were exhausted from trying to maintain a non-stop schedule.
But even though they didn't record a new album, they did score two top twenty Billboard Hits with the singles I Won't Last A Day Without You and Please Mr. Postman and went on to tour Japan for the first time.
Maybe if they had taken the whole year off, things would have ended differently and they would have had the perspective to understand that there was more to life than work and that sometimes you need to take your foot off the gas pedal and take a little time to just enjoy life.
Maybe it would have made a difference, maybe it wouldn't have. Maybe the Carpenters just liked to play music more than anything else in the world, and nothing would have stopped them from doing that.
Richard Takes A Break
The band's relentless schedule had taken its toll on Richard, and by 1978 he'd become hopelessly addicted to Quaaludes, a sedative medication that he'd initially been prescribed to help him cope with the anxiety and pressure caused by the band's inhuman recording and touring commitments.
While he knew that he'd had a problem for a while, by the tail end of the seventies he realized that it had become so severe, that he had to deal with it and take the time he needed to get better.
After the band's December 3rd, 1978 show in Long Beach, Richard told Karen that he needed to quit touring, and in January 1979, traveled to Kansas and entered rehabilitation.
At that point, he had no idea that the Long Beach show would be the last time that he'd ever share a stage with his sister, but as he took the time to ensure that he got better throughout 1979, he became convinced that his sister, had also been ravaged by, and was feeling the effects of their nonstop schedule.
Richard knew that something was wrong with Karen, but he had no idea how seriously ill his sister was. Nobody did.
It's Going To Take Some Time
By the time they decided to record another album together following Richard's recovery, Karen was married and after recording what would become their final television special, Music! Music! Music! In August 1980, they recorded and released their final collaborative album, Made In America in June 1981.
Whether the poor sales of the record contributed to her increasingly ill-health, or she finally reached a point where she could no longer afford to deny it, Karen at long last admitted that she was suffering from Anorexia Nervosa, and she began treatment for the disease under the supervision of a psychiatrist in New York in 1982.
Returning to Los Angeles for a recording session, she admitted herself to hospital after she began to feel faint and dizzy, where she put on nearly thirty pounds as a result if being hooked up to a drip, and after declaring herself to be cured, she discharged herself from the hospital, But Karen wasn't cured and whether she knew it or not, she didn't have long left to live.
Breaking Up Is Hard To Do
Following the failure of her marriage in 1982, and after meeting her brother to plan the next Carpenters tour on February 1st, 1983, Karen returned to her parent's house to explain the finer details of her divorce to them two days later on February 3rd.
She decided to stay for the night, and the next morning her mother found her unconscious in her bedroom and rushed her daughter to hospital. Twenty minutes after arriving, Karen Carpenter was declared dead. A post mortem found that she died as the result of heart failure precipitated by anorexia. She was thirty-two years old.
Voice Of The Heart
In October 1983, eight months after her death, the final Carpenters album to feature new material was released. It included two songs from Karen's final recording sessions, Now and You're Enough.
The Carpenters are one of the only bands in the world to be given their own star on the Hollywood Walk Of Fame and are still one of the biggest selling artists in history having sold ninety million records since Herb Alpert first welcomed them to A&M Records. 
Below is an excellent and detailed story from the BBC on the life and times of The Carpenters if you want to dive in a bit deeper:
Similar Stories…