We didn't have a garage to rehearse in. We had to aggravate the folks in the house. But I had a chance to play in a beer joint, and that's how it got started – Charlie Daniels
You know the old saying about being the Jack of all trades and the master of none?
Charlie Daniels was the musical fly in the ointment that proved that you could have your cake and eat it, regardless of which musical bakery it was cooked and made in.
The word legend is often bandied about and thrown around in musical circles, and while most of the people that the word is used to describe might deserve the accolade, there's one genuine legend of Southern Rock, Country and Western, Bluegrass and Alternative and Outlaw Country who earned the title a thousand times over during his long and illustrious career, and that man was Charlie Daniels.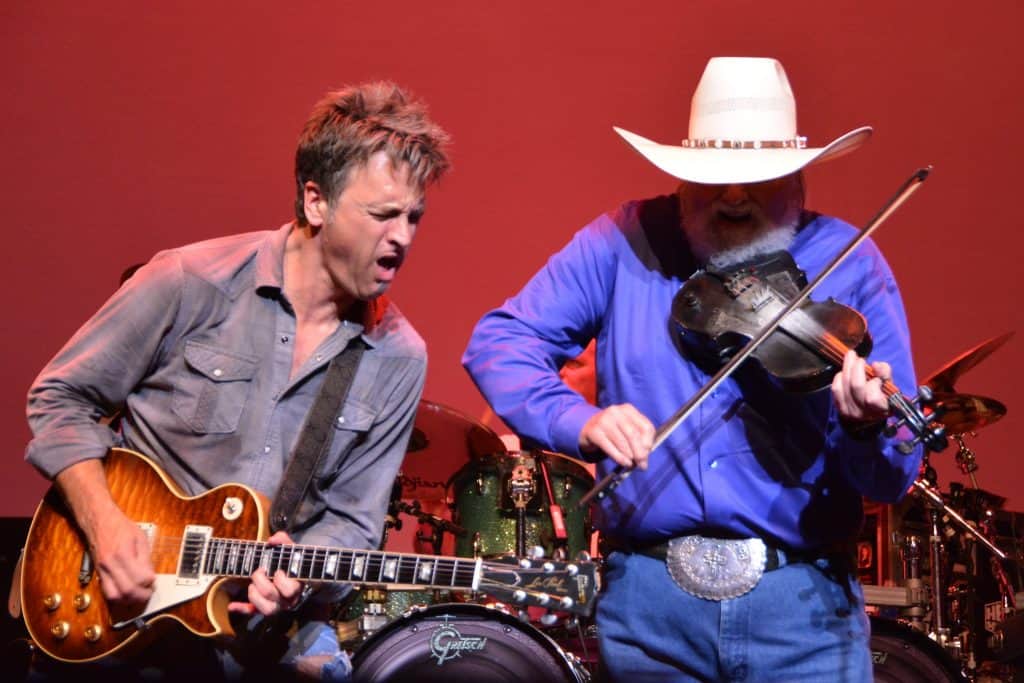 Standing at the Crossroads
While Robert Johnson met his fate in Mississippi, Charlie Daniels began his race with the Devil in North Carolina in nineteen thirty-six.
Raised on a diet of Gospel, Blues, Country, and Baseball, Charlie was only ever going to be a ballplayer or a musician, and after discovering a  natural affinity for the guitar, the fiddle, and the banjo, he thought he'd entrust his fate to the latter.
After graduating from high school, he formed his first band and hit the road to find fame and fortune.
Getting Ready for the Bigtime
Music is a fickle mistress and success isn't guaranteed, and despite releasing his first single Robot Romp in nineteen sixty-one, a record that no one bought at the time but everyone claims to love now, Charlie made a pretty good living as a session musician in Nashville.
Between the release of his first record, and Middle Of A Heartache, his second single that performed pretty much the same as his first had, he wrote a song that Elvis Presley liked enough to record, It Hurts Me.
It might not be credited to Charlie Daniels, as he used the pseudonym Joy Byers who was the wife of his producer Bob Johnston, but Elvis was singing one of Charlie's songs before anyone outside of Nashville even knew who Charlie was.
And it wasn't just Elvis that Charlie recorded with, as he played electric guitar and bass on three of Bob Dylan's albums between nineteen sixty-nine and nineteen seventy, the period when Dylan was (according to his more rabid and enthusiastic fans) at the pinnacle of his career, and played fiddle on all of the early Marshall Tucker Band albums.
He may not have been a household name outside of the home of Country music, but that didn't matter to Charlie Daniels because he was doing what he loved to do best, and was making a pretty good living doing it. And even when he did find his own feet and launched his own career, Charlie never forgot who his friends were, which is why he ended up playing fiddle on Hank Williams Jnr's nineteen seventy-five record, Hank Williams Jr And Friends.
The Charlie Daniels Band
Charlie may have written the words and music, but he knew just how important the other musicians who went out and played on the road and in the studio with him were, which is why he always made sure that everyone knew it was a band, and he wasn't just waxing his ego.
Whether that was due to Charlie just being who he was, or was prompted by the time that he spent as a session musician doesn't matter. The man always wanted his audience to know that his band was just as important as he was.
Every album and single that he recorded between nineteen seventy-five and nineteen eighty-nine was credited to the Charlie Daniels Band, which in a business that feeds and strokes egos was a rarity and was just another facet of the man that drew his fans and friends to him and made everyone that he ever met feel like they'd known him their whole life.
Making the Hits
In all likelihood, when you think about the Charlie Daniels Band, the first song that comes to mind is always going to be The Devil Went Down To Georgia, and as it reached number three on the Billboard charts when it was released in nineteen seventy-nine and was the band's biggest hit, it isn't exactly surprising that it's the Charlie Daniels tune that everyone thinks about.
After all, it was and is the song that Charlie won a Grammy for. But it wasn't his only hit, and it wasn't even his first.
Charlies first stormed the Billboard Top Ten with Uneasy Rider, which was the lead single and the song on his third album, Honey In The Rock that Country and Western radio stations all over the country put their collective weight behind. It was his fourth single in just over a decade and it was the first record that told America that the Charlie Daniels Band had arrived.
Southern Rocking Man
The Charlie Daniels Band weren't just celebrated and worshipped in Country circles, they were also adopted by and heralded as the leaders of the burgeoning seventies Southern Rock scene.
The South's Gonna Do It Again, which first appeared on the CDB's (that's Charlie Daniels Band) nineteen seventy-four album Fire On The Mountain, as well as providing the band with another hit, also became a clarion call for the scene, as it mentioned ZZ Top, Lynyrd Skynyrd, and Wet Willie and a host of other bands in its lyrics. It was quickly followed by Long Haired Country Boy, which was also taken from the same album, and like The South's … was also a minor Billboard and major radio hit for Charlie Daniels.
The Volunteer Jam
Somewhere in the middle of all the craziness of establishing his own career and playing for everyone else who rolled through Nashville, Charlie Daniels also found the time to establish the Volunteer Jam which has been held at the War Memorial Auditorium in Nashville twenty-one times since nineteen seventy-four.
A charity event that encourages the Country and Southern Rock scene's biggest names to come out and play, until two thousand and twenty, every single jam was headlined by the Charlie Daniels Band, who always put their money where their mouth was.
And in nineteen seventy-nine, it was also where the surviving members of Lynyrd Skynyrd played together for the first time since they were in the plane crash that killed their friends and was where the initial roots of the Rossington Collins Band began to grow.
The Eighties
He may have made his biggest ripples in the mainstream pond during the seventies, but Charlie Daniel didn't go anywhere or slow down during the eighties, and he scored, along with his band's another three Billboard hits, In America, The Legend of Wooley Swamp and Still In Saigon.
He also became an almost permanent fixture in the Country charts, as five more of his albums Full Moon, Windows, Me And The Boys, Homesick Heroes, and Simple Man all smashed their way into the top thirty. In fact, it's almost impossible to remember a time when the Charlie Daniels Band wasn't featured in the Country Charts in the nineteen-eighties.
Twenty More Years
Charlie Daniels and the Charlie Daniels Band continued to be a constant in the Country Music charts for the next twenty years, and five of their next thirteen studio albums all made the top forty. The nineties also saw Charlie bothering his old friend the Devil again, when he teamed up with fiddler Mark O'Connor to record The Devil Came Back To Georgia which was sung by Johnny Cash, Travis Tritt, and Marty Stewart.
Like all of the greatest performers, the only things that slowed Charlie Daniels down were injury and illness, and even he broke his right arm in three places and two fingers on his right hand, he was only out of action for four months in nineteen eighty.
He beat prostate cancer in two thousand and one and only spent two days in hospital after suffering a stroke in two thousand and ten, neither of which slowed him down or took the wind out his sails. Charlie Daniels kept on playing right up until the end.
This is the End
Charlie wasn't without his naysayers, and while he was undoubtedly a supporter of the counterculture movement of the sixties and a proud democrat when he was a younger man, as evidenced in the lyrics to Uneasy Rider, as he got older, his views became increasingly right-wing. But you know what they say about politics and music, don't you? They don't belong in the same house and make terrible neighbors.
In two thousand and sixteen, Charlie Daniels was finally inducted into the Country Music Hall Of Fame after half a century of writing and recording music that furthered the cause of both Country and Western and Southern Rock and in two thousand and seventeen HarperCollins announced the publication of his long-anticipated memoir, Never Look At The Empty Seats.
It seemed as though nothing could ever slow Charlie Daniels down, and that he, like Johnny had before him in his most famous and loved song, had truly beaten the devil. Or at least that's the way it seemed until July 6th, 2020 when at the age of eight-three, Charlie Daniels died from a hemorrhagic stroke in Tennessee.
But we know, just like the legions of Charlie's fans everywhere that he had the last laugh, and that he's sitting just inside the Pearly Gates, gazing down at, and taunting and chuckling at his lifelong adversary while stringing and tuning his fiddle.
Similar Stories…