We used to take Mandrax as if it were aspirin. We didn't care…

UFO
There are rock bands who occasionally indulge in all of the vices that a life of rock and roll offers, and then there are rock bands who completely submerge themselves in those vices, who somehow manage to combine excess and genius and who spend their life flirting with danger and madness at every opportunity.
UFO was one of those bands, and while their appetite for sex, drugs, and alcohol was legendary, so was their ability to fashion incendiary blues fueled hard rock.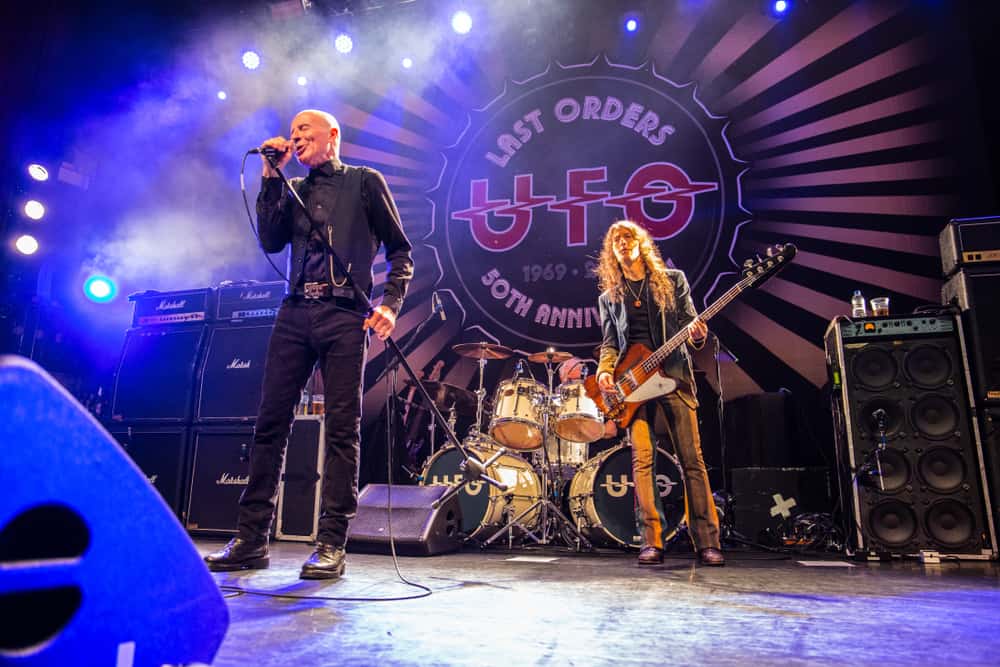 The line between genius and insanity is, according to the old adage, a very fine one, and UFO has spent their entire career balancing on it and throwing caution to the wind as they embraced everything that music had to offer.
It's a tactic that has seemed to serve them well, as they've been employing, and making the most of, it throughout their fifty-year career, and barring a few twelve months layoffs during the eighties and nineties, UFO has spent the last half a century turning their amps up and bringing the house down in clubs and halls all over the world.
Formed by the unshakeable and mostly ever-present duo of singer Phil Mogg and bass player Pete Way in London in nineteen sixty-eight, UFO originally found their home in the burgeoning blues-driven post-psychedelic movement that held the city in thrall at the time.
After creating the sort of fearsome live reputation that money just can't buy, they signed their first record deal less than two years after their initial practice, and in the intervening decades have gone on to record and release another twenty-one albums.
But their fearsome reputation extended far beyond their mythical live shows, as the band was plagued by its own demons. While Way was content to find his solace and peace in the bottle, Mogg pursued other pleasures, and anyone who tried to confront or stop him often found themselves falling victim to his untamed temper and vicious ability as a pugilist.
They were a band that loved to fight almost as much as they loved to play, and have fallen out with each other, often brutally so, and made amends more times than their current, and impressive list of ex-members (e.g. Michael Schenker, Paul Chapman) would care to, or could probably recall.
The constant animosity between the members over the years helped the bands creative fire to burn brightly, and while time has to some degree tempered their wild spirits, it hasn't had any effect on their appetite for touring and their need to hit the road and play music to the only people who really matter to them, their fans.
Even though the will to push as hard as they always have is still present, the passage of time hasn't gone unnoticed by the band. In two thousand and nineteen long-standing keyboard player Paul Raymond suffered a fatal heart attack, and just twelve months later, bass player and original member Pete Way succumbed to complications from injuries sustained in a fall.
In the wake of his old friend's passing, Phil Mogg announced that he would be retiring after the band's next tour. Where this leaves UFO is anyone's guess, but it wouldn't surprise us to learn that they'd found a way to cheat mortality, and keep on rocking harder than they ever had.
In honor of Raymond and Way, and to pay tribute to the lasting contribution that Mogg has made to hard rock, we thought we'd put together a top ten of the best UFO songs that make us want to turn the volume up and sing along with the band at the top of our lungs while riffing away on an imaginary air guitar.
So get ready to rock out and get down with the force of hard rock nature that was, is, and always will be UFO…
UFO Bands Top Ten Tock Songs of All Time! (So we think!)
1. Boogie (For George)
Even though their first two albums, UFO 1 and UFO 2: Flying were considered to be commercial failures, their debut album did produce their first Top Thirty German hit, the space rock-influenced Boogie (For George) which is a raw, stripped-down, visceral heavy rocker that demonstrates what the band was capable of even in their, still, embryonic phase.
2. Too Hot To Handle
Leaping forward a decade or so, Too Hot To Handle is from their career-defining Lights Out album and shows the band doing what why always did best, playing hard-driving rock punctuated by machine-gun riffing and soloing that's held in place by Mogg's smooth, cocksure vocal delivery.
3. Shake It About
It might seem like we're jumping around with wanton abandon in, and diving in and out of, UFO's impressive back catalog, but there is a method to our madness. Sort of. Shake It About from their debut album, is a thunderous Led Zeppelin-influenced, bone-rattling number that shows the band beginning to harness the power that they'd learn to wield with precision later on in their long careers. 
4. Lonely Heart
UFO entered the eighties with a confidence and swagger that their contemporaries couldn't match and Lonely Heart was the power ballad that helped them to hit the top of the charts in their home country and established them as a force to be reckoned with in America.
5. Can You Roll Her
And we're stepping back five years or so again, Can You Roll Her was a Japanese only single that was lifted from UFO's nineteen seventy-six album No Heavy Petting and again, shows the band doing what they love to do, raising hell with a hell-raising hard rock anthem.
Few bands could ever bring the thunder the way that UFO did, and this scene-stealing number is charged by the lighting that the thunder it was powered by left behind.
6. Year Of The Gun
Sometimes, just sometimes, UFO liked to take their foot off the gas and let their bluesier side take control of their destiny, and Year of The Gun, which can be found on their Seven Deadly album is the sound of UFO handing the keys to the relentless motor to their inner bluesman so that he could take the wheel and guide them home.
7. Rock Bottom
Nineteen seventy-four's Phenomenal was where UFO learned to fall in love with their true hard rock calling, and while there's a still the odd sixties, Sabbath tinged moment in Rock Bottom, it's the moment where the band really started to spread their wings and take flight on their journey of self-rocking-discovery.
8. Lights Out
The title track from UFO's breakout Lights Out record found the band pushing at the boundaries of hard rock to create their own, unique and unmistakable sound.
It's all riffs, power, and melody, the three ingredients that made UFO the incredible live, and studio band that they were and still are.
9. Let It Roll
The blistering opening number from UFO's nineteen seventy-five album Force It (which was banned in a number of internal territories due to its risque cover artwork) is a hard-rocking anthem that's been a staple part of the band's live set for the last forty-five years.
And, when you hear it, it isn't difficult to see why the band's fanbase still adore the song.
10. Doctor, Doctor
If there's one song that sums up UFO as a band, it's this one. Taken from their incredible Lights Out album, Doctor, Doctor is the band's signature tune and the one song that has never been left out of their live set since they recorded it.
It is, without doubt, UFO's finest, hard-rocking five minutes.
There you have it! Our list of the best songs from this hard-rocking outfit from outer space!
Do you agree? Feel free to drop a comment and let us know your favourite picks.
For those of you interested, UFO is still touring with a line-up that consists of Phil Mogg, Vinnie Moore, Neil Carter, Rob De Luca and Andy Parker.
Similar Stories…