Måneskin is an Italian rock band that shot to mainstream fame in 2021 with their Eurovision Song Contest-winning performance of 'Zitti e buoni' or 'Shut up and behave'. The song was the band's first commercial success, topped the chart in several European countries, and peaked at No. 17 on the UK singles chart.
Victoria de Angelis formed the band in 2016 alongside guitarist Thomas Raggi, and vocalist Damiano David. They soon gained a drummer when Ethan Torchio, answered a "Musicians Wanted" post on Facebook.
Since their winning appearance on Eurovision, Måneskin has risen to global fame, and a lot of eyes have been on the bassist, Victoria de Angelis.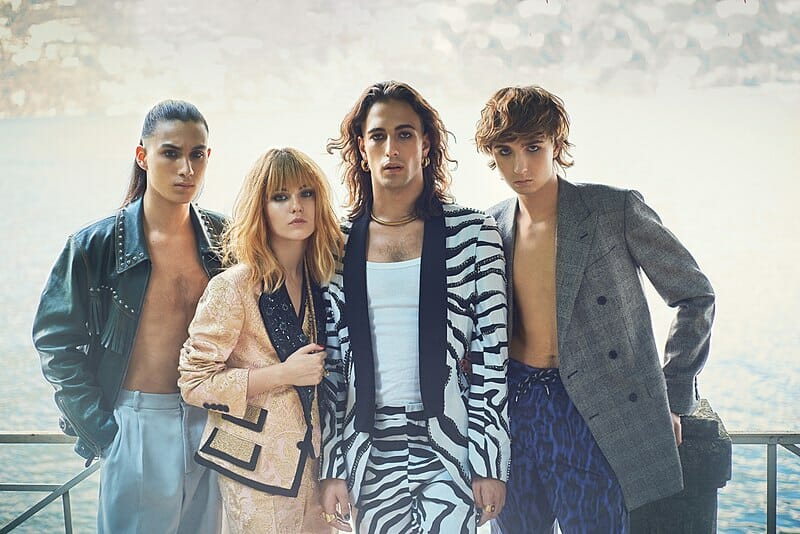 We did our research so we could present to you 15 facts from her life and her rise to fame through the facts of her own life, some may surprise you.
Keep reading to learn more about Victoria de Angelis and her band Måneskin.
1. She's Of Danish Descent
Victoria de Angelis was born in Rome on the 28th of April 2000, to an Italian Father and Danish Mother.
The Danish culture of her mother had an unexpected influence when it came to choosing a name for the young band.
In preparation for 'Pulse' – a local music contest for emerging bands – the members of the as-yet-unnamed group quickly needed to choose a band name and were struggling to come up with ideas.
Thanks to the influence of her Danish mother as a child, Victoria de Angelis was asked to throw out some Danish words to give some ideas.
The word that stuck out was Måneskin, which is the Danish word for Moonlight.
2. She Sadly Lost Her Mother At A Young Age
Tragically, her mother died from cancer when Victoia was only 15. This would no doubt be difficult to process at such a young age.
Victoria has actually never revealed this herself within the mainstream media, it was her grandmother who told a Danish newspaper, which is how people know.
---
RELATED: Have You Heard About Tatiana Shmailyuk Yet?
---
3. She Struggled With Panic Attacks At An Early Age
During a recent interview with Elle, Victoria de Angelis bravely opened herself to the public and revealed that she suffered from panic attacks when she was 14, which culminated in her missing an entire school year.
I was a carefree girl, but at 14 I found myself not wanting to leave the house… I lost a year of school.

Something was broken in me and I didn't know how to fix myself.

I used to be ashamed of it, but now I don't need to hide it anymore
However, this didn't stop her from creating the band with her high school friend, Thomas Raggi.
4. Victoria De Angelis' Gender Struggles
During the same interview, Victoria revealed that she struggled with gender identity, even as a young child. She claims she suffered from the rigid distinctions between the binaries of male and female gender identities.
As a young girl, she enjoyed skateboarding, kept her hair short, and generally resisted female stereotypes.
She suggested that she was finding gender stereotypes oppressing her abilities to express herself.
not because I didn't like them, but to claim the chance to be myself
She tells Elle, showing that she has embraced the femme image as she has been in the spotlight, with much of the glam and androgyny forming a large part of their identity and on-stage performances
Makeup and clothes help me feel better about myself, cool.

But I have times when I want to be in overalls.'
5. Who Is Victoria De Angelis' Partner?
Contrary to what many fans believe, Victoria de Angelis is single! During their year in the spotlight much speculation has been made about her love life. There are many people who thought that Vic was dating at least one of the band members, especially the lead singer, and object of attention, Damiano David.
In the same Elle Italia interview, Vic told fans they had a special relationship but it wasn't romantic as many thought:
We're more than brother and sister, we're more than friends.
6. Vic De Angelis' Sexuality Is Fluid
As we have learned, Vic finds the gender binaries we have created in society quite confusing and of issue, so it is no surprise that her views on sexuality would be affected.
She tells us herself,
once I got over the initial insecurity of having to question one's own certainties, I lived my sexuality in a very natural and free way, as it should be for everyone.
She continues,
for society, to be heterosexual is the norm […] depriving oneself of the freedom to live in many different shades and facets of love.
Victoria recognizes the shortcomings of society's heterosexual constructions in her own romantic feelings:
when for the first time I felt feelings and attraction for a girl it was a bit confusing because I had never had the courage to go beyond the limitations I had imposed on myself, on her.'
7. Vic And Her Bandmates Do Not Do Drugs!
Suppose you cast your mind back to the Eurovision win of 2021 that landed Maneskin in the mainstream media. In that case, you may remember the controversy surrounding claims the Italian outfit was indulging in cocaine during the performance.
Most of this case is from a suspect video of Damiano leaning towards the table seemingly caught on camera during the wrong time. It turns out that this was a random, innocent movement and not related to drug use.
Much of this opinion was based on the general glam and punk vibes the band gives off, it seems that drugs could explain their gregarious stage behavior but this is just the band's freedom of expression.
Although Damiano made a rather funny joke during the final. When asked what advice he would give to fellow artists he said two things,
Have fun and don't get too close to the table!'
Damiano had to literally do a drug test to be cleared of these ridiculous allegations, but the band was without fear as none of them, including Vic, do drugs.
The band released a statement saying :
We really are against drugs and we never used cocaine.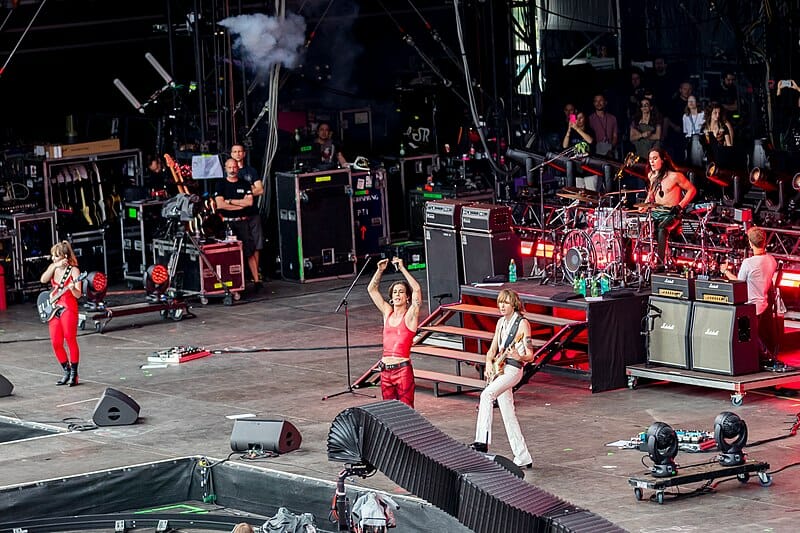 8. She Was Inspired By One Particular Female Rocker
As a bassist whose grooves have earned over 100m Spotify streams, it's no surprise that Vic was inspired by some of the best to reach her own journey to the top.
She tells Elle Italia
The one who inspired my imagination the most, was Kim Gordon of Sonic Youth.

In those years rock was a male world, she always cared about it, she messed up every stereotype of beauty, in her own stage performance;

it was something aggressive, coarse, but it won over thousands of people.
Kim Gordon has always been a symbol of feminine power within the rock world coming to fame alongside her partner in Sonic Youth as one of the main draws within the band beyond her partner Thurston Moore.
While the relationship she shares with Damiano is similar in spirit, yet without the romance and turmoil, their performances are clearly influenced by those of Gordon and Moore.
Commenting on her influence, Vic comments;
I admire women who did important things in a field in which male attitudes prevail.
9. She Finds Influence In Many Genres & Styles
As a teenager, Vic remarks how she was influenced by other artists both new and old, many of which clearly paint the tapestry that would become her artistic expression.
In an interview for Cosmopolitan Italia, Vic remarks how she was fond of Lady Gaga, Harry Styles, David Bowie, as well as rock legends like Kurt Cobain and Avril Lavigne.
Speaking of Harry Styles she comments on how she is a big fan:
He's stylish, he's modern, and he wears 60s and 70s outfits, which I love.'
10. She Fulfilled A Fantasy By Supporting The Rolling Stones
After already selling out the 02 Academy in London, The Roxy Theater and Bowery Ballroom in the United States, including an appearance on Saturday Night Live, Måneskin were invited to support true rock royalty – the Rolling Stones!
This is truly the stuff of rock and roll dreams, the opportunity to play alongside legends such as Mick Jagger, Keith Richards, and Brian Jones.
However, this was perhaps more fulfilling for Vic herself who, as she reports, attempted to break into a Rolling Stones gig when she was 14, emulating the rock fans of the past.
I didn't have tickets, so I just went there and tried to sneak in from the barriers.

It didn't really work, but I saw them performing a couple of songs.'
It must have been a real rush when they were invited to perform alongside the rock and roll legends. We're sure that Jagger found the story hilarious.
11. Vic's Father Has An Interesting Role In The Band
Vic's widowed father, Alessandro, runs a travel agency in their native Rome and is a successful businessman in his own right. He also looks after the band members interests and actively manages the group.
Considering the youth of the superstar band, and their need to be protected from the potentially malicious media, her father takes on much of their business obligations.
It has been reported that it is Alessandro who is the CEO of all things Maneskin, managing the revenue of the band's concerts, sponsoring, merchandise, and image rights.
12. She's Going To Tour The World
Following the band's, and Victoria's, success on Eurovision, the band is set to tour the world. It's safe to say the band has become an international sensation which is in part thanks to Victoria.
After a summer of touring Europe and a number of open-air festivals on the continent, including Rock For People, the band is set to go international.
If you are lucky you can catch the band and Victoria on their almost-finished international tour.
13. She's Also Done Some Modeling
Victoria has done her fair share of modeling, namely for Elle Italia and the other magazines she has appeared in.
But in 2021 she appeared as an influence in a commercial for Yves Saint Laurent, cementing her value to the high-fashion move makers.
This shows how far she has come since her teen years, her ability to be the front cover of these huge magazines shows that she has learned how to express herself in a way that feels comfortable.
Victoria has even landed herself in some hot water for her own posts on Instagram in which Victoria embraces her nude body.
The pics aren't supposed to be raunchy, although they do break Instagram's code of conduct, they are simply another artistic expression for her.
This topic was exasperated by their win on MTV VMA's which they won for 'I Wanna Be Your Slave', the first Italian band to win the award.
But when they performed there was some issue with the level of nudity on show. While Damiano wore chaps that exposed his buttocks, Victoria's garment was cut to expose one of her breasts.
Unsurprisingly Victoria got more flack than Damiano.
14. She's An Multi Award Winner
Considering that Maneskin only has two albums: Il ballo della vita (2018), and Teatro d'ira: Vol. 1 (2021), they have won a fair share of awards in this short period of time.
After coming 2nd in the X Factor, a decision we are sure the judges regret, they won 2 awards for 'Chosen' in 2018, 3 awards in 2019, and on top of coming first in the Sanremo Music Festival, as well as their fated Eurovision win, they won an MTV VMA award.
This success continued into 2022 as things opened up again after the pandemic, landing the band another 6 award wins this year, and it's not even over yet!
15. Victoria de Angelis Is No Role Model
While Victoria is someone we can all admire and look up to, she herself admits that to see herself as a role model would be an arrogant move.
The band, and Vic, and have been subject to some unfair criticism following the undue controversy around the band's live performances as well as their also undue drug accusations.
What is clear is that Victoria wants to be like the strong women that influenced her, showing there is a path to success for women in rock, as bass players or anything else.
If anything she promotes self-expression, along with her band, which is something we can all find value in.
There is a responsibility that comes with being a role model that that Vic doesn't want. Without these restrictions or parameters on her behavior, Victoria can be free to express herself how she feels fit, without having to meet the requirements of others or society itself.
Final Thoughts
While only in her early adult years, Victoria de Angelis, alongside her bandmates, has achieved great success through music.
This success allows Måneskin to consider where they want their careers to go, there is no rush for the Italian rock outfit to push for any success, having already won so many awards and reached the heights of a Eurovision win.
We hope that Måneskin, with Vic in tow, can continue to set an example for those who come after them. To continue the argument that self-expression is the core of art.
Victoria shows us that no matter what we endure, we can always come out the other side stronger and that nothing can stop us from becoming the best version of ourselves.
As Måneskin continues to release music and tour the globe, you might just catch the rock stars performing in a venue near you, and maybe you can have your own inspirational experience like Vic did while watching the Stones.
For some of Victoria de Angelis' best moments, check out this supercut from Agronsky.
Frequently Asked Questions
Who Is Victoria De Angelis?
Victoria De Angelis is the bassist for Italian rock band, Måneskin.
How Old Is Victoria De Angelis?
Where Was Victoria De Angelis Born?
Victoria De Angelis was born in Rome.
Who Is The Lead Singer Of Måneskin?
Damiano David is the lead singer of the band.
When Did Måneskin Win The Eurovision Song Contest?
Måneskin won the 2021 edition of Eurovision.
Who Are The Other Members Of Måneskin?
Victoria De Angelis, bass
Damiano David, vocals
Thomas Raggi, guitar
Ethan Torchio, drums