By Bella Gerber-Johnstone @bzzooey
There are few artists out there that sacrifice their everything into an album – then there's Oli Burslem.
Having slept in the back of his knocked up Citröen Estate for a year and a half, homeless and mentally shattered, the pieces are left for you to pick up in the incendiary album Pursuit of Momentary Happiness (2019). The explosive album cover, a kaleidoscope of colors made by artist Nick Waplington, the carelessly placed strokes mirror Yak's irresistible sense of teetering self-destruction.
Yak captures modern psychedelic garage rock, with peers such as Tame Impala, Pond, and GUM. Garnished with 60s and 70s soul influences and the scrappy rawness of punk and new wave; Yak ultimately dances on the edge of their own indescribable sound.
It may come as a surprise that Oli performs in all white, with smoky wisps of Jagger, and when asked how he manages to bring the color from their album covers onto the stage, he says 'I always liked the idea of being a blank canvas,' leaving enough room to create a 'fireball' onstage. With trademark smudges of dirt and bloodstains on his classic all-white outfit, Oli says 'the more battered it got, the more it showed where we'd been.'
It isn't just the look, it's the way they move on stage, the raw swagger with which Oli pushes the photographers away barefoot and the knowingly mischievous glint in his eye, that makes seeing them such an experience.
Despite his captivating stage presence (he admits 'I always end up losing my marbles'), he tells me that he likes 'to be quiet usually' and before a show, he'll go to the local pub for a pint and sit alone, in a pensive, poetic sort of way. The concept of Oli being insecure and a bit stage shy is unexpected, yet Burslem reflects that 'by the time you're on stage you're like "well, I'm f*****g here now… I might as well give it my all."'
Born and raised in the middle of nowhere, Oli grew up in Wolverhampton, West Midlands. His older brother, a drummer and 'a bit of a rocker' left his gear around the house for ten-year-old Burslem to pick up and start haphazardly plugging in.
Oli admits that as a kid he was 'badly behaved, not very academic and a bit of a loner,' and turned to music as an escape from reality. He would lock himself in his family shed and work on music for hours – 'you make your own fantasy, I know it sounds a bit childish.'
As a teen, he was obsessed with 50s rock 'n' roll and he confesses 'there wasn't much to do except listen to music and be in this dream world,' establishing his intense relationship with music from a young age.
This intensity has continued throughout his life. At 17 he left home for London, where he 'spent the majority of the time just trying to live,' struggling to stay financially afloat. He ended up squatting with friends and sofa surfing across London until his friend had the idea to smash the doors down of their squat and start an antique shop.
Equipment left lying around by other musicians encouraged Oli to return to music again, and childhood band Yelps (started with Andy Jones, friends since the age of 5) was rediscovered as Yak with New Zealand born Elliott Rawson on drums.
The band began to grow from very little, with pedals hand made by Oli's friend Levi from 'loads of old electronic gear' that Burslem had collected from auctions over the years – including a '50s Kodak projector and an old reel to reel, amongst other things.'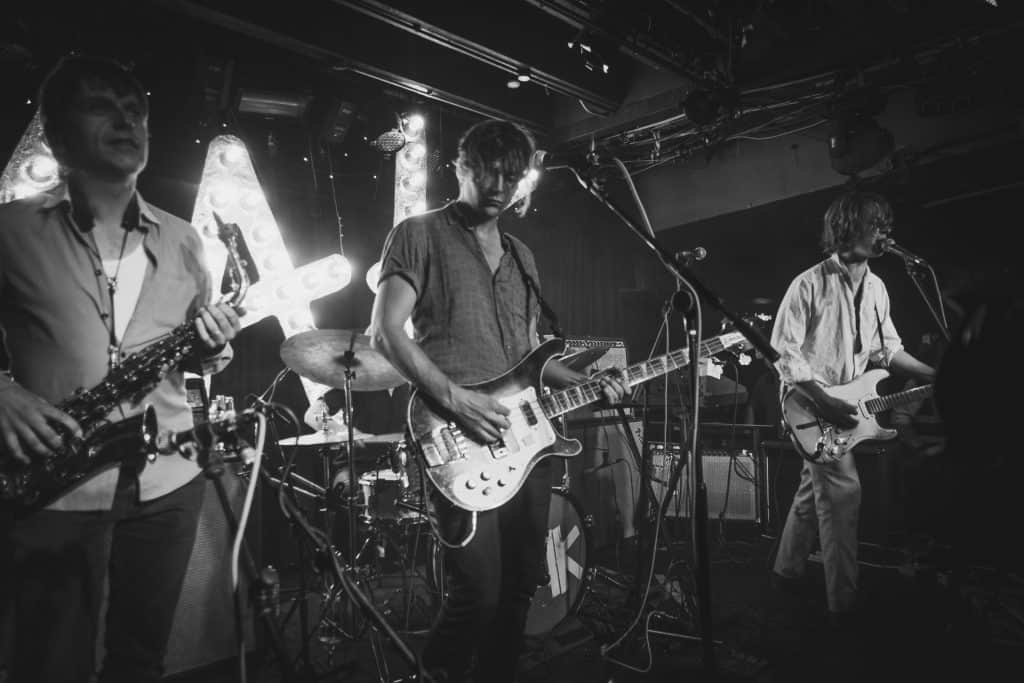 Levi also made an amp from scratch which was used in every recording, made out of bits of 'junk.' Burslem fondly describes the infamous Yak distortion pedal which broke 'all the amps' and was '5 times louder than all the others' as a crucial component to their unique sound.
It was from this point that their first few singles were released in 2015, including "Victorious (National Anthem)" which Oli reveals was a quasi-political record of the time, exploring the rise of nationalism. He says the idea behind it was to 'make a song as horrible as possible.'
When asked if he would consider Yak to be a political band, he replies with 'you shouldn't have too many things to protest against,' then admits that the 'few people that do like our band are like-minded to us; it's kind of preaching to the choir.'
However, he does believe that every record is a 'document of the time;' a time capsule to capture the political climate at that moment. I ask him what it feels like to have his stories made public when he admits he's 'not the most outwardly speaking person in private,' voicing opinions 'in a song seemed to be ridiculous.' He responds knowingly: 'I spent so much time playing to nobody, that when there was someone it makes the gigs what they are,' but confesses there's still an element of embarrassment.
When Jones left to get married in Australia, the hunt for a new bassist began – Oli laughs and recalls 'it was always a bit disjointed as we started gaining momentum,' when Yak toured across the US with an ever-changing lineup of bassists. It wasn't until Glastonbury 2016 where Vincent Davies, previous member of Hidden Charms and an old friend, collided paths with Oli and asked if he could join, making him their new bassist.
Soon after, the elevating single "All I need is some sunshine in my life" was released in 2017 by Jay Watson (producer) from Pond's studio, covering the Dixies song. His girlfriend at the time had sent him the song which he sang for her ears only as a whimsical romantic gesture – the way he interpreted the cover was influenced by their relationship coming to an end.
He spontaneously recorded it with the band and didn't reveal that 'it was secretly for someone at the time.' The theme of reworking older, obscure songs continued through the Atlas Complex EP released in November 2019 by Jack White – with covers of "Am I a good man" and "There's a turtle in my soup."
Ivor Cutler's "There's a turtle in my soup" came from a place of having 'an idea of making it bonkers,' whereas "Am I a good man" was inspired by the time that Oli was crashing with friend John Coxon (Spiritualized), who played the song one night from a compilation on a record.
Despite ethereal tracks with raw talent leaking out of every note; crowds dancing in the palms of his hands and the consistently prolific creation of cult masterpieces – Burslem still doesn't see himself as a musician.
He chuckles and says 'I like the idea of getting old and someone being like "oh, were you in a band once?" and saying "oh yeah, maybe."' The element of mystery stems from his humble start as he fought with the inner conflict of a frontman – 'between the insecurities… to extreme confidence.'
Burslem's take on record labels is that they're always looking for a clear storyline to sell the music – 'the last record was "he lives in a car!."' When asked how he'd be sold now, he laughs and sardonically comments 'I'd hate to think.'
On the topic of where he sees himself and the band in 2 years time, following speculation that Yak has broken up, he answers that in all honesty 'there's no real plan to do anything again.' He dreams of getting 'out there without all the other bits that imprison you,' and creating solo music in its purest form – where every aspect of the music is under his control.
Oli has been writing in the same shed where he fell in love with music as a kid, even reworking 'pieces of metal from a disused farmyard and tuning a tractor to the note A.'
Perhaps Yak's painfully romantic waltz with explosive and incendiary records has come to an end, but Oli will always walk the line between being hopelessly quiet and irrevocably loud – 'One part of me is wrapped up in red velvet; slow dancing and sobbing to old Stax records – and the other part of me is head to toe in bondage gear, listening to GG Allin, getting high and throwing s**t out of windows. Somewhere in-between these two is where Yak/I reside.'
Wherever it is that Burslem goes next, it will be limitless.
Similar articles…