Of the three bands that make up the "Unholy Trinity" of British Hard Rock (Led Zeppelin, Black Sabbath, and Deep Purple), Deep Purple were perhaps the most angelic, taking influence from classical and psychedelic music to form the multifaceted foundation of their sound.
This distance they kept from Sabbath's overtly evil "Devil's Chord" style and Zeppelin's mystical, Tolkien-esque aesthetic, gave them a less sensational brand, meaning they never quite reached the God-like level of exposure celebrated by their contemporaries.
Sure, Richie Blackmore had a neat pilgrim hat, but Robert Plant was an ethereal sex symbol and Ozzy decapitated a bat with his teeth, so, yeah… they never really had a chance.
Yet, even so, they're still regarded as one of the most influential bands of all time and pioneers of the hard rock and heavy metal genres.
Their music may not have reached the same level of cultural saturation as Sabbath and Zeppelin, but that just means it's waiting for you to discover!
So, warm up that neck of yours, because we've got some serious headbangin' to do as I count down the 10 best Deep Purple songs.
10. "Mistreatment" — Burn, 1974
Before his hair shot up and his lyrics were all about getting down, David Coverdale was a dab hand at delivering a super dark, super gritty blues vocal seething with angst, and that's exactly what you hear on the Blackmore-penned "Mistreated".
The track marches at a steady but powerful pace, providing ample opportunity for Coverdale to wail about being abused and losing his mind. Combined with Richie's spare yet emotionally ripe lead guitar licks, it's enough to make the hairs on the back of your neck stand on edge.
"Mistreated" terminates in an utterly face-melting Blackmore solo in which he exhibits an incredibly fluid understanding of exotic scales the likes of which you simply won't find in any of their contemporaries' back catalogs.
9. "Space Truckin'" — Machine Head, 1972
You'll have heard the descending chromatics of "Space Truckin'" in numerous films and TV shows without realizing it was a Deep Purple track.
This super fun sonic romp is loaded with spacey lyrics that quite literally take you on a psychedelic intergalactic adventure, which may or may not be a metaphor for taking a bunch of drugs… it usually is.
But, whether you're loaded or stone-cold sober, you'll vibe with this track's momentum and the way the electric organ and distorted guitar form a pulverizing partnership that provides the rocket fuel for this track's jaunt around the solar system.
"Come on, come on, come on. Let's go space truckin'" screeches Ian Gillan on the chorus of this psycho-belter, an offer that's impossible to refuse once this infectious, earworm jam works its way into the fabric of your soul.
8. "Perfect Strangers" — Perfect Strangers, 1984
I'm not the biggest fan of the organ in heavy music, but Jon Lord's keys passed through what I can only assume is Richie Blackmore's most disgustingly filthy distortion pedal during the intro of "Perfect Strangers" gives me liiiiiife! 
The poetic lyrics of this eponymous track tell the story of familiar strangers moving forward with a sense of maturity, evolving instead of stagnating, which is a fairly on-the-nose nod to the fact this was the MK 11 Deep Purple lineup's rebirth release after a 9-year hiatus.
This may shock some of you, so brace yourself… While there's some noodling here and there, this song doesn't have a proper guitar solo.
I know, I know, heresy! But don't disregard it just yet, as there are some amazing musical concepts to sink your teeth into, from the Chinese-tinged chord progression to the chugga-chugga guitar riff embossed with choppy strings towards the end.
---
RELATED: Top 10 Best Led Zeppelin Songs Of All Time
---
7. "Burn" — Burn, 1974
Out of reverence for the MK II Deep Purple lineup of the late 60s and early 70s considered by most to have been the band's best, many fans neglected the MK III era release Burn.
But the title track of this 1974 release proved that the band's revolving door approach to members hadn't compromised their sound.
If anything, "Burn" took what they had been doing in the past, gave it a shot of pure adrenaline, and lit it on fire, as evidenced by Blackmore's rippin' intro riff that wouldn't sound out of place on Metallica's beloved thrash metal debut Kill 'Em All.
I'd be remiss if I didn't also mention the aptly named Ian Paice's pulse-raising rhythms on this cut — His bouncy, snare-snapping beat is an integral thread in the aggressive DNA of the song.
Coverdale's contribution to "Burn" is also notable, especially considering this album marked his first stint in the studio with the band. His undulant harmonic howls inject another element of raw power into the song, offering listeners a glimpse of his glam future yet to unfold with Whitesnake.
6. "Fireball" — Fireball, 1971
Fireball was Deep Purple's first release after their commercial breakout with In Rock, and you know how it goes with albums released after absolute classics… they never garner the same level of adoration, which in this case, is pretty sad, as the title track is an absolute barn burner!
Blackmore was obsessed with getting the band to play faster and faster at this point in Deep Purple history, and Ian Paice was happy to oblige with a rip-roaring, double-bass blasting masterclass in drumming ferocity.
I'd highly recommend watching a few live performances of this song just to marvel at how relaxed Paice is as he's slapping out the most intense rhythm you've ever heard.
5. "Speed King" — In Rock, 1970
Just one year prior to the release of Fireball, the sonic tour de force that is In Rock hit the shelves of record stores, blowing the music scene to smithereens, and a large portion of the gunpowder responsible for the cultural blast arrived in the form of the mosh-worthy "Speed King".
Blackmore lights the fuse on this one with a schizoid whammy-centric solo buried in so much distortion it kind of sounds like you're rocking the tuner back and forth on an old radio, hearing only split seconds of coherence between walls of noisy static.
Jon Lord receives the baton from Richie, cooling the jam off with some restrained, ambient chords and neoclassical noodling, cultivating a sense of brittle calm for the band to shatter to pieces when they all come in together to start the track in earnest.
"Speed King" continues this dynamic rollercoaster ride throughout, easing off just long enough for you to catch your breath, only to return with pulverizing force and knock the air straight back out of your lungs.
---
RELATED: The Complete Led Zeppelin Story
4. "Pictures Of Home" — Machine Head, 1972
Machine Head is by far the band's most beloved and critically acclaimed album, but on a tracklist full of fan favorites, "Pictures of Home" is something of an overlooked diamond.
Paice is the first out of the block, with Kalashnikov snare blasts and apocalyptic double-kick fury. The band follows swiftly, with Blackmore occasionally embellishing the driving blues rock with his virtuosic musical knowledge of worldly scales.
Between Roger Glover's space-age a-tonal bass solo, Blackmore's of-the-time guitar dynamism, and Lord's classical keys, you just can't place this track temporally. It sounds like it's from the past, present, and future all at the same time, which is one of the things that makes it so great!
3. "Smoke On The Water" — Machine Head, 1972
Groovier than Clapton's "Sunshine of Your Love", more legendary than Slash's "Sweet Child o' Mine", and catchier than Kirk Hammet's "Enter Sandman", "Smoke on the Water" starts out with the most iconic guitar riff of all time.
So ubiquitous is this riff, even among non-rockers, that it's almost become a parody of heavy music. Imagine that, writing something so good that it breaks into the realm of excellence then shoots right out the other side and into the realm of hilarity.
It's the air guitarist's anthem, the Beavis & Butthead bop, the dad rock rager, and it's never going anywhere!
Sing it with me now… Duh duh duhhhh! duh duh duh-duhhhh! Duh duh duhhhh! duh duhhhh!
2. "Child In Time" — In Rock, 1970
"Child in Time" starts out quite slow and brooding, but Ian Gillan's vibrato-laden falsetto howling over steadily building dynamics has you utterly breathless before you know it.
A flawless nexus of prog and hard rock, this cut takes you on a blistering journey you'll never forget.
Over the course of the 10-minute runtime, Lord flits between soft organ pads and frantic neoclassical chaos, Blackmore oscillates between jazz-soft strums and earth-shaking hard-rock strikes, and Paice goes full Animal and back again multiple times.
Check it out — You won't regret it!
1. "Highway Star" — Machine Head, 1972
With lyrics telling the tale of a man's unconditional love for his car that's "got everything", it's only fitting that Gillan delivers his vocals over the top of one of the fastest, most furious instrumentals in the Deep Purple catalog.
"Highway Star" is the archetypal driving song, complete with thumping bass; big, distorted, AC/DC-style cowboy chords; pulse-raising beats; persistent, stabbing rhythms; and vocals that make you want to howl along in harmony with your roaring motor.
The interplay between Blackmore's guitar leads and Lord's classical organ lines forms a Janus-faced jam full of counterpoints and thrills, hard rock attitude and aristocratic elegance.
Widely considered one of the first-ever examples of speed rock and speed metal, if you're looking for an absolute slap to keep your eyes open when you hit the open road, listening to this track is the audio equivalent of guzzling 50 espressos.
---
RELATED: The Bob Dylan Songs That Defined His Career
---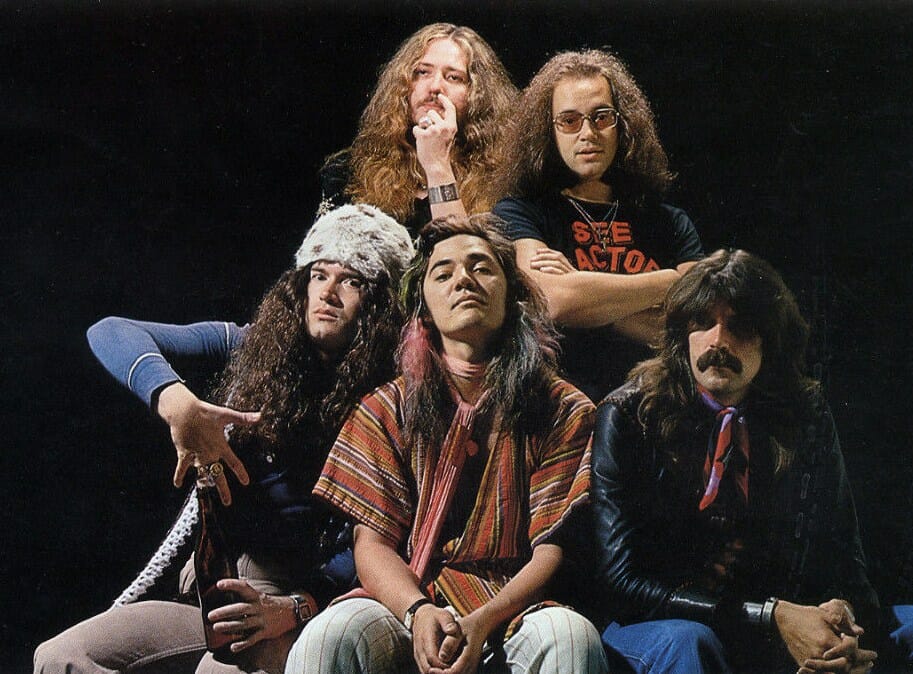 Final Thoughts
There are so many more amazing Deep Purple tracks to dive into, but if you're looking to fall in love with this band, these are the tunes you should start with. Consider them gateway songs that will inevitably lead to an all-consuming Deep Purple addiction!