Eric Clapton has long been considered one of the world's greatest guitarists thanks to his sheer ability to strum the strings and create sounds totally unlike any other guitarists of his ilk.
Clapton has served as a member of many bands across his long career, such as the highly influential band Cream, and the short-lived (but well-received) supergroup, Blind Faith.
While Clapton has faced more than his fair share of controversy and tragedy, including the death of his son Conor, he has been remembered as one of the most influential guitarists and overall musicians of all time.
Eric Clapton has also enjoyed a highly successful solo career thanks to widespread recognition of his guitar-playing skills, paired with immense lyricism. It is this solo career that we are drawing from to provide you with the ten very best Eric Clapton songs that you can listen to right now!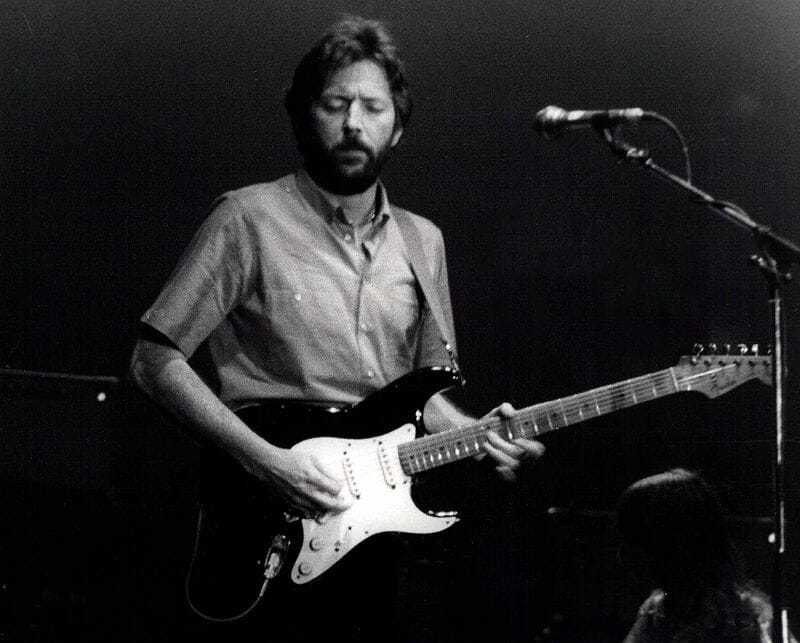 "The Core" – Slowhand, 1977
To start off our list, we figured there was no better song to start with than this smash hit from Clapton's album Slowhand which boasts some of the best work the genius guitarist has ever displayed.
This song is one of Eric Clapton's longest works at around 8 minutes in length, and this helps to make it a great showcase of Calpton's skills.
Clapton is able to play his hand very slowly and as the song builds closer and closer to the climax, Clapton's guitar playing becomes more and more complex, showing off more and more of what he is capable of.
This is a great song to start off with if you are new to the work of Clapton because it is easily digestible, yet allows you to soak in the sheer genius of his guitar mastery!
"Cocaine" – Slowhand, 1977
With a title like that, you can be sure that 'Cocaine' will be an Eric Clapton song that really dives into some darker subject matters and is unafraid to get really honest about the dangers of drug abuse.
Eric Clapton faced his own addiction to cocaine during his career, and listening to this song makes it clear just how much of an impact it had on him and his work.
If you really listen to the lyrics, they can reach into some surprisingly dark depths, but Clapton's iconic upbeat guitar ensures that it is never uncomfortable or arduous listening. 
---
RELATED: The Story Of Eric Clapton's Insane Net Worth
---
"Wonderful Tonight" – Slowhand, 1977
This is arguably one of Clapton's most recognizable songs, and within the first opening notes of the song, it's likely that you will recognize it.
It features a very bluesy guitar riff that carries the mood of the song, giving it a solemn sound as the lyrics pine for Pattie Boyd, the lost love of Eric Clapton, whom many of his songs were based around.
This song has a slower tempo, allowing Clapton to further show off the lengths that his guitar skills can go!
And the lyrics themselves are simply so elegant and lovely that it is tough to resist the charm that the song presents. You can feel the love oozing from every guitar strum and every word of the lyrics.
---
RELATED: The Very Best Songs By The Eagles
---
"Presence Of The Lord" – Blind Faith, 1969
Released as the title track to the album Blind Faith by the short-lived supergroup of the same name featuring Eric Clapton, Steve Winwood, Ginger Baker, and Ric Grech. This is perhaps one of Eric Clapton's lesser-known songs but no less an impactful part of his discography.
This song has something of a religious tone to it, not only in its lyrics that directly reference 'The Lord' but also in the sound of its guitar riffs, backed up with church organ-type sounds.
But this does not mean that the song is lacking in the usual flair you'd expect from Clapton because the guitar playing in this track is truly masterful and impressive.
You can feel pure energy radiating off of Clapton's guitar, even in recordings of the song! It's a work of pure mastery.
The guitar riff that occurs around the halfway mark of the song also denotes a slight shift in energy for the song that helps to make it even more memorable and gives it more potency as a story.
"Sunshine Of Your Love" – Disraeli Gears, 1967
This is another of Clapton's masterworks and a song that many people will likely recognize as soon as they hear the opening guitar riff starting up towards the beginning.
It's incredibly memorable and in the four minutes of musical mastery that precede it, listeners are treated to arguably one of the most incredible guitar-driven songs of all time.
If you haven't heard this song before, you totally owe it to yourself. From the iconic guitar riff opener to the drum-fueled closer, you'll be sure to have a great time.
"Promises" – Backless, 1978
This is a song you've likely heard played on the radio countless times, but you likely didn't know that it was performed by Eric Clapton!
It's one of Clapton's lesser known works, and it has a slightly more subdued and laidback sound, especially when compared to many of his other iconic songs that feature slightly more explosive guitar riffs.
The song features a distinct country twang to it and the inclusion of female vocals backing up Clapton's soft voice helps to make this one of the most soothing and beautiful songs he has ever produced.
---
RELATED: My Favorite Bob Seger Songs
---
"No Alibis" – Journeyman, 1989
Fresh off of one of Eric Clapton's most iconic albums Journeyman, 'No Alibis' is one of Eric Clapton's very best singles and features his voice sounding perhaps better than it ever has.
There is still a great smoothness to his voice, but being that this album came out a few more years into his career, a slight gravelliness began to appear in his voice that is on full display here, giving the song even more potency.
The song features plenty of instrumentation, including the iconic Clapton guitar riffs, and also has a great selection of backing vocals from female performers, to give the song an almost otherworldly sound that is almost rather gospel-like.
"After Midnight" – Eric Clapton, 1970
Originally recorded by J.J Cale in 1966, Clapton covered the track for his eponymous 1970 album. It is one of Eric Clapton's earliest solo efforts and a concrete display of just how latent Clapton's guitar-playing ability is.
His skill at manipulating the strings gives this song a great energy that allowed it to crawl to around #18 on the pop charts of its year! It's truly awesome, and it's no surprise the song has proven to be one of his best.
"Forever Man" – Behind The Sun , 1985
One of many songs by Eric Clapton where he details his more romantic side, and his pining for the love of Pattie Boyd. Despite being a song so deeply entrenched in pining, it still retains a great energy that makes it totally irresistible to fans of Eric Clapton.
This song has long remained a total favorite of Eric Clapton fans, and by listening to it yourself you'd very quickly see why.
The guitar playing in this song is perhaps one of Clapton's very best, as you can feel pure energy radiating from every single string of Clapton's iconic guitar. It's incredible just how much Clapton managed to get out of the instrument.
If you want to get a full sense of the skills of Clapton, then this is easily the song for you. It's simply incredible and unrivaled in the music world.
---
RELATED: The Rolling Stones Songs That Changed Music
---
"Hello Old Friend" – No Reason To Cry, 1976
Let's close off this list with one of Clapton's best songs, but a largely underrated classic that is mostly only treasured by long-time fans of the musician.
This song has Clapton singing to an 'old friend' that he has lost, and while fan debates still rage on to this day regarding whether he is referring to an actual person in his life or his drug addiction, it is undeniable that the song is incredibly catchy and incredibly joyous.
Just listening to the guitars, the backup vocals, and Clapton's own lyrics is enough to convince many people that this is not only one of Clapton's best songs but one of the best lesser-known tracks of 1976!
To Wrap Up
Eric Clapton is one of the most recognizable and revered guitarists and lyricists in the world, and we believe that these ten solo songs best display just how skilled Clapton is as a musician.
Whether you are a long-time fan or you simply want to know what the hype is about when it comes to Clapton's music, we believe that this list will serve you well!
Frequently Asked Questions
What is Eric Clapton's biggest hit?
While Eric Clapton has helped to deliver many big hits for the numerous bands he has played in, his biggest solo song is 'Wonderful Tonight', which has sold more than 4 million copies worldwide. 
Where should I start with Eric Clapton?
If you are just getting started with Eric Clapton's solo work, then you will definitely want to try out his album Slowhand as it contains the greatest number of his best songs and shows a wide array of his guitar skills.
How many albums did Eric Clapton release?
Clapton has been absolutely prolific throughout his career. His discography includes:
21 studio albums
21 compilation albums
15 live albums
6 collaborative albums
and 7 soundtrack albums.