Legend tells of a musical equation existent in Minneapolis: the colder the winter, the larger the number of garage bands fermenting in basements. Hüsker Dü and The Replacements are but two examples who went on to achieve legendary status in the Alternative Rock world of the 1980s. However, despite huge reputations, each retained an independent ethic that wasn't always compatible with the outlooks of major labels.
This is a significant reason why neither of them – nor many of their peers – truly attained the status they so richly deserved. To nominate the most influential band from the scene would be fruitless; to pick the jewel-in-the-crown would doubtless start a slew of heated arguments. So here goes… Soul Asylum. Of all the acts emerging from the Minnesotan underground, they came closer to the stars than most.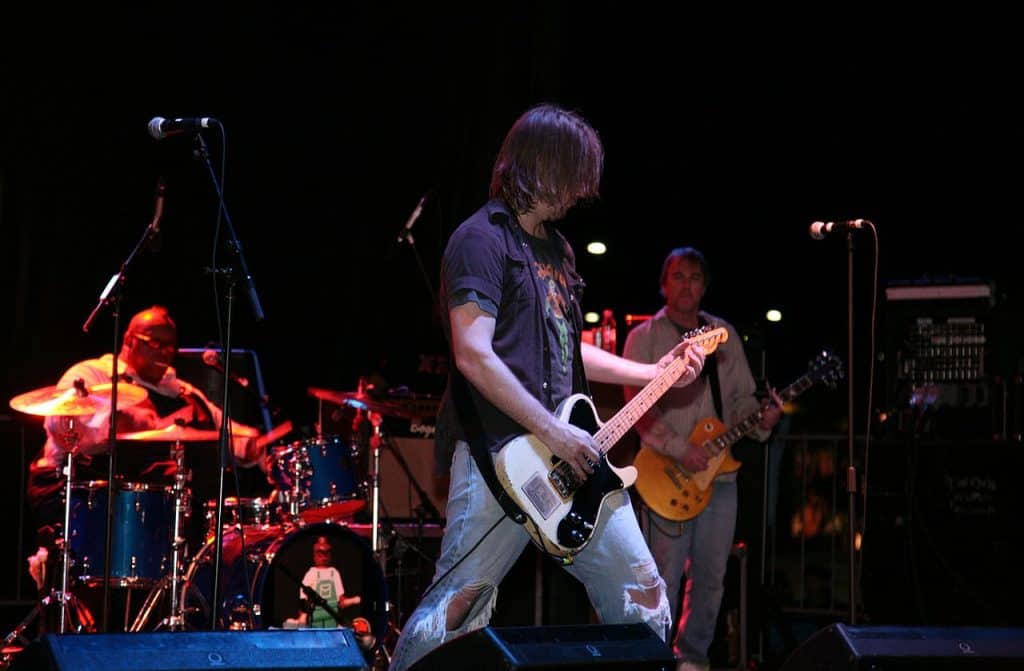 The 10 Best Soul Asylum Songs Of All Time – Written By Rich Evans
10. No Man's Land (While You Were Out, 1986)
Soul Asylum would never class as a protest band, but they definitely had a social conscience. It rises to the surface at various moments in their back catalogue with this cut as an early example; a tale of greed and industrialisation, it points a none too subtle finger at the robber barons of Reagan's America.
In highlighting pollution and appearing to criticise faceless corporations, Minneapolis' finest were amazingly prescient. The themes they sing of here are, sadly, all too familiar today – the song's 'no man's land' could readily apply to the environmental battlefields of the Thunberg era.
9. Homesick (Grave Dancers Union, 1992)
As Henry Rollins' aptly titled memoir Get in the Van attests, acts on the underground scene of the 1980s covered myriad miles in battered modes of transport. They did so while eking out a predominantly hand-to-mouth existence, shuttling between venues suitably leftfield to accommodate their stylings.
On this – track 5 of Grave Dancers Union – Pirner's voice is filled with longing as he yearns for escape from a situation that could well be a rootless life spent on the road. With its country leanings and anthemic chorus, it was a mainstay of college rock radio at the time and sounds just as moving today.
8. Closer To The Stars (While You Were Out, 1986)
Beginning with the line, 'Caterpillar crawling up the big phone pole, is there somebody that you want to talk to?' Soul Asylum arguably lay claim to the greatest rhetorical question ever to open a song.
The arrangement's frantic pace is propelled by fuzzy guitars and bolstered by a sun-drenched Beach Boys-style descending harmony. Any listeners with lingering doubts about the track's greatness would be well-advised to check out the acoustic version. In a slower, stripped-down performance from 1993's MTV Unplugged, Pirner rinses every ounce of emotion from the lines and, in doing so, turns the song into something else entirely.

7. Never Really Been (Made To Be Broken, 1986)
Beginning as a gloriously rough Celtic-infused number, this track has all the hallmarks of an acoustic reel. As a result, when the drums and electric guitars enter, they come as a surprise. Nevertheless, the manner in which they fade in and out of the arrangement shows that even back in the early days of their career, Soul Asylum were so much more than simple noise merchants.
The band's unwillingness to take themselves too seriously is evident in the way the singing dissolves into laughter in places. Redolent of a young Bob Dylan in his vocal delivery, the timbre of Pirner's voice recalls the great man's singing on When the Ship Comes In. This, though, is so much more than just pastiche, with the barrage of dystopian images perfectly encapsulating the anxieties of the mid-1980s.
6. Veil Of Tears (And The Horse They Rode In On, 1990)
This number begins with a gorgeously overdriven Telecaster riff, replete with country bends. Throughout, Pirner sings with absolute conviction – conveying the words with a guttural wrench that teeters just on the edge of screaming.
As such, he showcases the band's inherent ability to marry the catchy with the raw; the commercial with the underground. Its poppier arrangement (especially the harmonies in the outro) is a harbinger of the mainstream cash-cows of the mid-1990s, but Grant Young's thunderous drumming ensures they still have one foot very much in the world of Alternative Rock.
5. Beggars And Choosers (Hang Time, 1988)
Driven by machine-gun drums, this track begins as an old school punk tune until the harmonies kick in and turn it into something far more befitting the airwaves of leftfield radio. There's a glorious tightrope walk throughout which is perfectly suited to the track's nightmarish visions – at times it sounds like the wheels might come off which creates a fascinating sense of tension.
The seesawing between ragged disorganisation and moments of metronomically tight ensemble playing captures the listener and hauls them through the song's 3 minutes until its sudden ending permits them to catch their breath once more.
4. Cartoon (Hang Time, 1988)
In this perfect slice of power-pop, the Minneapolis stalwarts serve up a high-octane aural feast with an energy that remains undimmed from start to finish. It's not merely about the volume, though: Dave Pirner and Dan Murphy's harmonies lend this single a Beatles-like quality in places with vocal hooks very much to the fore.
Once again, Soul Asylum's credentials as being a cut above their contenders are outlined with this ticking the boxes of both muscular Alternative Rock and catchy-as-hell pop – all this while possessing an addictively hummable melody. As well as this, its lyrics are cleverly ambiguous (who hasn't wondered what 'you're in the movies now and I'm in your cartoon' might really mean?)
3. Runaway Train (Grave Dancers Union, 1992)
By 1992, the band had reached a point in their career where their commercial future was hanging in the balance, hence the drafting in of Michael Beinhorn to produce. The result: undoubtedly the band's high-water mark in terms of sales. The song's 4 minutes and 25 seconds of radio-friendly 12-string jangle became a ubiquitous presence on MTV and spearheaded the album to the status of triple platinum monster.
However, as with so many of their peers from what had previously been an underground scene, Soul Asylum had something of a love-hate relationship with mainstream success. Having spent years chasing it, when it arrived, public recognition somehow didn't sit quite right with them. Nonetheless, this – the album's lead single – still sounds as fresh and vibrant today as it did on release.
2. Move Over (Clam Dip & Other Delights EP,1989)
For some reason, record buyers in the US were denied this number when the EP was first released, which seems unfair. It's a belter. Few singers in music history have attempted to cover Janis Joplin. Fewer still have done so and held a candle to her versions. At times on this, Dave Pirner sounds like he's grinding his larynx into dust, but in doing so, his performance defines a blistering 2 minutes and 26 seconds of wild abandon.
The song's first incarnation kicked off the 1971 album Pearl (released posthumously following Joplin's untimely demise). Where the girl from Port Arthur, Texas, employs her signature scream against a psychedelic blues tapestry, Soul Asylum's take is pure garage rock: louder; faster, and even more vigorously raw.
1. String of Pearls (Let Your Dim Light Shine, 1995)
This standout track from 1995's Let Your Dim Light Shine is Dylan-esque in its abstract lyricism; a perfect synthesis of storytelling, vocal delivery and the kind of quiet/loud dynamic that spawned a thousand imitators. Had circumstances been different, then surely Pirner & Co. would now be spoken of in the same breath as Nirvana.
As it is, this number is effectively an ode to what might have been – a song that casts them as so much more than mere Alternative Rockers. Instantly memorable from the very first listen, one wonders why it's so rarely played. In truth, there has been little like it since.
Do You Agree?
1 person's Top 10 list might be another's B-side! What do you think? Did we get it right? Shoot us an email and let us know!