To say Clarence White played the guitar is an extreme understatement. Clarence White was one of the most iconic bluegrass guitar players of all time. Not only did he play with a variety of bluegrass bands, but he also played with some of the most prolific rock bands of the 1960s and 1970s.
While starting out in a family band known as The Three Little Country Boys, White developed a unique guitar style that changed the way people looked at bluegrass music. His flat-picking style led him to play alongside musical stars such as Jackson Browne, Ricky Nelson, and Emmylou Harris.
But it was his time with The Byrds that really stands out in his musical career. While his life tragically ended at the age of 29, Clarence White is still described by Rolling Stone magazine as being the impetus behind The Byrds' revival in the early 70s.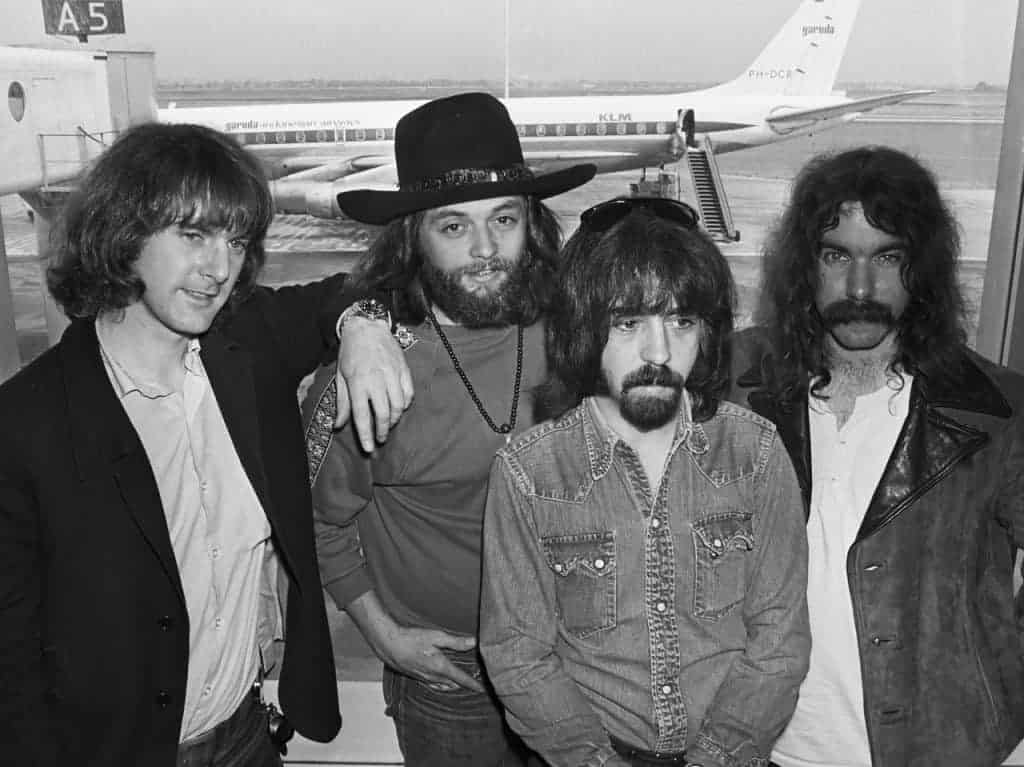 Clarence White – Early Life
Clarence White was born on June 7th, 1944 in Lewiston, Maine. His birth name was actually Clarence Joseph LeBlanc. However, his father, an acclaimed musician in his own right, changed their last name to White when Clarence was just a boy.
The son of a musician, Clarence picked up the guitar when he was just 6 years old. At first, the instrument was too big for him to handle so he became acquainted with the ukulele and banjo.
Young Clarence would follow in his father's footsteps, playing bluegrass music from a very young age. When he was about 10 years old, two important things happened. First, his dad moved the White family out to Burbank, California. Second, Clarence finally picked up the guitar – the instrument that he would go on to play throughout his career in both bluegrass and rock 'n' roll bands. Once settled in sunny California, Clarence started a band with his brothers, Eric Jr., and Roland.
Embed from Getty Images
The three White brothers, not-so-creatively called The Three Little Country Boys, started out playing bluegrass music at county fairs and other small venues. By 1961, at just 17 years old, Clarence White and his brothers would gain the attention of local producers.
The band, which rebranded itself as Country Boys, appeared on The Andy Griffith Show, not once, but twice in that year. While there, they met a few other musicians new to the bluegrass scene. Billy Ray Latham joined the band on banjo as did Roger Bush on the double bass.
Country Boys rounded out nicely with Dobro-player LeRoy Mack and renamed themselves The Kentucky Colonels in 1962 and released their first album, The New Sound of Bluegrass America in 1963. It would be with The Kentucky Colonels that Clarence White would make his real entrance onto the bluegrass and rock 'n' roll scene, defining his career for the next ten years.
The Kentucky Colonels (1962 – 1965)
Before Clarence White started The Kentucky Colonels, there really was no such thing as a guitar solo in bluegrass music. In fact, the guitar was usually expected to back up the banjo.
Embed from Getty Images
As one of the frontmen for The Kentucky Colonels, White would become the first man to make the guitar solo a real "thing" in bluegrass. His flat-picking guitar style allowed him to impress crowds and listeners as a solo artist, not just as someone to blend in the background.
White and his band were given lots of opportunities in the bluegrass movement. They put out their album, New Dimensions in Banjo and Bluegrass, and, to the band's surprise, it ended up becoming the soundtrack to the popular movie, Deliverance.
They went on to release a second album titled Appalachian Swing! in 1964. It was this second album that earned them real commercial success and helped make Clarence White one of the most recognized solo guitarists in bluegrass music.
Thom Owens, a music critic, stated that "his vibrant, innovative flat-picking, White helped pioneer a new style in bluegrass; namely, he redefined the acoustic guitar as a solo instrument… The sound was revolutionary upon its release in 1964. The music still sounds alive, even timeless, because of the strength of White's vision and talent."
Embed from Getty Images
Sadly, in 1965, The Kentucky Colonels, unable to compete with the likes of Bob Dylan and The Byrds, disbanded. White and his brothers went their separate ways. But, for Clarence White, it was only the beginning of what would become a burgeoning career.
Session Work (1966 – 1968)
In 1964, Clarence White decided to try himself in the world of rock 'n' roll. It was a time when folk music was blowing up and people were listening to singers like Joe Cocker and Bob Dylan.
While White didn't insert himself into any of the larger bands at first, he did record a lot of music with some of the more popular musicians of the time. He was motivated by guitar players like Chuck Berry who reinvented the world of guitar playing in rock 'n' roll.
One of the reasons White actually decided to part ways with his brother and the rest of The Kentucky Colonels was because they didn't agree to play the music for Bob Dylan's "Hey, Mr. Tambourine Man."
Embed from Getty Images
The song would go on to be one of his biggest hits and White was not happy that he didn't get to be a part of it. The job ended up going to The Byrds instead, which would later prove to be rather ironic for White.
When White decided to transition from bluegrass to rock, he decided to forego his Martin D-28 acoustic guitar for his new electric guitar: a Fender Telecaster. This would end up being one of the most pivotal decisions he made. Once he mastered this new instrument, he would go on to record with the likes of Ricky Nelson, The Monkees (do you know the story of how Daydream Believer almost didn't happen?), and the Gosdin Brothers.
In 1966, White started playing live and participating in recording sessions with some of the more popular rock and folk bands of the 60s. Some of his most impressive sessions were recorded with Gene Parsons and Gib Guilbeau in their band Nashville West, out of the Nashville West club.
Embed from Getty Images
He also started playing with The Trio around the same time. Because of his friendships with these other musicians, White was invited to play guitar with ex-Byrd member Gene Clark. White ended up playing lead guitar on Gene Clark's debut solo album, Gene Clark with the Gosdin Brothers.
Because of his relationship and recording sessions with Clark, White met Chris Hillman who invited him to play with The Byrds on their Younger Than Yesterday album.
Clarence White Invents the B-Bender & Makes His Guitar "Cry"
It wasn't long after playing with The Byrds on their latest album that White decided to contact an old friend of his who worked designing machines. He wanted to create a device that would let him recreate the sound of a pedal steel guitar on his electric Fender Telecaster.
He teamed up with his Nashville West pal Gene Parsons to create the Parsons/White StringBender (B-Bender) that allowed him to pull on the guitar neck and perfect the sound of his guitar crying. It was this new sound that influenced the members of The Byrds to invite Clarence White to join their band as the new lead guitarist.
Embed from Getty Images
From 1968 to 1973, White would play with the band and go on to record five albums. The new band featured Clarence White on electric guitar, Roger McQuinn on lead guitar, Gene Parsons on drums, and John York and Skip Battin on bass. The band put out several albums that would go on to enjoy commercial success.
The five albums released by Clarence White and The Byrds were:
Dr. Byrds and Mr. Hyde (1969)
Untitled (double album released in 1970 which featured live performances and studio sessions)
Byrdmaniax (1971)
Farther Along (1971)
While on tour with The Byrds, White would also get to play with many other iconic musicians of the time. He managed to play as a session guitarist with the likes of Joe Cocker, Arlo Guthrie, Jackson Browne, and the Everly Brothers, to name a few.
Many say that The Byrds, thanks to Clarence White, were one of the best truly American bands of all time. They paved the way for lots of performers and groups including Tom Petty, The Eagles, and even Beck. This was thanks to White's unique playing style more than anything else.
Unfortunately, The Byrds would go on to break up in 1973. But, right before that happened, White started recording with a few other musicians in a band called Muleskinner on their album A Pot Pourri of Bluegrass Jam. The band actually scored a recording contract with Warner Brothers for one album.
It was recorded with White, along with David Gusman, Richard Greene, and Bill Keith. The album was a great departure from what White recorded with The Byrds. It was considered a hybrid genre of rock blended with both bluegrass and country music. It would go on to be labelled as a new genre entirely – progressive bluegrass.
Clarence White and The New Kentucky Colonels
Despite his brief success with Muleskinner, White would go on to return to his roots toward the end of his career. He regrouped with his brothers, Roland and Eric Jr. to form The New Kentucky Colonels. They started out playing live performances in California but also enjoyed a brief tour in Europe.
The New Kentucky Colonels toured with the likes of Gram Parsons, Emmylou Harris, and Chris Ethridge. Then, in 1973, White started to work on his first solo album. He recorded six songs, four of which would be released on the archival album Silver Meteor: A Progressive Country Anthology in 1980.
Embed from Getty Images
When White returned from his European tour, he resumed playing local gigs with his brothers. It was actually outside one of these gigs on July 15th, 1973, that White would meet his demise. Clarence White was helping his brother load their gear into their van when he was hit and killed by a drunk driver.
His life was cut short that night. Whether we like to think that he died doing what he loved or not, it was still an ugly end to what seemed like just the start of his musical career. At his funeral, his friend and bandmate, Gram Parsons, played a tribute to White.
Clarence White's Overall Influence on Music
While his life may have met a tragic end in 1973, that didn't stop Clarence White from becoming one of the most iconic guitarists in music history. In 1991, The Byrds were inducted into the Rock and Roll Hall of Fame but left out White's name.
Many argued that the induction was a snub to Clarence White, who was a member of the band for several years. The names only included Roger McGuinn, Chris Hillman, David Crosby, Gene Clark, and Michael Clark. Even Gram Parsons wasn't included in the induction invite.
However, White is recognized as being pivotal to the band's success, playing on some of their most popular songs, including "Turn, Turn, Turn" and their cover of Bob Dylan's "Hey, Mr. Tambourine Man." He's also credited with changing the sound of bluegrass.
Embed from Getty Images
His new invention of the Parsons/White StringBender will go down in history as one of the most important for guitar players. He was also instrumental in creating and bringing to life the progressive bluegrass genre when he played with Muleskinner in 1973.
While White strived to develop a sound as quintessential as that created by Chuck Berry, he managed to do much more. While he wasn't a popular frontman for any single band, he was crucial to the commercial success of several bands.
His unique flat-picking playing will go down as one of the most unique styles in music history. He was also one of very few performers to bridge the gap between bluegrass and rock 'n' roll music. Clarence White is thought of as one of the trailblazers when it came to guitar playing. He has been compared to some of the greats, such as Jimi Hendrix and Stevie Ray Vaughan.
While part of this was due to his time with other bands, it was his unique style of guitar play that inspired so many other American musicians. And it is his guitar play that makes him one of the most iconic and most underrated guitar players in rock 'n' roll.
Similar Stories…