Dusty Hill's death in 2021 almost caused the legendary rock band to cancel their plans for a 16th album. Read on below to get the story on their latest tour and how the band dealt with the passing of one of their long-standing members.
I think life is there for you to grab it and be positive. Just look for the good everywhere.

Dusty HIll
Hearing that your favorite band releasing a new record or an album, especially after a long hiatus, can really make your day and give you something to look forward to.
Similarly, hearing that a member of your favorite band has passed can conjure the complete opposite emotions and be totally gutting for fans.
This horrible dichotomy occurred for ZZ Top fans recently, as the vocalist and bassist, and founding member of the infamous bearded group, passed away in his sleep in 2021 shortly after the band announced a new album.
Here's their story and how this tragic event nearly put the brakes on their most recent album.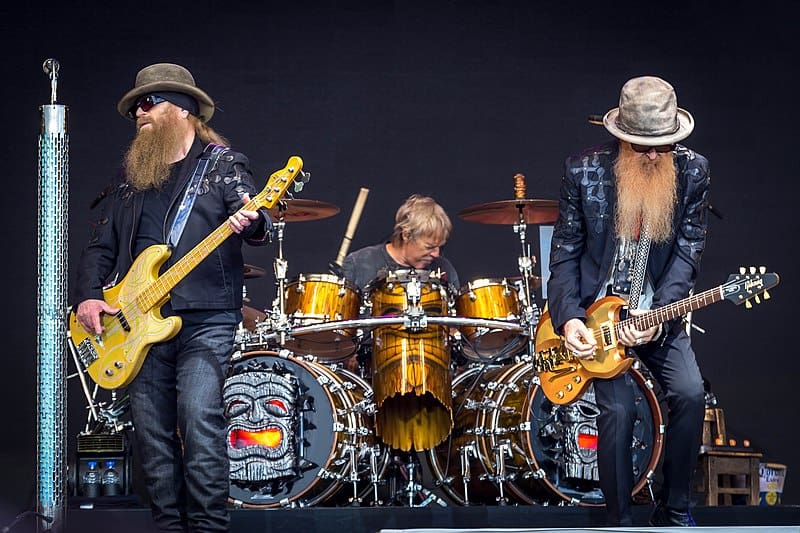 Moving SIdewalks, Moving Places
Back in Houston in the early 60s Billy Gibbons, later the guitarist of ZZ Top, started the band Moving Sidewalks, a psychedelic rock group that was considered to be one of the main influences on other modern bands at the time such as Pink Floyd, as well as Jimi Hendrix.
It was around this time that the rumor started to spread that Hendrix, who was highly coveted at the time as a guitarist, admitted that he wasn't the best guitarist in the world on The Dick Cavett Show.
The rumor was that Hendrix actually believed the best guitarist of all time was Gibbons.
While there is no accurate reference for this quote, the pair shared a camaraderie at the time so it wouldn't come as a surprise. Moreover, this goes a long way to demonstrate how embedded in rock culture ZZ Top is.
By 1969 Gibbons had assembled the first lineup of ZZ Top, the drummer from Moving Sidewalks, Dan Mitchell, and a bassist and organist known as Lanier Greig.
Early Years, Pre Beards And Sunglasses
Gibbons was already deep in the Houston music scene, so organizing shows and finding a manager wasn't hard during the band's infancy.
After releasing a few singles previous bassist Lanier Greig was replaced with Billy Etheridge who played with another Houston native, Stevie Ray Vaughan, who would later become another tragic death in the Houston rock scene.
Mitchell was also replaced during this period by Frank Beard. Once they started getting interest from record labels, they realized Etheridge was still contracted with Vaughan and couldn't sign a record deal so they quickly replaced him with the now long-standing member Dusty Hill.
These three then went on to reach dazzling heights as ZZ Top, and the trio remained unchanged, until Dusty Hill's Death in July 2021.
Cementing The ZZ Top Sound
ZZ Top's original signature sound was the driving guitars that many associate with the band, although they continue to go through many phases throughout their career.
Their album Tres Hombres makes a clear reference to the cementing of this trio as the band's lineup. This album became incredibly popular and reached No.8 on the Billboard 200 album chart.
This album included 'La Grange', perhaps their most famous song to date, about a brothel in La Grange called 'Chicken Ranch'.
After releasing their album Tejas in 1976, they had closed out their album contract with London Records, which included several successful albums, singles as well as around seven years of touring.
This starts a theme in the band's history of taking long breaks. Beard, the drummer, had to take time out to deal with his drug abuse issues, which involved him going to Jamaica, while Gibbons chose to travel to his friendly Europe.
Hill actually spent time during this hiatus working at Dallas Airport doing menial labor. He said he wanted to feel normal after spending this initial period of seven years touring the world.
The Beards And Sunglasses Period
When the trio returned with their album Degüello, they returned with long beards, sunglasses and hats and initiated the period where this became their signature style as much as the music. This period birthed some great singles such as 'Cheap Sunglasses'.
Degüello was released on Warner Bros Records, a huge label that helped them reach more mainstream audiences in the US.
This gave them exposure to a wider audience in Europe and specifically England, the home of their previous record label, which helped them gain a lot of live performances and TV appearances.
By 1983 they started a string of top 40 singles such as 'Legs', 'Got Me Under Pressure', and another international hit 'Sharp Dressed Man' thanks to one of their coveted albums Eliminator.
This album certainly took a mildly different direction, demonstrating their versatility by embracing more modern sounds at the time, influenced by bands like Depeche Mode.
Late 80s Change In Sound
The band introduced a live-in sound engineer known as Linden Hudson who worked closely with Gibbons as they had to complement some of the natural sounds of Hill and Beard with their synthetic drum machines and synths.
Afterburner (1985) was the bearded trio's next album which actually charted higher than their previous despite selling fewer records. To top off the 80s they released Recycler.
While Recycler returned to their older sound by keeping the guitar as the main driver, moving away from synths and drum machines, it seemed to cut out the fans they had generated from their 80s synth phase.
The 90s And Greatest Hits Era
By 1992 their Greatest Hits had already been released by Warner Bros, but this didn't stop them from signing a $35 million deal with RCA soon after.
Soon after they signed this deal they celebrated with the release of their eleventh album Antenna, later followed by Rhythmneen ironically marking their twelfth album, as well as 1999's XXX, both of which included live recordings.
By 2004 they were inducted into the Rock and Roll Hall Of Fame, which they truly deserved at this point and were very proud of, being inducted by Rolling Stones legend Keith Richards.
After four decades of touring and recording they decided to take another large hiatus as elders of their trade by this point.
La Futura And recent events
Of course, ZZ Top never stops.
By 2011 they had decided to continue their journey of stardom by producing a more modern album produced by Rick Rubin, which included a lot of Hip Hop influence as that style of sound was growing rapidly in Houston and other areas at the time.
An example is their tune 'I Gotsa Get Paid' which is still very ZZ Top in sonic style but is influenced heavily in its lyrics by a Lil' Keke song known as '25 Lighters'.
They had some media obligations after this which would have taken a chunk of time, but Gibbons eventually created a solo project while the others got on with their individual lives.
Fast forward to 2016 after a successful North American tour in 2015, ZZ Top chose to embark on another tour soon after called the '2017 Tonnage Tour'.
Unfortunately, a major tragedy occurred for fans of the band as Dusty Hill has to cancel the rest of the seven tour dates to deal with what the band at the time had termed 'a tummy ailment' in their press release.
In 2018, in what seemed like an apology, the band announced a six-day run of shows at The Venetian in Las Vegas.
Potential Sixteenth Album And Tragic Circumstances
In the Las Vegas Review Gibbons had told reporters the trio was thinking about another album to their already illustrious discography, with the potential for Jeff Beck to appear on the album.
To quote Gibbons himself, his exact words:
We're cooking up another round of wicked sounds for the next ZZ Top record.
This was back in 2020 and was likely pushed back due to COVID-related reasons.
In July 2021 after things started to open up again, ZZ Top was unsurprisingly the first on the bill in many places.
Yet, by July 2021 Dusty Hill was forced to leave a tour due to what was later revealed to be a broken hip and a broken foot.
Fans were later left shocked and rather dismayed to hear that Dusty Hill had passed away in his sleep on the 27th of July 2021, not long after he was forced to leave the tour.
Many wondered how and why he had died so soon after the tour, many were left confused at how this had happened as there was little mention of major health ailments prior.
The band announced that the tour would continue, as would the release of the album, which is still awaiting release.
Dusty Hill had mentioned that he wanted Elwood Francis, their two-year guitar technician, to continue his legacy as the bassist in ZZ Top, although he wouldn't don the hat and beard.
It has been revealed that HIll had already recorded his own parts for the album prior to his passing, meaning that the album can be released giving full credits to him posthumously.
On July 30th, merely days after his passing, ZZ Top did their first gig in over four decades with Hill on the bass.
Circumstances Of Dusty Hill's Death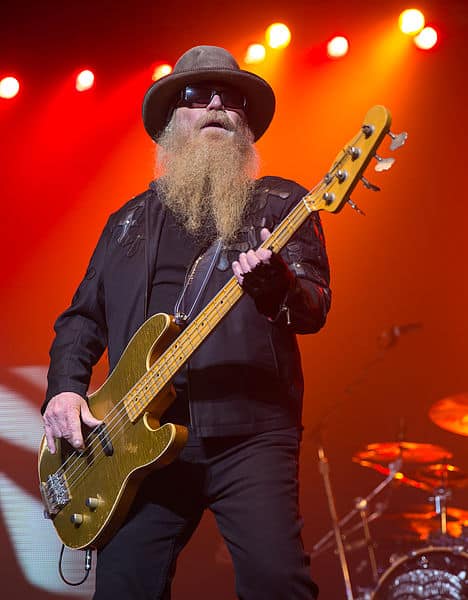 Many fans were curious about what happened to Hill and how he died so soon after touring, in a recent interview with Variety magazine, Gibbons shone some light.
He revealed that Hill died in his sleep, likely unaware but peacefully, while also revealing the circumstances around his death.
Gibbons cast doubt over the idea that it was Hill's previously broken shoulder and hip that would have been the cause of death, as doctors had reported it to him.
Lets face it, you don't necessarily pass away from a broken shoulder or hip…

But as of this juncture, yeah, it was off the dreamland and beyond.
According to Gibbons, he had told Hill to leave the tour previously due to his concerns about his health, but Hill resisted due to his stern personality, perhaps not fully understanding his own health conditions through either fear or naivety.
But Gibbons reveals he did eventually leave the tour:
He requested dismnissing himself from the band. He said "Yeah, let me go check this out". And of course I said, health is number one. Go do your thing.

It's no secret that over the past few years he'd had a pretty rough go with a broken shoulder, followed by a broken hip.

So he's been kind of tip toeing through keeping himself ship-shape as best he could.

But I think it was a real challenge, by throwing in the towel, it might have caught up with him.

Who knows?

I'm just glad he's in a good spot.
Hill's wife later concurs with Gibbons' statement by revealing that bursitis was the cause of death.
It's likely that an untreated case of bursitis, thanks to previously broken shoulders and hips at his older age, would have led to an infection that was likely unnoticed and ended up being fatal.
Final Thoughts On Dusty Hill's Death
The amazing trio that was ZZ Top will claim their place in the history books of Rock and Roll for years to come.
Prior to even starting ZZ Top Gibbons was already an influential character in the scene, but they arguably influenced generations of modern rockers with their guitar-heavy sound.
They lived through the whole phase of rock and roll and even took their turn at many different sounds. They will undoubtedly be remembered by everyone for their cool style, sly antics, and cheeky grin.
They are still going today. Gibbons alongside a new bassist should release Hill's final album soon and likely continue the ZZ Top tradition of touring heavily.
We expect lots of memorials to Hill within the album.
If you're looking for a bit more of the story of Dusty Hill, be sure to check out this video from the grunge.com team, or if you want to dive into the band further, be sure to read our in-depth piece on the ZZ Top band members.
Frequently Asked Questions
Who Is Dusty Hill?
Dusty Hill was the bassist, and one-half of the beards, for legendary rock group ZZ Top.
What Did Dusty Hill Die From?
Dusty Hill died in his sleep. No official cause of death was given, but it is thought that his death was related to the recent surgery he had undergone.
What Songs Did Dusty Hill Sing?
Dusty Hill sand both lead and backing vocals for ZZ Top. As such you will hear his distinctive voice on most tracks.
When Did Dusty Hill Die?
Dusty Hill died in his sleep on July 28th, 2021.
Who Replaced Dusty HIll?
After Dusty Hill's death, the band continued touring with their long-term guitar technician, Elwood Francis, taking Hill's place on the bass.
How Old Was Dusty Hill When He Died?
Dusty Hill was 72 years old when he died.