Eddie Van Halen is a name that straddles the genres of hard rock, guitar rock, glam rock, and many more. In doing so he became one of the most recognizable and influential guitarists of his time.
Eddie was one of the original founders of the band, "Van Halen" and remained lead guitarist until his death in 2020. His value within the band is recognizable, as they broke up soon after his death, Wolfgang Van Halen, the band's bassist at the time and also Eddie's son, remarked soon after his death that "You can't have Van Halen without Eddie Van Halen".
Not only did Eddie influence rock and metal music for years to come, but reinvented how the guitar was used. He perfected the art of 'finger tapping' in his face-melting guitar solo on 'Eruption', influencing a new wave of guitarists for years to come.
The result of such a noteworthy career as a guitarist and songwriter for Van Halen, Eddie's death left behind a world of wealth. Many fans wonder where Eddie's money and estate went, as well as his original guitars – let's find out together.
How Did Eddie Van Halen Die?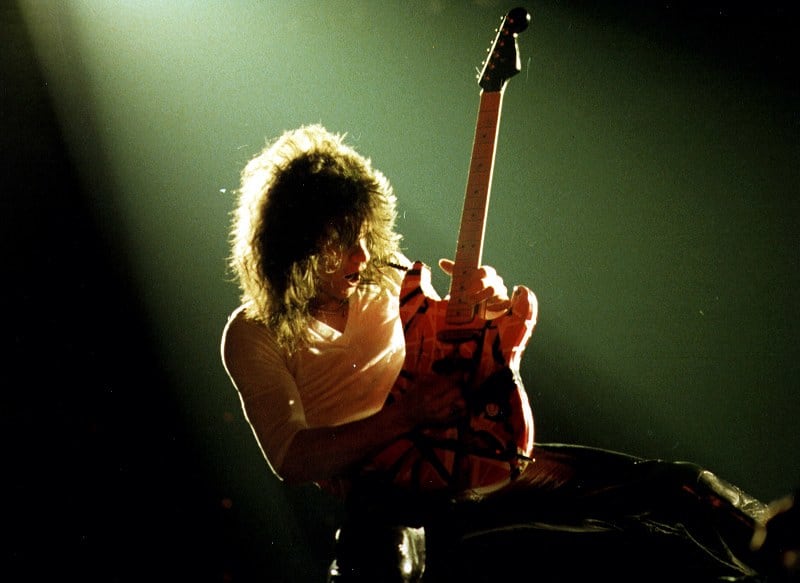 Eddie's trouble with cancer, as well as alcoholism, is well known and Eddie remained fairly outspoken on both subjects throughout his life. When Eddie eventually succumbed to cancer in 2020, many fans were already prepared.
Eddie and his brothers lived pretty fast and this was enhanced by the rush of fame, and tours that quickly became their life.
Admitting that he started drinking and smoking at the age of 12, what was originally used to settle pre-show nerves turned into a necessity for Eddie to function.
Yet since a trip to rehab in 2007, Eddie remained proudly sober until his death in 2020.
Eddie was no stranger to the medical system as a result of his acrobatic stage performances which in tandem with his guitar solos were the main spectacle of the Van Halen shows. Eddie underwent hip surgery as early as 1999.
Yet, shortly after in 2000, Eddie's troubles with cancer began as he started to receive treatment for tongue cancer.
The guitarist remained adamant this was a result of his own habits, Eddie used metal guitar picks to achieve his guitar sound yet admits he often kept them in his mouth.
He observed himself that "I used metal picks, which I always held in my mouth, in the exact place where I got the tongue cancer."
Eddie rather stoically never stopped playing live even after undergoing surgery for diverticulitis in 2012. Yet, in 2019 Eddie was hospitalized due to a separate throat cancer battle that his wife said had been ongoing for around 5 years prior.
On October 6, 2020, Eddie Van Halen passed away in California due to a stroke. He was surrounded by his family, friends, and band members as he passed.
What Was Eddie Van Halen's Net Worth?
It's no shock that Eddie and his fellow bandmates made their wealth from their music, selling millions of records and endlessly touring across the globe, and specifically for Eddie plenty of endorsements and branding for his own guitars and relevant accessories.
Not only did Eddie play the guitar on every Van Halen song, but also features as the main writing credit on nearly all Van Halen songs.
Needless to say, Eddie's involvement in Van Halen's 10 studio albums, not including EPs, LPs, live albums or singles, as well as their various tours over the period of 1973 – 2015 will have amassed a serious amount of wealth.
Van Halen is one of the biggest selling US bands of all time, according to the Recording Industry Association of America (RIAA) they are ranked 20th among best-selling US artists. All 10 studio albums were certified multi-platinum.
It's thought that their debut album alone raised around $10 million for Eddie alone as lead guitarist and songwriter, according to Wealthy Genius.
Many sources such as Celebrity Net Worth and Rock Celebrities estimate Eddie's Net Worth at around $100 million around the time of his death. This is unsurprising considering the royalties he will have amassed from selling 56 million albums in the US and a further 80 million worldwide.
What About Eddie Van Halen's Estate?
It's believed that Eddie owns several homes within the Coldwater Canyon of LA, including his own 10,000 square-foot property, as well as being the owner of the 5150 studios where Van Halen recorded all their albums from 1984 onwards.
The original construction of the studios was only approved by officials as it was played off as a racquetball court as a studio would not have been allowed.
With the advent of wireless monitors and guitar leads, Van Halen wrapped the whole studio with a layer of chicken wire, turning it into a faraday cage, so Eddie wouldn't pick up rogue signals on his guitar frequencies.
Also included in Eddie's estate are his own original guitars. In addition to his playing style, Eddie's own guitars, specifically, his 'Frankenstrat', are iconic and easily recognizable for their design.
Rolling Stone reported that in December 2020, after the rock star's death, three of his guitars, including one Eddie designed with his guitar tech, sold for a combined amount of $422,000.
His own Kramer Striker which was custom made and hand-painted, considered to be his backup guitar for the tours of 1984 and 5150, sold on its own for $231,250 to a private buyer.
One of Eddie's original Frankestrats, the yellow and black one he is holding on the back of Van Halen II, was actually buried with Dimebag Darell after he was tragically shot in 2004.
The two knew each other for a short period of time where Eddie promised to make him his own guitar, yet Darell died before he could give him it, so Eddie buried him with his original.
Who Inherited Eddie's Net Worth and Estate? Did He Have A Will?
When it comes to Eddie's wealth, while there is no official statement on the matter, we can assume his wealth was distributed among his children, widow, and potentially his ex-wife, all of whom were present when he died.
As Eddie had a long-fought struggle with health issues dating back to 1995, we can assume the rock and roll Hall of Famer had an extensive will for all his possessions and wealth that was continuously updated as his troubles with cancer came to an end.
As mentioned, many of Eddie's original guitars, which were worth a lot of money as the December 2020 auction shows, have been gifted to friends and family as well as buried with other lost souls.
A copy of Eddie's Frankestrat is in the Metropolitan Museum of Art in New York, as well as the National Museum of American History in DC.
His guitars continue to be immortalized after his death not only as they are made and reproduced, sold under Eddie's own guitar brand EVH alongside Fender but more recently within an NFT collection created by House of Petals.
Eddie was also a big champion of various charities, where much of his recently earned money goes. In addition to donating money, Eddie personally donated 75 of his personal guitars to public schools throughout LA through Mr. Holland's Opus Foundation.
So, we can also assume some of his wealth may have been donated to the charities close to his heart.
Eddie's 5150 studio was passed down to his son who now owns the building. He uses the studio to record with his band Mammoth WVH, the name harking back to Van Halen's original band name when they formed.
It's also believed that his son Wolfgang has an original of his father's Frankestrat which he claims to have used to play the solos on the self-titled album.
Final Thoughts
Eddie Van Halen is one of the most influential guitarists of all time, his influence on the genre of rock as well as guitar solo composition is felt in nearly every corner of the music world.
It is clear that Van Halen will have amassed a serious net worth, likely around the $100 million mark, due to his credits as lead songwriter and lead guitarist on the band's 10 multi-platinum selling records, as well as Jump which reached number 1 in the US charts.
Eddie was surrounded by his family and friends when he died of cancer in November 2020, and considering his long battles with health since 1995 it is likely he had a will in place long before his death.
It's assumed most of his wealth went to those who were there in his final moments as well as charities close to his own heart.
Eddie's iconic guitars are dotted across the globe, many of the originals being sold for large sums of money, and even being immortalized in NFTs, as well as being buried with other iconic guitarists of the time.
It's safe to say that Eddie Van Halen's legacy is priceless and the new wave of guitarists he inspired will be more valuable to society than any estimate of his fiscal wealth.
Here's an insight into his lifestyle and net worth by our friends over at Lifestyle & Net Worth.
Frequently Asked Questions About Eddie Van Halen
When Did Eddie Van Halen Die?
Eddie Van Halen died in Santa Monica, California on October 6th 2020.
What Did Eddie Van Halen Die Of?
He passed away due to a stroke.
Where Is Eddie Van Halen Buried?
As he requested, Eddie Van Halen was cremated and his ashes given to his son Wolfgang.
How Old Was Eddie Van Halen?
Eddie Van Halen was 65 when he died.
How Much Was Eddie Van Halen Worth?
Eddie Van Halen had an estimated net worth of $100 million at the time of his death.
What Type Of Cancer Did Eddie Van Halen Have?
Eddie Van Halen had multiple struggles with cancer throughout his life, including tongue cancer, stage 4 lung cancer and a brain tumor late in life.
Who Was Eddie Van Halen Married To?
Eddie Van Halen's first wife was actress Valerie Bertinelli, with whom he had one son, Wolfgang. They were married in 1981 and divorced in 2007.
In 2008 he married his publicist Janie Liszewski, and remained married until his death 12 years later.
Where Was Eddie Van Halen Born?
Eddie Van Halen was born in Amsterdam, The Netherlands.
Similar Stories…