With gyrating hips; be-jeweled catsuits; piercing blue eyes; devilishly good looks; and a seductive, quivering voice; it's hardly a surprise that Elvis Presley took the music industry (and our hearts) by storm once he burst upon the scene in 1956.
Fusing elements of black western musical culture with strains of traditional white western music (to some controversy), he played a role in the creation and proliferation of rock and roll.
His records and shows throughout the 50s and 60s earned him acclaim around the globe, catapulting him to prototypical mega-stardom, redefining fame for the modern era, but by the time Elvis reached his 40s, he was more like a cheap Vegas impersonation of himself than the real deal… more of a jester than "The King".
As such, when he took to the stage of the Market Square Arena in Indianapolis at the age of 42, he wasn't exactly in his prime. Yet, stilted though this last performance was, there was still a spark remaining of the star power that electrified his early career.
The King Holds Court One Final Time
On June 26th, 1977, Elvis stepped out onto the stage alongside his sizable touring band and delivered 22 songs to an 18,000-strong South Dakota crowd in Rapid City.
In many ways, it was an unremarkable, by-the-numbers show, but by this point in his life, Elvis was suffering the consequences of his lavish and impulsive past.
His features no longer looked chiseled as much as they did thumbed into putty, and those snake hips of his had long since been tamed, but even with his body on what seemed like the brink of collapse, his voice was as sweet and mellifluous as it ever had been.
While it was obvious to most that his health was waning during the late 70s, as soon as the audience heard those soulful, undulant notes, it was as if they were staring at a twinkly-eyed 21-year-old Elvis, ready to break hits and hearts in equal measure.
The only thing pulling at the loose threads of this illusion was the fact he kept forgetting and/or stumbling over a great deal of the lyrics in his songs, but, ever the performer, he turned these blunders into laughs, altering further lyrics to make fun of the fact he couldn't remember the actual words.
Charm aside, his patchy memory and subpar physical condition were indicative of his long-standing and ongoing drug addiction and a history of prioritizing hedonism over health.
A name that had spent the last two decades in lights would soon be etched into a copper tombstone.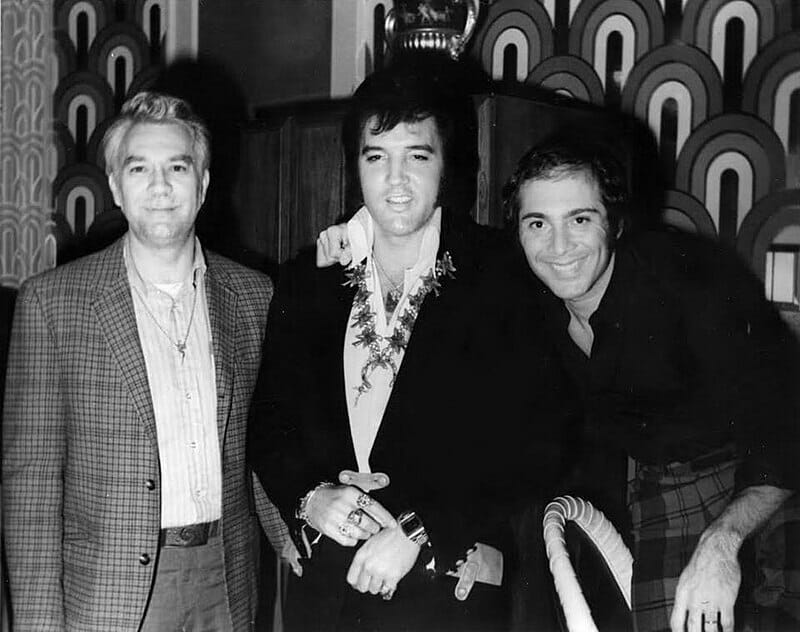 When & How Did Elvis Presley Die?
On August 16th, 1977, not 2 months after this South Dakota appearance and just before he was scheduled to fly out to Memphis to kick yet another tour off, Elvis Presley, the man many thought of as a god, died.
His body was discovered on his bathroom floor by his girlfriend Ginger Alden who reported that
Elvis looked as if his entire body had completely frozen in a seated position while using the commode and then fallen forward in that fixed position directly in front of it.

[…] It was clear that, from the time whatever hit him to the moment he had landed on the floor, Elvis hadn't moved.
Elvis's body was rushed to the Baptist Memorial Hospital where he was pronounced dead by way of a heart attack, and despite the obvious signs that all had not been well with The King, news of his passing left the world all shaken up.
How Unhealthy Was Elvis At His Last Show?
Elvis hadn't matched his earlier caliber for some time before what turned out to be his last ever show, but considering just how unwell he was, it's crazy to think how perfect his voice rang out that evening.
Journalist Andy Green puts this performance into medical context in his Rolling Stone column…
When Elvis Presley hit the road in June 1977, he was an absolute mess. He was only 42, but years of prescription drug abuse and horrifying dietary habits had left him bloated, depressed, and near death.

He had an enlarged heart, an enlarged intestine, hypertension, and incredibly painful bowel problems. He was barely sleeping and should have probably been in the hospital.
Put simply, while Elvis was playing this concert, he was in the process of dying, and not in the nihilistic stoner "we're all dying" kind of way. He was literally dying!
Why Did Elvis Go On Tour While So Unwell?
As Elvis' health issues were, for the most part, self-inflicted, perhaps in part due to the tragedy surrounding his birth, he was no doubt feeling a strong sense of denial that kept him from going to the hospital though he was clearly unwell, but by all accounts, it was his manager, one Colonel Tom Parker that encouraged him to keep touring.
Being that Elvis was still a huge star at this point, the money was hard to refuse, so he listened to his manager and carried on working.
Final Thoughts
Elvis Presley wasn't just a once-in-a-lifetime artist, but a once-in-history artist, and while it's certainly sad that he passed on relatively early, his legacy will never, ever be forgotten — The King may be dead, but his influence and memory are immortal!
To learn more about the final year of Elvis Presley's life, leading up to his final performance, check out the video by Grunge after the FAQ below.
Frequently Asked Questions
What Was The Setlist At Elvis Presley's Final Concert?
Here's how The King's final set played out:
"Also Sprach Zarathustra" (entry theme)"
"See See Rider Blues"
"I've Got a Women"
"Amen"
"Love Me"
"Fairytale"
"You Gave Me a Mountain"
"Jailhouse Rock"
"It's Now or Never"
"Little Sister"
"(Let Me Be Your) Teddy Bear"
"Don't Be Cruel"
"Release Me"
"I Can't Stop Loving You"
"Bridge Over Troubled Water"
"Early Morning Rain"
"What'd I Say"
"Johnny B. Good"
"I Really Don't Want to Know"
"Hurt"
"Hound Dog"
"Can't Help Falling in Love"
"Are you Lonesome Tonight?" (encore)
What Was The Last Song Elvis Ever Performed?
If you look at the setlist of that Market Square Arena show online, you'll be led to believe that "Can't Help Falling in Love" was the last song Elvis ever performed to an audience, but this list doesn't take the encore into account
Having finished the established setlist, Elvis and his band hit the stage once more to perform a moving rendition of "Are You Lonesome Tonight?"
He forgot most of the words in the spoken passage, mumbling his way through to the final chorus, but the smile on his face and the softness in his voice still won the crowd over and closed the show with aplomb.
Where Was Elvis's Last Concert?
Elvis's last very performance was at the Market Square Arena in Rapid City, South Dakota.
How Old Was Elvis When He Died?
Elvis Presley died when he was only 42 years old.
How Old Would Elvis Be Today?
Elvis Presley was born in 1935 and would be celebrating his 88th birthday if he was still alive in 2023.