How did Stevie Ray Vaughan die? Was it a twist of fate, or simply the wrong place at the wrong time? Read on below to find out about his prophetic dream and what was meant to happen that fateful night.
You know, there's a big lie in this business. The lie is that it's ok to go out in flames.

But that doesn't do anybody much good.

Stevie Ray Vaughan
Stevie Ray Vaughan and Eric Clapton are two names you may not necessarily put together in the rock and roll world, while both were legendary guitar players whose paths occasionally crossed, fate had it that one night their paths would cross one final time.
Neither one knew that it would be fatal for one and lucky for the other.
Thanks to an interview with Rolling Stone, it was revealed how close a shave Clapton had with the scythe of the grim reaper, despite death forming a large part of his career and lyrics in the 1990s.
Here's the shocking tale.
Eric Clapton's Career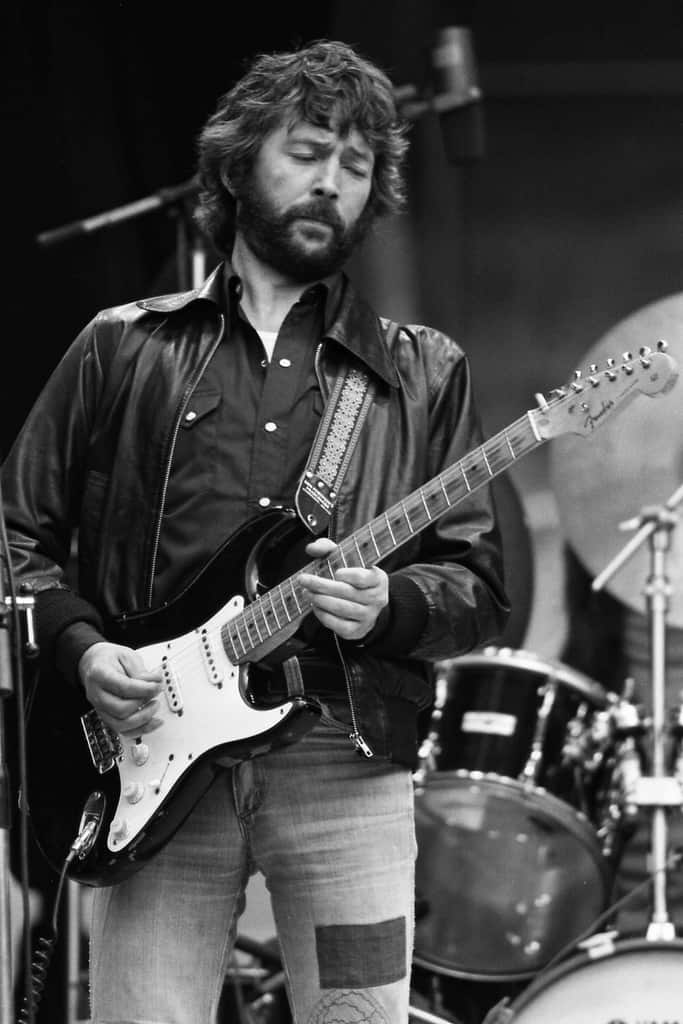 Eric Clapton started his guitar-playing career in the band The Yardbirds. While Clapton seemed to have success in the band, their move to a more poppy sound from their original blues roots led him to leave the band.
Soon after, Clapton formed the band Cream with two other members, creating a blues trio. They created classics such as Crossroads and Sunshine Of Your Love.
From 1966-69 they released four albums after which they broke up. In the short time they were a band they still were inducted into the Rock and Roll Hall of Fame.
After Cream, he tried to form another band with limited success as they released one album and did one tour prior to breaking up.
Clapton took a different approach after this, choosing to go it solo. He often recorded and performed with other bands but rarely stayed with them for a long time.
An example of this is Derek and The Dominoes with which Clapton recorded one of his hit tracks 'Layla' which ranked #27 in Rolling Stone's '500 Greatest Songs of All Time' list. An acoustic version was later recorded by Clapton which won a Grammy in 1993.
Finding issue with the royalties and credits he received for the classic Rock tune, Clapton settled on a solo career. This suited him well after his problems with heroin and continued alcohol problems.
His solo career in the eighties was highlighted with hit songs such as 'Wonderful Tonight' and a cover of Bob Marley's 'I Shot The Sheriff'.
Yet, it was marred by a dangerous relationship with Pattie Boyd, who was dating George Harrison at the time, and his own substance abuse issues. In 1987 after some rehab, Clapton was pronounced sober and managed to stay that way for til the present day.
Throughout the 80s he continued to make records that never reached the heights of his old records but ultimately earned him a place on stage next to other great performers such as Tina Turner, Pink Floyd, Phil Collins, Bee Gees, and many more.
Continuing to perform with many guests on stage, one night he was to play with Stevie Ray Vaughan in Wisconsin where the fateful event occurred.
---
RELATED: The Story Of Eric Clapton's Insane Net Worth
---
Stevie Ray Vaughan's Career
Like Clapton, Vaughan was a blues guitarist who had a similarly disjointed career that culminated mainly in solo musical endeavors.
Leaving school in 1972, Vaughan began playing with different outfits in his native Austin eventually joining forces to create his band Double Trouble in 1978, which established itself on the Austin music scene.
Being one of the more popular bands in Texas, they were invited to play the Montreux Jazz Festival in 1982 where they met David Bowie. Vaughan finally had his big break as Bowie invited him to play blues on the 1983 album Let's Dance.
This attracted the attention of Epic Records who invited Vaughan and his band to make their esteemed album Texas Flood which became a classic in Texas and was enjoyed as one of the major proponents in the 80s Blues revival.
Like Clapton, Vaughan suffered badly from alcohol and drug dependence, except his alcoholism didn't cause him to become a racist like Clapton. Like Clapton, he became sober around 1987, he soon released his fourth studio album In Step which was perhaps his most well-received.
The result of the album's success made him a very popular blues performer, being asked to perform all over the country culminating in him headlining Madison Square Garden and the Beale Street Music Festival in 1990.
It was shortly after that he crossed paths with fellow alcoholism survivor Clapton, and the fateful event occurred.
How Did Stevie Ray Vaughan Die On That Fateful Night in Wisconsin
The day before Vaughan died, his crew and band recall him telling of a dream he had the previous night where he was at his own funeral, saying he saw thousands of mourners and the whole affair made him feel 'terrified, but peaceful'.
Vaughan and his band played the opening slot for Eric Clapton at Alpine Valley Music Theater, playing one of Clapton's 'all-star jamming sessions' to close the show. Afterward, the performers chatted backstage and talked of playing again in London for more of Clapton's shows.
Stevie, alongside his brother, Jimmie, and Jimmie's wife, Connie, were supposed to all get in one helicopter, but it turned out that Clapton's agent Bobby Brooks, bodyguard, and assistant tour manager took the seats, leaving only one left.
Rather than waiting for the next one, Vaughan asked his brother and sister-in-law if he could take this last seat citing "I really need to get back".
Clapton revealed, later on, that he left early citing he was jealous of how good Vaughan was, there were five helicopters that night that flew out of the stadium, and Clapton safely escaped the fog cloud on the first helicopter, as did all helicopters apart from Stevie's.
The helicopter with Stevie and other members of Clapton's crew took off in heavy fog at around 1 am, being unable to see his surroundings properly, an already inexperienced pilot flew sharply to the left and crashed into the side of a ski slope, killing everyone on board on impact.
There was no explosion or fire, and no one was even aware of the helicopter crashing until it didn't reach the destination intended.
The helicopter wasn't found until 7 am the following day. An investigation found that no one on board was inebriated at any time, with Vaughan being recently sober.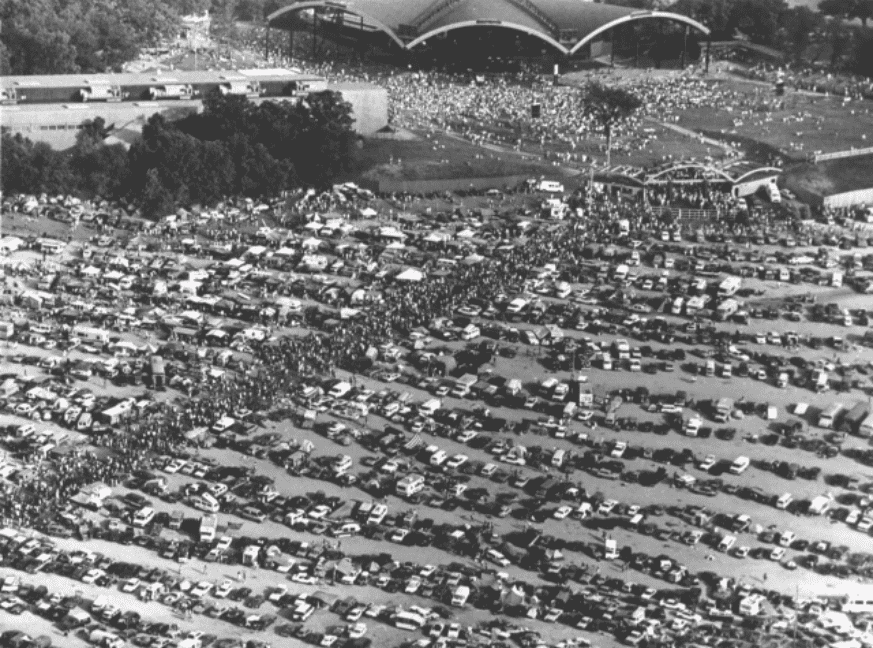 Clapton Breaks His Silence In An Interview
Clapton didn't really comment about what happened in the crash, his son had tragically died from falling from his wife's apartment only a few months after. Clapton broke his silence to Rolling Stone, revealing his thoughts during this period of unprecedented death,
I mean, the death of my son, the death of Stevie Ray, taught me that life is very fragile, and that if you are given another twenty-four hours, it's a blessing. That's the best way to look at it
This may have been what influenced Clapton to continue touring the touring show. Clapton suggests 'The vote came out, after hours of discussion, that we should go on.'
It was the best tribute we could make – to carry on and let everybody who was coming to see us know that it was in honor of their memory
What Clapton does highlight, as others did, was the true tragedy was that both Clapton and Vaughan had both survived alcoholism and come out better on the other side.
Vaughan himself nearly died of dehydration on stage after playing for so long while hungover, so the fact he died in such an avoidable helicopter crash, was the most tragic part.
The worst thing for me was that Stevie Ray had been sober for three years and was at his peak. When he played that night he had all of us standing there with our jaws dropped.
Vaughan's prophetic dream turned true, that night we lost one of the best guitarists of all time, another musical soul that was taken too soon.
Thousands mourn his death every day and he is recognized as one of the greatest blues musicians of all time.
For more about what Eric Clapton thought about Stevie Ray Vaughan, have a look at this video from the crew over at The Guitar Show.
Frequently Asked Questions
How Did Stevie Ray Vaughan Die?
Stevie Ray Vaughan tragically died in a helicopter crash after performing a concert with Eric Clapton.
When Did Stevie Ray Vaughan Die?
Stevie Ray Vaughan died on the 27th of August 1990.
Who Else Was On The Helicopter With Stevie Ray Vaughan?
Unfortunately, there were no survivors of the crash. The other people who died were: Bobby Brooks, Eric Clapton's agent; Nigel Browne, his bodyguard; Colin Smythe, one of his tour managers; and the pilot, Jeffrey Brown