Though Mackenzie Phillips came from a background of luxury, material prosperity and has herself enjoyed a successful career, her life has also been tinged by tragedy. It's never easy being the child of celebrity parents, but some kids have it a lot worse than most.
But she has battled trauma and adversity to achieve significant career success and role-model status for overcoming personal and emotional setbacks.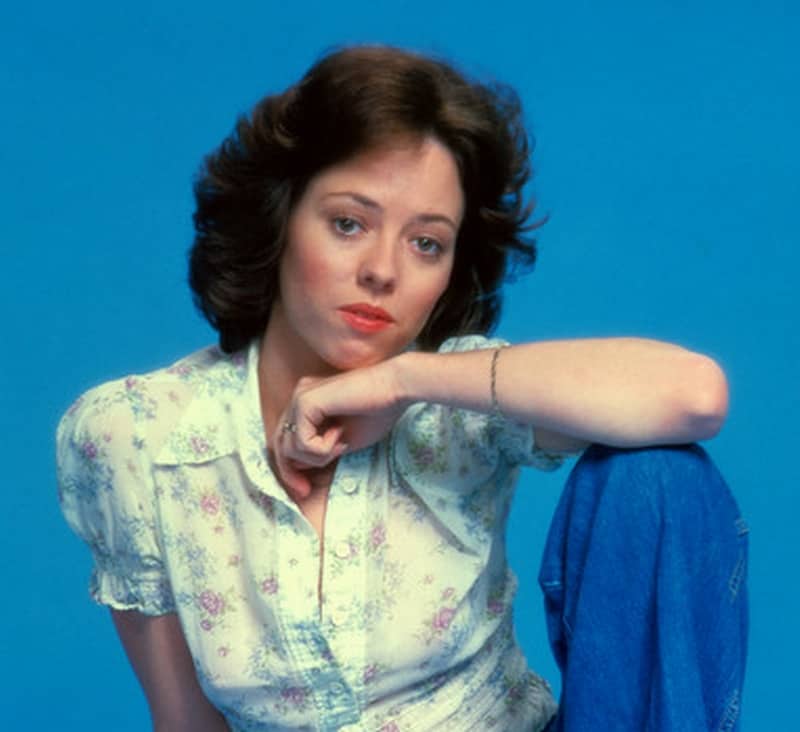 Who Is Mackenzie Phillips?
Born Laura Mackenzie Phillips on November 10th in 1959, Mackenzie Phillips is the daughter of The Mamas & the Papas singer John Phillips and his first wife Susan Adams. She inherited a passion and keen interest in music from her father. From a very young age, she learned instruments and performed.
When she was twelve, she formed a band with her classmates in Northridge, California. This was to be the beginning of her own career in the spotlight.
A talent scout soon saw her innate potential, and she was given an audition for a role in a forthcoming motion picture. The movie was American Graffiti, directed by a young George Lucas. She won the key role of Carol Morrison, alongside hot-rodding teenager John Milner, played by Paul Le Mat.
Embed from Getty Images
She was thirteen when the movie came out, in 1973, and already she was building up a reputation as an actress. The movie proved to be a big hit.
But the innocent, nostalgic aesthetic of American Graffiti was a bitter contrast with Mackenzie's own upbringing. Based on her own accounts in later years, her relationship with her father John Phillips was traumatic and highly abusive.
From the age of eleven, Mackenzie Phillips has claimed, she had taken to using cocaine. This was first given to her by her father, and he was even responsible for injecting his young daughter with the powerful and highly addictive drug.
According to The Guardian, the drug was "so freely available around the house – laid out on slabs or in bowls for casual guests – that, inevitably, his children began to partake of it too, developing addictions of their own."
Although according to John Phillips this was looked down upon, the children still indulged. In Papa John: An Autobiography, Phillips joked, "It was a case of Father Knows Drugs Best."
However, this was just the tip of the iceberg. Throughout her formative years and on into her young adulthood, Mackenzie was subjected to shocking sexual abuse by her father John. His mellow musicality and easy-going public persona shielded a very dark side indeed.
Embed from Getty Images
Her Big Break
In 1975, Mackenzie got her "big break" in TV, with the role that would come to define her career. That role was Julie Cooper in the smash hit long-running sitcom One Day At A Time, alongside Bonnie Franklin.
Mackenzie swiftly emerged from the shadow of her famous father to become a star in her own right. From the age of fifteen onwards, she was on a staggering salary of $50,000 a week. In today's money, that's $237,570. This did not help with her descent into substance abuse excess.
Whilst One Day At A Time was filming its third season in 1977, Mackenzie Phillips was arrested for disorderly conduct. She was only seventeen years old. Her career inevitably began to suffer, and she developed a reputation for lateness, unruly behavior, and incoherence on set. In short, she was unreliable.
The producers gave her a chance to battle her addiction, so she took a six-week break from the show and went into seclusion. But it wasn't enough. She quickly returned to her substance abuse habit and was eventually fired from the show in 1980.
With the benefit of hindsight, it's easy to see Mackenzie's acting out as a way of combating the horrible abuse she was suffering behind closed doors. But at the time, it was easy to misconstrue her as simply a spoilt showbiz kid.
Mackenzie Phillips and Valerie Bertinelli perform a rendition of "Don't Go Breaking My Heart" on One Day At A Time in 1976
Relationship With Father
In later years, Mackenzie would recount a horrifying incident in 1979. On the night before her first marriage at the age of nineteen to Jeff Sessler, part of the Rolling Stones' entourage, she claims that she and her father got high and she blacked out.
In reading an excerpt from her tell-all memoir, High On Arrival, on the Oprah Winfrey show, Mackenzie Phillips said "I woke up that night from a blackout to find myself having sex with my own father," she told Winfrey. "I don't remember how it started or, thankfully, how it ended… Was it the first time? Had this happened before? I didn't know and I still don't."
You can watch the key moments from this Oprah interview in the clip below:
Apparently, their relationship continued for a further 10 years. She has likened their relationship to a kind of "Stockholm Syndrome," where a veneer of apparently consensual incest shielded the pernicious control which John exerted over her.
When Mackenzie finally found the courage to confront her father about raping her in his New York City home, he responded, "Raped you? Don't you mean we made love?" At this point, she sadly knew she was alone.
Embed from Getty Images
When recalling the events with Larry King, she described how her father failed to acknowledge the immorality in his actions.
"My father lived in a world of his own creation, there's a fine line between genius and insanity as we all know. He tried very hard to live a life of his choosing… I think that to him if sex happened between a father and a daughter and no one protested where's the problem?"
Things came to a head around this time when Mackenzie Phillips became pregnant with her father's baby. She has since given a harrowing account of this revelation and the subsequent abortion which her father paid for.
This, she claimed, was the end of their sexual relationship. Though Mackenzie's account of events has been frequently disputed by those who were close to the pair, including John's two subsequent wives.
One of these wives, Michelle Phillips, told The Hollywood Reporter that she has "every reason to believe [Mackenzie's account is] untrue." Michelle Phillips said, "She told me, then she called me back and said, 'You know I'm joking.'"
Michelle went on to acknowledge that John Phillips wasn't the best parent and was indeed addicted to various substances, "But f— his daughter? If she thinks it's true, why isn't she with a good psychiatrist on a couch? I think it's unconscionable that Oprah would let her do her show."
John Phillips third spouse, South African actress, singer, and model, Genevieve Waite said, "He was incapable, no matter how drunk or drugged he was, of having such a relationship with his own child."
Embed from Getty Images
However, it has also been supported and substantiated by other key figures. These include Mackenzie's half-sister, Chynna Phillips, as well as the daughter (Jessica Woods) of John Phillips's bandmate, Denny Doherty.
Her half-sister Chynna told Us Weekly, "I knew it was true. I mean, who in their right mind would make such a claim if it wasn't true?"
She went on to say, "They were both doing drugs together. After long nights of heroin use, she's claiming that she once woke up and that my father was on top of her having sex with her," Chynna said. "Was he actually raping her? I don't know. Do I believe that they had an incestuous relationship and that it went on for 10 years? Yes."
Jessica Woods claims her father Denny Doherty was fully aware of "the awful truth" about what was going on and was horrified.
Decline
By the early '80s, Mackenzie Phillips was at her lowest ebb. Her marriage to music manager Jerry Sessler proved to be short-lived, and the couple divorced in 1981. That was also the year that her father John was convicted of drug trafficking.
To avoid substantial jail time, he and Mackenzie embarked on an extensive anti-drug media campaign, which was ironic given their insurmountable drug dependency at that time. In the event, John only served three weeks behind bars.
Around this time, two near-fatal overdoses finally prompted Mackenzie to enter rehab, and she finally managed to get clean. This offered her a glimmer of hope for getting her career back on track. She was invited to return to her role of Julie on One Day At A Time.
Unfortunately, this wasn't to last. She resumed her cocaine usage and caused quite a stir when she collapsed on-set. When she refused to submit to a drug test, that was the last straw. She was fired from the show for good, and her character written out completely.
Embed from Getty Images
For the rest of that decade, she survived on a cocktail of drugs. In 1986, Mackenzie Phillips married guitarist Michael Barakan (a.k.a. Shane Fontayne), who would later tour with Bruce Springsteen. This marriage gave her a son, Shane Barakan, who was born in 1987.
But inevitably, she was unable to escape the shadow of her domineering father. As a by-product of his fame with the original The Mamas & the Papas, she was recruited in the mid-'80s for his revival of the group with a new lineup, "The New Mamas & the Papas." She toured with them for the remainder of the decade, as well as making sporadic guest appearances on popular TV shows like Murder, She Wrote and The Love Boat.
In the early 1990s, she found herself in rehab once again. This was an intensive, long-term program she undertook in 1992, which would last a total of nine months. That year, her father's own substance abuse problems finally caught up with him and he was forced to undergo a liver transplant.
He subsequently caused tabloid controversy when he was photographed shortly after the transplant, drinking alcohol in a bar.
But Mackenzie's emergence from her rehab program prompted her to kickstart her acting career, and she made a slew of guest appearances throughout the 1990s. This included popular hit shows like NYPD Blue, ER, Crossing Jordan, and The Outer Limits.
Between 1994 and 1998, Mackenzie Phillips was also part of a smash-hit national tour of Grease, so it's safe to say she pretty much picked up her career where she left off.
Embed from Getty Images
Mackenzie divorced her husband Michael Barakan in 2000. That same year, her father died of heart failure at age 65. But she did not let these circumstances hamper her career success. She co-starred with Cara Delizia in a lead role for the Disney Channel series, So Weird, playing a fictional rock star named Molly Phillips. Phillips also made further guest appearances in Without A Trace, Cold Case, and Criminal Minds, among many others.
But her persistent drug addiction remained with her throughout these years. In 2008 she got herself arrested on a felony charge of cocaine possession, to which she pleaded guilty. She wound up in rehab yet again, but this time it finally seemed to do the trick. She re-emerged a new woman, eager to make up for the lost time.
Mackenzie Phillips Legacy
In 2009, she released her autobiography and memoir High On Arrival. Not only did this renew public interest in her career, but it caused a media sensation on account of its revelations regarding her abuse at the hands of John Phillips.
Mackenzie Phillips has since been very outspoken about incest, and about her own substance abuse problems. She has appeared on shows like Celebrity Rehab and The View to talk about her recovery and has also begun work as a rehab counselor herself, for the Los Angeles based Breathe Life Healing Center in Hollywood.
Embed from Getty Images
In 2017, her career came full circle when a reboot of One Day At A Time offered her a guest spot. Her appearance as counselor Pam Valentine provided an ironic but ultimately redemptive reflection on her own troubled history with the show. The role proved such a success that she has since made repeated guest appearances up until 2019.
Mackenzie Phillips has endured low lows indeed but has come through them intact and determined to persevere. She has never been short of work, either, and continues to act regularly. She is notable for her versatility, having tackled light comedy, demanding musical performances as well as intense dramatic roles in her varied career.
Most recently, she appeared in a recurring role in the hit Netflix series Orange Is the New Black in 2018.
Mackenzie Phillip's story is a cautionary tale about the dangers of show business excess. But it is also an inspirational reflection of inner strength and determination. Long may it continue.
Similar Stories…