Mia Zapata, while coming from affluence, was an OG punk.
She and her band The Gits were well known for their punk sound & style, and the attitude they brought with them from the underground punk scene.
However, unfortunately for Mia and her fellow punks, what success The Gits had during their small rise to occult fame, has been overshadowed by the events of one tragic night.
Mia Zapata was murdered and a huge investigation followed where everyone was a suspect. The investigation unraveled over a number of years and only years later the events were put to rest.
Who killed Mia, and why? Why was the case unsolved for so long? What happened to The Gits?
If you want to know the answers to these questions, and more, keep reading our breakdown of the tragedy of Mia Zapata, and what we can learn from her tragic death.
Living On Both Sides Of The Street
Raised in Louisville Kentucky, an ideal place to find musical inspiration, Mia learned the guitar and piano by age nine.
As well as being influenced by southern staples such as Hank Williams, Bessie Smith, Billie Holiday and Ray Charles, as she grew into her adolescence, Mia later found her groove in the punk rock scene.
Mia was the third child of Richard and Donna Zapata, as the youngest of the bunch she grew up with one older brother and one older sister.
She attended an all-girls prep school in Louisville, which likely will have begun to ingrain the dislike for discipline and authority that colors Mia's punk attitude, alongside most of the rock and punk rock scenes
Mia was a subject of retrospective interest to many as, while she became a punk rocker, she lived quite a comfortable life as her family were quite well off for her area.
This privilege allowed her to go to prep school and have the space to practice creative interests. However, she was never too far from 'the other side of the street'.
After her tragic death, her father remarked on her childhood
Mia lived in two different worlds.

She lived on two different sides of the street – the straight side, with a good school, an affluent family, and tennis clubs.

But when she crossed the street, material things didn't mean anything to her.
A journalist, Peter Sheehy, comments similarly how 'Mia [was] the hub of several social circles; a magnetic personality who drew all sorts of people together who otherwise might never have met.'
It seems this ability to adapt to most social climates made her quite comfortable in any environment, which later could have worked against her.
Practicing Creativity And Experiential Learning
By 1981 Mia's parents had split up, with her father remarrying. And three years later Mia herself had uprooted her life to chase her creative dreams at Antioch College, enrolling in 1984
All the personality traits were there for Mia to become an influential artist, now all she had to do was work that creative muscle as a teen.
Luckily, her family's affluence allowed her to go to a liberal arts school in Yellow Spring, Ohio, known as 'Antioch College' a college that suited Mia to a tee.
The school seeks to 'participate in a movement rooted in a tradition of breaking boundaries to face the challenges of now.'
The school's alumni is a list of people who have benefited, clearly, from this free-thinking – people like Leonard Nimoy, as well as Jefferson Airplane guitarist and vocalist Jorma Kaukonen, to name but a few.
Mia similarly found her people at this school, equally privileged but simultaneously self-aware prep school kids with a penchant to experiment, break the mold, and hone their creative edge.
Her lanky posture had earned her the cutesy nickname 'chicken', something she had since her childhood, yet she chose to embrace this and even got a tattoo of a chicken on her leg.
Yet, little did she know that she would meet her future bandmates of The Gits here.
Forming The Gits
In 1986, after being at college for some time, Mia soon met fellow deviants and rule breakers, Andy Kessler, Matt Dresdner, and Steve Moriarty.
Together they formed what was originally the 'Sniveling Little Rat Faced Gits' which was a reference to a Monty Python sketch, a popular English comedy troupe. Yet they soon shortened this mouthful to simply 'The Gits'.
In 1988 they recorded their unofficial debut album, alongside Ben London who would later find fame in a solo project.
They titled their first album Private Lubs but actually didn't see the light of day until 1996 when it was released by Broken Rekids as Kings and Queens – this was after Mia had died.
In 1989 they relocated to Seattle where there was a burgeoning punk and grunge scene, led by none other than Nirvana who, after their mainstream success, pathed the way for the grunge scene in Seattle as well as across the globe.
They took residence in the lovingly named 'Rathouse' in Capitol Hill where they lived off little and made music as well as rehearsing.
With many paying attention to this scene in the wake of Nirvana's success and the growing popularity of grunge and alt-rock at the time, they needed to make a statement to get the attention of those within the scene before the money and attention moved elsewhere.
With determination and hard work, and a little luck, they soon gained the attention of local grunge fans and journalists.
Mia befriended the local punk all-girl quartet known as 'Seven Year Bitch' who were also popular at the time.
Yet, while they seemed to fit the scene perfectly, The Gits were not your run of the mill Grunge band. Mia's voice was not drowsy or screechy but influenced by her southern home, generally coming out pretty bluesy, which fitted the music perfectly.
Her retort was clear and targeted, often using realism, as grunge did, to convey emotion 'Cut My Skin, It Makes Me Human' being the obvious example.
A song that could speak to her former childhood self, one who was privileged but saw herself in others, the refrain that follows the title is 'it keeps us all the same'.
This was clear as during this period Mia worked as a dishwasher at a bar on Broadway in Seattle. This small job allowed her to rack up the hours while she wasn't making music in the Rathouse.
This let her pay the bills while the band found their feet in the Seattle scene.
More interestingly, Mia perhaps could have gone to her parents to get money and seek the sponsorship that many musicians and artists hope for. But Mia chose to earn her own way, just as she would do in the Seattle music scene.
Initial Success
During the early 1990s, they gained a lot of hype within the Seattle scene, for their out there live performances, headed by Mia, as well as their interesting lyrics and unique style that wouldn't even conform to most punk genres.
The first release for The Gits was a song titled 'Precious Blood' released by local label Big Flaming Ego Records.
Jumping on this spotlight on both The Gits and the Seattle scene generally, two more singles were released soon after. 'Second Skin' on Broken Rekids in 1991 and 'Spear and Magic Helmet' on Empty Records in 1991.
1991 also saw the release of Bobbing for Pavement, a compilation album released also on Broken Rekids/Rathouse.
This period culminated in the release of Frenching the Bully, released in November 1992, the debut studio album of The Gits, not including the previously mentioned unofficial debut album.
The album was 12 tracks, including their hit 'Cut My Skin, It Makes Me Human', around 30 minutes of playtime, and was released on C/Z Records.
This was reissued after Mia's death in 2003 with a new album cover and bonus tracks surmounting to a 22-track album including live and single versions.
This was The Gits most polished and holistic work, really honing in on The Gits experiences in the Seattle scene and in that sense is a time capsule for Mia herself.
One review from River Cities' Reader describes the album as 'A stunning document of the talent [of] singer Mia Zapata.
She sings with such conviction, ferocity, and expressiveness that the lyrics become irrelevant, the band becomes irrelevant.'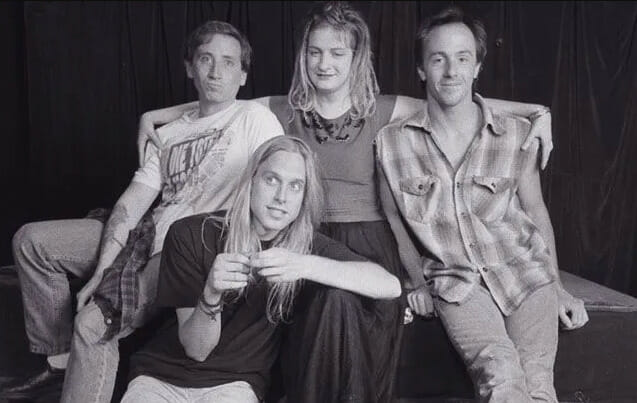 Sign Of The Crab
While Frenching the Bully was a tapestry of their influence and style from the Seattle scene, Enter: The Conquering Chicken was where they came into their own.
The name was a joking reference to Mia herself. As previously mentioned Mia's funny wide stance earned her the name 'Chicken' which she had a tattoo of.
So unsurprisingly Mia was the main show of the album once again, but this time she was utilizing the southern influence of her youth and pushed a more blues-focused vocal delivery, clear on songs such as 'A Change is Gonna Come'.
The aforementioned song was a cover of Sam Cooke's blues classic, Mia's bluesy vocal really comes through while the rest of the band provided that garage band vibe that still wore the Seattle influence.
Perhaps of most interest to fans was 'Sign of theCrab' a strangely prophetic song where Mia imagines her death at the hands of a murderer, almost like she knew what was coming.
The lyrics paint a clear picture: a woman being put back in line with violence, but she seems unbothered knowing her spirit will live on.
'Go ahead and slice me up, spread me all across this town, 'cause you know you're the one that won't be found.'
A Tragedy Occurs And Mia Zapata Is Murdered
Early 1993 The Gits had completed a short tour, Mia had left work at the bar for a while and returned happily to her domestic job for a short period.
On July 6 Mia went for a night out celebrating with her friends and bandmates to celebrate having recorded their second album Enter: The Conquering Chicken.
They reveled at a bar named 'The Comet' and hung out until after midnight.
Around this time Mia left the bar to visit one of her friends who was staying in a flat in the same building where the band recorded their music.
She stayed there until around 2am on July 7. She decided to leave and apparently told her friend she would be getting a taxi home.
This was the last time Mia was seen alive, except for her killer. It's hard to speculate exactly what Mia did after this, perhaps walking around the block before bed, or taking a long walk to her house.
All we know is that by 3:30am, within a few hours of her leaving her friend, Mia was found beaten, raped, and strangled.
With no identification on her, she was initially unidentified for a while until a medical examiner who was a fan of The Gits confirmed it was Mia.
The perpetrator was not found due to a huge lack of technology and DNA analysis at the time.
Yet, due to the circumstances of her death, it was clear she was brutally murdered, her underwear was stuffed in her pockets and it seemed she was strangled with the drawstring on her hooded sweatshirt, although she had a lacerated liver due to the blunt trauma from the struggle, which would have killed her regardless. Importantly, later down the line, she was also bitten.
An issue had presented itself to many involved in the case, there was very little evidence at the scene, or so we thought, but Mia was well known around this scene in Seattle and seemed to hang around with a lot of different people.
Moreover, as Mia came from wealth, which many didn't know, it was assumed that she may have been targeted for her money.
However, this was clearly a random attack and it seemed Mia's gender was the only thing that triggered it.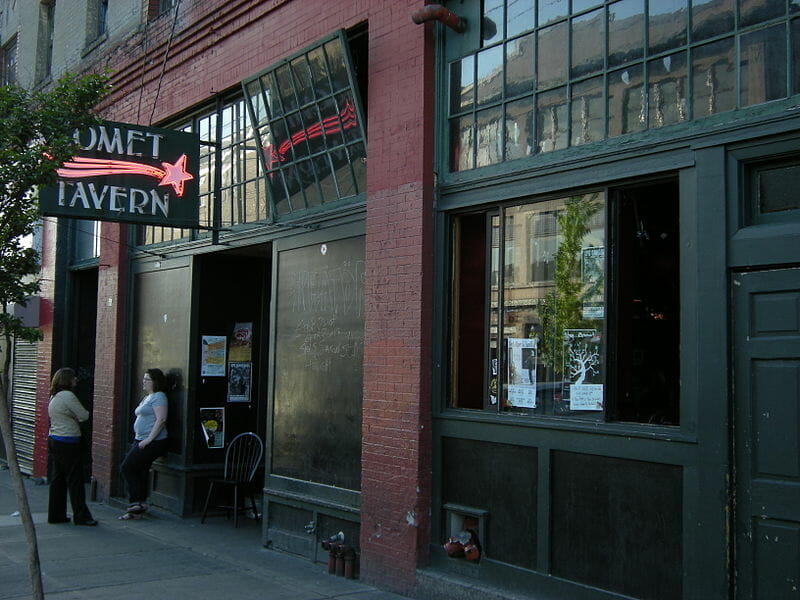 Grieving
Clearly, everyone who knew Mia was completely shocked that this could have happened to her. While many of them were not privy to the full details at the time, Mia was dead and that wasn't good.
Many of them knew she was murdered but had no idea of the rape or beating. The rape wasn't even reported for a long time, which demonstrated a typical trend of police under-reporting of rape at the time.
What was clear is that The Gits were over, the rest of the band seemed to agree that Mia was The Gits and without Mia, there was no band.
Almost immediately after Mia's death, the band was dissolved and mainly spent the following years grieving, investigating, and helping the release bits of their catalog that could be used to generate money for the charities that would later be established in Mia's name.
The Investigation
The investigation around Mia's murder was pretty lackluster. With little evidence at the scene that the detectives could work out at the time, they treated it as another murder in the quite scary place that was Seattle at the time.
Without any evidence, the detectives turned on Mia's friends assuming that the murder, being so intimate, must have been enacted by someone Mia knew personally.
Her ex-boyfriend was pestered by the police alongside her bandmates who were shocked to even be considered suspects. Police even confiscated her personal journals to find clues of her potential killer.
Some of the friends that Mia was with that night suggest she was quite drunk and angry with her ex after they had broken up, but this was not enough evidence.
Moreover, her ex had a solid alibi that night that was backed up by others.
Many of Mia's friends were upset with how the police were treating them as well as Mia's murder case at large.
The Seattle music scene, which was shocked at this time, raised money, around $70,000, to hire a private investigator to work out what had happened to Mia.
The funds dried up after three years on the job and with nothing to show for it, yet the investigator actually continued to investigate Mia's case.
In 1998 following five years of failed investigations the Seattle police announced they 'were no closer to solving the case than they were the day after the murder.
Hope Was Not Lost
In this period when Mia's case was unsolved, no one within the scene wanted Mia to die in vain, they wanted something good to come from her unsolved case.
Inga Muscio helped spearhead a solution after writing a scathing review of fiduciary justice in the cases of rape and murder against women.
While Muscio didn't know Mia she headed up this charge to make something good from her death.
The answer was 'Home Alive', a short-term solution to the threat of violence that hung over the heads of women all around Seattle.
Home Alive aimed to teach women basic self-defense in order to potentially protect themselves or have something to fall back on should they find themselves in a similar situation to Mia.
The charity also organized loads of charity benefit shows where Mia could be celebrated and a safe space could be created where these issues could be discussed and solutions sought out.
They hoped the concerts would 'bring the art and music communities together around a tragedy' to 'find ways to proactively address these issues'.
Much of the initial funds came from 7 Year Bitch, one of Mia's befriended bands, who named their second album Viva Zapata in 1994, much of the money made from the album was donated to Home Alive.
Home Alive actually did quite a lot at the time to raise awareness about the rape and violence that threatened women who were alone in the city at night.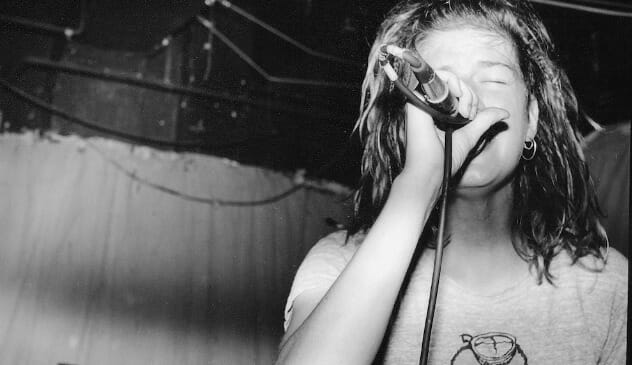 A Late Break In The Case
One thing the police weren't so open about was the evidence of the crime scene, it seems they found more than they let on but didn't want to release it for fear that other people would use it in their own, unsanctioned investigations.
But when Mia was bitten by her killer they did get a saliva sample as they found her body so soon after she was dead.
Unfortunately, in 1993 this was pretty useless as they couldn't analyze it with the technology they had.
At the break of the century DNA technology had become a lot better, and CODIS was established.
CODIS is the combined DNA index system where police can cross reference DNA on a crime scene with public record DNA.
They ran Mia's sample again in 2001 but unfortunately found no match and it did finally feel like the case had run its course.
Yet, in 2002 a man's DNA entered the CODIS database that was a match, a man named Jesus Mezquia, a Haitian fisherman who emigrated to Florida.
He was arrested in Florida for burglary and domestic abuse which saw his DNA on CODIS placing him at the scene of Mia's murder.
While Mezquia had a history of domestic abuse, a filing of domestic abuse with each partner he had, as well as a report of indecent exposure in Seattle within two weeks of Mia's murder, there was nothing to link them.
Mezquia denied all charges from the court suggesting he wasn't in Seattle at the time but the indecent exposure report as well as many traffic tickets suggested otherwise.
Moreover, when he was identified to the public a Seattle woman called the police to report that he was the unidentified suspect who sexually abused her months before Mia's murder.
In 2004 Mia's case was finally put to bed, it was Mezquia who killed Mia, he was convicted of first-degree felony murder a decade after Mia died.
The prosecution has surmised that Mia was likely listening to the headphones that were found on her body so was unaware of an approaching attack,
Mezquia dragged her to his car where the attacks occurred. Once he was done he pulled her body into the alley.
It seemed possible that he took her ID before leaving the crime scene so she couldn't be identified, but he didn't know how popular and important Mia was in the Seattle music scene.
Final Thoughts
Just like Mia foresaw in her song 'Sign of the Crab', 'Go ahead and slice me up, spread me all across this town, cause you know you're the one that won't be found', no matter what any man did to her, her influence was strong in the scene and even death couldn't contain the influence Mia had, the people she touched, and the memories people had of her goodwill and charm.
Mia's story is a shocking one, it must have been horrible for her friends and family in the period when her case was unsolved, and perhaps even worse to know that this man was still out on the streets after Mia's murder.
We learned from this case that women are vulnerable to the egotistical plight of men, and more should be done to protect them both legally and within communities.
While Mia stays dead her story is a powerful one that teaches us all a lesson on the power of being part of a community, a scene that would rally against all odds in the face of your death.
Mia's music lives on in the hearts of many fans, but we can only speculate where The Gits could have gone if Mia had gotten home alive that night.
Jesus Mezquia died recently in January 2021 in a Washington Hospital.
Drummer of The Gits, Steve Moriarty said in a comment to Rolling Stone: 'Rather than focusing on her death, we prefer to remember her friendship, talent, humor, and the incredible art and music she left to the world'.
Be sure to watch this video from Rock N Roll True Stories for some more insight into the talented Mia Zapata.
Frequently Asked Questions
How Old Was Mia Zapata When She Died?
Tragically, Mia Zapata was only 27 years old when she was murdered.
Who Killed Mia Zapata?
Mia Zapata was killed by Jesus Mezquia, a Haitian immigrant. He was arrested in 2003 and sentenced to 36 years in prison. Mezquia died in a Washington hospital on January 21, 2021, at the age of 66
How Did Mia Zapata Die?
Zapata's body was discovered near the intersection of 24th Avenue South and South Washington Street at around 3:30 a.m. She had been beaten, raped, and strangled.