Get as rude as possible and don't let anyone tell you how to live.

Mick Mars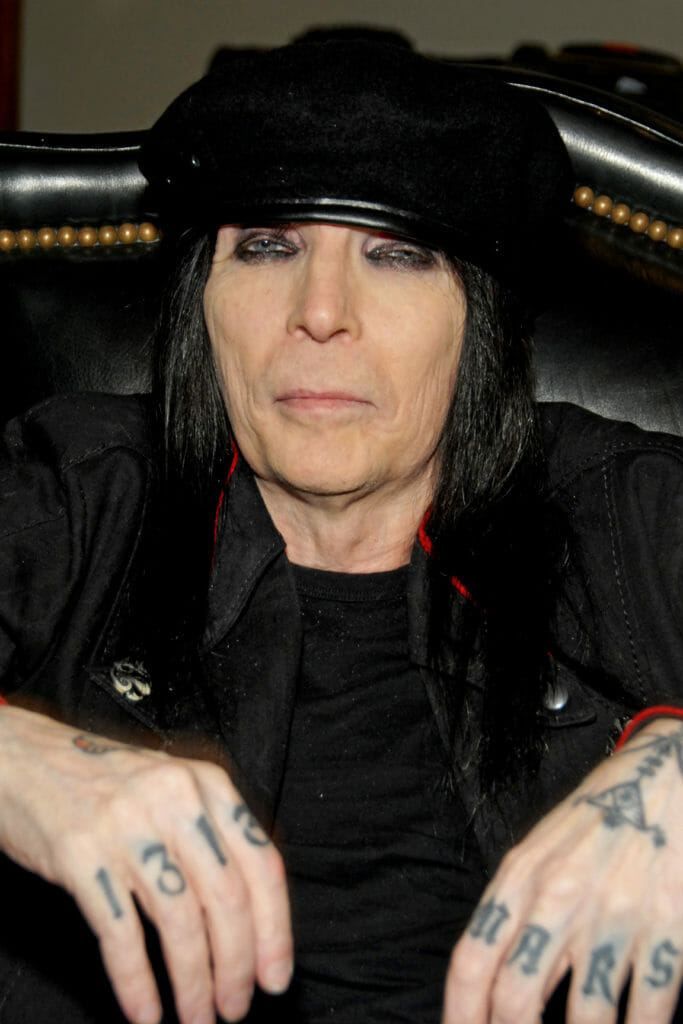 Mick Mars, born Robert Alan Deal, was the lead guitarist and co-founder of the legendary 80's metal band Mötley Crüe, alongside Nikki Sixx (bass), Tommy Lee (drums), and Vince Neil (vocals).
'The World's Most Notorious Rock Band' (a claim the group continues to make), rode the 1980s wave of hair-metal to superstardom. Known as much for their hedonistic lifestyle as their music and pyrotechnic-fuelled live concerts, the group has sold over 100 million albums worldwide.
Despite struggling at times with the perils of the "rock and roll" lifestyle, and working through a few changes to the lineup during the tumultuous 1990s, the original four members of the band continue to make music today.
This is the story of Mick Mars, from his beginnings in the American Midwest, through his ongoing personal struggles, and his success in one of Rocks and Roll's biggest bands.
Mick Mars Plays The Blues
Born on the 4th of May 1951, in Terre Haute, a small city an hour's drive west of Indianapolis. Not long after his birth, his family moved to Huntington, just outside Fort Wayne.
While now Mick Mars seems like a king of the metal scene, he took a circuitous journey to get there. His first band, aged 14, was a Beatles cover band where Mick played bass before eventually replacing the guitarist.
Later he left school with his only priority being to make music. A 17-year-old Mars went to Fresno to join a blues band. This didn't work out, and Mars returned home with the determination to make a name for himself
With no money in his pocket to rent, Mick ended up with a group of bikers in Orange County, and once he put on those leathers there was no going back. It was here that Mick met his first wife who gave birth to his first child, which they chose to name Les Paul.
They had to both work at a laundromat while Mars performed on the nights. That was until a washing machine door closed his hand in it, his guitar hand, and he left and never looked back.
---
RELATED: The Sad Letter Frankie Sixx Wrote To Her Late Son
---
Riding A White Horse
Mick then spent 7 years playing with a band called White Horse which he insistently asked to play in. He slept on their floor for a good part of these seven years, a rough time, but it ultimately led to him hearing the name that would make him famous.
"Well isn't this a motley-looking crew," someone said to his band once, and the idea was forever planted.
White Horse actually kicked Mick out of the band for suggesting the name to them and he now had three children to support. While moving in and out of different bands like the Gulf Stream, Mick was putting ads for his guitar playing in The Recycler while he was playing in these bands
One fateful night he met a guy called Frank at a liquor store who said he looked 'rock and rolly' and came to see him play. Later a guy called Tommy replied to his ad in the paper, arriving at the practice he was invited to Mick met Nikki Sixx, who was also Frank from the liquor store.
Career With Mötley Crüe
Since the band's inception in 1981, Mötley Crüe's career has been covered time after time, their great success was fettered with emotional and personal issues, drug addictions, along with more than one run-in with the law.
The band underwent some short-term line-up changes during the 90s and 2000s, however, the original members reformed in 2004 and have been continually producing music together since then.
During their tumultuous career, Mötley Crüe managed to sell over 100 million albums worldwide, achieved seven platinum or multi-platinum certified albums, and nine Top 10 albums on the Billboard charts.
Their drug addictions, alcohol abuse, and all-round 'live fast die young' mentality came to a head when their manager had to physically stop them from going on tour in Europe after he declared
some of them would come back in body-bags
Yet, Mick's drug addiction was sourced in slightly different places than the others.
The Tragic Disease Mick Mars Suffers From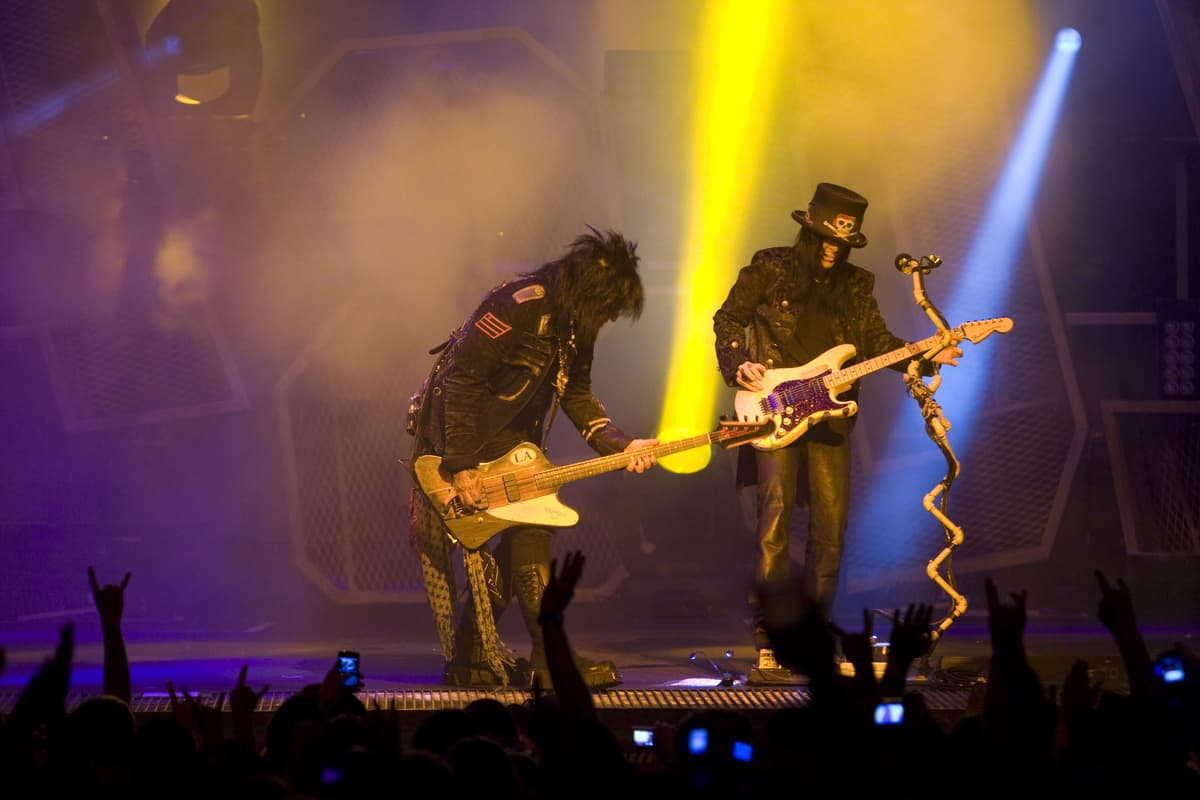 When Mick was 17, he was diagnosed with ankylosing spondylitis, a rare form of arthritis where the bones in the spine end up being fused together. There is still no known cure for the ailment.
Mick said the pain started when he was 17 as every time he turned he was in pain, but didn't have enough money to see a proper doctor for a long time. Mick said he mainly got past the illness with 'the power of [his] mind' as well as alcohol abuse and an addiction to painkillers.
It is worth mentioning that when the band formed, Mick was already around 30 years old. The others in the band were a lot younger than him including Tommy Lee who was 11 years his younger. Mick still pushed through the pain and played his gigs, but not without consequence.
The strain Mick put his body under eventually led to scoliosis, eye problems, and a seizing of his lower spine. Mick actually shrunk and is now a few inches shorter than he was in high school thanks to this illness. He was forced to stop playing guitar for two years.
Mick was in a bad way when the band broke up, Sixx reports, finding him in his house 'dying, addicted to painkillers, a frail man of 80, maybe 90 pounds'. It was after this, potentially with the reunion in mind, that got him the help he needed as well as a hip replacement.
Mick still performs with the band to this day even though his illness has spread to his brain stem, the general issue that arises from spine problems. Looking at bright lights and everyday tasks like driving are impossible for him now as he can't turn his head.
You can read more about the debilitating disease Mick Mars suffers from in our in-depth piece here.
Final Thoughts On Mick Mars
Once you know Mick Mars' full story, on top of what was already going down in the Mötley Crüe world, it's pretty spectacular that the man is still alive and kicking, let alone playing guitar to such a high standard.
Instead of letting his illness ruin his life, it seems to have made Mars even more resilient to life's scrapes, helping him appreciate each day as it comes and to be grateful rather than remorseful.
Mars lives happily with his wife Seraina Schonenberger, and has earned some rest after a life that outlived many expectations. A recent post on Instagram shows them happy together, celebrating Mick Mars' birthday, she endearingly calls him a 'crazy bastard' in the post which he sure is and will remain that way too!
For more insight on the story of Mick Mars, check out this video before you go from our friends at Grunge.com.