It was my father's favorite show, and my mother hated it. She would say, 'Oh, he's watching that godawful show again,' but once I was on she loved it.

Hee Haw Honey, Misty Rowe
Let me set the scene for you: a sun-soaked, hay-scented afternoon in rural America, interrupted only by the strums of a banjo and the ripple of laughter. Now, transport that imagery to the television screen, and what you would be seeing is "Hee Haw"—the show that turned the spotlight onto "Kornfield Kounty" and never looked back.
In a time when rock 'n' roll was paving its soon-to-be legendary path, and sitcoms were carving their niches, "Hee Haw" rode into American homes on the back of country twang and down-home humor. The show found its fame from 1969 to 1992, before re-emerging for a year in 1996 and gracing our screens again through reruns as recently as 2020.
Hosted by country legends Buck Owens and Roy Clark (meet the rest of the Hee Haw cast here), "Hee Haw" swapped the bustling metropolis for the rustic countryside, pop culture quips for rural humor, and dapper suits for overalls.
The interesting thing is that the appeal of "Hee Haw" wasn't confined to dirt roads and country fields. It broke geographical barriers to be successful in urban markets from Los Angeles to New York City, giving shows like "The Lawrence Welk Show" and "Soul Train" a run for their syndicated money.
Ingenious production techniques, like batch recording of sketches, made it a cost-effective marvel, while its musical performances remained a live spectacle. And so, it became a unique cocktail of entertainment, drawing fans from every corner of America, across multiple generations.
So saddle up, folks. We're about to thigh-slap our way into the story of "Hee Haw," its rise to fame, and its lasting impact on the musical and cultural landscape of America.
How It All Began – The Genesis Of Hee Haw
The story behind "Hee Haw" is a cultural mash-up as unlikely as a pair of rhinestone cowboy boots at a punk rock concert. The brains behind the operation were two Canadians: Frank Peppiatt and John Aylesworth.
Both were seasoned variety show writers, but here's the catch—neither had a firm grasp on rural comedy. But they did have a vision, and that vision was fueled by the overwhelming success of 1960s rural sitcoms like "The Andy Griffith Show," "The Beverly Hillbillies," "Petticoat Junction," and "Green Acres."
In the late '60s, CBS was the promised land for rural programming, and Peppiatt and Aylesworth wanted a piece of that apple pie.
In a genius move, they cast the show's hosts to represent the then-divide in the world of country/western music. Buck Owens, a name synonymous with the California Bakersfield sound, brought a splash of West Coast flavor. Roy Clark, on the other hand, was a fixture on Nashville's Music Row, admired for his deft blend of music and comedy.
This dynamic duo wasn't a mere shot in the dark; both Owens and Clark had been regulars on "The Jimmy Dean Show," another series our Canadian creators had penned for.
Assembling the Dream Team
Knowing their limitations in the realm of rural humor, Peppiatt, and Aylesworth played it smart. They enlisted the help of fellow Canadians Gordie Tapp and Don Harron, both steeped in the essence of countryside comedy. Harron would ultimately become a recurring character on "Hee Haw," donning the role of "Charlie Farquharson," the corn-fed anchor for station KORN.
They also bagged Archie Campbell, an expert in country comedy, well known to rural audiences. Campbell not only co-starred but also wielded his pen to craft many of the jokes and sketches that would define "Hee Haw's" humor.
In its first season, the team was further augmented by comedian Jack Burns, who had briefly replaced Don Knotts on—you guessed it—"The Andy Griffith Show."
It was a fusion as intriguing as country rock, as comforting as a bowl of southern grits, and as unique as a banjo solo in a honky-tonk bar. And this eclectic blend of talent and vision set the stage for what would become a cultural phenomenon, one that transcended its creators' wildest dreams.
The Highs And Lows Of Kornfield Kounty
You might say Hee Haw was to rural America what Saturday Night Live was to urban hipsters — a comedic buffet of sketch and song, held together by an ensemble of rambunctious talent. The star-studded lineup featured a mix of seasoned professionals, quirky characters, and unexpected guest appearances that turned a "rural sitcom" into a cultural touchstone.
Despite the laughter it generated, the Hee Haw family wasn't immune to life's harsh realities. Lulu Roman faced drug possession charges, Slim Pickens was diagnosed with a fatal brain tumor, and in a devastating turn of events, David "Stringbean" Akeman and his wife were murdered during a robbery. The show lost Don Rich of the Buckaroos to a fatal motorcycle accident, casting a dark cloud over a show often marked by lightheartedness.
After Buck Owens' exit, the show took a creative turn. Each week a different country music artist would step into Owens' shoes as a guest co-host alongside Roy Clark. These co-hosts would often participate in the infamous "Pickin' and Grinnin'" sketch and introduce other guest stars. This wasn't just a gimmick; it infused fresh energy into the show and kept the audiences guessing.
Featuring A Star-Packed Guest List
Hee Haw was the place to be for anyone who was anyone in country music. Loretta Lynn set the stage as the first guest star and appeared 24 more times. Tammy Wynette wasn't far behind, clocking in at 21 guest appearances. And speaking of Wynette, she ended up marrying George Richey, the show's first music director, tying the knot in 1978.
But the show wasn't just a revolving door for country stars; it featured an eclectic array of guests, from politicians to sports figures. Remember country legendGarth Brooks? He appeared on the show no less than four times!
The Elvis Connection: When The King Met The Cornfield
Now, here's a gem that might surprise you: Elvis Presley was a diehard "Hee Haw" fan. The King never made it to the show, not because he didn't want to, but because Colonel Tom Parker, his infamous manager, wouldn't let him. Imagine that—a cornfield so magnetic, even Elvis wanted to be a part of it.
Two Hee Haw Honeys, Linda Thompson and Diana Goodman, were romantic interests of Elvis before joining the show. Charlie McCoy and the Nashville Edition had lent their talents to Elvis's recordings. Even after his death, the Elvis connection remained. Vernon Presley, Elvis's father, paid tribute to his late son on the show and honored him with one of his favorite gospel tunes.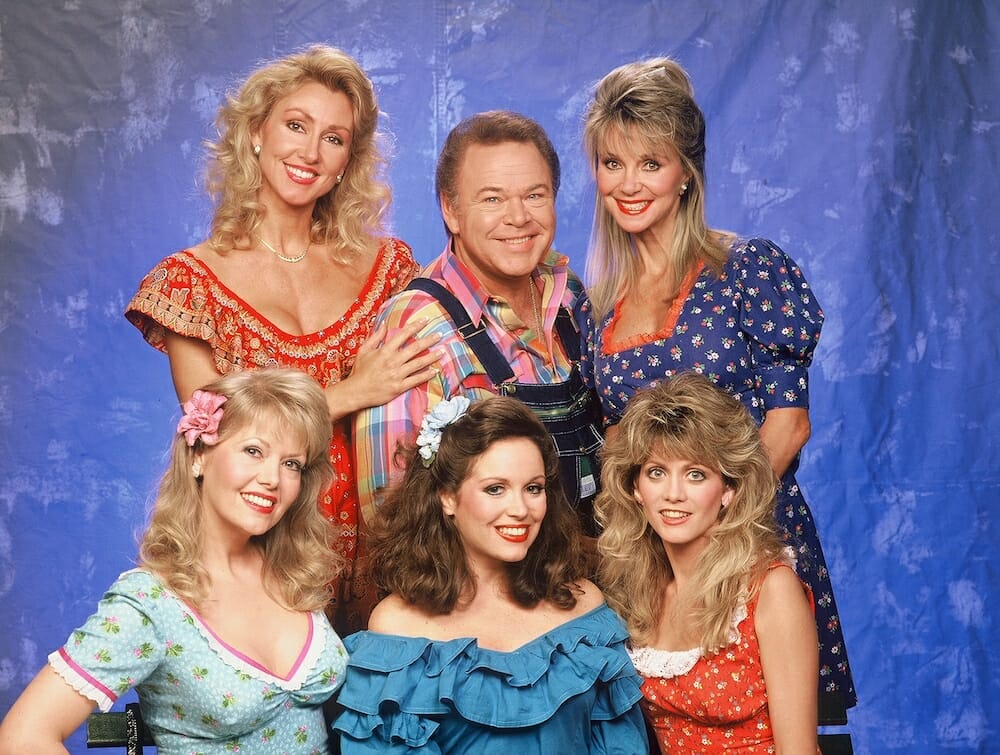 Recurring Segments That Made Hee Haw A Cultural Icon
As any serious 'Hee Haw' aficionado will tell you, it's all about the recurring segments that turned it into a sensation. So sit back and let the memories of corny jokes, country skits, and all-around hillbilly hijinks wash over you like a jug of sweet moonshine.
Lulu's Truck Stop
A greasy spoon that's got everything wrong except for its ambiance. It's like going to your grandmother's kitchen—if your grandma couldn't cook and had a hankering for sarcasm. Lulu Roman ran the joint with Gailard Sartain whipping up something that might loosely be called 'food.'
George Lindsay often graced the screen as a patron who must have lost a bet to end up there. In the world of 'Hee Haw,' Lulu's Truck Stop was our own version of 'Cheers,' just without the gourmet pub grub.
Stringbean's Letter From Home
You knew when you saw the cast gather 'round that barn porch that you were in for a homespun tale. Stringbean reading those letters from home was like an email chain before the internet, and ten times more entertaining. Punchlines woven into heartwarming stories created moments that were as genuine as they were funny.
The Haystack
The 'Hee Haw' answer to a daytime talk show, except instead of a fancy New York studio, it was just a haystack. There's nothing like some good ol' boy wisdom and 'Hee Haw Honey' allure to solve the world's problems—or at least romantic ones. And let's face it, Dr. Phil had nothing on this folksy therapy session.
School Scenes and Advice to the Lovelorn
Educational reform, 'Hee Haw' style. Whether it was Lulu Roman, Jennifer Bishop, or the iconic Minnie Pearl, the teaching staff was never short on quirky charisma. Add Junior Samples and Roy Clark to the mix, and you've got a classroom like no other. Now, if you needed romantic advice, you'd head straight to Lisa Todd reclining on her sofa like a Southern Aphrodite, dishing out love wisdom that was anything but ordinary.
Pickin' and Grinnin'
This segment was the show's musical pulse. Buck Owens and Roy Clark, joined occasionally by the likes of a young Johnny Cash, showed us that virtuosity and humor could share the stage. The dueling guitar and banjo jam to "Cripple Creek" was the kind of feel-good musicianship you'd want to relive over and over again.
The Little Yellow Chicken
Never underestimate the comedic potential of an animated chicken. When this fowl confused every conceivable object for an egg, chaos inevitably ensued. It was a simple but delightful recipe for humor.
The Unlikely Crossroads Of Tradition & Innovation in Music
Beneath the knee-slapping humor and iconic overalls lay a foundation of musical grandeur that had its pulse on both the roots and branches of American music.
It Wasn't All Country Music
While country music might be the headliner for the "Hee Haw" bill, let's not overlook the melting pot of genres that simmered in its creative kitchen. With a dab of bluegrass, a sprinkle of gospel, and a dash of rock 'n' roll oldies, "Hee Haw" was an eclectic jukebox that resisted easy labeling.
Remember, this was a show where a traditional Southern ballad could easily give way to a big band swing or a pop standard. It wasn't uncommon to witness the breadth of American music explored in just a single episode.
The Million Dollar Band
Remember the first time the Million Dollar Band came onto the screen? It was like Zeus and his gods decided to form a jam band. These weren't just any musicians—Chet Atkins, Roy Clark, and Floyd Cramer, among others, were titans in their own right.
These were men who could steal a show with a guitar pick or a piano key. They personified the pinnacle of Nashville's session scene, appearing regularly from 1980 to 1988 and showing viewers the depth of instrumental talent that the country music capital had to offer.
Gospel Tones and Sacred Songs
In contrast to the jovial spirit of the rest of the show, the Hee Haw Gospel Quartet brought a moment of spiritual reflection. When the laughter settled and Grandpa Jones took off his iconic hat, you knew it was time for something solemn.
That moment when Buck Owens led into a hymn, followed by Roy Clark's tenor and Tennessee Ernie Ford's bass, was an emotional decrescendo that prepared viewers for the show's conclusion. This was the South's Sunday morning church, folded neatly into your Saturday night entertainment.
The Young, The Old, and the Unforgettable
Let's not forget the array of performers who added flavor to the show's musical repertoire. Whether it was The Hagers' takes on 1960s and '70s pop/rock or a young Kathy Kitchen wowing the audience, "Hee Haw" was a platform for musicians across generations.
Cast members like Gunilla Hutton and Barbi Benton proved that they weren't just pretty faces; they could carry a tune, pluck heartstrings, and tug at the fringes of your soul.
Did MTV Take Notes?
Producer Sam Lovullo boldly claimed that "Hee Haw" essentially made some of the first music videos. Though the idea was met with mixed reactions, there was an undercurrent of innovation: repurposing rural shots into storylines for songs. Was it distracting or avant-garde? The debate remains, but it showcased the show's willingness to experiment and adapt.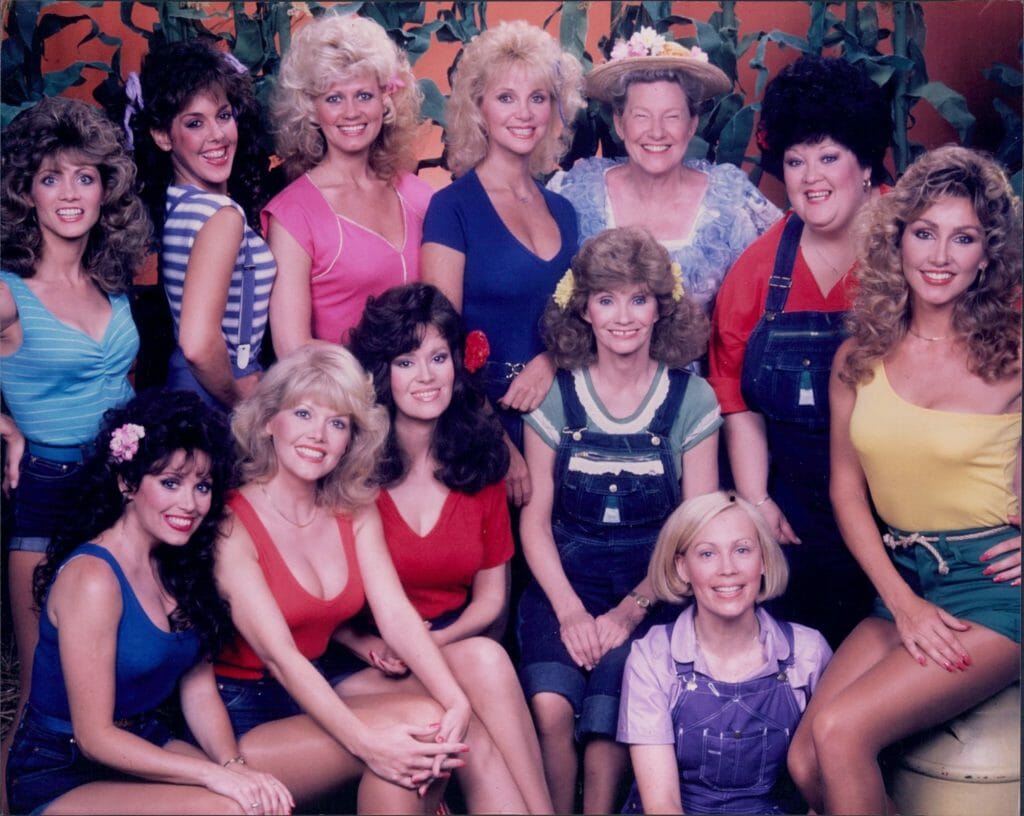 The Network's Loss, The Nation's Gain: The Broadcast Saga
When "Hee Haw" first graced CBS screens in the summer of '69, it was a slice of rural Americana served with a side of down-home humor and music. The show became a touchstone of American culture, even rising to No. 16 in the ratings for the 1970-71 season. But the idyllic journey hit a roadblock when CBS's infamous "Rural Purge" of '71 cut the show, despite its strong viewership.
It was a battle of programming philosophies: CBS's Michael Dann, advocating for the show's undeniable popularity, versus Fred Silverman, who saw greener pastures in chasing urban ad dollars. Silverman's view prevailed, and just like that, "Hee Haw" was off the air.
While lesser shows might've faded away, "Hee Haw" refused to go quietly into that country night. Thanks to the Prime Time Access Rule, the show found a lifeline in syndication. The creators, seizing the moment, managed to keep the show virtually unaltered, winning over an audience that yearned for its cornfield comedy and tuneful segments.
In this reborn form, "Hee Haw" navigated a new media landscape, holding its own against competing giants like "The Lawrence Welk Show" and "Soul Train." It even spawned a top 10 Billboard hit, "The Lawrence Welk-Hee Haw Counter-Revolution Polka," cementing its pop-culture status.
By the late '80s, however, the show's ratings waned. An ill-advised revamp in 1991, aimed at a younger demographic, did more harm than good. Renamed and featuring pop-country tunes and a new urban setting, the show alienated its core fan base.
In 1992, the show reinvented itself one last time as "Hee Haw Silver," a hybrid of new and classic moments, hosted by Roy Clark. While this generated a brief uptick in ratings, it wasn't enough to save the show, which took its final curtain call in June 1993.
The Evolution From Small Screen Oddity To Cultural Icon
"Kornfield Kounty" was America's own back porch, a comfortable corner of pop culture that evolved from being a summer replacement series to a broadcast sensation. In a landscape marked by political upheaval and cultural shifts, "Hee Haw" managed to bridge the urban-rural divide.
As it tackled universally resonant themes—heartbreak, community, and the simple joys of life—it garnered a diverse audience. And as I, a one-time city slicker, discovered, you didn't need to grow up on a farm to appreciate the authenticity of Minnie Pearl's howls or the nimble fingers of Roy Clark on the banjo.
The Hee Haw Multiverse: Spin-offs and Beyond
Hee Haw Honeys
A spin-off series called "Hee Haw Honeys" debuted in the late '70s, but despite its potential and high-profile guest stars like Loretta Lynn and The Oak Ridge Boys, it failed to capture the magic of the original.
Although panned as one of the worst TV shows by TV Guide in 2002, it remains a fascinating chapter in the show's history. The concept? A family-owned truck stop restaurant—its thematic roots undeniably stemming from "Lulu's Truck Stop" sketch on the original show.
Hee Haw Theater
In 1981, the Hee Haw Theater sprouted up in Branson, Missouri. It was an attempt to translate the TV phenomenon to a live experience. For a brief period, the theater featured live shows that echoed the essence of the television series.
Pop Culture Adaptations
The world of Hee Haw even extended into comic books. Charlton Comics took on the challenge of capturing the show's unique spirit in illustrated form. For fans, this was yet another way to get a piece of that Kornfield Kounty magic.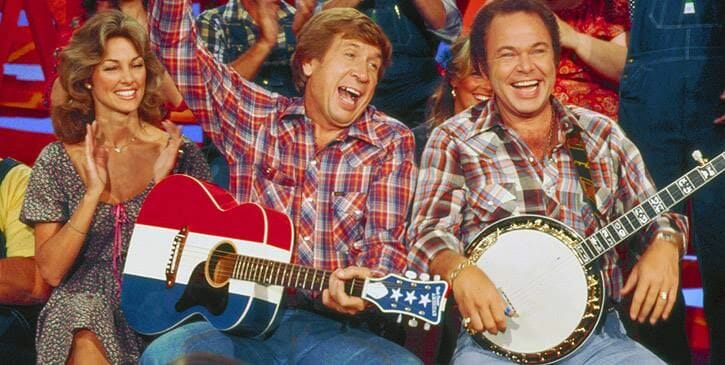 The Cultural Afterlife Of Hee Haw
While "Hee Haw" might have had its fair share of critics, its legacy is undeniable. Shows like "The Simpsons" and "Family Guy" have nodded to its influence, and Lulu Roman's 2013 album featuring the likes of Dolly Parton is a testament to the show's lasting impact.
As a keen observer of rock and country music, I can say that "Hee Haw" certainly left its mark. Through all its challenges, it consistently captured the essence of Americana. So here's to "Hee Haw," a show that truly showcased the spirit of the heartland.