In the rock 'n' roll universe, there's a constellation shaped like a top hat, and its name is Slash. Born Saul Hudson, but forever known by his mononymous stage name, Slash is a force of nature, a guitarist who didn't just play rock but helped define it for a generation.
You know the riffs; you've seen the hair; you've felt the electricity in every note he's ever played. But beyond the rock god image is a man with layers and complexity, passion, and a story that weaves through the very fabric of rock history.
Here's a man who joined his first band as a teen, found fame as the lead guitarist of Guns N' Roses, "the most dangerous band in the world" and embarked on successful solo ventures that cemented his place in the musical pantheon. His fingers have worked magic on the fretboard, turning strings and picks into unforgettable anthems.
And, oh yes, there's the small matter of his net worth. 90 million dollars? That's just a number. What it represents is a legacy, an empire built on riffs, sweat, and an unyielding commitment to his craft.
Slash's tale is one of triumph and turbulence, creativity, and cash. So buckle up, and let's dive into the story of a legend, where guitars scream, and a rockstar reigns supreme. In the world of Slash, music isn't just sound; it's an odyssey.
Slash's Early Life And Rise To Fame
Slash was born Saul Hudson on July 23, 1965, in Stoke-on-Trent, England, but the rhythms of Los Angeles would become his calling card. Raised by an English father who designed album covers and an African-American mother who crafted costumes for rock stars like David Bowie, Slash's fate was sealed in creativity and rebellion.
The family's Laurel Canyon home became a haven for artists and musicians, embedding young Slash in a world rich with color and sound. With his parents' bohemian lifestyle shaping him, music wasn't something he found; it found him.
A BMX bike was his first love, but at the age of 15, it was a guitar that stole his heart. Learning by ear and guided by his insatiable hunger for rock, blues, and the gods of six strings, Slash became consumed by the guitar. The fretboard was his playground, and he practiced up to 12 hours a day.
From Led Zeppelin to Aerosmith, he absorbed it all. The guitar wasn't merely an instrument; it was an extension of his very soul. Soon, he wasn't just playing music; he was living it.
Before the world knew him as Slash, he was cutting his teeth in bands like Tidus Sloan and Road Crew. These early collaborations were his proving ground. It was in these unsung ensembles that he honed his style, experimented with riffs, and built the foundations of his legendary career.
Though these bands may have flickered rather than blazed, they were essential in sculpting the guitarist who would soon ignite the world of rock 'n' roll.
---
RELATED: Unveiling Bon Jovi's Net Worth
---
Slash Teams Up With Axl Rose, Izzy Stradlin, Duff McKagan & Steven Adler
Then Slash met Axl Rose and along came Guns N' Roses, a wild fusion of raw talent and unabashed energy. Formed in 1985 with, Izzy Stradlin, Duff McKagan, and Steven Adler, this wasn't just a band; it was a revolution.
Their debut album, "Appetite for Destruction" (1987), shook the world. With hits like "Sweet Child o' Mine" and "Welcome to the Jungle," Guns N' Roses weren't just successful; they were a phenomenon. This was rock with teeth, an explosion that would see Slash's name etched into the annals of music history. Guns N' Roses would go on to release 13 albums and sell over 100 million copies worldwide, making them one of the most successful rock bands of all time.
Guns N' Roses catapulted into stardom, with Slash's solos becoming as iconic as his curls and top hat. Success wasn't just in record sales (over 100 million worldwide) but in the way the band captured an era. They were the last scream of rock in a changing musical landscape.
Tours sold out, albums went multi-platinum, and Slash's fingers became the pulse of a generation that wanted rock, raw and unfiltered.
Slash wasn't just a part of Guns N' Roses; he was its soul. His guitar work, both fierce and melodic, gave the band its edge. From the screeching triumph of "Paradise City" to the mournful cries of "November Rain," Slash's playing transcended technique.
He played with feeling, intuition, and an understanding of what the music needed. It was never about the spotlight but about serving the song. His riffs were anthems, his solos symphonies. He was Guns N' Roses.
Slash's Solo Career & Collaborations
After leaving the band in 1996, he didn't rest on his laurels. Slash formed Slash's Snakepit and later Velvet Revolver, proving that he could thrive without the 'Guns.'
His solo albums, including the self-titled "Slash" in 2010, were not just experiments but statements. Slash was a musician, not a relic. He continued to evolve, to play, to conquer. The guitar still had more to say, and Slash was its voice.
And what a voice it was. From Michael Jackson to Bob Dylan, Slash's collaborations read like a who's who of music legends. Each collaboration was a new challenge, a fresh sound, and a testament to his versatility.
Whether it was the bluesy swagger with Lenny Kravitz or the melodic partnership with Fergie, Slash could adapt without losing his essence. Every note he played was pure Slash, and in a world of fleeting fame, he remained an enduring symbol of rock's resilient heart.
---
RELATED: Discover The Story Of Joe Walsh's Fortune
---
Slash's Net Worth & Financial Success
Tally it all up, and what do you get? A net worth that is estimated to be a cool $90 million. It's a figure that's hard to fathom but easy to understand when you look at the man, the musician, the legend. Compared to his contemporaries, Slash stands tall. He may not be the richest rocker on the block (check out how much Paul McCartney is worth these days), but what he's built is not just wealth but a legacy. His net worth is more than money; it's a reflection of a career well played.
From his early days scraping by as the typical struggling rock-star-to-be to becoming a multi-millionaire, Slash's financial journey was like his music: full of twists, turns, highs, and lows. It was never just about the money; it was about the music, the passion, the drive.
What Makes Up Slash's Fortune?
Money riffs and cash solos, Slash's fortune wasn't just a product of his time in Guns N' Roses. It was an ecosystem, a well-oiled machine of record sales, tours, endorsements, and more. Every string he plucked seemed to turn to gold.
With over 100 million records sold with Guns N' Roses, coupled with successful stints with Slash's Snakepit and Velvet Revolver, the record sales were colossal. Tours? A perpetual moneymaker, from stadiums to the most intimate venues. Performances with everyone from Rihanna to Alice Cooper kept the coffers full. He was a rock 'n' roll brand, and business was booming.
Gibson Les Pauls, Marshall amps, and a host of musical gear brands – Slash was a marketer's dream. His image was as iconic as his sound, and companies were eager to align themselves with this guitar god. His name wasn't just a signature; it was a stamp of approval, a seal of rock authenticity.
T-shirts, posters, action figures – if it could bear his top-hatted visage, it sold. Slash was not just a musician; he was a phenomenon. Licensing deals extended his reach beyond the stage and into pop culture's very fabric. Slash wasn't selling out; he was cashing in. That's not to mention "Slasher Films", the horror movie production studio that he founded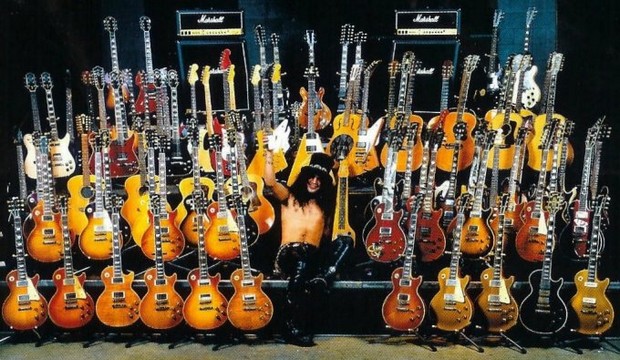 How Does Slash Spend His Money?
Rock stars and excess, they go hand in hand. And Slash? He was no exception. Private jets, lavish parties, and all the hedonistic trappings of a rock 'n' roll lifestyle were his playground. But it wasn't just for show; it was who he was, unapologetic and utterly true to himself.
From a mansion that's more an art piece to a fleet of vintage and custom cars, Slash's taste was as unique as his playing. Guitars? A collection that would make a museum curator envious. His possessions weren't just things; they were part of his persona, extensions of a life lived in the fast lane.
Exotic animals, rare art, and pinball – Slash's indulgences were as fascinating as they were extravagant. These were not mere hobbies but passions. They were pieces of a puzzle that made up one of rock's most intriguing characters.
How He Gives Back To The Community
But let's not forget the heart beneath the top hat. Slash's contributions to various charities, from wildlife conservation to addiction recovery, showed a man who knew he could make a difference. He didn't just play charity gigs; he was involved, invested, and genuinely cared.
From performing at charity concerts to supporting environmental causes, Slash's philanthropic reach was wide and genuine. This was not a rock star playing at being a savior; this was a man using his fame to shine a light where it mattered. His community work was equally impressive. Workshops with aspiring musicians, contributions to music education, and more, Slash knew where he came from and never forgot to give back.
---
RELATED: Sammy Hagar's Net Worth: Explore The Red Rockers' Fortune
---
Final Thoughts On Slash's Net Worth
In the end, what can you say about Slash that his music hasn't already screamed, whispered, and wailed? He's a symbol, a myth, a man, a musician. His net worth is impressive, but what's truly priceless is his contribution to the very soul of rock 'n' roll.
Whether it's his unforgettable solos, his luxurious lifestyle, his philanthropic endeavors, or his savvy business acumen, Slash embodies what it means to be a rock star in every sense of the word.
Join the journey, explore the legend, and revel in the rock 'n' roll odyssey that is Slash. The top hat is just the beginning.
If you are someone who likes peeking into the lifestyles of the rich and famous, check out the video below that explores Slash's fortune.
Frequently Asked Questions
What is Slash's net worth?
Slash's net worth is estimated to be around $90 million.
Who are the members of Guns N' Roses?
The members of Guns N' Roses include Axl Rose, Slash, Duff McKagan, Matt Sorum, and many others who have been part of the band at different times.
What songs are Guns N' Roses best known for?
Guns N' Roses is known for being a hard rock band that gained popularity in the 1980s and 1990s. They are perhaps most famous for hits like "Sweet Child o' Mine" and "November Rain."
Who is the richest Guns N' Roses member?