Gene Simmons is a name that most people know, immediately generating an image of his characteristically black-and-white painted face with his tongue out.
This is the Gene Simmons we all know well, but did you know he has a successful daughter to former Playmate Of The Year, Shannon Tweed?
Shannon and Gene started their relationship in 1983 and were together for 28 years before they got married in 2011.
During these years they had two children, Nick, as well as the talented Sophie Simmons who will be our subject today.
Want to learn more about the rock legend's daughter, and how she lived under these two superstars? Keep reading to find out about the often-unknown Sophie Simmons.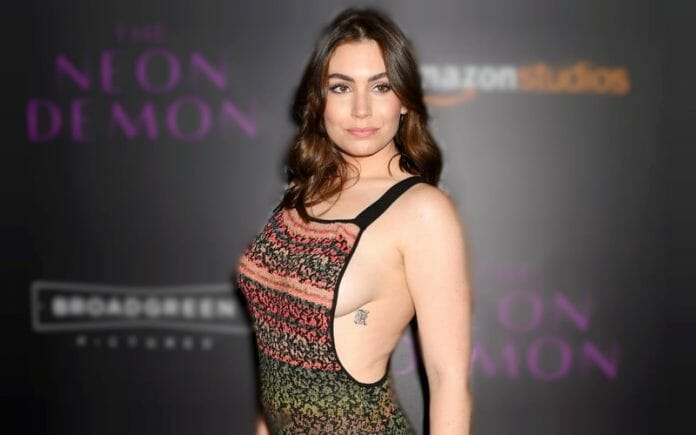 Push And Pull
Sophie was born as a dual citizen of Canada and America on July 7, 1992, three years after the birth of the couple's first child Nick.
Both children, by ages 14 and 16, were already starring in Gene Simmons television program 'Gene Simmons Family Jewels'.
This was a strange reality TV program that debuted on A&E.
There was little thought behind the show, seemingly a vessel to hold Gene's ego, once being quoted saying:
I believe that people will see us on television and see how I run things and the rules I make, and they'll think, "Put that guy in charge!"
Like most reality TV there wasn't much in the way of a plot, and it piggybacked off the success of the Osbournes previously. The show's second season was the second highest-rated series on A&E at the time.
Sophie and Nick were frequently featured, the pilot episode being about throwing a surprise party for Sophie.
The show strangely has some fabricated events in it where Gene 'buys' a local football club and signs a player, while the former never actually happened the latter was fabricated as the player was already at the club for a long time.
The fact they were showing these semi-fabricated events showed they just lacked content. Likely from the producers censoring Simmons' often dirty and controversial jokes and personality.
The show spanned seven seasons, approximately 6 years of the family's lives, covering some interesting events such as Gene's revisit to his home country of Israel in 2011, and the final season which focuses on Gene's and Shannon's relationship, culminating in them marrying in the finale.
However, much of the interest in the series wasn't around Gene, who was mainly a male idolized figure but was actually around Sophie and her mother Shannon and how they interacted.
Many were genuinely interested in this mother-and-daughter relationship. This led to a sort of off-shoot of Gene Simmons' Family Jewels called Sophie and Shannon which featured only the mother and child duo.
While this show only aired for one season back in 2014 it seems to have ended mainly due to the mother and daughter having other plans rather than any lack of interest.
The importance of this show in Sophie's life was clear, covering most of her adolescent years.
In 2015 she revealed she actively resisted the same career path as her parents, studying computer science and religious studies at Pitzer College along with playing volleyball. But by 2012 she seemed to have changed her tune.
Fast forward to 2017 and we see Sophie's biggest feature on the silver screen to date, taking a fairly leading role in the film Urban Myths which won an American Film Award in 2018.
This shows that Sophie has acting talent as well as her future career in music. She is also rumored to appear in a new film called Chagrin.
Philanthropy And Body Positivity
In 2012 as a 20-year-old who seemed to have empathy and wisdom beyond her years, Sophie lent her name to 'Sophie's Place' a child advocacy center, partly government funded, which she created with Dianne Watts, who was the Mayor of Surrey in British Columbia at that time.
The center sought to create
…a safe space where children can talk about their experience of physical, mental or sexual abuse with trained staff and law enforcement professionals.
Continuing with her streak of philanthropy, Simmons launched a body-positive clothing line in 2014 with her becoming a model who rallied for body positivity.
Simmons is not considered plus size by industry standards but helped to raise the issues that face all women of all sizes and how even those not considered plus size can suffer from body positivity issues.
Commenting in 2015, she said:
The gym used to be a punishment for what I ate. That's hard on your mental wellness, and people forget about the mental aspects of your health, but you can't punish yourself for indulging.
She comments in a later interview that 'My mom sat me down and told me the secret to which I build all of my body confidence.'
She credits her mother's advice for her positive views on her body image. Shannon told her:
You only have this one life and this one body, why would you spend your time hating it?
This period of rallying for body positivity culminated in a feature in the 2016 documentary Straight/Curve which focuses on body positivity in the modeling world.
A Familiar Path
As mentioned, Sophie originally resisted the urge to enter the same careers as her parents. However, after indulging her mother's career, she also indulged her fathers.
In 2012 Sophie entered the second series of the hit show The X Factor. Sophie advanced to the 'bootcamp' stage but was eventually eliminated in this period.
Her experience on the heavily corporate show likely influenced her feelings about body positivity in the industry as well as in modeling
However, Sophie had her own path to artistic fame, performing with the Tenon, a Canadian vocal group the following year after her exit from X Factor.
By 2015 Sophie had released her debut single 'Kiss Me', a deep house cover of a 1998 song by Sixpence None the Richer. The accompanying music video has over 250,000 views on YouTube.
In 2017 she also joined forces with electronic music duo Yellow Claw on their album Los Amsterdam where she features on a song named 'Home'.
Later, in 2018, she released two solo singles 'Black Mirror', a song based on the TV show of the same name, addressing our relationship with technology, and 'Burn Me Down'.
The song took lots of influence from artists like Grimes and Charli XCX with an electronically produced beat. 'Black Mirror' features at number 20 on the US dance charts, no feeble achievement.
2018 also saw Sophie pair with the Yellow Claw duo once again on their third album New Blood.
Not only did she feature as a co-writer on the single 'Cry Wolf' but was also featured as one of the composers on 'Summertime' featuring well-known artist San Holo.
This demonstrates how Sophie had grown from simply being a vocalist to being a songwriter and composer on an album that is highly cult acclaimed within the EDM genre. This led to her most recent single named 'Paper Cut'.
Sophie is yet to release an album or EP as all her current singles are non-album singles.
But she is very early on in her career, and with the connections from her dad, anything could be possible for her.
She seems to potentially be focussing on acting after there were rumors that she will be featuring in some upcoming films.
Finding Love And Getting Married.
Sophie, unsurprisingly, has kept her love life out of the tabloids and headlines in our lives.
So, many were surprised to hear that Sophie, who turned 30 this year, recently got engaged. Fans know this as she shared a photo on her Instagram.
Captioned 'This is the time' the picture features a black and white image of her and her soon to be husband's hands clasped together, proudly displaying the engagement ring.
The comments on the photo were a string of celebrities wishing her good tidings with her new fiancée apparently called 'James', who seems to be outside of the insular celebrity world.
One comment simply reads:
Congratulations, Sophie! Magic happens
We couldn't agree with them more.
Gene chose to congratulate Sophie on Instagram too, in his own post. In classic joker Gene style, he posted a rather funny picture of him and his now-grown daughter.
Gene, on the right, is pictured in full Kiss make-up and body armor looking quite out of place next to his glamorous daughter.
The caption reads 'Sophie little got engaged this week.' which is all the acknowledgment a loving daughter needs.
Sophie Simmons Net Worth
As a result of her success in music and film, and some wise investment decisions, Sophie Simmons has a networth that is estimated to be around $10 million. No doubt this is partly due to the fact that she appeared on television at such a young age.
Final Thoughts
While there isn't much information out there about Sophie, from what we can tell she is a woman with a lot of self-awareness as well as wisdom.
The fact that Sophie's philanthropy seems real, independent but most importantly genuine, is only apparent through her interviews. Many of which paint the picture of someone who is genuinely concerned about social issues and wants to express her own experience, using her platformed voice for positive change in our world rather than for narcissistic fulfillment.
While Sophie's experiences of reality TV as a young woman could have shaped her into something wildly obnoxious, as it has for others, Sophie took her experiences and endeavored to make them into something worthwhile and that could do some actual good in the world.
Sophie clearly seeks to continue to do good in the world, spreading a message of body positivity, all while composing, writing, and singing to fulfill her family's past success within the music and modeling worlds.
For some insight into how Sophie Simmons turned out to be genuine and well adjusted, despite her Hollywood life, check out this segment from CGTN.
Similar Stories