Steven Tyler, the lead vocalist of Aerosmith, is without a doubt one of the most legendary rock artists of all time. His powerful voice and energetic stage presence have played a great part in the band's immense success.
Unfortunately, in the mid-70s, Tyler's career was not going as planned. His drug and alcohol addiction had taken a toll on both his career and wealth. He even went as far as to admit losing six million dollars to cocaine. That begs the question, how much is Steven Tyler worth today? We're here to answer that question and see how much money the singer has left!
Let's investigate his career and find out what he's worth today. Despite wasting such a large amount of money on drugs, you'll be surprised to see how much he still has!
The Early Life Of Steven Tyler
Steven Tallarico, better known by his stage name Steven Tyler, was born in Manhattan on the 26th of March in 1948. Raised by parents who were passionate about music, Tyler was strongly drawn to it from a young age.
Notwithstanding the good upbringing he received, Tyler was expelled from Roosevelt High School for drug use. He eventually graduated from the Quintano's School for Young Professionals.
Tyler had already been interested in music for years, but it wasn't until the 1960s when he moved to Boston that he turned it into a career.
Throughout his life, music has been Tyler's primary passion. It was in Boston, however, that he found a way to make it his profession.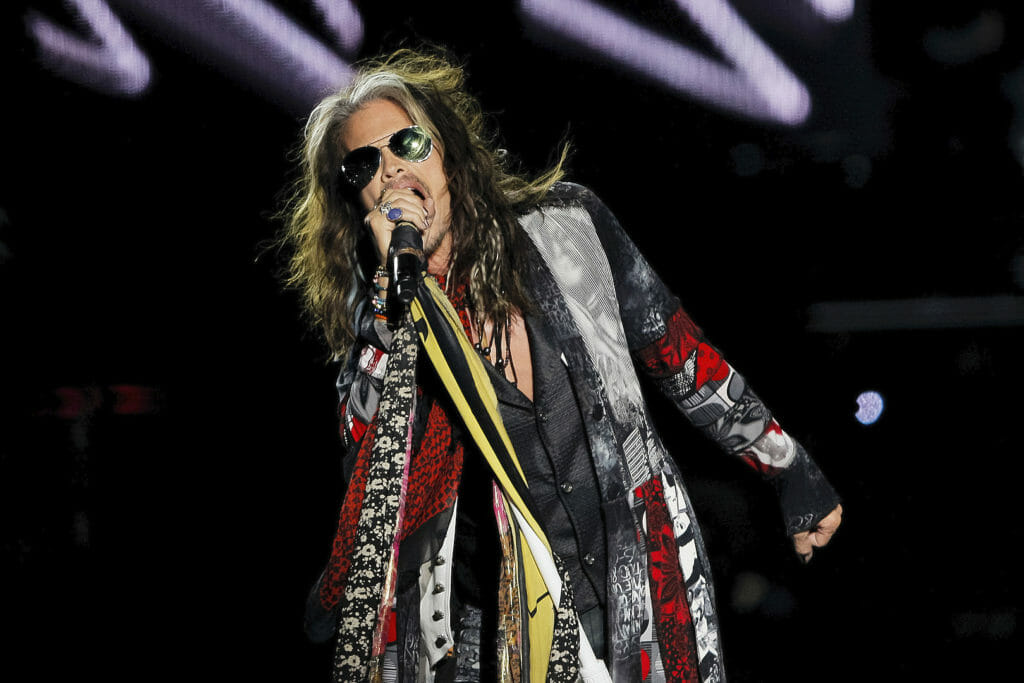 His Time With Aerosmith
Aerosmith was born when Steven Tyler decided to move to Boston in the sixties. He quickly became close with the future members of the band: Tom Hamilton, the bassist; Joe Perry, the guitarist; Joe Kramer, the drummer; and Ray Tabano, the other guitarist.
The group was solidified in 1969 and Tyler became the lead singer. They were then signed to a record deal with Columbia Records in 1972, and the following year they released their debut album. This self-titled record included the track "Dream On", which at the time was only a small hit, but has since become one of Aerosmith's best-known songs.
It was with the 1975 release of Toys in the Attic that the band began to experience huge success. This was followed by Rocks (1976), furthering their acclaim.
---
RELATED: Teresa Barrick: A Life with Steven Tyler, Before & After
---
Despite their remarkable success, the band was on the brink of disbandment in the late 70s and early 80s due to Tyler and Perry's substance abuse habits. Whitford and Perry eventually left the group.
Tyler worked hard to keep the band alive by introducing additional members. The situation almost came to an end after he was involved in a motorcycle accident.
Fortunately, Tyler managed to turn his life around and the band was reunited. Not long after, Permanent Vacation was released (1987) and the rest is history!
How Much Money Has Steven Tyler Wasted?
Incredibly, Steven Tyler managed to burn through more than $20 million of the money he earned from Aerosmith. He himself admitted that he once spent a whopping $6 million on cocaine alone. This, however, doesn't even cover the other drugs such as heroin that he was known to consume. Tyler also had a major problem with alcohol. It may seem like an absurd amount, but it is true.
In his 2011 autobiography 'Does the Noise in My Head Bother You?' Tyler revealed the shocking amount of money he'd wasted on drugs. He confessed that much of it was spent on cocaine and heroin. In order to feed his addiction, Tyler was also forced to sell off his houses and luxury vehicles. In his own words, he said,
I blew $20 million.

I snorted my Porsche, I snorted my plane, I snorted my house in that den of drugs and booze and being lost"
Fortunately, Tyler eventually found the strength to seek out help and begin his journey to recovery. When you think of the sum of money he wasted on drugs, it's unbelievable that it has barely made a dent in his net worth.
---
RELATED: Take A Look Inside The Palatial Former Home Of Prince
---
Steven Tyler's Road To Recovery
Steven Tyler was given a strong push by his bandmates to go into rehab in the late 1980s. His group of friends gave him a clear choice: he could either leave the band or enter rehab. Tyler chose to get the help he needed.
In the years that followed, Tyler went to rehab eight times to keep himself away from substance abuse. He has had to check into rehab multiple times since then, but he seems to be doing much better now.
What Is Steven Tyler's Net Worth Now?
As you would expect of a frontman of the multi-million-album-selling Aerosmith, Steven Tyler's net worth is an astonishing $150 million. This isn't too surprising considering the band's success, but it is worth noting that Tyler managed to amass such wealth despite his struggles with substance abuse in his earlier years.
Aerosmith's albums and tours have certainly added to his wealth, but he has also made a considerable amount of money from other ventures such as films, television appearances, memoirs, and even creative design.
---
RELATED: Taj Monroe Tallarico — The Story Of Steven Tyler's Only Son
---
What's Next For Steven Tyler?
So, what's next for the rock star? Tyler released his own solo album, 'We're All Somebody from Somewhere', back in 2016 and had been touring to promote it until recently, when he had to return to rehab after a relapse.
Fortunately, Aerosmith has since announced their farewell tour, with Tyler expected to be part of the lineup. This will undoubtedly add to the already impressive sum in his bank account.
For more of a look into Steven Tylers luxurious lifestyle, check out the below video by Lifestyle & Net Worth – YouTube. As always, our faq's are just after the video.
Frequently Asked Questions
Does Steven Tyler Have Any Children?
Yes, Steven Tyler does have children. In fact, he has four. Their names are Liv, Mia, Chelsea, and Taj.
How Much Is Aerosmith Worth?
During a 50-year career, between them, the Aerosmith band members have amassed a net worth of approximately $530 million. Most of the band members are worth at least $100 million.