I think at some point I might have said it must be great to be as big as Elvis, but it wasn't a realistic dream

– Peter Frampton
Peter Frampton might not be as famous as Elvis, but for a brief moment in the history of rock and roll, he came close. It's almost impossible to imagine how big the former Humble Pie frontman was at the tail end of the 1970s.
Mike Myers ever made fun of how famous Frampton was in Wayne's World 2 when the title character joked that everyone who lived in the suburbs was issued with a copy of Frampton Comes Alive and a sample of Tide.
For nearly half a decade, the singer and guitarist was one of the biggest rock stars in America, and no one, not even the man who made the talkbox almost as famous as he was, even saw it coming or thought it would ever happen.
In the 1960s, most little boys dreamt about running away to join the circus or the Foreign Legion, but Peter Frampton wasn't like other little boys and from the age of seven he dreamt about running away to become a rock and roll star.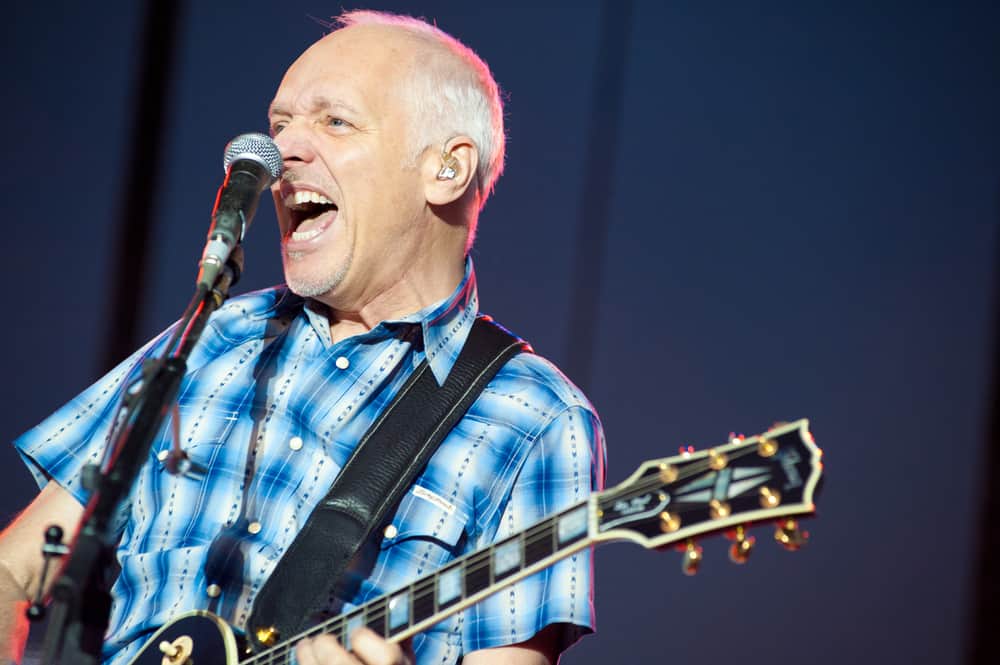 And by the time the decade that saw man land on the Moon and the hippie movement rise to global fame drew to a close, Peter Frampton had taken the first tentative steps to achieving his outlandish dream.
After becoming a member of the Herd and being named "The Face Of 1968" by the impossibly popular teenage magazine The Rave, Frampton found himself in the company of a genuine rockstar, Steve Marriot who had left The Small Faces to form Humble Pie with Rave's Face of 1968.
Four albums and a single live record later, Frampton decided to go his own way and let Humble Pie and Marriott in his wake to walk his own, at first less than spectacular path.
The half-baked rock and roll myth that Frampton found fame as soon as he walked out onto a stage alone, is just that, a myth.
His first four solo albums, Wind of Change, Frampton's Camel, Somethin's Happening, and Frampton, all of which were released between 1972 and 1975 barely struck a chord with anyone not already familiar with his adventures in amplification.
Frampton was the only record to make the Billboard Top One Hundred, and even though it climbed to number thirty-two, it didn't exactly set the world on fire or challenge Elvis' place at the head of the pantheon of rock and roll.
And then in 1967, when it looked as though the former teenage singing sensation and subject of Rave's adulation was destined to remain a mid-card certainty for the rest of his career, he released the record that would change everything.
Frampton Comes Alive! became the biggest selling record in the year that it was released, and is still one of the best-selling live records in the history of rock and roll. To date, it has sold more than eleven million copies around the world, eight million of which were bought in the United States.
It entered the Billboard Chart at Number 196 on January 6th, 1976, and by April 10th, had climbed to Number One. It stayed in the charts for an unprecedented 97 weeks and was voted Rolling Stone magazine's album of the year.
Peter Frampton had arrived, and America was his for the taking.
At least, that's the way it seemed at the time, but as hard as he tried, and as much as he toured he was never able to even come close to matching his greatest triumph.
And despite nearly dying in a car crash in 1978 and appearing on The Simpsons, Frampton has always picked himself up, dusted himself off, and carried on doing what he does best.
Playing rock and roll. In honor of the boy who ran away and made his dreams come true, we've put together our list of the Top 10 Best Peter Frampton songs that proves that he was and still is one of the greatest songwriters of his, or any other generation.
The Rocks Off Mag Top 10 List Of The Best Peter Frampton Songs & Greatest Hits
Frampton's debut album Wind Of Change might have focused on the sort of acoustic numbers that were designed to make him a pin-up the world over, but somebody obviously forgot to give Frampton the memo.
The stand-out tracks on the record are the electrified rockers that pick up where he left off with Humble Pie and proved that no matter how the world saw Frampton, he was only ever going to chart his own course.
It's a Plain Shame is a foot-stomping, boogie classic that's catchier than the common cold and features a chorus that once heard is never forgotten, and the sort of riffing that would cement Frampton's position as one of the world's greatest unsung guitar heroes.
By the time Frampton recorded his second album, Frampton's Camel at Jimi Hendrix's Electric Ladyland Studios in New York in 1973, it was all change in his band, as an ongoing dispute about the musical direction that the band should follow led to Frampton parting ways with his original drummer, Mike Kellie.
It didn't stop Frampton fueling his desire to play harder-edged rock, which saw hs record his cover version of Stevie Wonder's I Believe (When I Fall In Love With You It Will Be Forever), which would, following the success of his breakthrough album, later go on to become a staple of radio station playlists all over the country.
Styx wasn't the only band who wanted to Sail Away, as Frampton decided a number of years before them that it would be a good idea to set his sails for the horizon and chart an easy, breezy course to success with an instantly memorable song built around a hypnotic vocal performance.
Frampton's problem was that his song didn't capture the imagination of disc jockeys in quite the same way that Styx's would three years later. Who knows what might have happened if it had?
As a sign of things to come, Day's Dawning was a pretty good indicator of the direction that Frampton's songwriting was moving in before he'd hit the big time less than a year after it was released.
It's another six-string virtuoso performance from Frampton, that's accompanied by a haunting, emotive vocal that's drowned in longing and loss, and displays a rare talent for focusing on the rare moments that each and every single one of us all too often take for granted.
Originally recorded for 1975's Frampton, Show Me The Way was released as the lead single for that album, but left an impression on critics and radio stations until it was re-released as the version on Frampton Comes Alive and stormed into the Billboard Top Ten, reaching the number six position.
It was, and still is, Frampton's second-biggest selling single and proves that sometimes, things take a little longer to catch on than you'd like them to, but eventually the rest of the world will catch up with you if you just give it enough time.
Frampton was an understated record that captured the man and the myth at the height of his powers, but like Show Me The Way, the song that would become famous the world over, Baby I Love Way, didn't find its audience until Frampton recorded it on Frampton Comes Alive.
And it's stood the test of time, as it had been streamed more than fifty-five million times by the time Frampton took to the stand to testify against Spotify in 2017.
His issue with the internet-based streamer? Despite their audience listening to the song fifty-five million times, Spotify paid the man who wrote and sang it a paltry seventeen hundred dollars!
A proper rocker from his days in Humble Pie, Shine On was one of the last songs that Frampton recorded with his former band before he decided to strike out on his own. And arguably, it only became a fan favorite after Frampton featured it on Frampton Comes Alive, a claim that even Steve Marriott found hard to dispute.
Peter Frampton has always been able to take a song and put his own unique spin on it, and the Rolling Stones Jumpin' Jack Flash, which he originally recorded for 1972's Wind Of Change was no exception.
In Frampton's hands, it became a loose, almost free-form jam that amplified the power of the original and transformed it into something that was almost mystical and transcended the boundaries that Jagger and Richards had imbued the song with. And on Frampton Comes Alive! Jack Flash did what he was always supposed to. He soared…
Another Peter Frampton song that was originally recorded for Frampton's Camel but didn't find its natural audience until it appeared on Framptom Comes Alive.
It's been covered by everyone from ZZ Top to the J Geils Band, and without exception, they all perform it the same way that Frampton does, which is slightly at odds with the song's title. Listen to it, and you'll see what we mean…
Frampton Comes Alive! might have his biggest-selling album, but Peter Frampton's biggest selling single, I'm In You was recorded and released for his 1977 album, I'm In You. It's a little different, but at its heart, it's a quintessential (and arguably the most sucessful) Peter Frampton tune.
And that's it, our Top Ten favorite Peter Frampton songs. Do you think we got it right or wrong? Drop us a line and let us know and tell us your Frampton Top Ten…
Similar Stories…