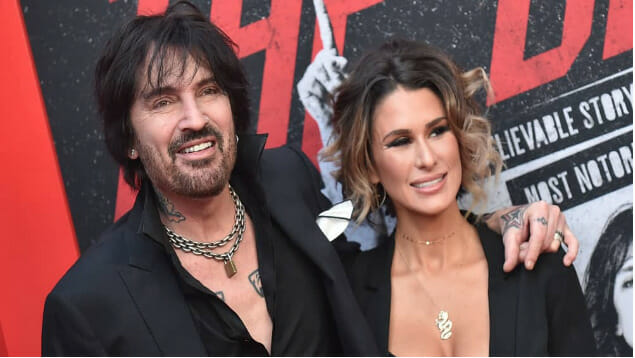 Despite finding fame as the drummer and a founding member (alongside Mick Mars, Nikki Sixx, and Vince Neil) of the hugely popular Mötley Crüe, Tommy Lee has lived a true rock and roll lifestyle that has seen him stay in the spotlight for decades.
But has the relationship between Tommy Lee and Brittany Furlan managed to settle the notorious rock star once and for all?
He may be known as one of the greatest heavy metal drummers in the world, but many would argue it's Tommy Lee's promiscuous lifestyle that he is most recognized for. With endless emotional and sexual affairs and failed marriages, it seemed as though Tommy would never change his rock and roll ways.
However, while it may be impossible to name all of Tommy Lee's lovers, it would seem that his latest might have been successful in taming his once wild ways.
Since 2017, Lee has been in a relationship with his now-wife Brittany Furlan. Seemingly head over heels in love, could this be a case of fourth time lucky for this bad boy, or will things soon go south?
In today's post, we're going to look at Tommy Lee's and Brittany Furlan's marriage giving you the rundown on how things are going.
Tommy Lee's Previous Marriages
Before we look at Tommy Lee's marriage to Brittany Furlan, let's get a bit of backstory into Tommy's other marriages. Well known for his countless partners, Tommy Lee has been married four times.
His first marriage was with Elaine Starchuk. The two dated for more than two years before tying the knot on November 24, 1984.
Unfortunately, the marriage only lasted 7 days, with the couple separating for reasons that would later be reported to be physical abuse.
The second woman to marry one of the greatest rockstars of all time was Heather Locklear.
Locklear married Lee on May 10, 1986. The two were married for 7 years. The two reportedly split after Tommy slept with a porn star.
In February 1995, Tommy Lee met Pamela Anderson and despite being engaged to model Bobbie Brown, the two were married just 4 days later.
The two had an on-again, off-again relationship which resulted in two children and that infamous sex tape. They divorced in 1998 but continued their relationship before finally separating in 2001.
Before meeting Brittany Furlan, Tommy Lee was also engaged to Prince's ex-wife, Mayte Garcia, and a Greek-German singer called Sofia Toufa.
How Did Tommy Lee And Brittany Furlan Meet?
There's no denying that Tommy Lee has led a rollercoaster of a love life up to now, but in 2017 things seemingly started to change.
It was in 2017 that Tommy Lee met social media personality, Brittany Furlan. The two met, like many people meet these days, on the World Wide Web.
She said, "He used to watch my Vine videos – he was one of my followers and obviously, I loved his music".
She also said the two "hit each other up and ended up going on a couple of dates and it was awesome – now here we are"
Despite the 24-year age difference, all it took was a follow and some messages between the Mötley Crüe drummer and the influencer for things to get started.
When Were Brittany Furlan And Tommy Lee First Seen Together?
After sharing messages back and forth on social media, it was clear the couple had a spark. They soon agreed to meet.
Quickly falling for each other, the couple was first spotted together in June 2017. They were seen getting handsy outside a sushi restaurant in Calabasas, California, and rumors began to circulate that Tommy Lee and Brittany Furlan were in a relationship.
Soon after, this was confirmed by regular social media posts shared between the two on Instagram.
The First Public Appearance – September 2017
It was in September 2017 that Lee and Furlan made their first public appearance as a couple when Lee supported Furlan at the 2017 Streamy Awards that took place in Beverly Hills.
Not only did the two attend the awards together, but they even got up on stage together to present an award.
Vacationing In Mexico – January 2018
7 months after being spotted in public together for the first time, Tommy Lee and Brittany Furlan headed to Mexico for a relaxing vacation.
Staying in Cabo San Lucas, they both posted photos on their Instagram accounts, with Lee posting a photo saying "Bye bye CABO!!! Love you and my baby!".
The Engagement – February 2018
Less than a month after returning from their vacation in Mexico, Tommy Lee proposed to Brittany Furlan.
After saying yes, they announced their engagement via Instagram on February 14, 2018.
Furlan also took to Twitter to show off her new engagement ring. She tweeted:
Best day of my life!!!
Followed by:
I can't wait to get to spend forever with my best friend #engaged
Accompanied with the tweet was a photo of her new shiny and no doubt very expensive heart-shaped engagement ring.
The Tribeca Film Festival – April 2018
After getting engaged, Tommy Lee and Brittany Furlan made a number of public appearances.
One of the most recent after their engagement was the Tribeca Film Festival. It was during this festival that the couple made their debut red carpet appearance when they attended the premiere of The American Meme.
Did They Get Married? – May 2018
It was in May 2018 that the couple caused great confusion amongst fans when they posted a photo of them both standing at a wedding altar in bathrobes.
Many fans believed that the two had secretly tied the knot in what was a surprise wedding.
However, the couple again took to social media to let fans know that they hadn't in fact gotten married yet.
The Iconic Photo – October 2018
5 months before the couple did get married, an iconic photo of the pair was taken at a Strange 80s concert.
The social media influencer kissed her fiancé's tongue on the red carpet. The evening was a very PDA-filled night.
The photo continues to be one of the most iconic photos of the couple.
When Did Brittany Furlan And Tommy Lee Get Married?
Furlan and Lee finally tied the knot exactly a year after he proposed on February 14, 2019.
Yes, you read that right, the couple got married on Valentine's Day.
This is a far cry from the Tommy Lee who was reportedly aggressive towards his lovers, uncaring, and a serial cheater.
Maybe Furlan really did change Tommy Lee's rock and roll ways.
Little is known about the wedding as the couple kept it very much under wraps.
Followers of the pair were only made aware they were getting married four days before when Furlan tweeted:
I can't believe I went from the most depressed, lonely girl, thinking I would die alone with my dogs, to getting married in 4 days … wow … life is a trip.
After the private wedding, Furlan posted a photo of her two dogs dressed up in wedding attire with the caption:
It's official!!!! MR & MRS LEE YAHOOOOOOOO
The Dirt Premiere – March 2019
A month after tying the knot, the loved-up couple attended Netflix's The Dirt premiere in Hollywood. The film was a biographical drama based on Mötley Crüe's 2001 memoir.
The film chronicled Mötley Crüe's career and even included an appearance from Brittany Furlan herself.
Still Loved-Up?
Posts all the way through the rest of 2019, 2020, 2021, and 2022 on social media would suggest the couple is still very much in love.
Both Lee and Furlan post loving photos of each other regularly. In 2022, the couple celebrated their 3rd wedding anniversary.
Lee shared a sultry photo of Furlan on his Instagram account on the day of their anniversary. In the post, he explained how he prefers to profess the love he has for his wife in person.
The Mötley Crüe Reunion Tour – 2022
Mötley Crüe has reunited to tour the United States throughout 2022 and beyond.
Traveling right the way across the United States, Tommy Lee and the band are performing almost every other day for 3 months.
Up to now, it would appear that Brittany Furlan has followed her husband on tour. Regular updates on her Instagram show her attending her husband's concerts.
From everything we can see, the couple appears to be still very much in love.
To Wrap Up
There's no denying that Tommy Lee once had many issues and troubles when it came to his relationships and marriages.
From affairs with porn stars and leaked sex tapes to potential abuse, many stories about this wild rockstar have been reported.
However, up to now, it certainly seems like Tommy Lee has met the one in Brittany Furlan.
Since meeting online in 2017, the couple has gone from strength to strength, and they continue to do so.
Let's hope this really is fourth time lucky for one of the world's best rockstars.
Be sure to watch the video below by YMH Studio, where Brittany Furlan discusses her marriage to the bad boy of rock – Tommy Lee.
Similar Stories