I'm one of those artists that doesn't actually hate my old hits. I love Boston music. I really like 'More Than A Feeling' After playing it to myself in a basement for such a long time, I'm happy to do it out on stage

– Tom Scholz
Tom Scholz and Salvador Dali were cut from the same cloth, and while on paper at least the two men seem to have very little in common, their shared belief that perfection shouldn't be feared is the commonality that links them.
Unlike Dali who believed that perfection shouldn't be feared because it could never be achieved, Scholz was, and still is, convinced that perfection is a perfectly reasonable goal to pursue and that unless you dedicate yourself to trying to attain it, you'll never experience the dizzying heights of the endorphin and adrenaline rushes that accompany it.
Of course, the wealth, success, and fame that stroll hand in hand with rock and roll perfection are nice too, but they're secondary to knowing that you were responsible for writing and recording two of the most accomplished and flawless records in the history of modern music.
And that's exactly what Scholz did when he wrote the first two Boston albums, Boston and Don't Look Back, which incidentally, are also two of the biggest selling hard rock records ever released.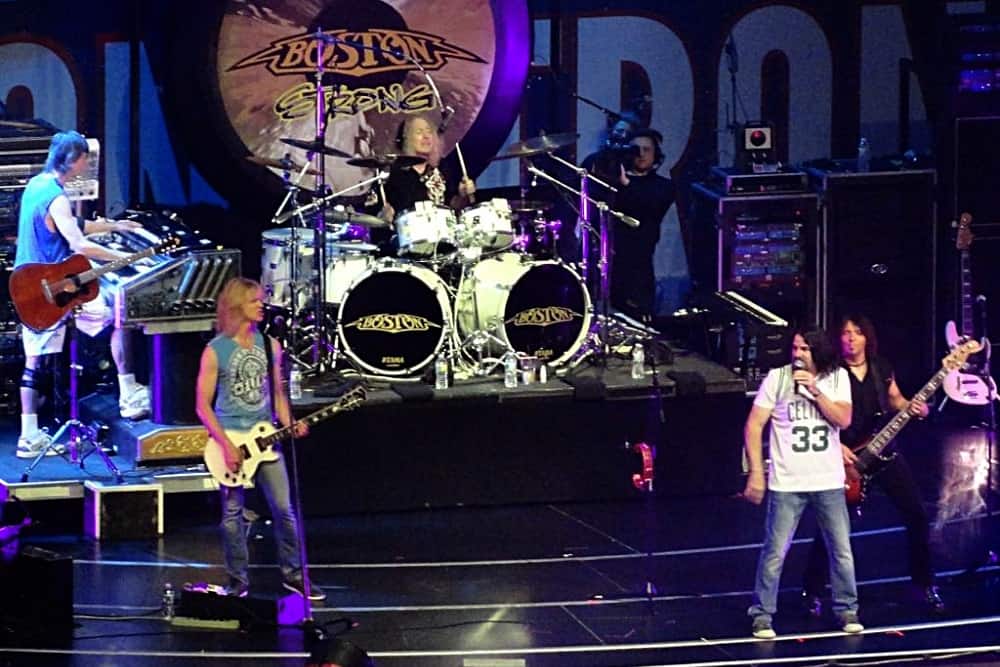 Scholz was and is a notorious perfectionist and has always thought that his way of doing things was better than everyone else's way.
He may, as even his bandmates who at times found him incredibly difficult to work with, were forced to concede have had a point, as the MIT educated engineer and founding member of Boston, built the studio that he recorded the music (as well as being an inventive genius, he's also a multi-instrumentalist) for the first two Boston records in from the ground up, and used technology that he invented to capture his band's music.
A musician first and an engineer second Scholz began writing and demoing songs toward the end of 1969 and joined his first band Freehold while he was a student at the Massachusetts Institute of Technology.
The other members of that band, most notably Brad Delp, along with the aforementioned Scholz, would form the core unit of the band that would later become Boston. 
Having existed in one form or another since 1974, Boston isn't just one of America's best-selling rock and roll bands, they're also one of its longest-serving and even though they've only released six albums in their near five-decade career (mainly due to Scholz's insistence on everything being exactly right before he'll even think about recording and releasing a song or a record) the records that they have released have been worth waiting for.
It wasn't only Scholz's desire to make every Boston record as close to being perfect as he possibly could that slowed them down, as the death of the band's longtime singer and his closest collaborator Brad Delp in 2007, also knocked some of the wind out of Scholz's creative sails.
That tragic and untimely death of Delp is part of the reason why the band has only recorded two albums in the first two decades of the twenty-first century, but as Scholz keeps promising that there is a new record on its way, we'll keep our fingers crossed, but won't hold our breath, for its arrival at some point in the next five years.
As Scholz has written some of the greatest hard songs to have ever been released, we thought it was about time that we put together a list of what we consider to be the ten best Boston songs.
And as you'll no doubt notice while you're making your way through that list, they're all taken from the bands first three records, Boston, Don't Look Back, and Third Stage, and, before you ask, yes there's a good reason why we focused on those records and didn't include anything from Walk On, Corporate America or Life, Love & Hope. That reason?
It's because as good as the last three Boston records are, they're nowhere near as good as the first three. 
It's time to hit the thrusters and get down with ten of the best Boston songs ever recorded…
The Top Ten List Of The Best Songs By Boston – According To Us!
Amanda is the first song on Boston's third album, Third Stage. While it went straight to the top of the Billboard Hot One Hundred, Amanda isn't really indicative of the band's usual sound.
It isn't the sort of song that we'd usually associate with Scholz or Boston, but America took this power ballad to heart and reinforced the band's position as one of the USA's favorite hard-rocking units.
And if you were in any doubt about Tom Scholz's perfectionism, maybe this brief Boston factoid will change your mind. Amanda wasn't actually released until six years after it was first recorded by the band in 1980. It had to be right before it was unleashed in the world.
One of the stand out tracks from Third Stage, Cool The Engines is a song laced with double meaning, that on the surface is about pushing a motor far too hard and easing back to preserve it and increase its lifespan, which seems to be oddly fitting for an engineer like Scholz.
But if you dig a little deeper, the subject matter is far more risque. It's an old-school Boston tune that captures the band doing what they do best; rocking hard.
The second single from Third Stage, We're Ready, even though it's another ballad, which isn't a word that doesn't usually float our hard-rocking, doesn't tread the sugary sweet ground as Amanda, as Scholz's trademark guitar kicks in and fades out again throughout the tune, which makes it feel like a Boston song instead of a Boston ballad.
And that intermittent riff probably explains why We're Ready didn't hit the top of the charts as Amanda did. That said, it did crash in at Number Two, so it still did pretty good, but it is a Boston tune, and Scholz wouldn't have released it if he didn't know that it wasn't going to be a Top Ten Hit.
As soon as the opening riff to Feelin' Satisfied, the first song on Don't Look Back, kicks in, you know that it's business as usual and Scholz was never going to miss a step with the follow-up to his band's debut album.
It wasn't all wine and roses for Scholz and Boston though, as when the band's label released Feelin' Satisfied as a single, it only reached Number Forty-Six in the Billboard Hot One Hundred, which probably explains Scholz reluctance to release another single, and why it was another seven years before they agreed to release Amanda
We know what we said about ballads, but it's impossible to talk about Boston without talking about A Man I'll Never Be, which was the second single the band released from 1978's Don't Look Back and scored Scholz a top forty Billboard Hit.
A radical departure both lyrically and musically from the sort of riff happy tunes that the band was, and is known for, A Man I'll Never Be is the sound of a man opening his heart and soul to the world and showing it who he really is. And from beginning to end, it's just a great song.
Boston's second album hits the ground running with Don't Look Back, the tune that the album takes its name from and it starts as it means to go on with Scholz kicking his guitar into overdrive.
It was also the first single that the band released from their second album, and took them straight to the top of the Billboard Chart when it landed at Number Four.
It's time to kick things into overdrive with Smokin' a full-throttle number that puts the hammer down from the start and doesn't let up or ease off the gas until it fades to a finish. As well as being one of the powerhouse rockers on Boston, Smokin' was also the B-Side of More Than A Feeling, which is another Boston factoid for all you Scholz fans out there.
Rock And Roll Band is Scholz's mission statement that's taken from Boston's debut album. If anyone was ever in any doubt about what or who Boston was, and is, all they need to do is play this high-octane classic.
Peace Of Mind the second track on Boston is just a good time, hard-rocking song that dismisses the ideology that Corporate America was built on with an infectiously catchy chorus that's locked down and in place by mind-blowing riffs. And once you hear it, you'll never, ever forget it.
The song that took Tom Scholz more than five years to complete, and entered the Billboard Hot One Hundred at Number Five when it was first released, isn't just the opening track on Boston it's also the song that started the Grunge Revolution.
Listen to it again, close your eyes, and think about Nirvana. And now you understand just how important this song and Boston were to the evolution of rock and roll.
And that's it folks, our Top Ten list of the best ever songs by Boston. If you think we got it wrong, or even better if you think we got it right, drop us a line and let us know. It's always cool to talk to fellow Scholz fans… 
Similar Stories…