We want to be the band to dance to when the bomb drops

Simon Le Bon
That was the ideology that drove all of the members of Duran Duran and is the essence of all our favourite Duran Duran songs.
They wanted to be THE band that everyone played in their final moments, they wanted their name to be the headliner on marquees and stadiums all over the world and they wanted to make music that people would fall in love with and remember for decades.
And being, as Simon Le Bon so eloquently put it "five good looking young men", they wanted to meet, and date, the most beautiful women in the world. After all, what other reason was there for being in a band?
Emerging from the post-punk club scene of Birmingham, England at the tail-end of the nineteen seventies, Duran Duran weren't the overnight sensation that the music press who shadowed their every move claimed they were. Named after the antagonist in the schlocky, nineteen sixties science friction romp Barbarella, Duran Duran spent nearly three years trying to find the missing piece of their musical puzzle.
When they stumbled across a poet in tight pink lycra pants who thought he'd "try the band thing" for a summer, everything finally clicked. Within a year of Simon Le Bon joining their ranks, Duran Duran had signed to EMI Records and released their first, self-titled album.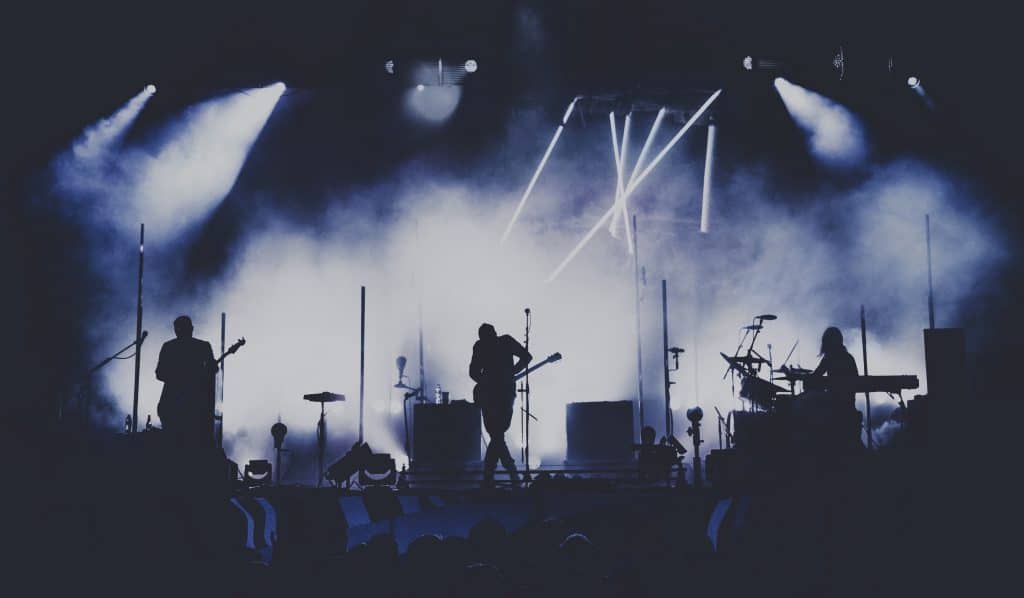 And almost as soon as the record hit the shelves, the band exploded. They were everywhere, you couldn't escape the legions of Duranies who were obsessed with the band, their music, and their every single, waking move.
Timing is, as the former head of Apple John Sculley once said, everything, and Duran Duran's timing was absolutely perfect. After spending time in the trenches of the New Romantic movement, the band understood the visual power of imagery and image and how both could be used to their advantage and help them to establish themselves and they used the fledgling MTV to channel their high concept videos straight into the homes of suburbia.
It was a bold and daring move that paid off, and they soon became as famous for their videos as they did for their chart-busting bass-driven, infectious pop anthems. Duran Duran had arrived, and it seemed as though nothing or no one could stop them or get in their way. The word was theirs for the taking, and they gladly took it, and everything that it offered.
For five years, Duran Duran carved a musical path across the globe that saw them travel further than they ever dared to dream possible, but in the aftermath of Live Aid, the wild rollercoaster ride that the band had been on for half a decade finally came crashing to a halt. Drummer Roger Taylor and guitarist Andy Taylor both left the band, leaving the remaining members, bass player John Taylor, keyboardist Nick Rhodes, and vocalist Simon Le Bon, to pick up the pieces.
While the next decade saw the band embrace their most critically lauded and creative musical period, they couldn't match their staggering, initial success. But it didn't seem to matter to the band or the fans who stuck with them, as they channeled all of their energy and enthusiasm into the one thing that they loved the most, making music.
Duran Duran sacrificed the fleeting moments of adulation and adoration for a higher calling and continued to surprise and amaze fans and critics alike with a succession of thoughtful, powerful, and memorable records. After nearly twenty years as a band, they had, at long last, discovered who they were and what mattered to them.
Then in two thousand and one, the impossible happened. The original line-up, the one that had peered out of the posters that adorned the walls of every house in middle America, reunited and the band was catapulted headlong into the limelight again. The veneration and deification that they had long thought to be a thing of the past once again became part of their daily lives, and Duran Duran was offered, and accepted, a second bite of the forbidden fruit that opens the door to rock and roll glory and immortality.
Still touring and still recording new music, Duran Duran was and is determined to make the most out of every opportunity that they've been given and have gladly accepted. And, with a new record looming on the horizon and no sign of them slowing down any time soon, we thought that it was the perfect opportunity to take a look at some of the defining moments that helped to make them who they are today.
Our Top Ten Duran Duran Songs
1. White Lines
In nineteen ninety-five, Duran Duran entered the studio to record Thank You an album of cover songs that was meant to be an ode, and a tribute to the artists who had originally and continued to inspire them. It was also the first time that former drummer Roger Taylor had been part of the band since he left at the tail end of nineteen eighty-five. While his return, at this point, wasn't permanent he did join his old colleagues to record Watching the Detectives, Jeepster, and Perfect Day.
However the standout moment from Thank You was Duran Duran's version of White Lines, a song that had propelled the artist who wrote it, Melle Mel to international fame. A warning against the dangers of cocaine abuse the vicious cycle that long time users inevitably end up being caught in, the song was used by Duran Duran to prove to the naysayers who thought they were just another pop band, that when they wanted to, they could bring the thunder and turn everything up to eleven.
One of the few bands who could take another artist's most popular and well-known tune and improve it with extra amplification, attitude, and energy, Duran Duran dispelled any and all ideas of rock snobbery by serving up a full-throttle version of a song that was already soaked in adrenaline. It's no wonder that it's still a live favorite a quarter of a century after they released it.
2. The Chauffeur
The first time that Duran Duran started to flex their musical muscles and clamber out of the box that the majority of critics were so willing to place them in was with The Chauffeur, the melancholic, haunting ballad and the final song on their second album, Rio.
Proving that they were anything but a one-trick pony, Simon Le Bon's layered, intelligent prose accompanies Nick Rhodes' stark, atmospheric electronic homage to loss and longing that would have fitted comfortably in the grooves of any Kraftwerk album. The Chauffeur proved that Duran Duran wasn't just a bunch of pretty boys from the industrial heart of England and that they were a musical powerhouse that was just beginning to satiate their thirst for experimentation.
3. Girls On Film
Arguably more famous for its video which had to be heavily censored before MTV would even countenance adding it to their schedule, Girls On Film was the second single from Duran Duran's self-titled debut album.
Deemed too risque to show on mainstream television, the video, while increasing the band's profile, ultimately ended up being an albatross around the neck of the punchy, driven, and catchy song that it was supposed to promote. It was a hard lesson for the band to learn, but one that they ultimately took to heart. And it didn't exactly hurt their collective bank balance, as it proved that a little controversy can, and usually does, work wonders.
4. Hungry Like The Wolf
Even though it was written and recorded in a single day, Hungry Like The Wolf proves that it doesn't take a lifetime to create genius and that the best songs often appear unbidden, out of nowhere. The video is a pastiche of the film that was taking the world by storm when it was made, Raiders of the Lost Ark and even though it smashed straight into the British charts at number five, things were slightly different here in America.
Initially failing to chart, it was only after MTV picked up the video and placed it into heavy rotation that Hungry Like The Wolf sank its teeth into the Billboard Top Forty, stormed straight to Number Three, and made sure that America knew that Duran Duran was in it for the long haul.
5. A View To A Kill
Being asked to provide the theme song for a Bond film used to be the stuff that rock and roll dreams were made of and only the cream of the crop and the biggest bands and artists in the world were considered for the honor.
So, when the producers of A View To A Kill came knocking at Duran Duran's door, they not only said yes, they also ended up delivering one of the most instantly memorable songs in the franchise's history and provided the perfect swansong for the third actor to play James Bond on the big screen, Roger Moore as he finished his tenure as a member of Her Majesty's Secret Service.
6. The Wild Boys
Duran Duran's twelfth single and their biggest US hit, it reached Number Two on the Billboard Top Forty and stayed there for four weeks, Wild Boys was the only studio recording on their live album, Arena, which made it the perfect choice to promote the record.
The dystopian video for the song that saw singer Simon Le Bon suffer for his art stood in direct contrast with the poppy, upbeat tune that was built around a huge chorus that in turn was boosted toward the stratosphere by world-famous producer Nile Rogers.
7. Rio
The title track and second single from their second album, Rio cemented Duran Duran's reputation in America, but oddly enough it was the hit that almost didn't make it. It was only after KROQ in Los Angeles picked it and played it as often as their schedule would permit that people began to tune into its intricately clever and hideously complex bass-driven melody. But that melody finally began to weave its magic and gave Duran Duran their second chart hit, as it entered the Billboard Top Forty at Number Fourteen.
8. Planet Earth
You never forget your first time, and Planet Earth wasn't just Duran Duran's first single, it was also the first record to directly name and refer to the New Romantic movement that the band was seen as being ambassadors for.
It charted immediately in Duran Duran's native country, reaching Number Twelve in the British charts, and also gave them their first international hit as it also reached Number Eight in the Australian charts. It was a statement of things to come and perfectly captures the band's unmistakable bass-driven sound that saw the world slowly, but surely, fall in love with Duran Duran.
9. Save A Prayer
While Duran Duran's sixth single bounced straight into the UK charts at Number Two and was only held off the top spot by Survivor's Eye of the Tiger it wasn't released in the United States until three years later. And when it was, it entered the Billboard Charts at Number Sixteen. If it hadn't been for MTV, this heart-achingly beautiful ballad about love and the uplifting impact that it can have on the human soul would never have even been released.
10. The Reflex
Duran Duran's most successful single, The Reflex, and while it was the last single that was lifted from Seven and Ragged Tiger, it was heavily remixed before it was released and was the band's first single to reach both Number One in America and the UK. Ironically, while it isn't exactly a live favorite, The Reflex is still widely thought of as being one of the band's best songs.
There you have it! Our list of the best songs from this iconic English outfit!
Do you agree? Feel free to drop a comment and give us your 2 cents, we'd love to know.
Similar Stories…