Mötley Crüe has long been known for their wild and turbulent history, often marred with stories of substance abuse, tragedy, and scandal. Among the members of the iconic rock band, Vince Neil's name is one that is often associated with reckless behavior and controversial antics.
However, today we're taking a closer look at a different side of Neil, as we explore the story of his daughter, Skylar, and the impact her life and death had on him and the band.
From her diagnosis with a rare form of kidney cancer to her father's grief-stricken tribute in the form of a song, Skylar's story is one of both heartbreak and hope, a testament to the enduring power of love and the ability to turn tragedy into something positive.
The Short Life And Tragic Death Of Vince Neil's Daughter
Skylar Neil was Vince's third child, and first with his then-wife Sharise Ruddell, a mud wrestler and fashion model. Her birth came just before Neil was kicked out of the band for a period.
Shortly after Skylar's birth, Neil and Sharise divorced, likely due to Neil's drinking problems which also led to his ejection from the band. During most of Skylar's childhood, Neil was touring his first solo album Exposed.
In early 1995, Skylar fell ill with what her parents initially thought was a bad case of appendicitis. However, it turned out that she was suffering from Wilms' Tumor, a very rare form of kidney cancer that occurs most commonly in children.
Skylar underwent large amounts of chemotherapy and other radiation treatments, including six operations that failed. Sadly, she passed away, and her death understandably hit Neil hard.
---
RELATED: Mick Mars And His Painful Disease
---
The Lasting Legacy Of Skylar Neil
Neil talks about Skylar's death in his memoir, The Dirt, where he provides further insight into the severity of her illness. He claimed that the tumor weighed six and a half pounds, which was the exact weight Skylar had at birth.
Vince Neil has clearly battled many demons throughout his life, and Skylar's death likely haunts him, as it would any father.
But Skylar is not only remembered in melancholic retrospect. Her name is a shining light for many who suffer from similar rare diseases and illnesses that affect children. The Skylar Neil Memorial Foundation was created by her parents to raise awareness for children's rare diseases, fund continuing research into cures and medicine, and support medical facilities for those who end up suffering.
Since her passing, the foundation has raised millions of dollars for the TJ Martell Foundation and sponsors an annual golf tournament that raises money for treatments and research into pediatric cancer and related illnesses.
Neil himself has also done his part to keep Skylar's memory alive. He hosted a series of benefit concerts named "Rockin' The Red Carpet" in 2011, with the proceeds going to MUSIC for RELIEF and his own daughter's foundation.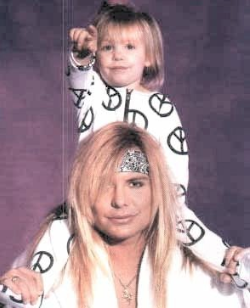 Skylar's Song
Beyond being remembered in the world of charity, Neil chose to include 'Skylar's Song' as a late inclusion to his second solo album Carved In Stone, the song was released as a single for the album and a music video followed.
The lyrics paint a picture of a grieving father who thought their time would be longer, but ultimately has fond memories and has allowed their child's passing to shape their future as their 'burning light'.
The music video is perhaps even more upsetting if you really want to let the tears roll, the footage of them while Skylar was a child shows us the happiness that was tragically cut short in both their lives.
The album ended up selling less than 100,000 copies in the US, likely its too-early combination of Hip Hop and Rock, the wave of which was later ridden by Kid Rock.
While the story of Mötley Crüe may be filled with dark tales, the story of Skylar Neil is a testament to the good that can come out of tragedy. Her legacy lives on through the foundation that her parents created, and her memory continues to inspire those who suffer from similar rare diseases and illnesses.
Final Thoughts
Skylar Neil's untimely death left an indelible mark on Vince Neil, shaping him into the man he is today. The Mötley Crüe frontman learned a valuable lesson about putting others before himself and shedding his egotistical ways.
As recounted in the band's biography, The Dirt, Neil provides a candid account of the events leading up to and following Skylar's passing.
While the book is filled with many tragic tales, Neil's introspection and positive changes are a welcome and uplifting addition. The Dirt offers an unfiltered glimpse into Neil's life and the events that molded him and his legendary band.
To hear the song Vince Neil wrote for his daughter, hit play on the video below.