Many punks of the 1980s will remember Wendy O. Williams, she was an enigmatic star that lived the very essence of the punk life. Rather than searching for the genre, it seemed to seek her as its missing jigsaw piece.
For those who haven't heard of Wendy O. Williams, you may have seen her work in some form or another, being a model who was a subject of awe for many photographers, videographers, and other visual artists.
Her life, as well as artistic achievements, are interesting and titillating while her death is tragic and demonstrates how issues with identity itself can be extremely damaging to a person's mental health.
To learn more about Wendy's wonderful legacy, just keep reading.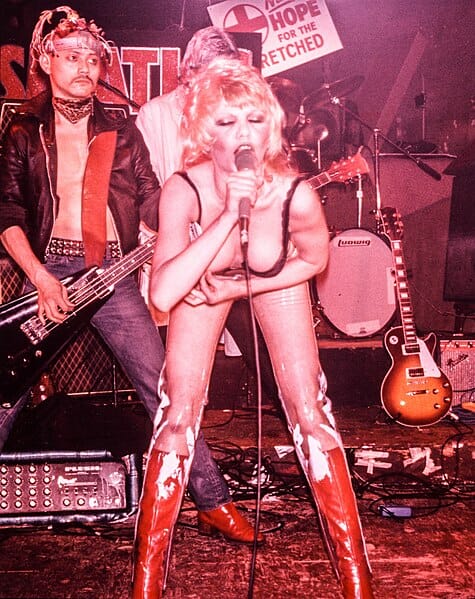 A History Of Being Punk
Wendy's first run-in with the law came at the age of 15 when she was caught sunbathing in the nude and was arrested.
She attended school in New York for a period of time until she decided to run away from home only a year after her first arrest. She decided to hitchhike to Colorado, making her way by selling crochet bikinis.
Wendy soon found her way to Europe where she entertained a few jobs such as a cook and a dancer, the latter something she had been doing since the age of 6.
During this personal pilgrimage, she was arrested many times for shoplifting and using counterfeit money. It seems Wendy always had a penchant for the punk attitude.
By 1976 Wendy would begin expressing herself sexually through live sex shows and in adult films. This ultimately led her into the circles of other art where she would meet her future manager.
Plasmatics Featuring Wendy O. Williams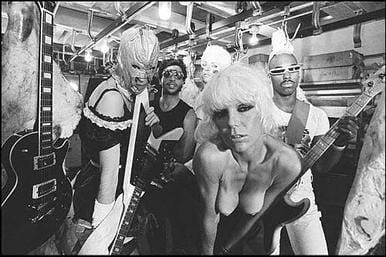 Plasmatics were the brainchild of Rod Swenson whose sex shows Wendy would regularly star in. He recruited her to join what would be the Plasmatics.
With a focus on visuals, Wendy would be at the visual center which the band would form around and Swenson recruited Wes Beech to hold them together musically.
He would become the only permanent member besides Williams, appearing in all Plasmatics live shows and records.
Their on-stage antics would generally form much of their appeal to fans at the time, and they could draw hordes of fans to their shows to see Wendy's performances.
They were known for punk antics, and generally turning the live music performance into something visual and a holistic expression of art, not just music.
Chris Knowles of Classic Rock magazine wrote:
The Plasmatics, unlike other Punk bands put their Punk philosophy into action
Something Wendy O. Williams had been doing her whole life.
Soon enough the Plasmatics signed to Stiff Records, a British label, who were in awe of Williams' performances and helped her tour the globe.
They also facilitated the recordings of Plasmatics' three albums which would blend genres and modes of art, but always have Williams as the center of attention.
Williams' on-stage antics and run-ins with the law grew, almost facing jail time as her public nudity charges added up.
Wendy O. Williams Goes Solo
Williams would eventually go solo, a natural progression from the Plasmatics, the latter mainly being centered around her.
She recorded a duet cover of 'Stand By Your Man' with Lemmy from Motorhead, as well as making her debut solo album W.O.W with the members of Kiss, and even starred in a production of The Rocky Horror Show for a period.
Her second solo album Kommander of Kaos would come out in 1986. She also continued to star in different indie films.
She would later reform Plasmatics briefly due to Joey Ramone, they performed 'Masterplan' a final time when opening for the Ramones on New Years Eve 1988.
The Tragic Death Of Wendy O. Williams
The latter years of Wendy's life were actually pretty normal, she moved to Connecticut in 1991 with longtime companion Swenson and worked in animal rehabilitation as well as in a food co-op.
One interview during this period explained the move was due to being:
pretty fed up of dealing with people
Williams had her own issues with mental health, while she was teetotal for many years and lived a relatively normal life in her later years, her feelings were already set in stone.
She first attempted suicide in 1993 by hammering a knife into her sternum but backed out and was taken to hospital, then again in 1997 by an overdose of ephedrine, which also failed.
Wendy wasn't hysterical or deluded; she seemed pretty calm about her decision, according to reports.
Swenson comments that:
Wendy's act was not an irrational-in-the-moment act […] she had been contemplating this her whole life.
Swenson found a package on his door filled with things he enjoyed and letters from Wendy which prompted him to search the woods surrounding their house where he found her body.
Wendy O. Williams fatally shot herself on April 6 1998, aged 48. Swenson reports she been feeding squirrels before her death.
Final Words
The only words left to say should be Wendy's own, written in her suicide note:
I don't believe that people should take their own lives without deep and thoughtful reflection over a considerable period of time.

I do believe strongly, however, that the right to do so is one of the most fundamental rights that anyone in a free society should have.

For me, much of the world makes no sense, but my feelings about what I am doing ring loud and clear to an inner ear and a place where there is no self, only calm.
Her legacy and art will outlive her physical form, but Wendy made her own decisions and lived her own life. We should respect her for that without romanticizing the concept of suicide, which she makes clear herself.
For a glimpse into what Wendy O. Williams was like, and to get an idea of the legacy she wanted to leave behind, check out this interview with Night Flight TV.