The name Tommy Shaw may not ring any bells for younger readers, but those of us that grew up in the 60s and 70s have seen it up in lights so often as to have it burned into our retinas, and you know what?… I'm perfectly okay with that.
Why? Because Tommy Shaw is a legendary musician of the early prog era.
Most famous for his role as lead guitarist and co-lead singer in the genre-blurring Chicago band Styx, he helped transform a relatively promising act into a world-conquering musical force.
The rock-infused edge of his playing style gave Styx's sound the teeth it needed to sink into the public consciousness of the decade.
You won't catch him ripping a blistering solo a la Yngwie Malmsteen or Jimi Page, but he's a dab hand at the more nuanced aspects of rockery that go largely unnoticed by audiences. So, today, we'll be paying this awesome artist his dues.
Tommy Shaw's Life Before Styx
Born September 11, 1953, to pipe fitter Dalton Earl Shaw and nurse Mildred Uline Shaw, Tommy lived in Montgomery, Alabama, until the age of two when his family moved to Prattville, Autauga County where they stayed until he was 12 years old.
It was 1963 when a 10-year-old Shaw began learning to play the guitar, and shortly thereafter, he developed his first musical love… The Beatles, and from that point on, he knew the musical life was the only one for him.
Of course, after moving back to Montgomery two years later, he quickly developed a taste for country music, spending a lot of his time learning Hank Williams songs on guitar.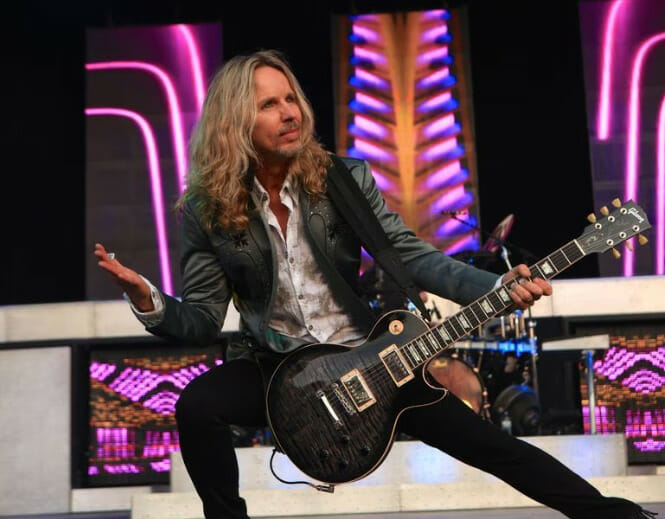 Tommy Shaw's Childhood Bands
Shaw jokingly refers to the memory of his grandfather paying him a nickel to sing on the porch as his first paying gig, but he got his true taste of the performance life at age 14 when he and his friends founded The Vagabonds.
He played guitar primarily but helped out with bass duties whenever necessary.
Attending the unfortunately named Robert E. Lee High School, he was an adequate student in all regards, but at this point in time, music occupied most of his thoughts, as evidenced by his position in Jabbo Stokes and the Jive Rockets, his second childhood band.
Shaw played in this act until graduation when he moved to Nashville, Tennessee.
His big break after the move was a spot in M.S. Funk, an ill-fated country-blues-rock band that expired when disco took hold of the nation.
However, M.S. Funk hadn't been a total exercise in futility, as it was at one of their Chicago gigs that a nascent Styx took note of Tommy's guitar prowess.
After marrying his first wife, Cuppy Enders, Shaw returned to Montgomery and formed the band Harvest with some friends, but later that very year, he received a phone call that turned his world upside down.
Tommy Shaw's Styx Years
It was 1975, and things were going well for Tommy, but things were about to get a whole lot better! Representatives of Styx contacted him and asked if he'd like to audition for the band — Their guitarist, John Curelewski had up and left just before a nationwide tour!
Shaw flew out to Chicago, guitar in hand, only to be given the position immediately after the band heard him sing the falsetto harmony they needed on tour… the guitar never came out of its case.
Tommy's first contribution to Styx as a songwriter was "Crystal Ball", a ruminative twinkly cut with a dramatic chorus that wound up becoming the title track of the band's first release with Shaw in its ranks.
Two more Crystal Ball songs, "Mademoiselle" and "Shooz", were also written and composed by Shaw.
Styx's follow-up to this 96 record, The Grand Illusion featuring DeYoung's smash hit "Come Sail Away" and Shaw's airwaves-dominating "Fooling Yourself (The Angry Young Man)" became the band's breakthrough album, earning platinum certification.
Yet, it wouldn't be until Styx's eighth release Pieces of Eight that Shaw would really come into his own, with his rocky cuts "Renegade" and "Blue Collar Man" being the only tracks on the record to chart.
---
RELATED: The Very Best Songs By Styx
---
The End Of Styx
Styx were more successful than ever after the release of DeYoung's pop ballad, "Babe" hit the airwaves, cinching the group's first ever number one single, but beneath this triumph coursed a furious undertow of dissatisfaction.
DeYoung wanted to press on in this pop-ward direction, while Shaw and the rest of the band wanted to explore their rockier sound and worried that any more overtly pop releases would alienate the core audience they'd worked so hard to amass.
Over time, DeYoung seized more and more creative control until the band released the grotesquely theatrical Kilroy Was Here, a record written and composed by the keyboardist exclusively.
This was the final straw for Tommy, who left the band shortly thereafter. Shaw's feelings are perhaps best summed up by this quote by guitarist James Young:
Dennis really wanted to do these soft, intimate love ballads, and that was against the grain for me and Tommy Shaw, so our differences got magnified, because Dennis was insisting on going outside the boundaries we lived with.
Shaw's Solo Efforts
Styx was in Tommy's rearview mirror, but the music industry wasn't. He released three solo albums during the 80s: Girls with Guns (1984), What If (1985), and Ambition (1987).
The title track from Girls With Guns broke the Top 30, and "Lonely School" of the same record was a minor hit, but, as was to be expected, he never matched the success of Styx going it alone.
During this time, Shaw married his second wife, actress Pamela Donnelly and the couple had a daughter named Hannah a year later.
Shaw's Post-Styx Bands
When the 90s arrived, Shaw was once again ready to join forces with other musicians under a single banner and formed Damn Yankees with Jack Blades (of Night Ranger), Ted Nugent, and Michael Cartellone.
Despite their first record going double platinum, the band went on hiatus before returning with an album that would initially be shelved.
Their sophomore effort would eventually be released in 1992, attaining gold certification, but with Nugent leaving to revive his solo act, Shaw and Blades were left to form their own duo, aptly named, you've guessed it… Shaw Blades.
Hallucination saw a 1995 release, but with the emergence of grunge transforming the musical landscape, it received little label support, and reviews were mixed.
The Return To Styx
With his post-Styx efforts petering out, Tommy rejoined Styx in 1996, releasing a further three albums with the band: Return to Paradise (1997), Brave New World (1999), Cyclorama (2003), and cover album Big Bang Theory (2005).
Between his duties at the helm of Styx, Shaw managed to release a further two solo albums, 7 Deadly Zens (1998), and The Great Divide (2011), and even managed to find time to reconvene with Blades to release the sophomore Shaw Blades record, Influence, in 2007.
What Guitar Does Tommy Shaw Play?
Unlike guitar greats such as AC/DC's Angus Young and Guns 'n' Roses' Slash, Shaw had anything but a monogamous relationship with his instrument.
Throughout his career, he has brandished a variety of different axes, most notably Gibsons and Fenders, a couple of Taylors, the odd Hamer guitar, and a PRS CE here and there.
If you check out one of the many videos of his solo shows online, you'll also catch him strumming a Charvel Superstrat similar to those used by a plethora of guitar gods, from Eddie Van Halen to Shawn Lane and beyond. However, Tommy's all-time favorite axe is undoubtedly his 54 Blackguard Fender Telecaster.
Uncle Bob, as Shaw playfully refers to it, originally belonged to his actual Uncle Bob who was a producer and musician known for writing the hit single "Kiss-a-Me Baby".
Years after Uncle Bob's passing (RIP Bob), in need of care, his widow moved in with their daughter, and to raise money to renovate her mother's room-to-be, Shaw's cousin dropped him a line and asked if he'd like to buy her father's guitar.
---
RELATED: An In Depth Look At John Bonham
---
Final Thoughts: Where Is Tommy Shaw Now?
Tommy still leads Styx to this day, filling his downtime between performances with various other musical projects. In 2000, he married his third and current wife, Jeanne Mason, and was inducted into the Alabama Music Hall of Fame in 2008.
With 22 fantastic albums under his belt, he's considered one of the legends of the music industry, and one of the most influential songwriters of his generation.
Check out the video below from the crew at Rock History Music for some more insight into the world of Tommy Shaw, and as usual, our FAQ on the life of Tommy Shaw is after the video.
Frequently Asked Questions
How Old Is Tommy Shaw?
Tommy Shaw was born on September 11, 1953, making him 69 years old at the time of writing this article in early 2023.
Why Did Tommy Shaw Leave Styx?
There had been growing tension between Shaw and Dennis De Young, based on the differences in creative vision for the band. After the release of Kilroy Was Here, the differences became too much and Shaw took his leave from the group.
What Is Tommy Shaw's Net Worth?
It is estimated that Tommy Shaw has a net worth of approximately $18 million.