Whether it was performing on stage, or giving interviews, Freddie Mercury always presented a strong, confident character, unafraid to voice his opinion and do things his own way.
In fact, it's this unabashed individualism that helped Queen forge their unique operatic path through the world of rock. As such, the idea that someone could manipulate this larger-than-life personality seems all the more bizarre.
In the wake of Bohemian Rhapsody, Freddie's manager of old, Paul Prenter, has drawn the ire of Freddie and Queen fans the world over, as the movie depicts Prenter as a calculating and insidious force in the legendary frontman's life.
Of course, all Hollywood movies need to be taken with a pinch of salt, especially Bohemian Rhapsody, as there are a number of dramatic embellishments woven throughout the flick's 2h 14m runtime.
However, although Prenter is positioned as the movie's quasi-cartoonish villain, according to various people close to the once inseparable duo, their dynamic in the film wasn't too far detached from reality after all.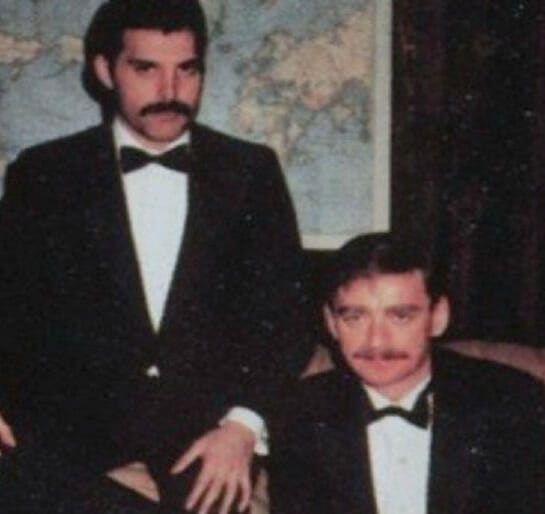 Putting The Spotlight On Paul Prenter
So, who exactly was this master manipulator that some claim nearly ruined the late, great Freddie Mercury's life? Well, compared to Freddie, he was a relative nobody. Before he met Queen's inimitable singer, he was working as a radio DJ in Belfast, Northern Ireland.
The two allegedly first crossed paths at a bar in 1975 and became fast friends shortly thereafter, but it wouldn't be long before that friendship blossomed into something else entirely.
Not only did Paul Prenter become a young Freddie Mercury's lover, but Freddie hired him as his manager, which many would argue was the first step towards disaster.
Mixing work and romantic relationships can be notoriously problematic, but throw in Freddie's celebrity status and bottomless bank account, and it was certain to turn sour before long.
What Was Freddie Mercury And Paul Prenter's Relationship Like?
Being that Freddie was still keeping his sexuality on the down low when Prenter became his lover, it's no surprise that not much is known about their relationship, but by all accounts, it stood strong for about half a decade.
During this time, the pair were only romantically engaged for a very short period.
The remainder was spent as friends and, from 1977 onwards, professional partners, but there have been quite credible rumors circulating for some time now that Prenter used his intimate knowledge of Freddie Mercury's sexual proclivities to blackmail and control him.
And judging by the fallout of their eventual, well… fallout, Prenter did indeed have such a heinous act in mind.
Why Did Freddie Mercury Fire Paul Prenter?
In Bohemian Rhapsody, we're sold the narrative that Paul Prenter was fired for withholding an invite from Freddie's estranged band members to perform with Queen at the infamous 1985 Live Aid concert, but in reality, Freddie didn't give his long-time partner the axe until '86.
Surprisingly, the real reason for Prenter's dismissal was included in the movie. Remember the scene in which Freddie (played by Rami Malek) returns to his abode to find that Paul has thrown a rager and completely trashed the place? Well, something along those lines did actually go down!
In 1986, Freddie did indeed come home to find his Stafford Terrace apartment in London completely decimated after Paul hosted a party without his knowledge. This was the final straw for Freddie who at this point was trying to rein in his hedonistic lifestyle.
Tensions were already high after the rest of Queen expressed discomfort towards Paul's influence over the artistic direction of the band during the writing and recording of their 1982 album, Hot Space, so he was playing it pretty fast and loose throwing this party.
Prenter was shown the door and as far as anybody knows the two never crossed paths again, but get this… the treachery for which Paul is known was yet to come.
Paul Prenter's Act Of Treason Against Freddie Mercury
Allegedly, after being fired by Freddie Mercury, Paul Prenter threatened the legendary singer, remarking that he would get back at him for what he deemed an unfair dismissal… and he did!
Shortly after their incendiary argument, Prenter sold an exposé to The Sun, a low-brow English tabloid paper, that divulged all the sordid details of Mercury's private life.
Along with the numerous stories he leaked to the press, he passed on personal photos to substantiate his claims and prove he was once close with the Queen singer.
He also reported that two of Freddie's previous lovers had since died from AIDS, rounding out a betrayal of biblical proportions.
Needless to say, Prenter received a lot of severe criticism for his Judas-esque act, and when speaking up to defend himself, he claimed that he sold the story in order to pay for HIV treatment.
Upon hearing this, even though the men weren't talking, Freddie remarked that if Paul needed money for medical treatment, he merely had to ask. Obviously being the enigmatic frontman for the biggest band in the world helped Freddie Mercury's net worth reach huge levels.
In Bohemian Rhapsody, Prenter doesn't sell his story to the press, rather, he does a number of television appearances to decry his former friend, associate, and lover, which is more aggressive and confrontational than what actually happened, but I think we can all agree that it was an awful thing to do — Not cool, Paul!
What Became Of Paul Prenter?
Paul Prenter died from AIDS in August of 1991, just three months before Freddie Mercury succumbed to the very same syndrome.
Who Played Paul Prenter In Bohemian Rhapsody?
One of the reasons we're all poking pins into Paul Prenter voodoo dolls right now is that the actor who played him, one Mr. Allen Leech, is such a talented Thespian.
After delivering only a few lines, he conveys to the audience that we're not to trust this individual, and as the movie unfolds, his expert portrayal of villainy only solidifies our distaste for this sneaky character.
Final Thoughts
When asked by Brian May and co. why Freddie fired Prenter in the movie, Rami replies, "Villainy", a tongue-in-cheek nod to the character's sensationalized role in the narrative, but was Prenter really as vile as the movie makes out?
No, not quite. In many regards, he was a very positive force in Freddie's life, at least to begin with.
For instance, according to Freddie Mercury's long-time friend Peter Freestone, Prenter was the one who taught Freddie how to enjoy his sexuality and his life, showing him he wasn't alone and that there was a place in the world not just for the Freddie Mercury of stage and stardom, but for the Freddie behind closed doors too.
Still, it's clear that Prenter was gaining far too much influence over Freddie and Queen as a whole, and although he and Freddie had many good times together, the way he acted after his dismissal was unacceptable, regardless of his reasoning.
Big Screen Movies have done a great job exploring the role Paul Prenter played in Freddie Mercury's life, and compares reality to how he was portrayed in the popular film.