Whether you're a fan or not, it's undeniable that Elton John has had an incredible life.
Known nowadays as Sir Elton John, he was born Reginald Kenneth Dwight on the 25th of March 1947 as the eldest child of Stanley Dwight and Sheila Eileen – raised in the small and quaint suburb of Pinner, Middlesex.
A young Elton John was drawn to music almost as soon as he could walk, and his talent was so evident to his family that he was enrolled in piano lessons at age 7. The journey had now begun.
By the ripe old age of 11, a young Elton had secured a scholarship to the Royal Academy of Music and was a wildly impressive student by all accounts – showing the ability to play classical pieces flawlessly after only hearing them once.
In 1962, John scored his first official gig as a 15-year-old, playing the piano Thursday to Sunday nights at the local Northwood Hills Hotel. Every young muso needs to start at a good pub gig right!?
15 was a pivotal age for a young Elton John, also finding the time to form his first band, Bluesology. Bluesology found some very quick success and cemented itself as the go-to backing band for many American R&B / soul acts such as The Isley Brothers, Major Lance and Patti LaBelle and the Bluebelles – also becoming the support band for the incredible Long John Baldry in 1966.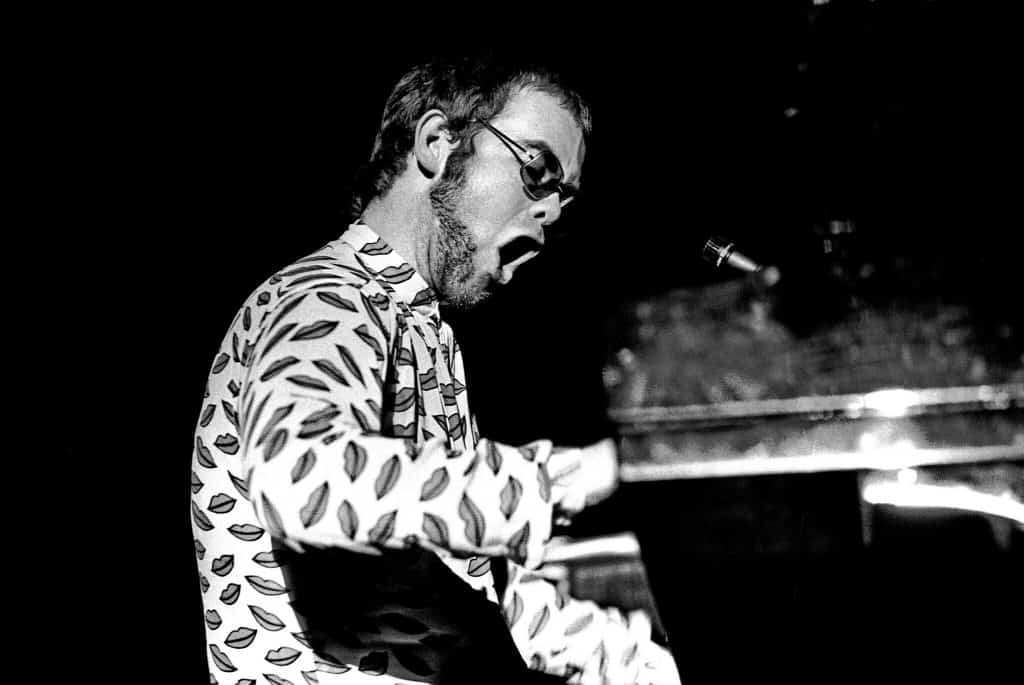 In 1967, Elton met who would arguably be the most important man in his musical journey – Bernie Taupin. Taupin and John would go on to collaborate on more than 30 albums and sell over 300 million records, making Elton John one of the best selling music artists of all time. At this point, Elton John was still legally Reginald Dwight but in 1972, he legally had it changed to the now iconic and history-making Elton John.
If you're an Elton John fan you'd know just how important the meeting of Bernie Taupin was – this was the moment that would change everything for both young men.
We could now go on to tell you all about the incredible musical legacy of countless Grammy Awards, Brit Awards, Academy Awards, Golden Globes, Tony Award, Disney Legends Award and Rolling Stone accolades that Elton John would amass over his 5 decade career – but you probably already know all about that.
Instead, we have collected the best pictures and photos (and one excellent video) we can find of the vibrant and young Elton John that had humble beginnings and nothing more than a dream.
Scroll through below and enjoy this unique insight into the early life of the young man that would become one of music history's greatest ever contributors!
Elton John: Young, Intrepid & Storming The World!
1.) At The Rocket Records Launch with John Reid (1973)
2.) Posing with the English National Football Team (1979)
3.) Elton John with then wife, Renate Blauel, on the 'Breaking Hearts Tour (1984)
4.) Elton at the Watford Football Club (1985)
5.) Performing at the Champs Elysee (1979)
6.) Playing piano on a German TV Music Show (1978)
7.) The first photo session on Hampstead Heath
8.) Some of young Eltons first publicity pictures
9.) Publicity shots from the early years
10.) Elton John in his early 20's
11.) A classic portrait shot (Circa 1970)
12.) 'I never met a big boy I didn't like'
13.) Performing in 1974
14.) The energy and dynamism of youth!
15.) Elton performing with Gary Glitter (1974)
16.) The iconic Dodgers Stadium performance (1975)
17.) What a shot!
18.) Always at home in front of the piano
19.) Happily posing with George Michael
20.) On stage with Mike Love and Keith Moon at Crystal Palace
21.) On stage with Bernie Taupin at Dodgers Stadium (1975)
22.) Becoming a literal 'Rocket Man' at the Hammersmith Christmas show (1974)
23.) Singing with Kiki Dee at Doug Weston's Troubadour in Los Angeles
24.) A young Elton in his element
25.) Not much info to be found on this one – anyone have any insights?
26.) Top Of The Pops
27.) Hanging out in London (1970)
28.) 4-3-2-1 Hot and Sweet, Musiksendung, Deutschland (1970)
29.) Elton & Bernie posing for a portrait in London (1971)
30.) A Top Of The Pops performance
31.) A portrait from young Elton's time on Top Of The Pops
32.) Getting airborne at The Tivoli Gardens, Copenhagen, Denmark
33.) Forever the entertainer (1971)
34.) A rare moment of relaxation in a hectic performing schedule (1973)
35.) Giving the fans some love at the San Francisco Civic Auditorium in San Francisco, California (May 9, 1971)
36.) Relaxing backstage at the Crystal Palace Garden Party, London (31st July 1971)
37.) Live in his second show at Shibuya Kokaido, Tokyo, Japan (October 5, 1971)
38.) Elton John performing with glam rock group T-Rex on the Christmas edition of the BBC TV music programme 'Top Of The Pops', Pictured left to right: Elton John, Marc Bolan (1947 – 1977), Mickey Finn (1947 – 2003), Steve Currie and Bill Legend (London, December 1971)
39.) Elton John, Marc Bolan and Ringo Starr of The Beatles sharing a drink to promote the film 'Born To Boogie' (1972)
40.) Elton with Princess Margaret (1930 – 2002) and her husband Lord Snowdon, backstage at a benefit concert held at the Shaw Theatre, London (27th February 1972)
There we have it. An amazing collection of images of Elton John as a young man, showcasing his countless achievements and iconic moments through the years. His career would produce some of the greatest songs (and album covers) that the world has ever seen – cementing his place firmly as a fan favorite around the world.
Before we finish up though, we did promise you one epic video, so, sit back and hit play on John's live performance of Your Song for Top Of The Pops in 1971. With over 45 million views, this is one of his most incredible live renditions ever!
It's always fascinating to see the icons we know and love so well in their youth, living their glory days! If you've enjoyed revisiting a young Elton John, you might also like to check out some more of our favourite musicians in the prime of their youth with the links below.
Similar Stories…