Get those speakers ready, because we're about to take you on a sonic rollercoaster through the best of Aerosmith. From their scorching debuts to their iconic '90s anthems, the "Bad Boys from Boston" have penned some of the most unforgettable tunes in rock history.
Formed in 1970, this powerhouse quintet, led by the indomitable Steven Tyler and the razor-sharp Joe Perry, quickly became the epitome of American rock. With 25 gold albums, 18 platinum albums, and 12 multi-platinum albums, they're the best-selling American hard rock band of all time, folks.
Their meteoric rise in the '70s was just the beginning. After grappling with the pitfalls of fame, including the usual suspects of drugs and internal strife, they surged back into the limelight in the late '80s and '90s. This resurgence wasn't just a nostalgia act; it proved that Aerosmith could evolve while staying true to their raucous roots.
They've been inducted into the Rock and Roll Hall of Fame, won numerous awards, and sold over 150 million albums worldwide. But enough about the stats; let's get to the music. Sit back, and let Steven Tyler's iconic voice and Joe Perry's killer guitar transport you to a world where rock 'n roll reigns supreme.
Starting From The Top – Here Are Aerosmiths Best Songs
---
1. "Dream On," Aerosmith, 1973
"Dream On" is Aerosmith at their most emotionally resonant, featuring Steven Tyler's impassioned vocals and Joe Perry's soul-stirring guitar. The song speaks to the hopes and disappointments of a generation, making it a timeless ballad. A fan-favorite and a critical darling, this song has been covered and referenced in pop culture countless times.
---
2. "Sweet Emotion," Toys in the Attic, 1975
You feel it the moment that bass line kicks off—a slice of '70s rebellion that's got swagger to spare. Tom Hamilton's opening riff sets the stage for Tyler's piercing lyrics and Perry's daring guitar. It's the track that has you throwing on a leather jacket and feeling invincible.
---
You Might Like: Have A Guess At Steven Tyler's Net Worth
---
3. "Walk This Way," Toys in the Attic, 1975
A groundbreaking fusion of rock and hip-hop elements, "Walk This Way" is a genre-bender that inspired a whole new wave of musical experimentation. Its crossover version with Run-DMC even paved the way for rap-rock collaborations. It's like Aerosmith handed us the rule book, then told us how to break it.
---
4. "Amazing," Get a Grip, 1993
At a time when Aerosmith could've easily rested on their laurels, "Amazing" showed them taking risks. Tyler's vocals take us on a journey through introspection and personal transformation. The song became an anthem for overcoming challenges, celebrated for its authenticity and emotional depth.
---
5. "Janie's Got a Gun," Pump, 1989
No one saw it coming—an Aerosmith song diving into the territory of abuse and emotional scars. Tyler's voice strikes a balance between haunting and compassionate, and the musical arrangement adds layers to its narrative. The result is an unforgettable experience that shows Aerosmith's versatility.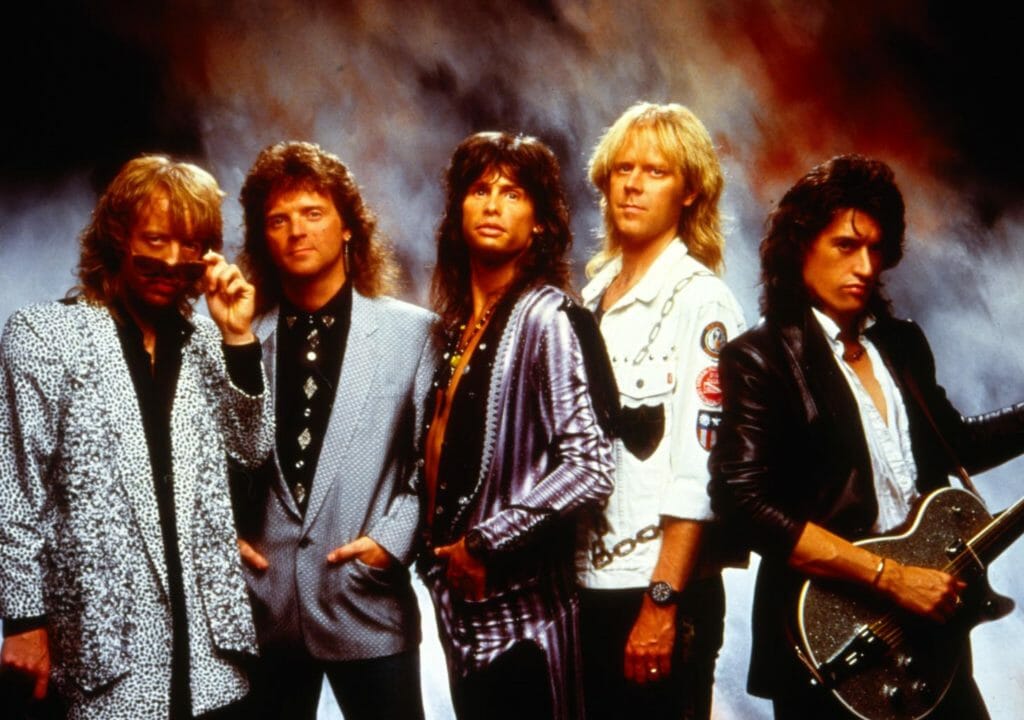 ---
6. "Love in an Elevator," Pump, 1989
Just when you thought Aerosmith might start taking themselves too seriously, they come out with "Love in an Elevator." This is the band letting loose and showing their irreverent side, all while delivering a tune that you can't help but jam to. It's a perfect showcase of their knack for playful storytelling.
---
7. "I Don't Want to Miss a Thing," Armageddon Soundtrack, 1998
Written by Diane Warren, this hit is Aerosmith's foray into the epic, cinematic world of power ballads. Featured in the film "Armageddon," the song was nominated for an Oscar and captured the hearts of fans worldwide. Despite not being penned by the band, Tyler's delivery makes it an authentic Aerosmith classic.
---
8. "Livin' on the Edge," Get a Grip, 1993
Taking a more introspective route, "Livin' on the Edge" explores the precariousness of human existence. Tyler's lyrics are poignant, asking questions that don't have easy answers. Paired with Perry's guitars, it's a darker but compelling facet of the Aerosmith persona.
---
You Might Like: We Scope Out Bon Jovi's Greatest Albums
---
9. "Cryin'," Get a Grip, 1993
"Cryin'" is Aerosmith painting a canvas of love, heartbreak, and emotional turmoil. Tyler's vocals shine, and the harmonica gives it a bluesy edge. Its music video featuring Alicia Silverstone also became a defining moment for the band in the '90s MTV era.
---
10. "Mama Kin," Aerosmith, 1973
"Mama Kin" is an unabashed romp into Aerosmith's blues-rock DNA. A nod to their roots, it features Tyler's scorching vocals coupled with Perry's robust guitar work. This song, raw and untamed, served as an early manifesto for the band's groundbreaking style.
---
Final Thoughts On Aerosmith's Greatest Tracks
So there you have it, a kaleidoscopic journey through the Aerosmith songbook, showcasing the full spectrum of their artistic prowess. Whether it's the wailing ballads, the hard-rocking anthems, or the tracks that defy categorization, Aerosmith has earned every accolade, every platinum record, and every ounce of love from their die-hard fans. We came, we listened, and we sure as hell rocked. Keep those turntables spinning and those air guitars strumming, because the allure of Aerosmith is a force that will never fade away.
---
Read Next: Now Get Into Aerosmith's Hottest Albums
---