From the blue-collar streets of Asbury Park to the packed arenas around the world, Bruce Springsteen has spent nearly half a century providing anthems for the everyman and the dreamer.
Known as "The Boss" to his legions of fans, Springsteen has crafted a legacy steeped in raw lyricism, unparalleled showmanship, and a unique blend of rock, folk, and soul.
His songs are often less like traditional singles and more like slices of American life set to music—each a chapter in an ever-unfolding narrative that captures the essence of the American dream and the reality that often accompanies it.
Today, we're going beyond the bandanas and blue jeans to dive deep into Springsteen's prolific catalog. We'll explore the heartland anthems that have become cultural landmarks and the deep cuts that resonate with heartfelt sincerity.
Whether it's the youthful exuberance of "Born to Run" or the somber reflections of "The River," each song is a milepost on a musical highway that Springsteen has been paving since the early '70s.
---
You Might Like: Ranking Prince's Best Songs
---
The Very Best Songs By Bruce Springsteen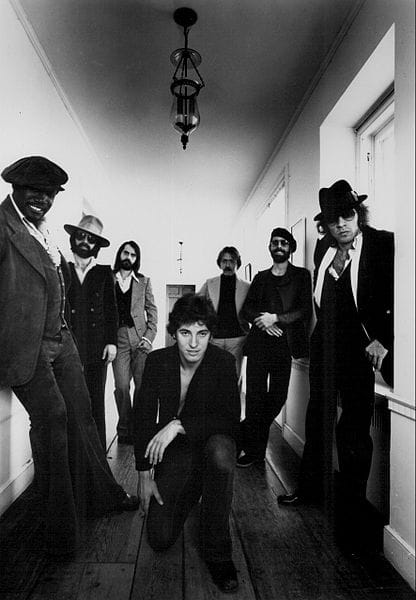 25. "I'm on Fire" – Born in the U.S.A., 1984
A stripped-down ballad that explores desire and longing. Springsteen's hushed, haunting vocals glide over a simple drum machine and fingerpicked guitar, evoking a sense of vulnerability seldom heard in his arena-sized anthems.
24. "The Promised Land" – Darkness on the Edge of Town, 1978
A triumph of resilience and a battle cry for the working class. This song channels both desperation and hope, making it a key track in Springsteen's narrative arc of American life.
23. "Spirit in the Night" – Greetings from Asbury Park, N.J., 1973
A seminal track that captured Springsteen's early E Street Band sound, fusing rock and soul into a sprawling, captivating tale. It's like a Jersey Shore night immortalized in song.
22. "Jungleland" – Born to Run, 1975
This cinematic epic is nothing short of a musical journey. With its intricate storytelling and unforgettable sax solo, it serves as a complex study of ambition and disillusionment.
21. "Glory Days" – Born in the U.S.A., 1984
A lighthearted yet poignant reflection on the fleeting nature of youth. Springsteen's storytelling shines, making it a quintessential summer nostalgia track.
20. "Brilliant Disguise" – Tunnel of Love, 1987
A deeply introspective song that digs into the complexities of love and trust. It's Springsteen unmasked, questioning everything including himself.
19. "Human Touch" – Human Touch, 1992
Exploring the universal need for connection, the song's uplifting tone is matched by its equally compelling lyrics. It's Springsteen with a '90s vibe, but the soul is timeless.
---
You Might Like: The Best Guns N' Roses Anthems
---
18. "Badlands" – Darkness on the Edge of Town, 1978
An anthem that blends the personal and political, "Badlands" showcases Springsteen's knack for capturing the essence of American struggle. The rousing chorus invites you to sing along, fists in the air.
17. "Atlantic City" – Nebraska, 1982
Sparse and haunting, this acoustic gem off the 'Nebraska' album is a poignant tale of desperation and decline, capturing the darker undertones of American life.
16. "The Ghost of Tom Joad" – The Ghost of Tom Joad, 1995
A folk-inspired narrative that draws parallels between Steinbeck's 'Grapes of Wrath' and modern America. It's storytelling at its finest, with each verse like a chapter in a gripping novel.
15. "Dancing in the Dark" – Born in the U.S.A., 1984
Springsteen's most successful single is a danceable hit with lyrics that speak to the frustration and longing that often lurk beneath everyday life. It's poppy but still undeniably Springsteen.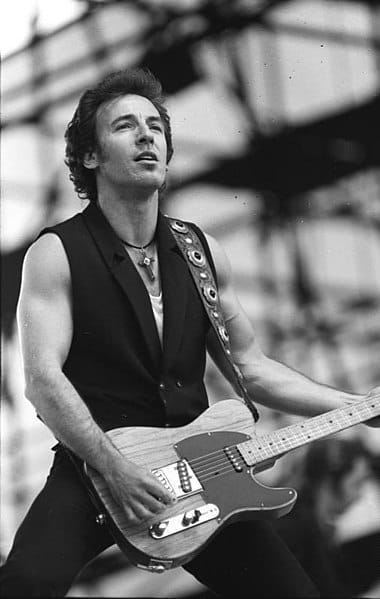 14. "Rosalita (Come Out Tonight)" – The Wild, the Innocent & the E Street Shuffle, 1973
A youthful anthem packed with exuberance and romantic antics. The song bursts with life, proving that Springsteen could do joyful epics as well as anyone.
13. "Streets of Philadelphia," Philadelphia soundtrack, 1994
This Academy Award-winning song is a tender, heartbreaking narrative about isolation and loss. It shows a different, but equally compelling, side of Springsteen.
12. "The River" – The River, 1980
A poignant ballad that combines personal and economic tragedy. The song's harmonica adds an extra layer of melancholy, making it one of Springsteen's most affecting songs.
---
You Might Like: A Million Ways To Listen To The Doors
---
11. "Tunnel of Love" – Tunnel of Love, 1987
This track delves into the intricacies of love and commitment, set against an amusement park metaphor. Its melodic hooks and thoughtful lyrics make it a standout in Springsteen's catalog.
10. "Born to Run" – Born to Run, 1975
The song that became an anthem for a generation. Its grand instrumentation and passionate vocals make it a cornerstone in the archives of rock 'n' roll.
9. "Thunder Road" – Born to Run, 1975
An invitational epic that opens with harmonica and closes with the promise of escape. It's an eternal classic that never loses its sense of urgency or its power to inspire.
8. "American Skin (41 Shots)" – High Hopes, 2014
A poignant commentary on racial profiling and police brutality. Springsteen's storytelling cuts to the heart of modern American tragedy, making it painfully relevant.
7. "10th Avenue Freeze-Out" – Born to Run, 1975
An upbeat, semi-autobiographical tale that chronicles the formation of the E Street Band. Its infectious rhythm and brassy arrangements make it a live-show staple.
---
You Might Like: Check Out Aerosmith's Best Songs
---
6. "Blinded by the Light" – Greetings from Asbury Park, N.J.,197
The track that introduced us to Springsteen's unique lyricism and storytelling. Although Manfred Mann's cover version gained more fame, the original is a hidden gem.
5. "Nebraska" – Nebraska, 1982
This haunting title track is a chilling narrative based on true events. Its stark, acoustic arrangement adds to the grim storytelling, making it a chilling highlight in Springsteen's discography.
4. "Backstreets" – Born to Run, 1975
A song about friendship, loss, and the bittersweet passage of time. Its emotive storytelling and rich instrumentation make it a classic that resonates on a deeply personal level.
3. "Darkness on the Edge of Town" – Darkness on the Edge of Town, 1978
A masterclass in storytelling and composition. The song distills the essence of Springsteen's poetic landscape, populated by figures struggling on the fringes of the American Dream.
2. "Hungry Heart" – The River, 1980
With its catchy tune and universal theme of yearning, this track offers a more accessible entry point into Springsteen's world, all while retaining his lyrical depth.
1. "Born in the U.S.A." – Born in the U.S.A., 1984
Often misunderstood as a straightforward patriotic anthem, this hit actually delves deep into the disillusionment of a Vietnam vet. Its anthemic chorus and thought-provoking lyrics make it a cultural touchstone that transcends its '80s origins.
Final Thoughts On Bruce Springsteen's Best Tracks
As we pull into the final rest stop on this sonic highway through Bruce Springsteen's illustrious career, one thing becomes crystal clear: The Boss's music transcends time and trend. His songs are chapters in a continuing American saga that speaks to each new generation as loudly as it did to the ones before.
These tracks aren't merely hits; they're heartbeats in a rhythm that has echoed through the halls of rock 'n' roll history.
---
READ NEXT: Bruce Springsteen Opens Up About His Mother
---