These days, Cathy Smith's life is one of suburban peace and quiet. She lives in Maple Ridge, British Columbia, and for her, the past is a very long time ago. Although you wouldn't know it just looking at her, around thirty years ago she was one of the most notorious women in show business.
But long before those days, long before the drugs, the homicide and the jail sentence, she was a common or garden groupie. Her first high profile relationship was with the musician Levon Helm. Levon would eventually make a name for himself in the legendary group The Band. But when he met Cathy he was still a struggling journeyman with a band known as The Hawks.
That was 1963, and by the time The Band had formulated and begun to gather some momentum, Cathy Smith was still very much on the scene. Thanks to a successful gig as the backing band for newly electrified Bob Dylan, The Band was on the cusp of mainstream success.
Cathy was still touring with them and partying hard. It was in the late '60s that she became pregnant with what was then known as "the band baby." The reason? No one could say for sure just who the father was, though they knew it was one of the band.
Cathy Smith – "The Weight"
Richard Manuel, the pianist, offered to marry her but she graciously declined. At that point in her life, Cathy was not cut out for monogamy. She was a larger than life character leading an outrageous rock 'n' roll lifestyle. She has even been immortalized by a brief mention in the lyrics to The Band's biggest hit, and one of the greatest rock songs of all time, "The Weight."
It was the early '70s when Cathy Smith started working for Gordon Lightfoot. Lightfoot was and still is one of Canada's premier singer-songwriters. His work in the folk-rock genre is nothing short of legendary. A testament to the enduring quality of his music comes from the fact that he has been covered by the likes of Elvis Presley, Johnny Cash, and Bob Dylan. Accolades don't come much more prestigious than that.
In the early '70s, Lightfoot was a married man, but that didn't stop him from engaging in a fiery affair with Cathy. The relationship was tempestuous, to say the least, and brought out a fiercely jealous streak in Lightfoot. He is reported to have fired his opening act, The Good Brothers, after catching them flirting with Cathy Smith backstage.
But the affair was doomed from the start and quickly headed downhill. Lightfoot was drinking heavily, while Cathy's substance abuse had escalated significantly too. It seemed that while Lightfoot's career was taking off, his personal life was sliding into the sewer. One physical altercation resulted in a broken cheekbone for Cathy. This was an affair that was destined to end very badly indeed.
Lightfoot's biggest hit, "Sundown," is said to be a raw and personal account of his extramarital liaisons with Cathy, and the jealousy that ensued from them. It is a song of paranoia, obsession and tormented love that resonates strongly to this day. In 1974, it reached number one in the US Billboard charts, Lightfoot's only song to do so. It remains an enduring hit, though its personal associations are no doubt still troubling.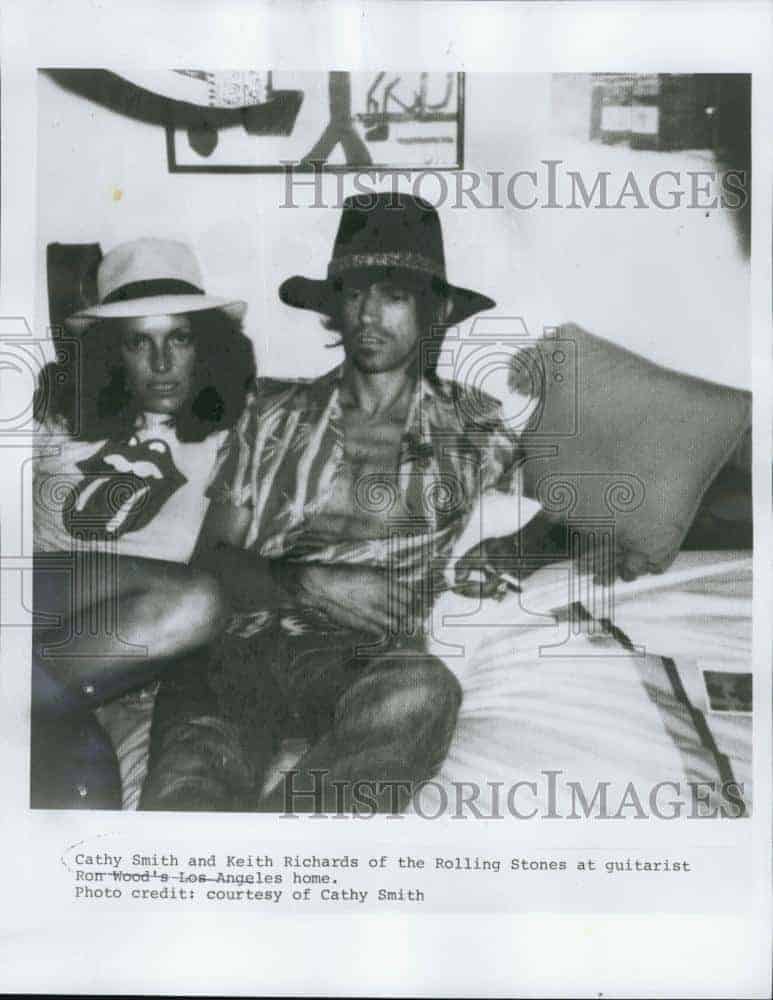 Throughout the duration of their relationship, Gordon Lightfoot remained a married man. But by the time he and Cathy Smith split up, Gordon's wife had called time on their marriage too. There's a bitter irony to the fact that the peak of his commercial success also brought what was then the most expensive divorce settlement Canada had ever seen.
After her split from Lightfoot, Cathy drifted back to Levon Helm and The Band. They continued to tour, and she followed them around the world. By then it was the mid-1970s and The Band were bona fide rock legends. They made a guest appearance on the hit comedy show Saturday Night Live in 1976, and that was when she met a young comedian named John Belushi. Little did either of them know, but they were to have a shattering effect on each other's lives.
Though she is remembered for her non-musical associations with performing artists, it's easy to neglect the fact that Cathy Smith also had a burning desire to perform. It was around 1976 that she found work as a backing singer for folk musician Hoyt Axton.
Axton's personal life was in a downward spiral at this point on account of his substance addiction, but his association with Cathy still yielded some musical merit. She co-wrote his chart hit "Flash of Fire," but their association was not a long-lasting one. She soon found a much more lucrative line of business.
By the tail end of the '70s, Cathy was a full-blown opiate addict and pusher. She had relocated to Los Angeles and established herself as a drug dealer to the stars, couriering all manner of substances for the likes of Keith Richards and Ronnie Wood of the Rolling Stones.
John Belushi
Richards and Wood were in town to promote their musical side project, The New Barbarians, a supergroup that would most famously support Led Zeppelin in 1979. But it was through her association with the two Stones that she came to renew her acquaintance with John Belushi.
Belushi was a pioneer of alternative comedy. His work with the likes of Dan Aykroyd and Chevy Chase is now seen as a legendary chapter in comedy history, and his appearances in such classic movies as Animal House and The Blues Brothers made him a star. He was a versatile comic and a gifted musician, but he was also a troubled soul dogged by substance addiction.
Embed from Getty Images
On top of that, he was volatile and unpredictable, which led to numerous firings and re-hirings by the production team at Saturday Night Live. It was perhaps inevitable that a legendary substance abuser like Belushi should cross paths more than once with one of the most notorious groupie-cum-dealers on the scene.
He bought drugs from her, a lot of them, and it was at Hollywood's Chateau Marmont hotel on Sunset Boulevard that she administered to him the notorious cocktail known as a speedball which would kill him. Another comedy legend, Robin Williams, was also allegedly on the scene that day but left early, having taken a profound dislike of Cathy. He would later characterize her as a "lowlife."
Another high profile friend of Belushi's who visited him the day he died was none other than actor Robert De Niro. But John Belushi was already a lost cause, he was pasty and incoherent, the drugs having wrought a terrible impact on him. It was that speedball from Cathy Smith that finally killed him. He was 33 years old.
As one of the last people to see Belushi alive, Cathy was naturally taken in for questioning but subsequently released. There were plenty of unanswered questions surrounding the death, but it was essentially considered to be an accidental overdose.
However, Cathy Smith's eagerness to share her story with the press proved to be her downfall. She spoke with numerous reporters following John Belushi's death, but it was her cover story in the National Enquirer published under the headline "I Killed John Belushi" which eventually led to her arrest.
Her ill-advised revelations led to a charge of murder, plus thirteen counts of administering the deadly cocktail. Out on bail, she headed to St. Louis to avoid the clamoring paparazzi, but they soon tracked her down. From there, she led them a merry dance back to LA, then New York and then back to her hometown of Toronto.
Embed from Getty Images
When she finally returned to the States in June of 1986, she was offered a plea bargain for her role in John Belushi's death, which she swiftly accepted. She pleaded guilty to a number of charges, the most serious being the involuntary manslaughter of Belushi. She wound up serving a grand total of fifteen months' jail time and was released in March of 1988.
On her release from jail, she was immediately deported to Canada, where it became clear that her rock 'n' roll lifestyle was very much a thing of the dim and distant past. She found legitimate work as a legal secretary, as well as espousing the evils of drug abuse to Canadian youths.
Her new, clean lifestyle was ultimately undermined in July of 1991 when she was arrested with two grams of opium in her purse. This led to another conviction, resulting in a fine and twelve months of probation.
Despite this comparatively minor setback, her disappearance into obscurity has been more or less successful. She occasionally appears on documentaries about those wild decades, the '70s and '80s, but other than that her life is now quiet and unassuming.
But Cathy Smith has left her mark on popular culture, albeit a dark one. Her story is a tragedy of untrammeled debauchery and excess; a cautionary tale. It was a harsh lesson, and she learned it the hard way.
Similar Stories…
Uschi Obermaier – Style Icon & Key Figure of the Sexual Revolution
Tawny Kitaen – Whitesnake Video Girl, 80s Pinup Model & Actress
Sara Dylan – Muse & First Wife of Folk Rock Legend Bob Dylan