Connie Hamzy is one of the most well-known and infamous groupies from the rock 'n' roll era. The notorious southern girl from Arkansas has listed her exploits in her elusive biography.
But the chunk of her stories comes from a number of interviews. And frankly, it comes as no surprise to learn that Connie's conquests go much further beyond what we imagined.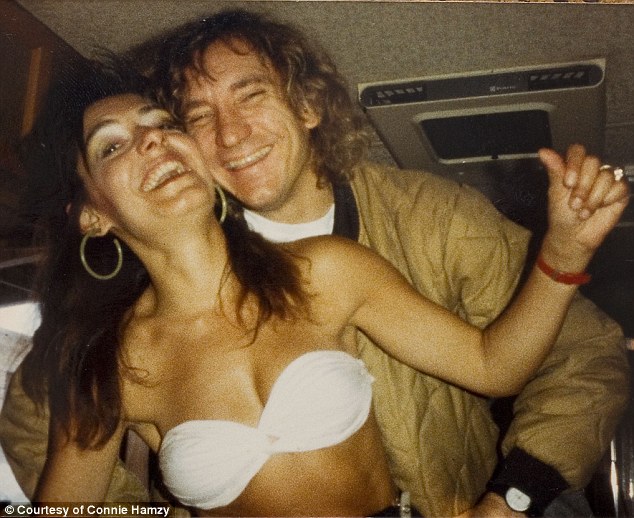 Connie Hamzy's Conquests
Having entered the scene at an early age and spending decades within the groupie lifestyle and culture, Connie Hamzy was a household name in rock music circles around the country.
Her 'conquests' proudly include big names like Led Zeppelin's John Bonham, Keith Moon from The Who, Richard Carpenter, Mick Fleetwood, Alice Cooper, Huey Lewis, Doc Severinsen, Waylon Jennings, Rick Springfield, Glenn Frey, Don Henley, Gene Simmons and Paul Stanley of Kiss, Frank Zappa, Rush's Geddy Lee, Peter Frampton, Eddie Money, Alice Cooper, Neil Diamond, Rick Neilsen of Cheap Trick and all three members of ZZ Top.
The list of names and stars she has associated with proves why she is sometimes called the 'Queen' of groupies. Although some would argue in favor of other well-known groupies of her age, Connie Hamzy certainly stands out from the pack. Needless to say, Connie has been around.
Being a groupie, she had access to behind the scenes of countless rockstars of her day. So much so that her escapades did not confine themselves to one singer or one group. She was known for associating with numerous stars and bands over decades of traveling. By her own admission, Connie Hamzy had intimate relations with dozens of stars.
A legend in her own right, Connie Hamzy has traversed a route not known by many. And it all started when she was still pretty young.
Connie Hamzy – Early Life
Connie Hamzy was born on the 9th of January, 1951 in Little Rock, the cultural and economic capital of the southern state of Arkansas. Rock music culture was booming at the time, and she was born in a little town that was at the heart of this new culture.
During the early-1960s, Little Rock saw the emergence of a lot of aspiring garage bands. Mainly associated with the 'Blues' and 'Rockabilly' genre. It was a time when the rock music scene was bludgeoning, and anyone who could hop a ride was destined for glory.
From a young age, Connie Hamzy was greatly influenced by the exciting image and lifestyle of rock stars. It was an influence that would set her on a path of experimentation, experience, and exploration for decades to come.
Connie got her first foray into the groupie lifestyle when she was just 15-years-old. It was Jerry Edmonton, the drummer from the American-Canadian band, Steppenwolf. The prolific drummer first caught her eye, and there was no turning back.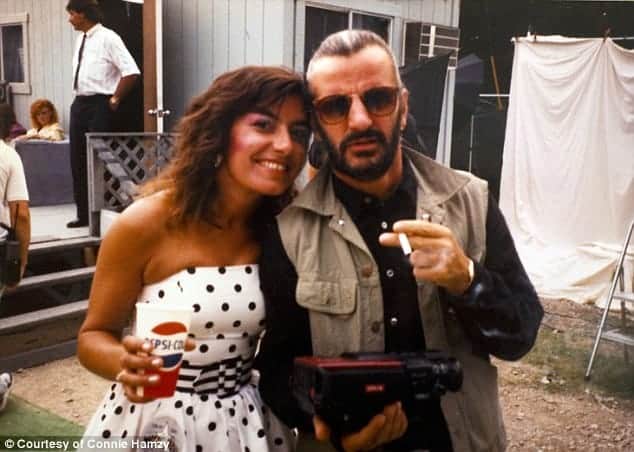 Ever since, Connie would continue having an infatuation for drummers. She described them as having a certain magnetism, later revealing to Howard Stern that drummers were also naturally attracted to her. The reason she believed was that they wanted to hear about Keith Moon or John bonham from her own personal experiences.
The Connie Approach
For Connie Hamzy, being a groupie was not a temporary thrill or a one-off thing. She was in it, heart and soul, and for the long run. From early on, Connie was certain that she would make it in the company of rock 'n' roll's biggest stars, and she did not hesitate in her efforts.
Being high profile rock stars, the band members were often out of reach from the crowds. Straddled with security and roadies, you couldn't just walk up to a band member and hop-in the van. It took some effort at first, but Connie eventually mastered the art of getting noticed.
Connie talked about how all women in the front row of the concerts would secretly hope they would get noticed. They believed that once they'd be noticed, they would get invited backstage or to the band's hotel. This, however, rarely worked because there were just too many women (and men) at the concerts trying to catch a performer's fancy.
Connie would say that just standing around in the front row was not enough. You had to make yourself noticeable. Whenever there was a concert, Connie knew precisely where and how she would be spotted.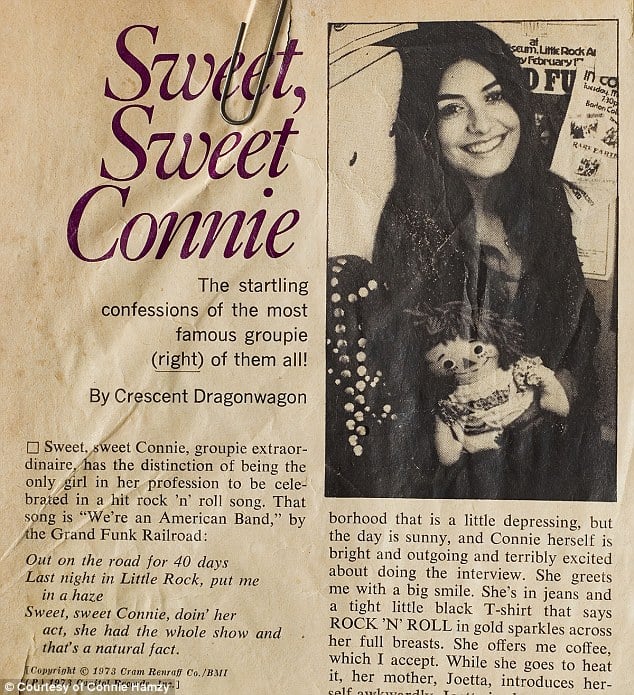 As the band made their way to the stage, Connie would already be climbing a speaker or backstage getting cozy with one of the crew members. She had a no-holds-barred approach to getting her way. And fortunately for her, most of the time it worked!
By the mid and late 1980s, well-known groupies started to let go of the high life and retreat to a more subtle lifestyle. A lot of them wrote books about their groupie experiences on the road. Most of the time, these books sold really well because of the details and insights they would reveal.
It was a lucrative way for a groupie to 'retire' in a sense. However, it would take several more years before Connie would hang her boots. As mentioned earlier, Connie saw the lifestyle as a long-term choice. For her, it wasn't just about one tour or one band. It was the life of glamor that she experienced growing up.
Most of the bands that toured Arkansas or passed by Little Rock would likely come across her. In a way, that was how Connie Hamzy built her rapport with crew members, roadies, and rock stars.
Sweet Connie Hamzy
Connie Hamzy was immortalized in pop culture by the American band from Michigan, Grand Funk Railroad (Don Brewer, Mark Farner, and Mel Schacher). The Grand Funk Railroad or 'Grand funk' in short released an album titled We're An American Band in July 1973.
The top track of this album was a song with the same title which talks about the band's experiences while performing and touring. One of the verses mentions 'Sweet, Sweet Connie' referring to none other than Connie Hamzy who was famous for bedding the drummer, Don Brewer.
"Last night in Little Rock put me in a haze
Sweet, sweet Connie, doin' her act
She had the whole show and that's a natural fact."
It's safe to assume that having a song about you is probably the epitome of what a groupie would want. To have enjoyed the company of the band members, touring with them, and then glorified in one of their songs would be surreal.
For Connie Hamzy though, it was slightly different. In her autobiography, Connie mentions that she wasn't even aware at first. A few friends had said that her name was in one of the songs of the Grand Funk, but she didn't quite believe them at first.
In 1973, Connie had just graduated high school and was still in her late teens. When hanging out with her friends one evening, the radio came on, and that's when she first heard it. The disc jockey talked about 'the girl' who is always at the backstage of every concert, referring to Sweet Connie Hamzy.
Then, he urged the listeners to listen to the verse that had 'Little Rock' and Connie's name in it. It was only then she realized that the song did have a verse about her. Connie was propelled further into groupie-stardom because everyone who heard the song wondered who this girl was.
Connie's Story Revealed
In 1995, Connie Hamzy wrote a memoir that recounted her experiences as a groupie with numerous stars and bands. The memoir was titled, Rock Groupie: The Intimate Adventures of Sweet Connie from Little Rock. Just from the name, one could remember the 1973 number-one single by Grand Funk that popularized 'Sweet Connie' in many rock circles.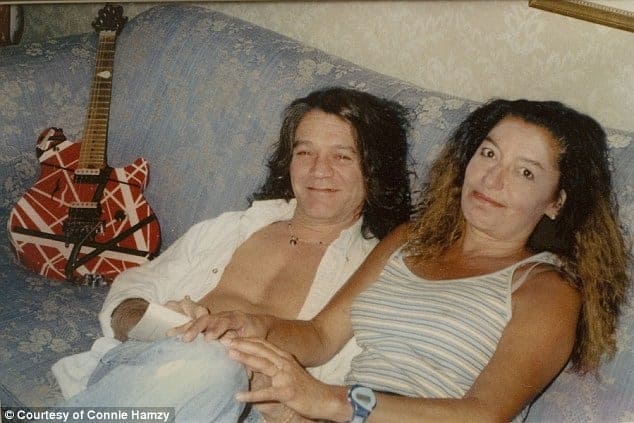 Unfortunately for groupie enthusiasts and fans, the book was never printed. Connie attributes the failure to lousy management and publishers who didn't follow through on responsibilities.
Although the actual memoir has not reached many eyes, the stories in it have somewhat been revealed. They've quickly made their way to eyes and ears all around. Mostly thanks to Connie herself, who gave interviews to a host of magazines and press units revealing small details here and there.
Connie did interviews with magazines such as Cosmopolitan and Penthouse. Hamzy also did an interview with Howard Stern, where she revealed a lot of secrets and juicy details that hadn't been heard before. The Penthouse interview was perhaps the most revealing.
Some of Her Well-Known 'Encounters'
In the interviews with Penthouse and Howard Stern, Connie Hamzy did not hold back. As a result, these interviews have formed the major chunk of what we know about her experiences.
Connie's first hook-up was with the drummer of the then-upcoming band, Steppenwolf. Jerry Edmonton being her first 'conquest,' she also developed a fascination for drummers. This was evident in her stories with other drummers like John Bonham, Keith Moon, etc.
Peter Frampton gained a not-so-impressive tag after Connie revealed a certain body part of his to be the size of her pinky. Another famous 'reveal' that Connie gave was Huey Lewis. Quite different from her memory of Peter Frampton, Connie mentioned in the interview that Huey Lewis was 'endowed' really well.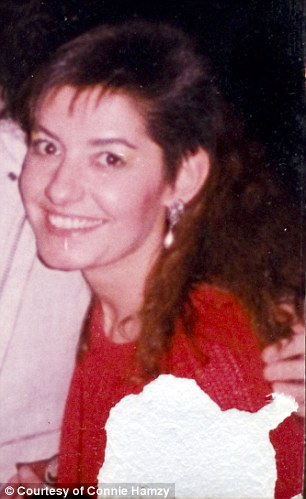 Connie also revealed that former Van Halen member, Alex Van Halen was the 'best' she had ever had. One would think this certainly counts for a lot, given all of her experiences
One of Connie's first experiences and one that put her on the map was with Don Brewer. After Jerry Edmonton from Steppenwolf, Brewer would be one of the many drummers who encountered Connie as she burst onto the scene. Don Brewer was instrumental in writing the song "We Are An American Band" in 1973.
In more recent times, one of Connie Hamzy's more bold claims is that she had an encounter with Bill Clinton during his time as governor of Arkansas and whilst married to Hillary Clinton. According to Connie, Clinton noticed her by the pool in a North Little Rock hotel. The pair went to the laundry room and began fondling each other, before being swiftly disrupted by a member of the hotel staff.
On Being a Groupie
Connie Hamzy stands out as an individual because her experiences have led her to form a very straightforward view of life and values. When asked about the questionable lifestyle of groupies, Connie has a calm answer. She wants people to understand that preconceived notions of any lifestyle can usually be misinformed.
She doesn't deny the physical intimacy that she shared with so many stars. In fact, she is proud to recount them to listeners of today. However, she also urges people to rise beyond stereotypes that are formed from prejudice and ignorance.
She recounts how her mother really dislikes traffic jams. As a result, she would often drive Connie and her friend to concerts hours in advance. It was during one such instance that Connie and her friend got invited by a manager backstage. The rest, as they often say, is mere history.
She recounts this story not to say that it was her mom who unknowingly ushered her into this lifestyle. The point is that she had always been a fan of the glamorous lifestyle that gleamed beyond the stage and behind the curtains, even from a young age.
As Connie would later put it, it was a social and cultural thing of the era. She even acknowledges how there are thousands of women who wished they were in her place. The backstage passes, drumsticks, merchandise, and souvenirs on her wall stand as a testament to this.
Indeed many out there would envy what she has today. However, it wasn't a lifestyle that was meant for all. But for a lucky few like Connie Hamzy, it was a life of extravagance and pure rock 'n' roll.
Connie Hamzy Death
On August 21, 2021, Connie Hamzy passed away at the age of 66. She was admitted to hospice care a few days prior, however, the coroner has not yet released an official cause of death. Rest in Peace Connie.
Similar Stories…