It's a rare feat for an artist to achieve a career that not only spans decades but also traverses genres. Eric Clapton, a.k.a. "Slowhand," has effortlessly achieved this, leaving an everlasting mark on the music landscape along the way.
From his early days with Cream to his transformative solo career, Clapton's artistic evolution is a roadmap of rock, blues, and even a touch of reggae. It's like listening to the history of modern music through the strings of a single guitar.
Whether you're a die-hard Clapton aficionado or a casual fan, this deep dive into his most iconic tracks will surely leave you with a new appreciation for his unmatched artistry.
The Quintessential Playlist Of Eric Clapton's Best Songs
1. "Layla," Layla and Other Assorted Love Songs, 1970
If Shakespeare penned a rock 'n' roll tragedy, it would be "Layla." Born from Clapton's yearning for Pattie Boyd, then-wife of his friend George Harrison, this song marries the raw emotion of its lyrics with an electrifying riff. Duane Allman's slide guitar work is not just an accompaniment; it's a character in this epic, offering a musical catharsis that has stood the test of time.
2. "Tears in Heaven," Rush Soundtrack, 1991
"Tears in Heaven" is Clapton's haunting requiem for his 4-year-old son, Conor. Stripped of his blues armor, he shows a vulnerability that touches on the universal sorrow of losing a loved one. Though a departure from his bluesy roots, the song's emotional resonance makes it a timeless piece in the Clapton oeuvre.
3. "Crossroads," Wheels of Fire, 1968
When Clapton took on Robert Johnson's "Crossroads," he wasn't just covering a song—he was electrifying a legacy. With Cream, he turned this blues standard into a high-octane sonic experience, embodying the crossroads where tradition meets innovation.
---
You Might Like: Bruce Springsteen's Best Songs
---
4. "Sunshine of Your Love," Disraeli Gears, 1967
Clapton's stint with Cream might have been brief, but it was anything but unremarkable. "Sunshine of Your Love" is a prime example, an arresting blend of iconic riffs and experimental vibrato. It's a masterclass in how to push the boundaries of rock while staying rooted in technique. On a personal note, it was the first (and only) song that I learned to play on the bass.
5. "Wonderful Tonight," Slowhand, 1977
Forget the tuxedo and the grand gestures; sometimes, love is most evident in the simple act of watching someone get ready for a night out. "Wonderful Tonight" encapsulates this sentiment. Though it lacks the guitar pyrotechnics of his other hits, its subtlety and emotional nuance make it a romantic classic.
6. "White Room," Wheels of Fire, 1968
"White Room" is more than a song; it's a sonic landscape, painting its narrative with the brushstrokes of wah-wah guitar solos and poetic lyricism. It's Clapton saying, "Hey, I can do more than blues," and doing it with a finesse that straddles rock and psychedelia effortlessly.
7. "Badge," Goodbye, 1969
Co-written with George Harrison, "Badge" is a hybrid of musical styles that melds into a timeless entity. Its distinctiveness in Clapton's discography is a testament to the power of collaboration, proving that two guitar gods are indeed better than one.
8. "Cocaine," Slowhand, 1977
Though its subject matter has been a point of contention, there's no denying the compelling groove of "Cocaine." Clapton takes J.J. Cale's cautionary tale and turns it into a rock anthem, proving that even the most divisive topics can be transformed through the lens of music.
---
You Might Like: How The Iconic Album Art Of Hipgnosis Blended Music & Art
---
9. "Bell Bottom Blues," Layla and Other Assorted Love Songs, 1970
The emotional companion to "Layla," "Bell Bottom Blues" lays bare Clapton's heart. Here, his voice and guitar act as twin narrators, each one echoing the emotional cadences of the other in a performance that's as riveting as it is heartfelt.
10. "I Shot the Sheriff," 461 Ocean Boulevard, 1974
Clapton's rendition of Bob Marley's classic is more than a cover; it's a transformation. The Englishman effortlessly takes on reggae, making the song his own and, in the process, showcasing his versatility as an artist.
11. "Let It Rain," Eric Clapton, 1970
Serving as a precursor to his later hits, "Let It Rain" fuses rock and blues into an uplifting melody that's almost a premonition of the hits that would flood Clapton's career.
12. "Old Love," Journeyman, 1989
Co-written with bluesman Robert Cray, "Old Love" is Clapton's contemplative look at love lost. Far from being a wailing blues number, it's a mature, nuanced piece where his guitar seems to finish the sentences his voice starts.
13. "After Midnight," Eric Clapton, 1970
Another J.J. Cale cover, "After Midnight" signaled Clapton's shift towards a more radio-friendly, mainstream sound. Yet, he keeps the rootsy vibe of the original while injecting a bit of rock and roll adrenaline.
---
You Might Like: Check Out Eric Clapton's Net Worth
---
14. "Change the World," Phenomenon Soundtrack, 1996
This adult contemporary hit might not be his bluesiest, but it's definitely among his most commercially successful songs. Clapton's clean, heartfelt vocal delivery brings a sincerity that's often lacking in pop songs of this kind.
15. "Blues Power," Eric Clapton, 1970
Ending our list with a bang, "Blues Power" is a testament to Clapton's mastery over the genre he calls home. It's not just a song; it's a declaration, an assertion that the power of the blues can be both timeless and ever-changing.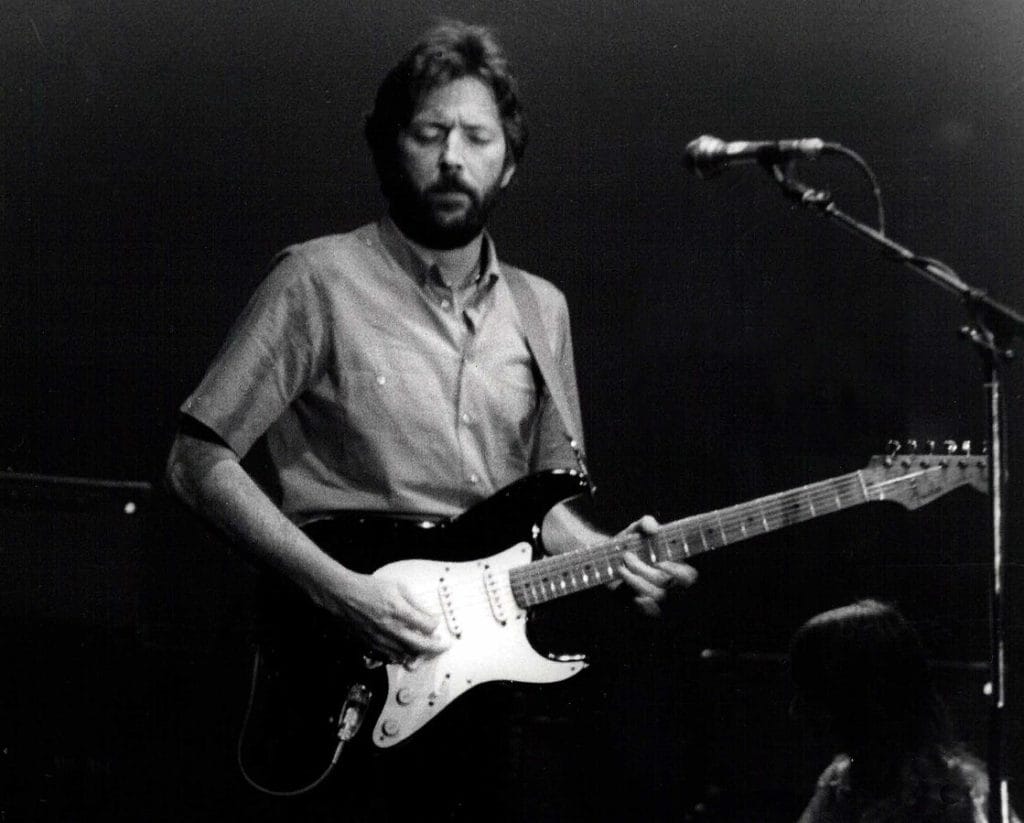 Final Thoughts On The Timelessness of Slowhand
As we wrap up this musical odyssey through Eric Clapton best songs, it's clear that his impact is far-reaching and evergreen. And while musical trends will come and go, the resonance of Clapton's work, much like the man himself, will remain steadfast.
From the bluesy bends of "Crossroads" to the tender romance of "Wonderful Tonight," Clapton's artistry remains as vital as ever. So here's to Slowhand, the living legend who shows us that the essence of great music is, quite simply, timeless.
---
Read Next: The Best Tracks From Eric Clapton's Solo Career
---