Erika Eleniak is a b-movie stalwart and an icon of larger than life, outrageous cinematic and TV projects. Erika Eleniak is a true Hollywood star that has probably graced your screen more times than you realise.
Who Is Erika Eleniak?
Born September 29, 1969, Erika Maya Eleniak is the first born daughter of Dale Alan Eleniak and Iris Maya (Neggo) Arnold. Her father, Dale, is of Ukrainian descent and her mother Iris is of Estonian and German descent.
Growing up in Glendale, California, she had an auspicious debut with her first film role in 1982 at the age of 12 in Steven Spielberg's iconic E.T. The Extra-Terrestrial.
But it was not until the age of eighteen that she really began her acting career in earnest. She was a token scream queen in a remake of the outrageous drive-in horror flick The Blob.
Ironically, the 1988 remake garnered significantly better reviews than the original, but proved to be a box office bomb. However, like a lot of Erika's subsequent work, it has achieved cult status among a devoted group of fans.
During this time, Erika was also working as a model. In July of 1989, she was selected by Playboy Magazine as their playmate of the month. '89 was a big year for Erika Eleniak, and her Playboy centerfold was merely the tip of the iceberg.
She also won a recurring role on the hit sitcom Charles in Charge, where she played the girlfriend of the lead character. In addition, she also had a guest appearance on the sitcom Full House. But even these mainstream TV appearances were dwarfed by the role she won on the brand new adventure series Baywatch.
Erika Eleniak Baywatch
In many ways, Baywatch is the series with which Erika is most closely associated, and which has given her the most cultural exposure. She played the lead role of Shauni McClain. The drama famously revolved around a group of lifeguards, drawing on their personal and professional lives.
"It really was just like a big family, honestly," said Eleniak. "Brothers and sisters. There was this big camaraderie and we had a lot of lifeguards and paramedics [on set] that were real because one of the main creators was a real lifeguard… And there was a real brotherhood among all the lifeguards… The cast and crew were just really amazing."

Fox News
In actuality, the show got off to a less than auspicious start during its initial run in 1989. It was canceled after a single season due to low viewership. However, thanks to the efforts of the show's star David Hasselhoff, who evidently saw the untapped potential of the show's format, it was eventually revived in syndication and ran for eleven successful seasons.
Though the female characters, Erika's included, were highly sexualized, the majority of Baywatch viewers were women. The show has received considerable positive reactions for its subversive feminism and its portraits of strong female characters.
The atmosphere fostered within the show was one of gender equality and autonomy. As such, the socio-political reference points within the show are perhaps more complex than they at first appear.
Erika has cited Gena Rowlands as one of her acting inspirations, and this shines through in the sense of independence which her character demonstrates.
During her run on the show, Erika Eleniak had a much-publicized romance with her co-star Billy Warlock, who also played her lover on the show. Though they were at one point engaged, their relationship eventually came to an end.
Altogether, Erika appeared in a total of 47 episodes of Baywatch, finally bowing out at the end of the third season in 1993. The show had turned her into a household name, but she evidently had big-screen ambitions.
Under Siege
She next appeared in the Steven Seagal movie Under Siege, Erika Eleniak played the role of Playboy playmate Jordan Tate. Jordan is described as "Miss July 1989," an amusing tip of the cap to Erika's own famous centerfold appearance.
In the movie, she eventually winds up as the hero's sidekick as he takes on a ruthless band of mercenaries led by Tommy Lee Jones.
Under Siege was a big box office hit, eventually grossing a grand total of $156 million against a $35 million budget. To this day, it remains Steven Seagal's most successful and popular film.
"I learned a lot on that shoot watching Tommy Lee Jones and Gary Busey work… It was a hard shoot, I have to say. Long hours… But it was an incredible learning experience for me."

Fox News
And hot off the movie's release, Erika found herself with another starring role. This time in the slapstick comedy reboot of The Beverly Hillbillies, where she played the young ingénue role of Elly May Clampett.
The movie was a moderate hit, reaching number one in the US box office in October 1993. It also helped to showcase Erika's flair for comedy, and led to her being cast as Toni Johnson in the comedy movie Chasers. Directed by none other than Dennis Hopper of Easy Rider and Blue Velvet fame.
Chasers is an interesting movie in Dennis Hopper's canon, as it shows the famously intense actor going against type with a broad comedy. Erika plays the role of a convict being escorted across the country by two shore patrollers, one of whom is played by Tom Berenger.
Unfortunately, the experiment did not pay off. The movie was both a critical and commercial failure, grossing less than 2 million dollars against its $15 million budget.
The following year, 1995, Erika Eleniak made two further movie appearances. Girl in the Cadillac saw her reunited with William McNamara, with whom she had acted in Chasers.
It's an archetypal film noir-cum-road movie based on a work by James M. Cain, who is most famous for his hardboiled novellas Double Indemnity and The Postman Always Rings Twice.
Erika's next movie was the unusual romantic comedy A Pyromaniac's Love Story. It boasted an eclectic cast including Sadie Frost and John Leguizamo, and combined Shakespearean romance with the comedy of Moonstruck or Sleepless in Seattle. The movie received mixed reviews, but to this day it has its admirers.
In 1996 came a minor hit in the form of Tales From The Crypt Presents: Bordello of Blood. A campy exploitation horror movie released as a tie-in with the popular Tales From The Crypt TV series.
Embed from Getty Images
In the movie, Erika plays a woman seeking her missing brother (played by Corey Feldman) who turns out to have fallen prey to a gang of vampire prostitutes. Bordello of Blood made a decent profit and remains a fan favorite.
That same year, Erika Eleniak took on an interesting challenge when she played the role of identical twins in the experimental videogame, billed as an "interactive movie," Panic in the Park.
This was a highly sophisticated cinematic game experience which also featured popular character actor Michael Clarke Duncan and won awards for its technical innovations.
Erika Eleniak Playboy
During this time, Erika also continued to celebrate and capitalize on her Playboy fame, appearing in various home videos such as Playboy's Celebrities and Playboy's Babes of Baywatch.
In 1998, Erika married personal trainer and nutritionist Philip Goglia. Sadly, this relationship was tumultuous and short-lived, ultimately ending in divorce six months later. It would be three years before Erika's next long-term relationship.
Over the next few years, Erika Eleniak continued to establish herself as a reliable b-movie stalwart with appearances in limited release and straight-to-video projects like Stealth Fighter, Final Voyage, The Opponent, and Second to Die.
Of these, Erika herself has singled out The Opponent as a particular favorite on account of the physical challenge it presented. The movie is about a woman who trains to become a professional boxer, and Erika herself underwent a rigorous training regime for the role.
The movie was released in 2000 and is an effective showcase for Erika's acting skill and physical prowess. It's an unglamorous film and gives Erika the chance to escape from the glamor model stereotypes which have dogged her acting career.
Action and thrillers were her primary stock-in-trade during this period. Released in 2001, Snowbound was filmed in Alberta, Canada, and it was there that Erika would eventually settle down.
Her friendship with key grip Roch Daigle evolved into a romance and the pair have been partners ever since.
Around 2003 she drifted away from acting and focused more on capitalizing on her earlier successes. For example, in 2005 she appeared on the reality show The Real Gilligan's Island and continues to make convention appearances and give interviews about her time as a Baywatch cast-member.
That same year, 2005, Erika Eleniak became pregnant, but this tragically ended in miscarriage. However, Erika has subsequently given birth to a healthy baby daughter named Indyanna Daigle.
Throughout her life, Erika has struggled with her weight and was at one point hospitalized due to an eating disorder coupled with laxative abuse. In 2006 she took part in the reality show Celebrity Fit Club on account of the fact that she was by that point overweight.
During the filming, she lost a total of 31 lb. This is just one example of the kind of physical challenges that Erika has taken on in her varied career, and has proven herself to be more than a match for.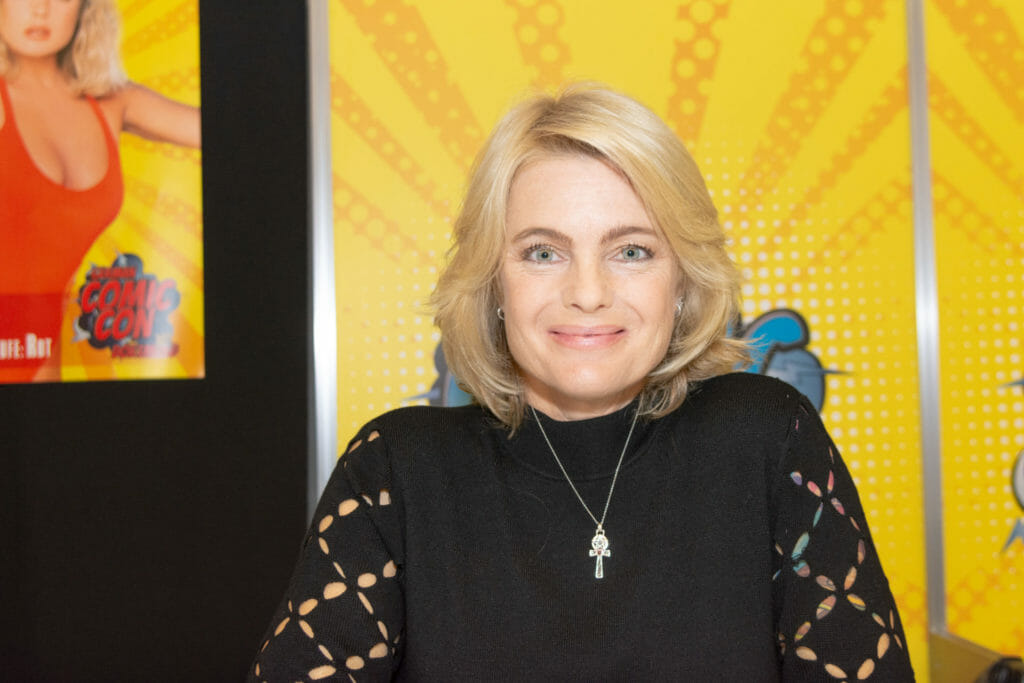 Legacy
Thanks to her iconic appearances in Baywatch and Playboy, Erika Eleniak has become one of the most recognizable faces of the late '80s and early '90s. It's a reputation which she continues to enjoy, though she also remains a popular actress in independent movies and b-flicks.
She also retains a sense of humor about the more campy aspects of her performances. As evidenced by her recent appearance on the British comedy podcast 80s Movie and Music Fest Café.
But what has truly set Erika Eleniak apart is her versatility and her willingness to try new things. Whether that is in action movies, comedies or horrors where she is the archetypal scream queen.
As such, she cannot be pigeonholed to one particular genre. There is no challenge she will not take on, and for that alone Erika Eleniak deserves admiration.
Read More: