June Child was the minder of Pink Floyd's unstable genius Syd Barrett and lover, manager and wife of T. Rex's Marc Bolan.
We've all heard stories of the brave women who tried to tame the bad boys of punk and rock'n' roll. Nancy Spungen and Sid Vicious. Sharon Osbourne and Ozzy Osbourne. But, what about June Child…
While her marriage to the legendary Godfather of glam rock may have been short-lived, she stood by Bolan throughout most of his career in the British music scene. Sadly, like most other people who played a part in rock 'n' roll history, both June Child and Marc Bolan would meet untimely and tragic deaths.
Who Was June Child?
June Child was born on August 23, 1943, in London. She had a relatively normal and quiet childhood. After graduation, she worked for a company called Blackhill Enterprises in London. While working there, she was living in a flat with Peter Jenner, the manager of a little band at the time called Pink Floyd.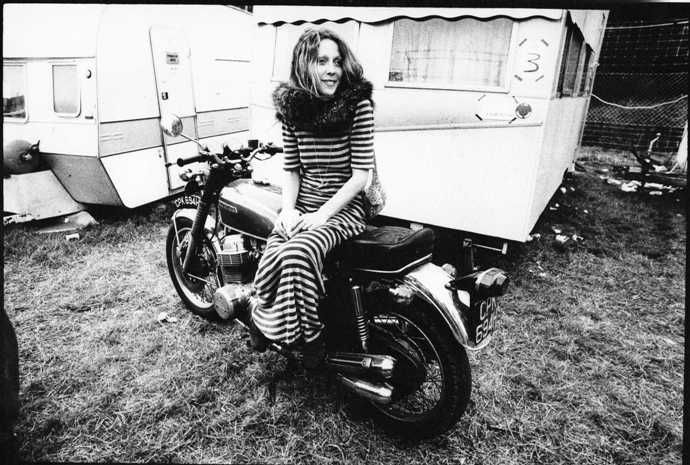 Peter and the other guys in the band would call on June to run various errands for them, from booking gigs to getting them food from the local grocery when they had no money. But eventually, June Child had enough.
She told them either she stopped doing their little favors or they had to pay her. They agreed and made her the secretary and receptionist for the band.
While working as a secretary, June started to date the lead singer of Pink Floyd, Syd Barrett. She stood by him through his many acid trips, and there were many. She was there when he stood catatonic on the stage in 1967, unable to perform and unaware of where he was.
June Child remembers, "Syd was very special in an extraordinary way, he wrote wonderful songs, the lyrics were incredible. He was very, very much the creator of the group in those days."
She stayed with him until, due to his mental issues, he was finally asked to leave the band in 1968. By this time, however, she had already met Marc Bolan, lead singer of the band T. Rex.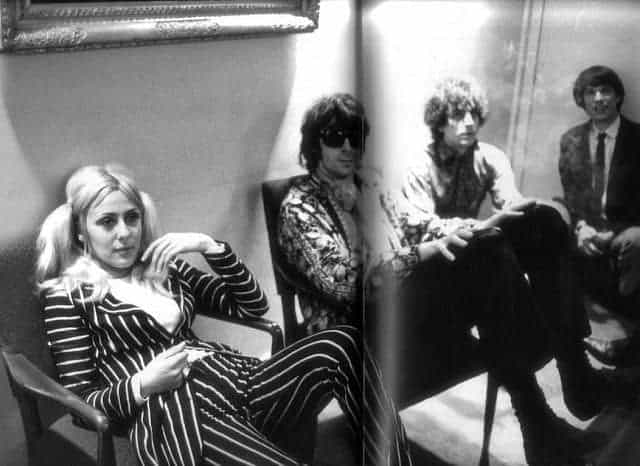 Marc Bolan's Wife – June Child
June, who was four years older than Bolan, soon became his everything. Shortly after meeting her, he took her to have tea at his parents' house. It was at this first meeting that he told her he loved her. She returned the sentiment and the two began what would go on to be a very tumultuous but passionate love affair.
Marc remembers the moment, "We'd known each other only a short while when I asked her home to tea late one afternoon at my parents' prefab in Wimbledon. The sun was bright and hot. We sat with our tea on the lawn. After we had held hands there was silence for a while. Then I said, 'June — I think I love you.' She replied quietly, 'I feel the same way about you, Marc.'"
Embed from Getty Images
After a few nights sleeping in June Child's van, they moved in together into a small flat in Notting Hill Gate. She became his manager of sorts, handling his bookings and media relations. She even drove him to and from all of his appointments.
June was always an honest critic to Marc's songs and lyrics, sometimes even typing them for him. She later recalled it being a "wonderful time, we were very happy."
Bolan was dyslexic but was fascinated with the "Lord of the Rings" trilogy, so June read the books out loud to him so he could enjoy the stories. The two really did share everything together. It was as if they were attached at the hip until they weren't.
T. Rex producer Tony Visconti recalls. "She filled in all the pieces that were missing in his life."
Embed from Getty Images
Marc Bolan was scared to death of driving. June tried to teach him once. It was so terrifying for the singer, he got out of her Mini and vowed never to drive again. And, he was true to his word.
On January 30, 1970, June Child and Marc Bolan went to Kensington Registry and married, becoming June Bolan. The marriage didn't last very long, however. The two separated in October of 1973, but never really followed through with an official divorce.
During their marriage, both Marc and June engaged in many adulterous affairs. One of Marc's most well-known affairs was with the talented singer Marsha Hunt. June had no problem forgiving Marc for his transgressions, but it began to take a toll on their marriage.
In October of 1973, when June was having her own relationship outside the marriage, the two decided to call it quits. She moved out. The two had just spent a fun-filled weekend with their friend Ringo Starr. This weekend would prove to be the last the couple spent together.
Embed from Getty Images
In 1977, Marc Bolan told June Child, "If you had not left, none of this would have happened." "He was my best friend, always, always my best friend," said June.
June reported that it was during this weekend that Ringo tried to talk to Marc about his cocaine habit. He warned him that his drug use would be the end of him and his career. Sadly, Marc did not take these words to heart.
Although the two would soon split-up, June Child would remain close to Ringo for the duration of her life. The same can be said of the pair's mutual friend Eric Clapton and others who were involved in the British music scene, one of the most notable, David Bowie. Sadly, for June and Marc, they drifted apart after their separation.
Marc Bolan Death
On September 16, 1977, Marc was on his way home from a club in Berkeley Square with Gloria Jones. On the way home, she crashed her Mini-GT into a fence and tree.
Embed from Getty Images
Sadly, Marc was killed on impact. Jones only suffered a shoulder injury. For a man who was deathly afraid of driving, it would be someone else's driving that would ultimately cause his untimely demise. Bolan and Jones had a son who was only two years old at the time, Rolan Bolan.
Years later, David Bowie would actually step in and help Marc's son when there was nobody else there to help him in the music industry.
After Marc Bolan's death, June Child went on to have a long-term relationship with the drummer of the band The Arrows, Paul Varley. The two had a daughter together called Ilona Porter on July 11, 1978.
Once this relationship fizzled, she would become entangled with the famous Graham Porter. She was still with him when she suffered a fatal heart attack while on vacation in Turkey on September 1, 1994.
June Child was only 51 years old when she died. She had been involved with a string of musicians throughout her life. Many of these men would go on to meet their own tragic ends as well.
Embed from Getty Images
Of all of them, however, Bolan was the most steadfast. Her relationship with Bolan is what cemented her in the world of glam rock. She was more than just his wife though.
June Child was his mentor, his spiritual inspiration and his manager. Without her as his muse, who knows if he'd have been compelled to create the same great music
She stood by him for as long as she could. Even in the years before her death, June Child said that he will always be her best friend.
Similar Stories…