I was in shock. I walked around in a daze for for weeks. I couldn't fathom how I had fathered two children with a rare condition that was not supposed to be hereditary, with two different mothers.

– Neil Young
Most people have heard his music, but few know the tragic story of Neil Young's children, and the health issues they struggled with throughout their lives.
Neil Young is one of the most beloved, and iconic musicians of all time. For many, his music was the soundtrack of the 60s and 70s, with powerful and deeply personal lyrics resonating with listeners to this day.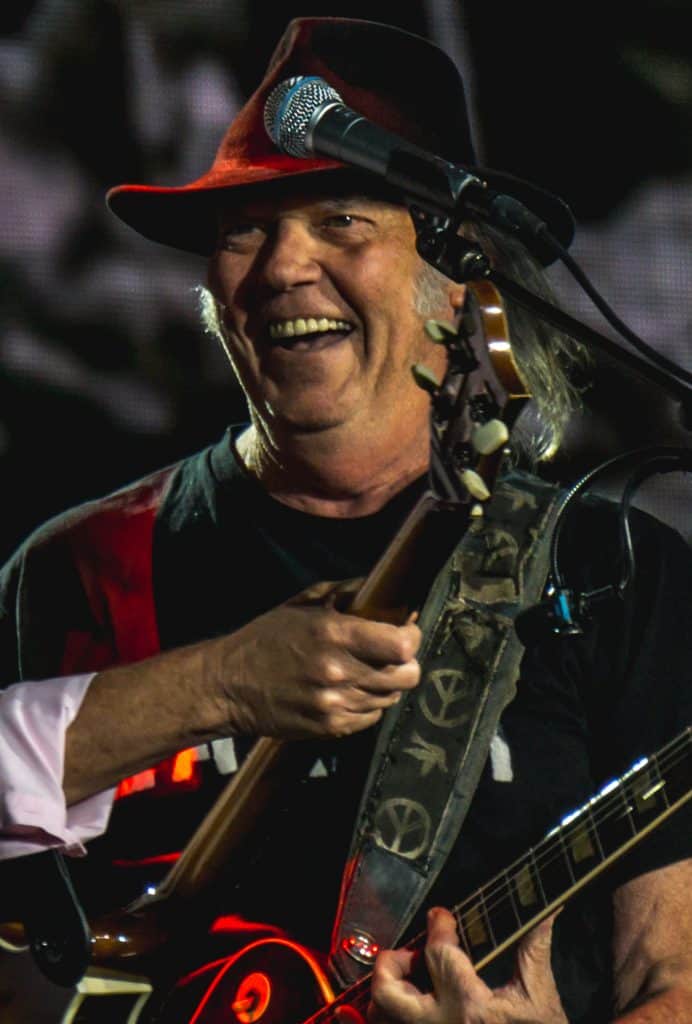 Known as the "Godfather of Grunge" due to his iconic style of distorted guitar playing, and the influence he left on future bands to emerge from the Seattle Grunge Rock scene, such as Nirvana and Alice in Chains.
Winner of several Grammy Awards, both as a solo artist and as a member of the band "Buffalo Springfield" and over 20 of his albums and singles have reached Certified Gold and Platinum status in the US, according to the Recording Industry Association of America (RIAA)
One of the most respected singer-songwriters of all time, he has been involved in many collaborations with other musicians including Joni Mitchell, David Bowie and Led Zepplin.
However, it hasn't all been plain sailing for him. Neil Young has suffered quite a great deal across his life, from illnesses in his youth, to numerous family problems, to even incidents that have come close to killing him.
This article focuses on Neil Young's children and the devastating health issues that surround them. No doubt these issues shaped his outlook on life and played a role in the haunting lyrics in many of his tracks.
But who are Neil Young's children? What are the stories of these illnesses and diseases?? If you've ever wondered these questions yourself, or you've ever wanted to know a little more about one of the most storied musicians of all time, then make sure to read on below to find out.
Who Are Neil Young's Children?
Neil has three children. A son, Zeke, to his early girlfriend Carrie Snodgress; and both a son, Ben, and daughter, Amber, to his first wife Pegi Norton.
Tragically all three of Young's children were born with or developed significant health issues, including cerebral palsy and epilepsy.
Zeke Young – Neil's First Son To Carrie Snodgress
Zeke Young is Neil Young's first child and was born to Neil's first major girlfriend Carrie Snodgress, who was an actress.
Zeke was born in 1972 and was rather quickly diagnosed with cerebral palsy. Neil Young and his first girlfriend met in 1970, and the two continued to date until 1975.
During this time, the two lived together on his ranch in Northern California but slowly began to grow apart.
According to Carrie Snodgress, Neil began spending more and more time away from the home, until, eventually, one day, he told Snodgress and his son that they were being kicked out of the ranch.
From there, Snodgress and Zeke moved from rental home to rental home, until they were given a full home and child support money.
Unfortunately, over the course of Zeke's childhood, he had very little contact with his father, and Neil became very much estranged.
So much so that, around 1983, Neil's child support payments began to become highly inconsistent and irregular.
This forced Snodgress to take legal action against Neil Young in court. The case was won by Snodgress, and, to this day, Neil continues to pay $10,000 in child support payments every single month.
Though Zeke and Neil still remain in contact, it is not fully clear how healthy their relationship is. It is unknown if their relationship is particularly strained, or if Zeke harbors any resentment towards his father.
Ben Young – Neil's First Son To Pegi Norton
Around the year 1974, Neil Young soon fell in love with who would become his second wife, Pegi Norton. She was working as a waitress, and Neil very quickly became besotted with her.
They married only a few years later in 1978. Around that same year, they welcomed their first child together, Ben Young.
Unfortunately, even from the very start, Ben was showing very clear developmental issues. Ben was soon diagnosed with cerebral palsy, much like his half-brother Zeke.
However, Ben's condition has proven to be much more severe and has long limited his movement. Ben's condition developed into quadriplegia, which is caused by damage in the spine, which leads to a loss of movement and a loss of feeling below a certain point on the body.
How Is The Relationship Between Ben Young And Neil Young?
However, quite unlike his relationship with Zeke, Neil Young continues to spend much time with Ben even to this very day.
Right from the very start Ben and Neil remained very close, with Ben attending many of his father's concerts.
In fact, even to this day, Ben Young continues to be in attendance at his father's concerts and remains close to his father all throughout the touring process.
Neil has stated that his son Ben helps to keep him strong even in the toughest times.
Neil famously said: "Ben has taught me you never give up. You can't say 'This is too hard.'" Despite Ben's debilitating condition, he still continues to live a very happy life, which helps to keep his father grounded.
Because of his strong relationship with his son Ben, Neil Young and his late wife founded the Bridge School in 1986, which is a non-profit organization dedicated to bringing awareness to children with learning difficulties or physical impairments.
The charity also helps people with cerebral palsy to earn active roles in society. Neil Young also famously set up the farm aid non-profit concert event.
Farm Aid seeks to bring regular attention to the work of farmers across the years. Farm Aid was established in 1985. The latest Farm Aid event was in September of 2021.
Amber Young – Neil Young's Daughter To Pegi Norton
Amber Jean Young was born in 1984. Unlike both her brother and her half-brother, however, Amber Young did not find herself developing cerebral palsy. However, she does still live with epilepsy.
This has not stopped Amber from living a full life, she is now a successful artist in her own right and has regular exhibits in well-respected galleries around the world.
Neil Young is also noted to have suffered from epilepsy throughout his life, having been diagnosed in 1966. This obviously affected his ability to perform live, given his propensity to seizures. Though he never had an episode on stage, there were several times when he recognised the warning signs and had to walk off stage mid-performance.
Dealing With Family Heartache
Sadly, Neil Young has faced a very difficult and rocky life, even despite having numerous successes in the music industry and cementing himself as a rock icon. All three of his children have been born with debilitating conditions of varying severity.
However, despite these difficulties, Neil Young has proven to have a very strong mental fortitude and a desire to love his children as best he possibly can.
Ben Young continues to be a very strong inspiration for Neil every single day, and the two get along wonderfully, and Amber Young has professed that Neil is the biggest fan of her art.
While his relationship with his eldest son Zeke may be strained, the two still remain in contact.
For a bit more on the life and difficulties faced by Neil Young, check out this video by the legends at grunge.com.
Frequently Asked Questions
Are Neil Young's Children Still Alive?
Yes. All three of Neil Young's children are still alive.
How Old Are Neil Young's Children?
Neil Young's oldest son Zeke is 50 years old, his second son Ben Young is now 44 and his daughter Amber is 38.
What Happened To Neil Young's First Wife?
Unfortunately, Neil Young's first wife, Pegi Young, died in 2019, after years of battling cancer.