When the ambulance arrived at the Willow Springs ranch home of country swing musician Spade Cooley and his wife Ella Mae on the night of April 3rd, 1961, it's safe to say the medics had little idea of the carnage inside.
Spade's marriage to Ella Mae had been on the rocks for a while; she was in the midst of filing for divorce. But that day, everything came to an end.
Ella Mae Cooley lay dead in the shower, she had been savagely beaten over several hours and tortured with cigarettes. Her daughter Melody Cooley had been made to watch. What followed was an unprecedented show business scandal.
Spade Cooley, then aged 50, was indicted for murder. The trial had many tabloid-friendly incidents. Including Spade collapsing in the dock after accusing his deceased wife of membership of a "free-love sex cult."
Who Was Spade Cooley?
When Donnell Clyde "Spade" Cooley first arrived in Los Angeles in the early 1930s, all he had going for him was his youth and his musical talent. He was part Cherokee, born in Oklahoma in 1910. And when it came to music, he was a quick study, very soon mastering the fiddle.
So he had little difficulty finding work and soon joined a big band with a residency at the famous Venice Pier Ballroom. He quickly distinguished himself as a fine, charismatic musician, and soon replaced the bandleader Jimmy Wakely when the latter was offered a movie contract in the early 1940s.
Spade Cooley capitalized on the country and western boom which was sweeping the country at the time, attracting huge crowds and a dedicated fan base.
During this period, Spade made friends with a bona fide movie star, Roy "King of the Cowboys" Rogers. Because the two men bore a passing resemblance to one another, Spade was recruited as a bit player and occasional stand-in for Roy, eventually appearing in a total of 38 motion pictures.
His career as a recording artist was also taking off; he had a string of hit singles beginning with his signature tune "Shame On You," which was number one in the country charts for two months. The Spade Cooley Orchestra played sold-out shows up and down the West Coast; his star was on the rise.
Enter Ella Mae Evans
It was during this time that Ella Mae Evans joined his band as a singer, she did not last long, however. They were soon married and she was settled at the ranch home on the fringes of the Mojave Desert where she would eventually be beaten to death.
In June 1948, The Spade Cooley Show debuted on LA's KTLA-TV network. It was a smash hit and went on to win Emmy awards and attract a 75% audience share. The show lasted until 1956, but Spade continued to record, tour and make movie appearances throughout this time.
It was all too good to last though. Rock 'n' roll was quickly supplanting western swing music, and Spade's star began to fade. But although his movie career and recording contract both fizzled in the late '50s, his reputation was as solid as ever.
In March of 1960, just over a year before he was convicted of murdering Ella Mae, Spade Cooley was awarded a star on the Hollywood Walk of Fame. It's still there today, the only one ever bestowed on a convicted killer.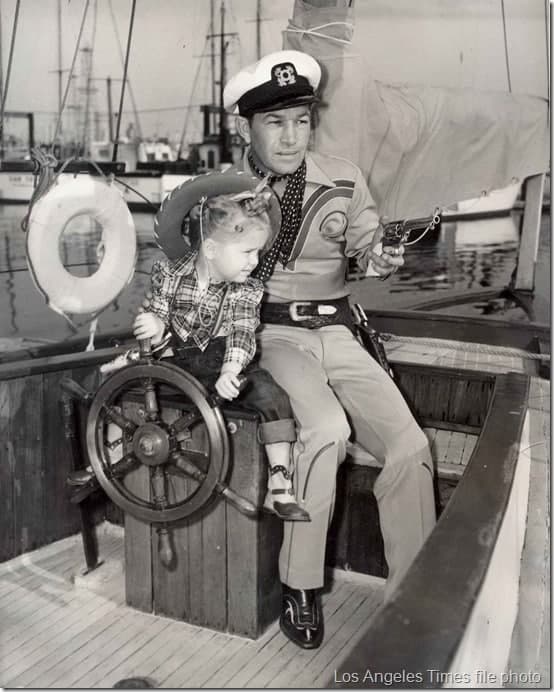 The Murder Of Ella Mae Cooley
Spade received a life sentence for murdering Ella Mae, but proved so popular and model a prisoner that he was granted parole after serving a scant nine years. He was due for release in February of 1970, but things didn't work out that way.
In November of '69, Spade was given a 72-hour furlough to appear at a benefit concert in Oakland, California. He played well and received a standing ovation from the rapturous crowd. He had every reason to be optimistic about his post-prison life. But a few minutes later, he keeled over dead backstage. The cause of death was a massive heart attack.
In many ways, Spade Cooley's story is a tragic one, tarnished by scandal. He is better remembered these days as a violent criminal. But there's no doubting the impact his music made in its day, and the indelible mark he left in the world of country music.
Similar Stories…