In this article, we investigate Ted Nugent's net worth, and how it was affected by his business decisions later in life, as well as how it looks now. Keep reading to learn more about one of rock's most famous guitarists.
Now considered a household name in the genre of guitar rock, Ted Nugent came to fame in the 1960s with his band The Amboy Dukes. His success in that band, and his solo career, led to him amassing considerable wealth, despite going through bankruptcy and some questionable business decisions.
Motor City Madman
Ted Nugent made his fame in the band he started known as The Amboy Dukes. They formed back in 1964 and were known within the psychedelic and acid rock scene in Detroit and Chicago, where he grew up and made his name.
The band went through a few different personnel changes over the years, and while fronted by Nugent, who remained the band's only constant member, they were mainly known for their only hit single 'Journey To The Center Of My Mind'.
By the 70s the band still hadn't managed to get a good run of tours or music released predominately related to such a constantly changing lineup.
By 1975 Nugent had changed the name of the band and they continued as Ted's backing band for his solo pursuit, where many members found more success.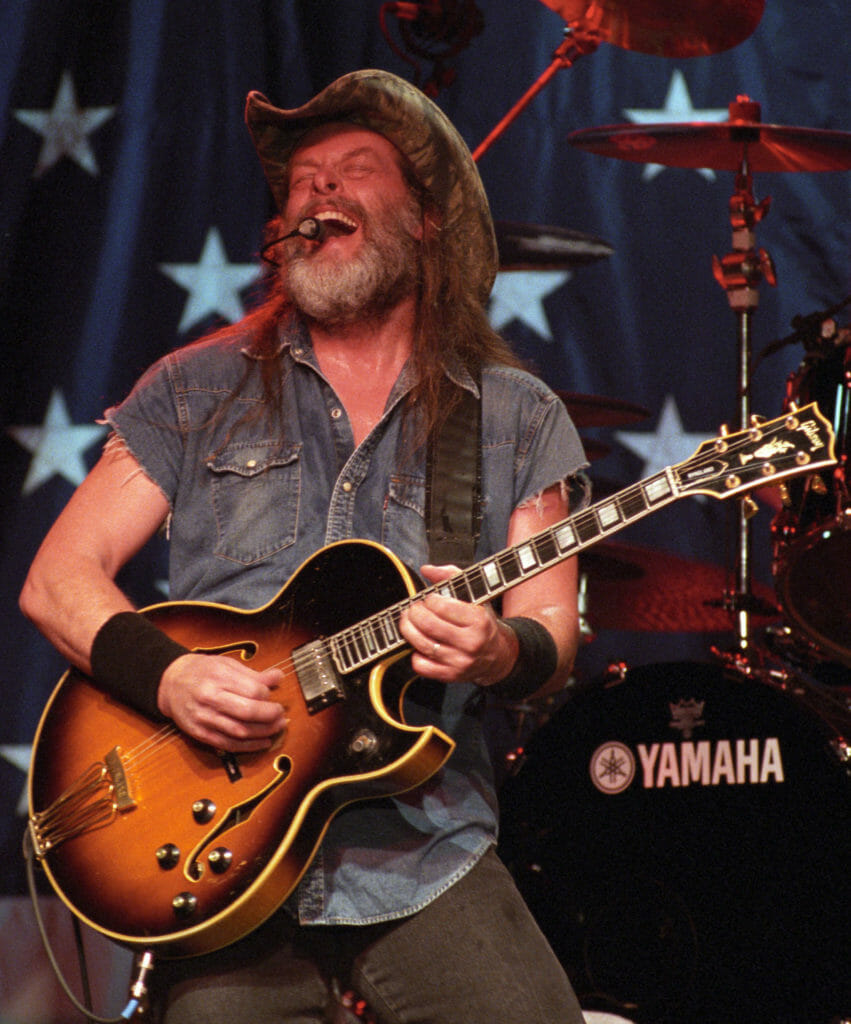 Solo Success
In1975 Ted essentially went solo, while still keeping many of the members of the previous band around, signing to Epic Records.
During this time he released three multi-platinum albums; Ted Nugent (1975), Free For All (1976) as well as Cat Scratch Fever (1977).
In classic Nugent fashion, controversy was never far behind – many band members suggested Ted's listing as the main songwriter was often skewed seeing that most of the band wrote on the albums but he took the royalties, they likely had to acquiesce after having agreed to stop being a band but become Ted's solo project, while only the bassist had actually remained from his failed band.
Rather than his songwriting skills, Nugent's guitar playing was unavoidably worthy of acclaim. His bluesy style had really taken well to the psychedelic rock of the seventies where Nugent had been crafting his style for many years.
Nugent had popularized the Gibson Byrdland guitar which remains mainly associated with Nugent's style.
Listen to 'Stranglehold' to really hear the classic Nugent sound, the combination of bluesy and psychedelic guitar styles creates something that is sultry and intoxicating, which sums up most of Nugent's vibe well.
Nugent's favor as a guitarist had led to continued success in the 1980s with the Damn Yankees as well as his return to solo projects in the 90s such as the highly favored Spirit Of The Wild (1995)
Public Controversy
In the later years of his career, the music seemed to take a backseat to many of Nugent's controversial opinions on topics such as LGBTQ+ rights, religion, as well as gun control, and a mutated sense of nationalism.
He is an outspoken conservative, a member of the NRA, as well as an outspoken hunter. In Ted's now retired life he runs a live stream where he discusses his opinions openly as well as other subjects.
Nugent often ends up in hot water for his 'out-there' opinions as well as his wildlife, which overshadows the appreciation for his guitar playing and music, which should be treated separately.
Yet, many don't realize that Nugent is also notable for his money troubles and how he pulled himself back from bankruptcy.
A String Of Bad Investments
By 1980 Nugent was coasting on a wave of financial riches afforded to him by his growing success as a musician.
Yet, a series of bad investments, a stubbornness to adapt, and perhaps some bad luck, took Ted from the top right back to the bottom.
This 1979 article in Rolling Stone painted Ted as the new Willie Nelson, with anecdotes of traveling around Ted's farm with him, eating grits, and general redneck activities.
'The Ted Offensive' was an apt name for the article as Ted talks about his divorce as well as other personal matters. It shows Ted resisting change, and an unwillingness to change or accept.
In addition, a Texas Monthly article around the same time shows another side of Ted's story, in reporting that Ted had actually become bankrupt.
The article suggests that investing into his mink farm, a herd of Clydesdales, and a hotel in Flint, Michigan, had placed considerable stress on Nugent's finances.
In addition to these failed investments, Ted's recently divorced wife died in a car crash in 1982 which left Ted the sole financial provider of their surviving children.
His Fall From Fame
Moreover, Ted's wave of fame seemed to soon crest by the 1980s as the mainstream gaze moved from the psychedelic, bluesy-influenced, rock towards the glam rock and hair metal we see takeover in the eighties.
In classic Ted fashion, he blames his slide from fane on the changing world rather than his aversion to change himself.
There is evidence of this in his days with the Amboys, refusing to share center stage and staying with the same band until he could eventually become its sole draw.
According to Ted he was abandoned by critics in favor of 'faggy-looking bands' and as he become more vocal about his myriad of controversial opinions, he also blamed those who were offended by his strong opinions.
What Is Ted Nugent's Net Worth Now?
Regardless of the reports of bankruptcy, Nugent's net worth is still reported as an impressive $10-11 million to this day.
While there were some poorly conceived investments, Nugent's fame and creative success seem too large for even the Motor City Madman to topple.
This is likely due to Nugent's diversification into real estate. He has two large properties, including his main residence in Concord which is fitted out with a guitar shaped pool.
He also has had quite a few TV shows centered around hunting on some large networks, as well as several books he wrote himself which are laden with his opinion.
Nugent has even dabbled in acting and reality TV in addition to his own hosted TV shows.
This isn't to mention how he continued to make music, with Spirit Of The WIld being released in 1991, one of his most acclaimed albums, he had clearly made sure to secure his wealth from the controversy of his opinion.
Final Thoughts
Even though he made some questionable investments over the years, The value of Ted Nugent's net worth now, suggests that he was fairly savvy with his finances and managed to safeguard his money despite his poor decisions and controversial opinions.
Perhaps if had he found success with Clydesdale horses or mink fur, h
Yet it remains clear that had Nugent not made these bad investments he could be sitting on a wealth that is double what he has now. As Ted's 2018 album title suggests: The Music Made Me Do It.
Check out this video from Classic Hits, showing Ted Nugent working his guitar magic during a recent performance of his classic, Stranglehold live in concert. We think Derek St. Holmes nails the vocals on this version!
Strap yourself in for 10 minutes of guitar heaven.
Similar Stories…