Many would claim that U2's best days are behind them, but considering how many modern classics they composed before reaching this stage… who cares?!!
One of those rare bands that seem to be able to package honest artistry into radio-friendly packages that always go down smoothly, they've earned their esteemed place in music history.
Granted, they certainly rubbed a lot of people the wrong way when they smuggled their album Songs of Innocence into everyone's iTunes library, leaving a string of perplexed pop-tweens and bemused metalheads in their wake, but poor marketing decisions aside, U2 have some slaps!
And below, I'm going to be distilling their entire back catalog down to the 10 best tunes.
10 Of The Very Best U2 Songs
10. "Vertigo" (How To Dismantle An Atomic Bomb, 2004)
I know that some people find "Vertigo" to be a little irritating (especially the chorus), but my theory is that those people are looking to be irritated, as this song has all the hallmarks of a rock and roll classic!
That saturated opening riff wouldn't sound out of place on a Velvet Revolver record, which is certainly alright with me.
But the two elements that really make this song special in my opinion are the soaring, swaggering vocal melodies and The Edge's arpeggiated pre-chorus at 1:10 that clears out some sonic space for Clayton's driving bass line to rumble through.
AC/DC fans will appreciate the overtly Youngian middle eight, too!
Is it the most substantive U2 track? Not by a long shot, but a snarl from a band that usually purrs is still a lot of fun to listen to.
9. "Beautiful Day" (All That You Can't Leave Behind, 2000)
We all know that "Beautiful Day" is overplayed, but there's a reason why it still hasn't left the airwaves after its single release in October 2000… it's truly a fantastic bit of songwriting!
Starting out with The Edge's delayed guitar line padded out with a lush bed of strings, "Beautiful Day" beckons you in before Bono embraces you with his opening poetics, "The heart is a bloom, shoots up through the stony ground".
Almost instantly, you feel unearthed, a fresh feeling the likes of which you experienced on a weekend morning as a kid rising in your soul, and even though the song's driving moral of "seize the day" has been done to death, U2 have a novel angle on the silver linings platitude.
Bono's focus on doom and gloom in the verses allows the sunny chorus to shine through even brighter, and the way his voice reaches raspy territory when he pushes it adds an intensity to the song often absent from typical radio hits.
8. "Bad" (The Unforgettable Fire, 1998)
You know there's something special about a song when it becomes a firm fan favorite despite being a relatively stripped-back piece, and this is exactly where "Bad" finds itself.
Laced with reverb-soaked guitars set on a backdrop of fluffy ambient drones, this song provides Bono an open stage to adventure, and adventure he does.
When he reaches the closing "I'm wide awake" refrain, he's pushing his voice so hard that it breaks into Me Without You or early Pianos Become the Teeth territory, a wild scream that adds fireworks to an otherwise buttoned-down cut.
It's tunes like this that remind us just how talented the U2 frontman really is!
---
RELATED: These Singers Get Paul Stanley's KISS Of Approval
---
7. "Desire" (Rattle And Hum, (1988)
For a band that clearly has a meticulous songwriting process, "Desire" seems so endearingly off-the-cuff and playful — Riding on a thumping locomotive of Bo Diddley-esque groove, you can't help but tap your foot along to Larry Mullen Jr's infectious beat.
Stone-cold lyrics such as "She's the candle / Burnin' in my room / Yeah, I'm like the needle / The needle and the spoon / Over the counter / With a shotgun / Pretty soon", chronicle the drive it and passion it takes to reach out and grab something for yourself, something that most people deem beyond the realm of reality, like, for instance, a long and successful career in music.
6. "With Or Without You" (The Joshua Tree, 1987)
Depicting an impossible situation in which all roads lead to suffering and despair, "With or Without You" is one of U2's most impactful songs.
Even though the subject matter is starkly grim, the glow of devotion breaks through, building a gritty tension over the course of this cracked fairy tale's 4:56 runtime.
Most interpret "With or Without You" as a dark love song about a relationship that has caused both parties a lot of pain, but Bono once mentioned that it could also be perceived as an internal struggle between two poles of a personality.
For him, the dispute was between his responsible side, and his vagrant side that wanted nothing more than to run free, escaping responsibility entirely.
5. "Mysterious Ways" (Achtung Baby, 1991)
U2's rhythm section owns the day on the second single from 1991's Achtung Baby, with Adam Clayton laying down a thick, funky bass line over Larry Mullen Jr.'s African-inspired polyrhythms, forming a monolithic Maypole for the guitar and vocals to frolic playfully around.
But that's not to say these embellishments are lost in the mix.
While it's not one of Bono's strongest performances lyrically or vocally, it's a very distinctive track, helping U2 to once again infiltrate radio rotation with something completely dissimilar to the song the DJ queued before or after this one.
---
RELATED: The Very Best Blink 182 Songs
---
4. "New Year's Day" (War, 1983)
"New Year's Day" sees Clayton doing the heavy lifting where riffs are concerned, allowing The Edge to noodle around with his NASA control panel pedal board, a dynamic that hits hard right from the get-go.
Immediately, we're invited into a pulse-raising sonic riot until the verse hits the instrumental like a billy club over the head, subduing it momentarily so Bono can have his say — "All is quiet on New Year's Day".
Despite the festive title gaining this song steady rotation late in the year, the lyrics allude to something a little darker… the internment of Lech Walesa, leader of the Polish Solidarity movement that challenged the nation's oppressive government.
3. "One" (Achtung Baby", 1991)
Edge rolls off the tone knob on his Gibson Explorer to open this "One", so you know it's going to be a serious song, and boy is it!
Although "One" has become a wedding playlist staple, the lyrics detail an end, not a beginning, the splitting of what had become a single entity back into its constituent parts, with the narrator remembering that "We're one… but we're not the same".
The fact that "One" was written during a turbulent time in U2's career widely considered to be the closest they've ever come to calling it quits reminds us that this song isn't necessarily about a romantic relationship, although it could certainly be read that way.
In actual fact, this track is a quietly devastating meditation on separation in various forms.
2. "Where The Streets Have No Name" (The Joshua Tree, 1987)
Producer and "wallpaper music" pioneer, Brian Eno, makes himself known on this track with an unapologetically ambient intro, but The Edge's frantic delay-riddled guitar soon jangles onto the sonic scene, followed by a slow, thumping bass line and four-on-the-floor kick drum.
Close behind is Bono's impassioned verse:
"I wanna run, I want to hide
I wanna tear down the walls
That hold me inside
I wanna reach out and touch the flame
Where the streets have no name".
Written as a response to the disturbing notion that in Belfast, Northern Ireland, a person's religious leanings and income are discernible by the street on which they live, the lyrics paint a transcendent picture of a place in which division isn't such an oppressive force.
Some might call this utopian naivety, but Bono assures us there is a very real place in which all social, racial, and political barriers are lifted… rock concerts!
---
RELATED: Crowd Pleasers – The Best Karaoke Songs Of All Time
---
1. "Sunday Bloody Sunday" (War, 1983)
The sharp-eared will pick up on the militaristic execution of Mullen Jr.'s opening drumbeat on "Sunday Bloody Sunday", a clue as to the tragic meaning of the song.
Told from the perspective of an observer during the Irish troubles, the lyrics broach the shooting of civil rights protestors by British troops in Derry, an event that would henceforth be known as Bloody Sunday.
However, this isn't just U2's most poignant song in terms of social and political commentary, it's also their most vibrant and ebullient musically.
With the help of a haunting, screeching violin, The Edge's shimmering arpeggios set the woeful tone of the track, providing the perfect backdrop for Bono's forceful yet silken words of disbelief: "I can't believe the news today / Oh I can't close my eyes and make it go away".
Clayton's rigid quintuplet bass line drives the song along like a funeral march, propping up the impassioned pleading verses comprising such heartrending lines as "Broken bottles under children's feet / Bodies strewn across the dead end street".
Shifting into the major key, The Edge fires off a twinkling sequence of natural harmonics that rise like prayers through the mix of the final bridge, offering the listener a welcome respite from the emotional storm of the early track before the song crashes back into its pulsing dirge, begging for a conclusion to the senseless violence in Ireland.
Final Thoughts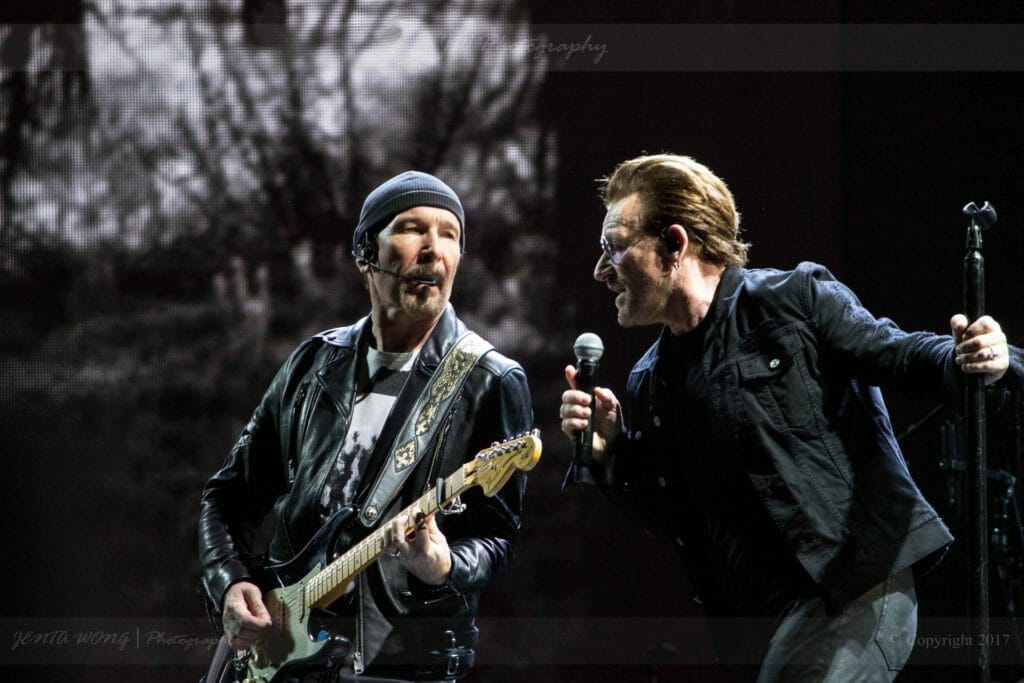 There you have it — The 10 best U2 songs you should go and listen to today. Which one is your favorite?
From out-right bangers to socially-conscious protest pieces, there's a little something here for everyone, which is why when someone tells me that U2 just isn't their cup of tea, I'm certain they're simply yet to hear the song that will change their mind.
See you next time.