Helmed by the enigmatic and wild heart, Jim Morrison, The Doors defined an era of musical exploration, fearlessly venturing into the unknown, unbridled, and undeniably controversial. The sensual allure of "Light My Fire" and the deep, poetic ripples of "The End" only scratch the surface of their vast repertoire.
As we dive deep into their top tracks, we'll discover a band unafraid to embrace the hidden themes of the 60s and 70s, often influenced by the whirlwind of Morrison's personal life, including his tumultuous relationship with Pamela Courson.
Join us, as we journey through the mesmerizing narratives and timeless tunes that have etched The Doors into rock immortality.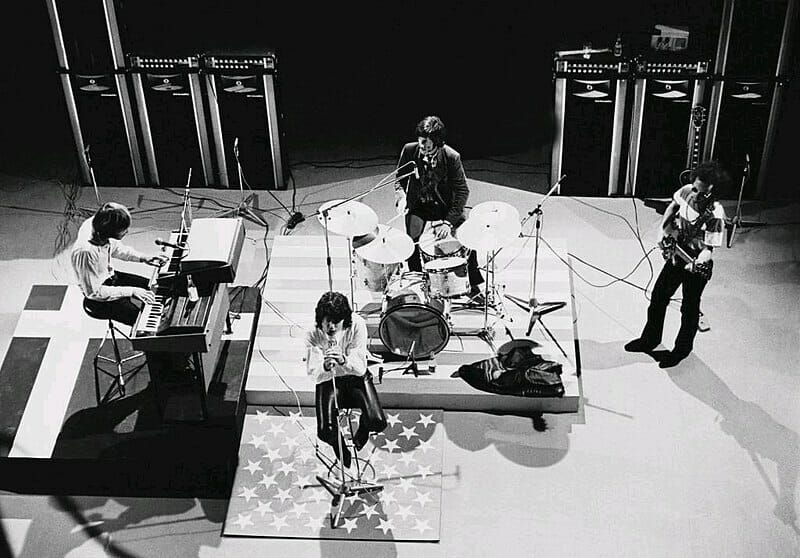 The Very Best Songs By The Doors
19. "Peace Frog," Morrison Hotel, 1970
The Doors strut their bluesy chops in "Peace Frog," one of their grooviest numbers. With Jim Morrison's cryptic lyrics and Robby Krieger's striking guitar work, the song bridges the gap between 60s psychedelia and 70s funk-rock.
18. "Alabama Song (Whiskey Bar)," The Doors, 1967
An old Brecht-Weill composition gets the Doors treatment, and the result is intriguingly odd and deeply American. It's a theatrical, accordion-drenched tune that fits seamlessly into the band's repertoire. One of my personal favorites for sure.
17. "The Crystal Ship," The Doors, 1967
This haunting ballad offers a break from The Doors' darker, more frenetic hits. Morrison's poetic lyricism shines through, his voice navigating a dreamscape painted with love and foreboding.
16. "Five to One," Waiting for the Sun, 1968
"Five to One" is a raw, confrontational anthem, a howl against the establishment. Its snarling energy and defiant lyrics make it a staple of rebellion, wrapped in a bluesy swagger.
15. "People Are Strange," Strange Days, 1967
This song paints a vivid portrait of alienation and existential angst. With its carnival-like atmosphere and Krieger's distinctive guitar work, it's a Doors classic that takes you to the edge of weird and leaves you there.
---
You Might Like: Motley Crue's Most Rockin' Tracks
---
14. "The End," The Doors, 1967
A dark odyssey into the depths of Jim Morrison's mind, "The End" is an 11-minute epic that fuses poetry, myth, and rock. Its cinematic scope and haunting delivery make it a defining moment for the band.
An iconic interview Jim Morrison gave to Rolling Stone magazine might give you some insight into The End and its meaning.
13. "Love Her Madly," L.A. Woman, 1971
A breezy counterpoint to The Doors' heavier material, this track still manages to bring the moody complexity we expect from them. The playful organ and Morrison's wistful lyrics make it a staple of classic rock radio.
12. "Love Me Two Times," Strange Days, 1967
Sultry and blues-infused, "Love Me Two Times" is all about desire. The track's playful mood and memorable riffs make it a standout, proving The Doors were as adept at love songs as they were at darker themes.
11. "Break On Through (To the Other Side)," The Doors, 1967
The Doors' debut single serves as a manifesto for the band's psychedelic ambitions. It's a frenetic, relentless ride that symbolizes the cultural shifts of the late '60s.
10. "Touch Me," The Soft Parade, 1969
Venturing into orchestral territory, "Touch Me" showcases the band's versatility. It blends rock, pop, and a touch of big-band swing, making it one of the most commercially accessible tracks by The Doors.
I may have drunkenly serenaded a balcony full of holidaymakers with this tune one summer evening long ago, but that is definitely a story for another time.
---
You Might Like: 10 Bob Dylan Songs That Defined His Career
---
9. "Hello, I Love You," Waiting for the Sun, 1968
A pop hit that encapsulates the Doors' knack for turning simple phrases into enigmatic poetry. Its straightforward rhythm and catchy melody make it a crowd-pleaser, while still maintaining a sense of dark allure.
8. "Soul Kitchen," The Doors, 1967
One of the band's grittiest tunes, "Soul Kitchen" is a bluesy celebration of the joys and sorrows that come with love and life. It's a quintessential Doors jam, filled with smoky vocals and atmospheric organ lines.
7. "Riders on the Storm," L.A. Woman, 1971
A true tour de force that encapsulates The Doors' penchant for atmospheric storytelling. With its rolling thunder and cascading piano, the song feels like a noir film in audio form.
6. "Roadhouse Blues," Morrison Hotel, 1970
A bluesy number with a rock 'n' roll soul, "Roadhouse Blues" remains a go-to for anyone in need of an aural adrenaline rush. Its straightforward but potent message, "Keep your eyes on the road, your hands upon the wheel," has been a barroom mantra for decades.
---
You Might Like: Counting Down Led Zeppelins Best Songs
---
5. "Strange Days," Strange Days, 1967
From its haunting Moog intro to Morrison's eerie vocals, "Strange Days" is a psychedelic journey into the unknown. The song is a perfect microcosm of a world teetering on the edge of reality and illusion.
4. "When the Music's Over," Strange Days, 1967
An undulating epic that serves as an ode to the power of music. It's a complex, multifaceted track that moves from whispered verses to explosive choruses, encapsulating the full range of The Doors' artistic power.
3. "Light My Fire," The Doors, 1967
A song that captured the spirit of the '60s in its mix of rock and psychedelia, "Light My Fire" shot The Doors to superstardom. Its iconic organ riff and sultry lyrics make it an unforgettable classic.
2. "Moonlight Drive," Strange Days, 1967
This intoxicating track was actually one of the first songs Morrison sang to Krieger when they decided to form a band. It blends surreal lyricism with a bluesy, nocturnal vibe that makes it a standout in their catalog.
1. "L.A. Woman," L.A. Woman, 1971
Capturing the essence of Los Angeles in its lyrics and mood, "L.A. Woman" is a sprawling epic that shows The Doors at the peak of their powers. It's a blues-infused rock saga that serves as Morrison's love letter to a city as mesmerizing as it is menacing.
Final Thoughts On The Doors Best Songs
With tracks that shifted from the lively and energetic to the somber and introspective, The Doors' versatile musical inventory created not merely hits, but musical legacies that resonated across generations, epitomizing rebellion, love, and metaphysical curiosity in equal measure.
In "Waiting for the Sun," an album drenched in both lyrical and musical complexity (for an in-depth exploration, find our full review on 'Waiting for the Sun here), the band does more than perform: they invite listeners into a realm where poetic ambiguity and melodic certainty coalesce into an auditory experience that defies limitation.
Whether it be through Morrison's brooding poeticism or Manzarek's evocative keys, The Doors did not merely create music; they curated experiences, transforming tales of the mundane into mythological odysseys through their iconic, unparalleled soundscapes.
---
Read Next: Meet The Cyrus Family
---