In a post-MeToo world, we've had to reassess our relationship with the music of so many great bands due to the downright deviance of certain members, but one of the bands that no one could have guessed harbored a potentially problematic member is the mighty Megadeth.
Yet, in early 2021, some rather damning allegations surfaced about bassist and co-founder of the band, David Ellefson.
The story goes that he had been attempting to groom an underage fan, and these accusations were backed by leaked messages, photos, and footage.
"Disturbed" by these developments, Mustaine fired his friend of almost 40 years and recruited one-time Megadeth bassist James Lomenzo as a replacement.
Since then, Ellefson has had time to process his professional demise and reassess his relationship with the Megadeth frontman, and, not one to hold back in an interview, he told the folks over at the Cassius Morris show exactly how he feels about the whole debacle.
David Ellefson's Feelings On Dave Mustaine
Disregarding a few tiffs here and there, the two Daves have been virtually inseparable since they met way back in the early 80s, with Ellefson contributing to all of Megadeth's groundbreaking early work.
Thrash masterpieces, Peace Sells… but Who's Buying? (1986), Rust in Peace (1990), and Youthanasia (1994) are all littered with Ellefson's super-tight, riff-locked bass work.
Being that Ellefson played such a pivotal role in the meteoric rise of Megadeth, you'd assume he'd be at least a little salty after his dismissal, but he's actually surprisingly chill about it all, stating in the Cassius Morris interview, "I don't wish bad luck to anybody", and that:
"Relationships are never really fully done … especially one where you've had sort of a brotherhood and a professional [relationship] and friendship and all these other things."
He goes on to explain that being in a band is to form a confluence of different relationships, remarking,
If you're in a band, it's not like 'Dude, it's just business'.
You're creative, you're friendly, there's business — all those things are intertwined; it's all part of that", insinuating that when one aspect of the multifaceted relationship is severed, the others remain intact.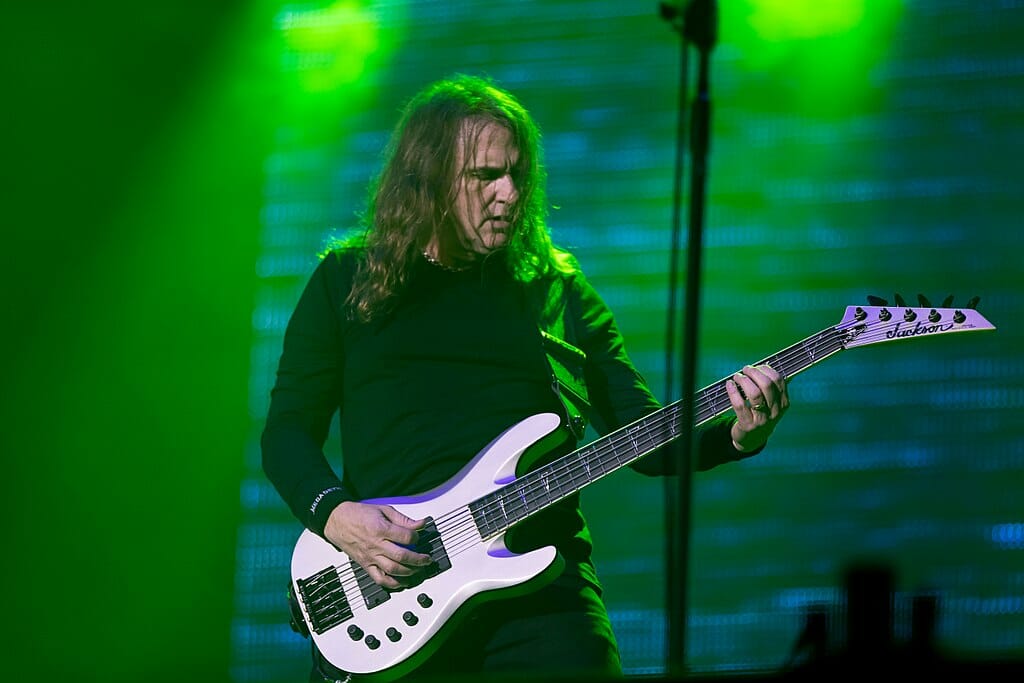 Doubling down on his positive attitude, he says that even though he and Mustaine aren't hanging out right now, he doesn't "wish anybody any ill will; I wish everybody the best.
I think that's one of the ways to sort of bless it — you give it your best and you give your best energy and not harbor grudges on anything."
Ellefson even expresses a lot of gratitude, saying,
Instead of being sad that it's over, be glad that it ever happened. We got to live the dream. We got to do something most people will never get to do.
Although this is clearly referring more to his Megadeth experience in general than it is to Mustaine.
---
RELATED: Have You Heard About Tatiana Shmailyuk Yet?
---
Does David Ellefson Think He'll Rejoin Megadeth?
While Ellefson never said outright that he believes he will rejoin Megadeth in the future, some of what was said during this interview does indicate he thinks it's a possibility.
For instance, he says, "So, if this is the sort of exit from that [working with Megadeth], or a timeout from it, whatever it is, let it be what it is."
Having said that, he's not banking on receiving an invitation from his old rusty-haired pal any time soon and is determined to keep on looking forward to the future instead back into the past…
[…] there's a reason the rearview mirror is very small in the car – 'cause you're not supposed to spend all your time looking at it.

Look through the big windshield up front. That's where your head is, that's where your hope is, that's where your future is, where everything is.

It's easy to micromanage stuff in the rearview mirror, but that's all meant to be behind you.
In a prior interview, Ellefson insinuated that, if given the opportunity, he'd likely rejoin the thrash metal institution that he helped build and that he wouldn't have left had he not been forced out the door…
"They did what they did — I don't think they had to do that. I asked them not to, but they did what they did. It's the path they chose."
However, he emphasized that he's made his peace with his dismissal, stating, "I don't have – believe it or not – people may find this hard to believe, but I don't have any ill will toward him [Dave Mustaine] or them [Kiko Loureiro (guitar), James LoMenzo (bass), Dirk Verbeuren (drums)]. I really don't."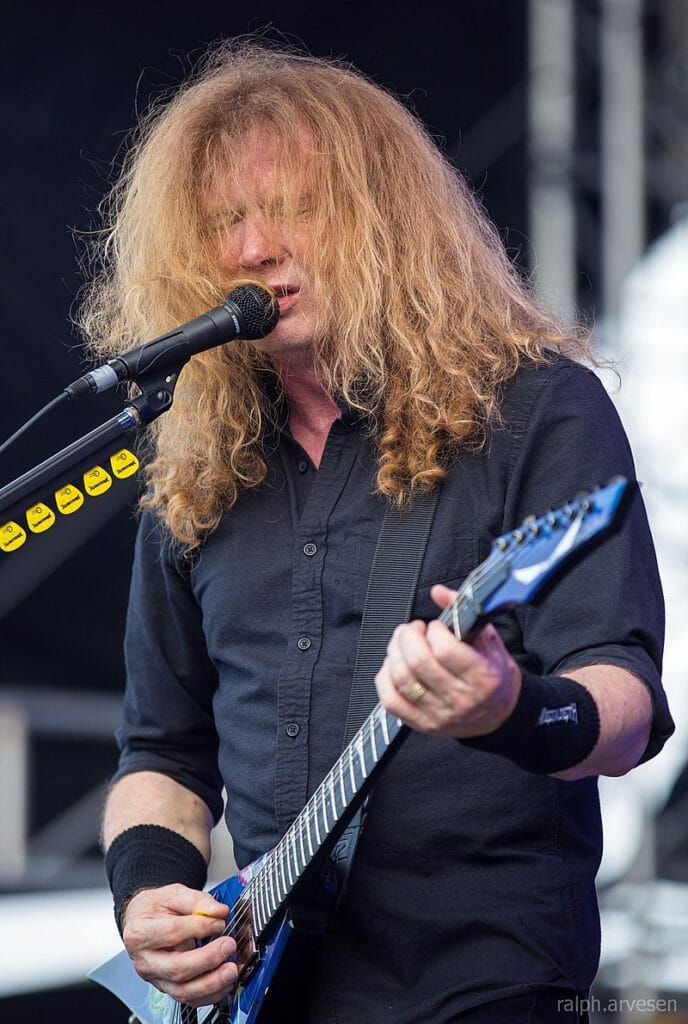 What Has David Ellefson Been Doing Since His Dismissal From Megadeth?
Showing his willingness to face the future, David Ellefson hasn't wasted any time since leaving Megadeth, joining new band The Lucid with vocalist Vinnie Dombroski (Sponge), drummer Mike Heller (Fear Factory), and guitarist Drew Fortier (Bang Tango).
The Lucid's self-titled debut album was released in 2021 on October 15th, but if you're a Megadeth head through and through, I'd advise that you refrain from listening to it… it will not be your cup of tea!
The Lucid's sound is a far cry from the thrash metal stylings of Ellefson's previous endeavors, but their song Hair does have a bit of grit, so that might be a good starting point if I've piqued your interest.
---
RELATED: Phil Anselmo Opens Up About Addiction
---
Is Ellefson Embittered When He Sees People Wearing Megadeth Shirts?
Although Ellefson seemed fairly ambivalent regarding a possible future with Mustaine and Megadeth, one thing he laid out in no uncertain terms is that, despite no longer being in the band he helped create, he's incredibly proud when he sees people wearing Megadeth shirts…
The good news is, look, our songs still get played everywhere. They get played on the radio. I hear 'em around. I see people wearing our t-shirts, and it's kind of, like, cool.

That's awesome. I'm proud to have been a part of all that.
Did David Ellefson Groom An Underage Fan?
While it's a fact that Ellefson was indeed sexting and sharing explicit photos and videos with a fan, it has been confirmed by investigating authorities that the woman in question was 19 years old when the exchange began.
What's more, the Dutch teenager confirmed it was in fact her that initiated the sexual relationship, stating "I was always a consenting adult … I'm not a victim and I have not been groomed in the slightest as I was the one to initiate it."
So, in the eyes of the law, Ellefson did nothing wrong; however, there are many that would argue that his advanced age and rock star status created a stark power imbalance between the two parties, which could be seen as problematic.
Plus, the mere fact Ellefson wasn't breaking the law is likely very little consolation to his wife of almost 30 years, Julie Foley, and, of course, their two children.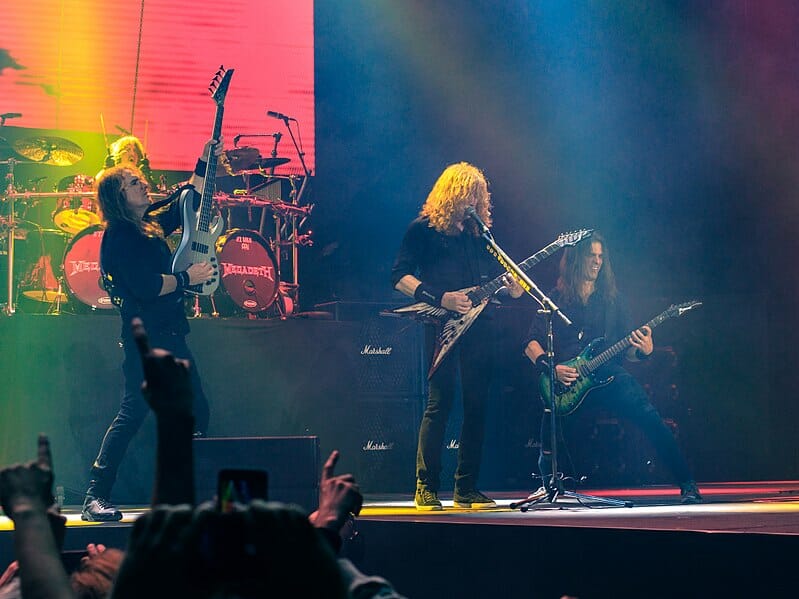 Has David Ellefson Had Any Prior Conflicts With Dave Mustaine?
The Megadeth nuts reading this will already be well aware that this isn't the first rift that's opened up between Ellefson and Mustaine.
In 2004, two years after Megadeth disbanded, Dave Mustaine released a solo project under the Megadeth moniker, which created some serious tension between the two.
Butting heads over the rights to the Megadeth name, the band's back catalog, and the division of royalties, the pair nearly met in court, but Ellefson's attempt to sue Mustaine for $18.5 million failed, with the case eventually being dismissed.
The feud spilled over into 2005 when Mustaine asserted that Ellefson was using the Megadeth name unfairly during a Peavey amp commercial, but after dining together later that year, the two buried the hatchet.
Being that both parties are devout Christians, they were, in a way, spiritually obliged to shake hands and let bygones be bygones.
Yet it wasn't until 2010 that Ellefson received an invitation to rejoin the Megadeth family, which he remained a part of until his 2021 dismissal.
Final Thoughts
Although it's clear Ellefson believes he was unduly dismissed from Megadeth, he presents a calm, forgiving demeanor in interviews, ensuring fans that there are no hard feelings and that there's always a chance that he and Mustaine will reconvene in the future.
Though the pair have their spats, they always seem to eventually come to the conclusion that, as Ellefson himself admits, Megadeth is stronger with them both in the band.
Hope you enjoyed this story, if you want to keep diving into the world of metal, check out our article on the life and death of Pantera's Dimebag Darrel Abbott.
To see David Ellefson talk about Dave Mustaine in an interview, be sure to watch the video below from Rock Feed.