The evocative portrait of Janis Joplin nude is elegantly compelling on both an emotional and artistic level.
"She was so naked on stage – and in a way perhaps even brave – that it was nearly impossible to avoid investing something of yourself in what in what she was doing." – Ben Edmonds, Creem Magazine, on Janis Joplin's live performances (1972).
Although only published after her death, Bob Seidemann's 1967 portrait of Janis Joplin nude earned him wide acclaim.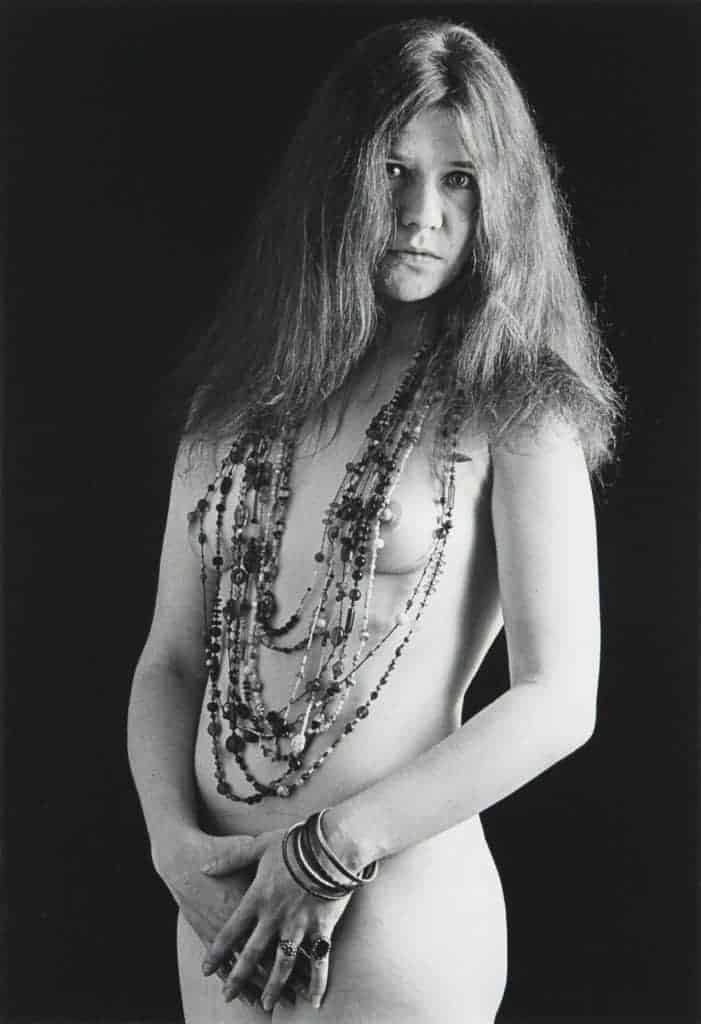 Janis Joplin Nude & In Her Element
In a preface to the book Rolling Stone, The Photographs, American author Tom Wolfe describes his reaction to the Janis Joplin nude photograph.
I am struck by Bob Seidemann's picture of Janis Joplin standing nude except for her beads, her fingers intertwined to form a cache-sex… Bob Seidemann's portrait, taken in 1967 although not published until 1972, is pure Haight-Ashbury: the Bay Area love beads, the Pre-Raphaelite hairdo and oddly earnest and unprovocative nudity itself."

Preface to the book Rolling Stone, the Photographs by Tom Wolfe
"Standing Nude"
The photo of Janis Joplin nude became her most iconic image when it was published in Rolling Stone Magazine after her death in 1972. The image captures a glimpse of hippie idealism during the late '60s and '70s. According to Seidemann, he'd wanted to shoot Joplin just topless, but she insisted on full nudity.
Asked to describe the scene in his studio the day Janis arrived to pose for the nude poster, Seidemann says that originally the plan was for her to be bare only from the waist up, except for a cape and some beads. He shot several rolls of black and white 35mm film of Janis with a nipple peeking through the beads. Quoting Seidemann, "After I'd gotten what I wanted that day," Janis said, Oh motherf****r! I want to take my f***ing clothes off. Janis, I said, don't take your f***ing clothes off! It was too late. Her pants were off and suddenly we were taking pictures. That's the way she was. She wanted to take her clothes off real bad."

Ellis Amburn book "Pearl"
1967 was also the year of Janis Joplin's breakthrough performance at the Monterey Pop Festival, where she was the lead singer of the then largely unheard of psychedelic rock band Big Brother and the Holding Company. Her performance at the festival launched her into global stardom, which I think contrasts perfectly with the intimacy of these portraits.
Although Bob Seidemann's portrait of Janis Joplin nude launched him into new heights for his career, sadly Janis Joplin's life headed in the opposite direction.
As Ben Edmonds of Creem Magazine questioned in 1972, "When they found her on the floor of a motel room, it just didn't make any sense. Here was a woman who carried with her all the power that music could possibly offer – a power that millions drew strength and life from – and it wasn't even strong enough to keep Janis Joplin breathing. Where does that leave us?"
Similar Stories…