If I were given a script with no sex or nudity, I'd be extremely disappointed.

Julie Strain
If you have ever read Heavy Metal magazine, a magazine that despite its name actually has nothing to do with the musical genre of heavy metal, chances are you have probably heard of, or seen photos of, Julie Strain.
Strain was the model who appeared regularly on the front cover of the magazine, laden with sci-fi makeup, and steampunk armo, paired with the class and elegance of an amazonian warrior princess.
Her place within film history is quite niche but is a really interesting case study not only for the emerging movement of proto feminism in science fiction and film generally but also for the particularly curious circumstances that led to her untimely death from dementia.
Her role in sci-fi history is cemented forever.
This is the story of Julie Strain.
Heavy Metal Modeling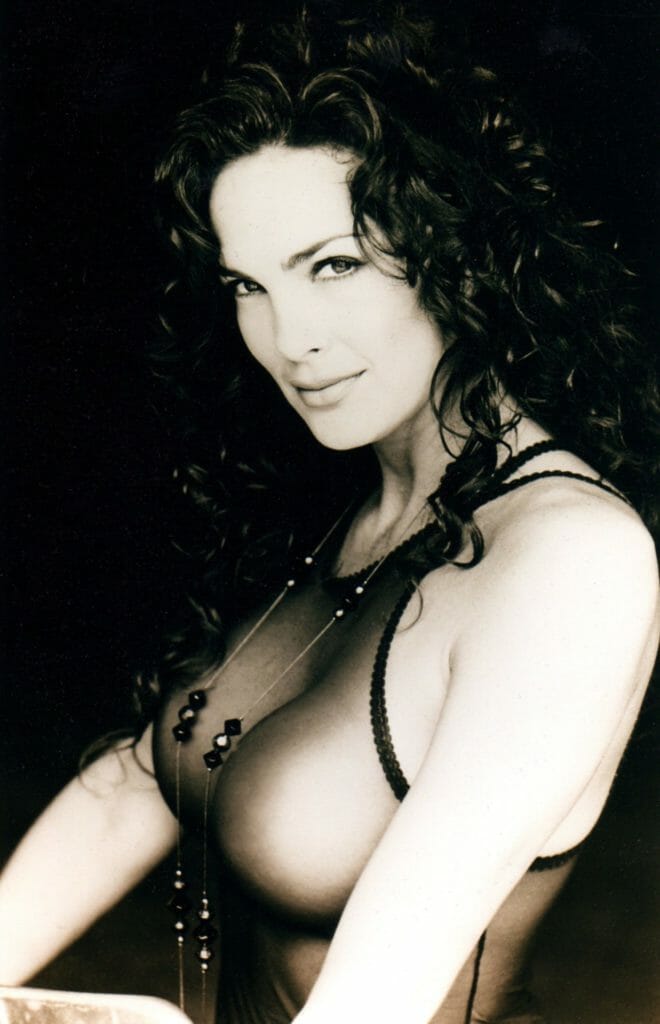 Twice crowned 'Pet of the Month' in Penthouse magazine in 1991 and 1993, Julie Strain was 6′ 1″, which made her an ideal choice to play the part of a sci-fi warrior princess. A role where she continually managed to combine sex appeal with the sci-fi theme.
Despite being the wife of Heavy Metal's publisher Kevin Eastman, her talents went deeper than her looks would suggest.
Building on her modeling career, she landed the role of 'Julie' in the animated film Heavy Metal 2000 which allowed her to exercise her voice acting skills and grow her reputation beyond her physical appearance. She was also the muse for the subsequent game Heavy Metal F.A.K.K 2.
The B-Grade Sci-Fi Queen
Julie was not only blessed with stunningly good looks but was also quite gifted athletically. The combination of her looks, a combination of looks, her physical prowess, and of course, her height meant that she was the ideal choice as the lead in many science fiction flicks on the small screen.
As Julie points out herself in a 1997 interview:
I am the chick that they call when they want a gun-toting Amazon bitch. Barbarella with a machine gun.

Vampires, witches, sorceresses and double agents. That's what I do.
Julie's physical prowess, insatiable confidence, as well as humor, and authenticity made her a fan favorite in the underbelly of the sci-fi world.
While actresses such as Sigourney Weaver were making their names in Hollywood with Alien and other high-budget sci-fi flicks, Julie dominated the world of B-grade sci-fi films, and was proud of it, embracing the often over-the-top take on the genre.
Julie easily made over 100 films in her 18-year career in the film industry, not to mention her countless soft-core porn appearances during the 1990s. Including her titular role as Judge Julie in Playboy's 'Sex Court'.
That doesn't count the buck naked line dancing videos, or naked golf or anything.

Fortunately I dont have to do those anymore to pay my rent.

Julie Strain
While she was not an artist or writer in the world of comics and sci-fi, her additions to the genre, as well as Heavy Metal Magazine itself, are immeasurable.
Many fans of the magazine and the wider sci-fi genre of this period would be able to recognize her face at a moment's notice.
In an obituary to the late Julie Strain, Heavy Metal wrote:
She was an essential part of Heavy Metal history and the Heavy Metal family.

We were fortunate to have her on the cover and within the pages of our magazine as often as we did.
The strangeness of the circumstances that shadowed Julie's death could easily be the subject of fiction themselves, and while they seem fabricated, the story is a true one.
An Unlucky Fall With Life-Changing Consequences
In 1997 Julie Strain published her tell-all autobiography, named 'Six Foot One and Worth The Climb.' In the book, she recounts a seriously pivotal moment in her life that seemingly no one in the industry knew about.
She documents how she fell off a horse in a riding accident in her early 20s. As a result of hitting her head, she developed a rare case of retrograde amnesia.
For Julie, this sadly meant that she lost almost all memory of her childhood.
Perhaps since she had lost her childhood memories, involving herself in the world of sci-fi was fulfilling a childlike fantasy that had become absent due to her unfortunate accident and resultant amnesia.
In November 2018, Julie's husband, Kevin Eastman, took to her personal Facebook page, hoping to communicate with her fans, and announced that Julie had been diagnosed with incurable dementia.
One thing he discussed, was how doctors had believed it was Julie's tragic fall in her 20s that likely caused the diagnosis of dementia.
Head injuries, no matter their severity or pain, can cause some serious complications down the line – our brains are fragile even if the ego they create is not.
Her husband did not reveal much about her state of being but implied that it wasn't good.
Julie continues to be funny and entertaining at times. Other times she is in complete confusion and requires medicine.

There are behavioral patterns, but they are not fixed patterns.

Kevin Eastman
A Misinformed Announcement About The Death Of Julie Strain
Shockingly, and mistakenly, Julie was announced dead on January 10 2020 by Malibu Bay Films, a studio she worked with regularly in her acting career.
However, the announcement was soon taken down after they realized they were wrong.
It seems someone was misinformed at the studio, as Julie was not dead at all. The incident shocked fans as well as her contemporaries, some of which had written obituaries on social media to their beloved friend.
Tragically, and somewhat ironically, Julie passed away almost exactly one year after this misinformed announcement, on the 10th of January 2021.
She indeed had died of dementia in a hospice while in the company of those who loved her.
Final Thoughts On The Unofficial Queen Of Sci-Fi
It seems that drama and the world of twisted fiction followed Strain throughout her life. No matter what she did she couldn't escape the theater of drama that surrounded much of her working life.
It even followed her to the grave with one final twist of fate as she died exactly one year after a totally misinformed report of her death. It's hard to deny the strangeness of these events.
Her amazonian figure was a huge influence on other proto-feminist symbols and imagery used throughout the sci-fi canon, and her contribution to the genre at large is sure to be remembered for years to come.
Before you go, check out this clip of Julie Strain in action. Doing what she loved, kicking ass, playing with big guns, and looking good while doing it.
Similar Stories That You Might Like