Shelley Fabares (also known as Michelle Ann Marie Fabares), is an American actress and singer. Fans of Shelley will remember her as the lovely Mary Stone from the classic Donna Reed Show, which aired in the late '50s and early '60s.
Later, fans will remember her as Christine Armstrong, the love interest of Hayden Fox on the American sitcom, Coach that aired from 1989 to 1997.
Few people may know that she also starred next to the King of Rock & Roll, Elvis Presley. Fabares starred opposite Elvis in movies like Spinout, Clambake, and Girl Happy.
As an artist-singer, Shelley Fabares made several recordings that proved her mettle in the music industry. Her rendition of "Johnny Angel," in 1962, reached No. 1 in the Billboard Hot Charts 100.
A performer who juggled multiple art forms, Shelley Fabares always strikes you as a distinct individual. Her career spans over five decades of acting, singing, experimentation, and creativity.
Shelley Fabares – Early Life
Shelley Fabares was born as Michelle Ann Marie Fabares in the beautiful beachfront city of Santa Monica, California.
Few people may be aware that she is the niece of the prolific American actress, Nanette Fabray (born Fabares), who was also an actress, singer, and accomplished dancer. It comes as no surprise that little Shelley would grow up with acting chops and music acumen given her heritage.
Fabares began acting as early as 3-years-old when she showed a knack for it and a love of tap dancing. By the early 50s, it had become clear that the young Shelley Fabares was meant for show business and performance.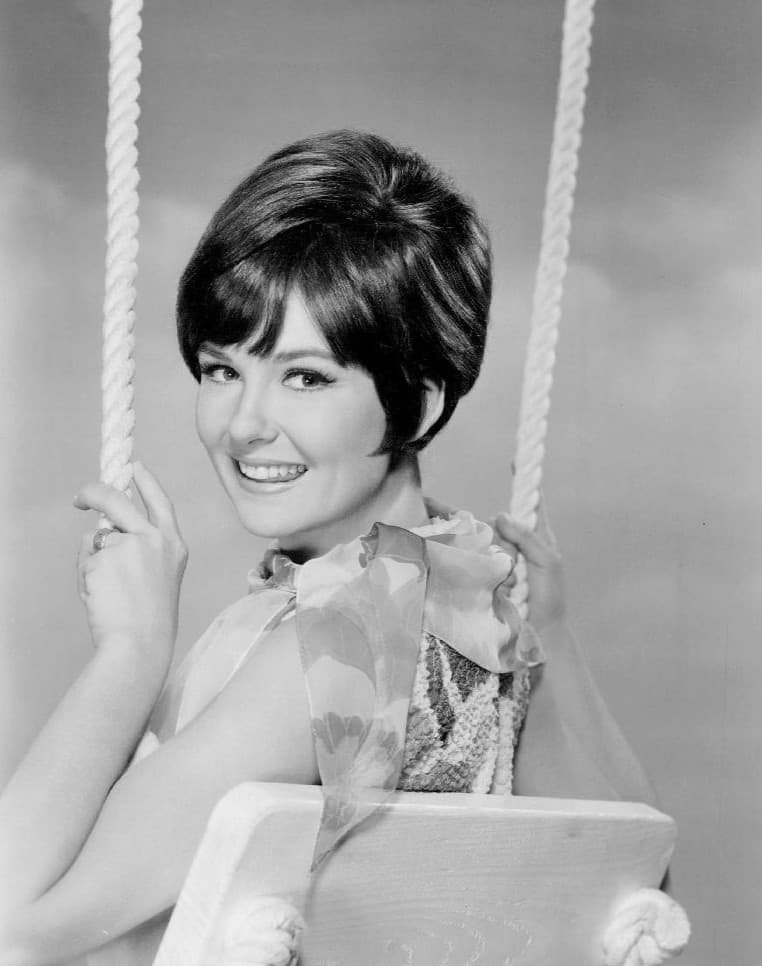 Shelley Fabares made her debut appearance on television in 1954 when she performed in the American mythical drama, Letters to Loretta (later named as The Loretta Young Show) at only 10-years-old. It would be the first of many television roles she would play as she grew up.
Her next appearance came in an anthology series called the Producer's Showcase. In this show, she appeared next to thriving stars like Frank Sinatra and Paul Newman. She also played the role of young Cathy in Wuthering Heights which was produced by Matinee Theatre.
Following her appearances in various television shows, Shelley Fabares gradually started playing small roles in feature films during the mid-50s.
She would have barely been 12 when she played roles in The Girl Rush (1955), Never Say Goodbye (1956), The Bad Seed, and Rock, Pretty Baby! (1956).
Fabares continued appearing in small roles in subsequent movies like Jeanne Eagels, Marjorie Morningstar, and Summer Love.
As well as recurring roles in Captain Midnight, Annie Oakley, and Fury. Fabares also appeared as a guest star on Mr. Novak, The Twilight Zone, and The Eleventh Hour.
By the late 1950s, the teenage Shelley Fabares had appeared in over a dozen films and television shows. These roles as a young teenager would culminate in one of America's favorite TV shows in the late 50s to mid-60s, The Donna Reed Show.
The Donna Reed Show
In 1958, the producers of The Donna Reed Show selected Shelley Fabares to play the role of the teenaged daughter, Mary Stone. The Donna Reed Show aired till 1966, capturing the hearts of millions of Americans with its easy-going and relatable plot.
In her role as Mary Stone, Fabares grew naturally into her character. It was here that she resonated with young girls all over the country, making her one of the first teenage-sensations in American sitcom history.
The success of The Donna Reed Show revolved around the charismatic personality of Donna Reed, who starred in the show and held the characters together.
Shelley Fabares later recounted that Donna Reed was a woman of exceptional integrity and kindness. Fabares credited her as being an extraordinary and compassionate woman.
Such a description could not be attributed to many of the sitcom stars who were popular at the time.
These words also showed that Shelley was an observant and intelligent young girl, even in her teens. Her ability to assess her surroundings and relate to the professionals was exemplary for a young actor. It showed that she had a discerning ability that was wise beyond her years.
Shelley Fabares Songs
With her rising popularity in the sitcom, Shelley Fabares received a recording contract from Colpix Records. Colpix Records was the first-ever recording brand of Columbia Pictures. The deal allowed Shelley to record a whole studio album.
The album was released simply as Shelley!' in 1962. It gained wide reception across the country partly due to her status as an established TV star.
The album included endearing songs such as, "Love Letters," and "True Love," but the most notable among her tracks was "Johnny Angel." Fabares first performed the song during the fourth season of The Donna Reed Show, which gave it more publicity than the other tracks.
It gained so much popularity that the US Hot 100 Hits placed "Johnny Angel" at No. 1 for a full two weeks. The song did better than a lot of other tracks recorded by mainstream musicians of the time.
The song was a hit across the Atlantic too, placing at No. 41 in the UK Singles Chart within a year. The track also peaked at No. 1 in Canada. The song was eventually awarded a 'Gold Disc' for selling more than a million copies since its release.
This popularity showed that Shelley Fabares was, by no means, just an actor, but a capable singer as well. Shelley Fabares, was, however, surprised by the great reception of her album because she did not consider herself a great singer. The hit charts would disagree with her.
Following the success of her first album, Shelley went on to record two more albums. The second album was titled, The Things We Did Last Summer. It was released in 1962, and the most notable hits from this album were Johnny Loves Me which reached No. 21 in the charts, and The Things We Did Last Summer which reached No. 41.
In 1963, Shelley Fabares recorded and released a third album titled Teenage Triangle. This third album was a joint project with James Darren and Paul Petersen. Both these singers were Shelley's co-stars in The Donna Reed Show.
The album was received well, reaching No. 41 on the US Billboard Charts. Two of the singles sung by Shelley made it to the US Top 40 Hits.
Continuing Film Career
By 1964, Shelley began bagging leading roles in movies like, Ride The Surf, which was a beach-party style movie that many critics acknowledged as superior to the genre.
In the same year, Shelley Fabares tied the knot with her first husband, Lou Adler. Adler was an established producer and recorder in the music industry. Sadly, Shelley and Lou would separate after just two years of marriage in 1966.
Shelley Fabares & Elvis
Shelley Fabares was Elvis Presley's leading lady in the musical romantic comedy, Girl Happy. The movie went on to secure fourth place in the Laurel Awards for best musical in 1965. Her role as Valerie Frank in the film set new standards for female leads in musicals at the time.
Fabares went on to star with Elvis in two more movies, Spinout, and Clambake in 1966 and 1967. These two roles portrayed Shelley as a leading lady and enabled her to showcase her singing prowess to a broader audience.
After starring in A Time To Sing in 1968, movie roles became few and far between for Shelley Fabares. As a result, she went back to several television projects that helped her continue her career in the industry.
Given her recognition in films alongside big names like Elvis Presley, Shelley Fabares had no trouble getting television roles. She continued with a string of guest appearances in running TV shows of the early 70s.
Audiences saw Shelley in shows like The Ghost and Mrs. Muir, Daniel Boone, Bracken's World, Lancer, Medical Centre, and The Interns.
Like many other big stars, Shelley also went through a phase of a slump in opportunities. She recounts how she suddenly finished a contract and had no other shows to join.
It was a dry spell of four years of no acting. Fortunately for her, Fabares bounced back with a role in the American detective series, Mannix, which was shot during the early and mid-70s.
After sporadic appearances on different TV shows, Shelley once again bagged a regular role on a sitcom, this time The Brian Keith Show. The show had her starring next to Brian Keith and aired from 1972 to 1974. With 47 episodes in the show, it gave Shelley a stable return to television.
By the late 70s, Fabares assumed roles in lesser-known shows that include Pleasure Cove, Friendships, Secrets and Lies, Donovan's Kid, and Gridlock. She also had a short but starring role in Highcliffe Manor, a gothic horror sitcom that began in 1979. Unfortunately for her, it only lasted for six months before ending.
In the late 1980s, Shelley Fabares secured a role on the ABC sitcom Coach, about the coach of an NCAA Division and his family's story. Her character would be the love interest and eventually the wife of Hayden Fox in the plot. Starting in 1989, the show ran for almost a decade, ending in 1997.
Fabares continued appearing in other television and films of the day. Some of these shows include Deadly Relations, Love or Money, The Great Mom Swap, and A Nightmare Come True. These television shows were the new breed of entertainment during the 90s TV resurgence.
Shelley Fabares proved to be a dynamic and adaptable actress, adapting throughout the different decades in her diverse roles.
Awards & Personal Life
For her work in the series Coach, Shelley Fabares was nominated twice for Primetime Emmy Awards. Although she didn't go on to win the award, it was a validation of her contribution to television.
The Young Artist Foundation also honored her with the prestigious 'Former Child-Star, Lifetime Achievement Award.' This award was given to her in 1994 for her endearing role as Mary Stone in The Donna Reed Show, almost 4 decades prior.
In 1984, Fabares married Mike Farrell, an actor, activist, and speaker, who is well-known for his appearance in the series MASH. Shelley assumed her new role as wife and stepmother to Mike Farrell's two children from his previous marriage.
In 2000, Shelley underwent a crucial surgery as she suffered from autoimmune hepatitis. The surgery was a liver-transplant operation that was declared successful. Prior to the surgery, she had lent her voice as Martha Kent in Superman: The Animated Series.
After her surgery, she resumed her role as the voices of characters in subsequent superhero animated shows. In 2003, she voiced the character of Martha Kent in Justice League, and once again in 2006 in Superman: Brainiac Attacks.
From a child star to an unassuming teenage sensation, Shelley never lost her golden touch when it came to delivering dynamic acting roles. Over the course of the 60s and 70s, Shelley Fabares lit the small screens in television boxes that entertained millions of viewers every day.
Throughout the 90s and in more recent times, Shelley Fabares has proved that her versatility can stand the test of the changing entertainment industry. In every context, Shelley Fabares continues to prove that she is a star performer of timeless elegance.
Similar Stories
Ursula Andress – The Epitome of Style & Sex Appeal