Even if you're a diehard rock fan (and since you're reading this, I think you just might be), I'm going to hazard a guess that you may never have heard of the former Disney star Taj Monroe Tallarico, who, despite his decidedly un-rock and roll beginnings, has a powerful link to the world of rock music.
As it happens, Taj Monroe Tallarico is the only son of the inimitable Aerosmith frontman, Mr. Steven Tyler.
However, there's more to Taj than his connection to rock royalty, so let's take a closer look at his life and exploits up until now.
Who Is Taj Monroe Tallarico?
Born January 31st of 1991, Taj is the only son of Steven Tyler and his ex-wife Teresa Tallarico (now Barrick), but despite the undying limelight in which his father lives his rock and roll life, Taj himself likes to keep things as low-key as possible, which is why you may not have heard of him.
He broke out into the public eye when he started landing roles in Disney movies, followed swiftly by a spot on the children's comedy sitcom, Lizzie McGuire in 2001. These days, he's focused more on a career in the music industry.
The Massachusetts native attended some of the premier Boston schools, receiving his high school diploma from one of the state capital's best, all whilst juggling a career as a child actor in various Disney productions.
What Does He Look Like?
Dude looks like a lady… just kidding, that's his father. If you look closely at Tallarico's features, you can see a lot of Steven Tyler in there — It's in the wide mouth and strong jawline, yet if you saw him in the street, you probably wouldn't notice the resemblance.
Unlike his father, he wears his brown hair quite short, sometimes tussled up with some products, giving him a pretty clean-cut style. He also has a fuller face, which is perhaps the biggest differentiator between the two.
Taj is 5'7", making him 3" shorter than his banshee-voiced father, and he's thought to weigh somewhere in the ballpark of 145 lbs.
Obviously a picture paints a thousand words, so here is Taj in all his glory alongside his partner Brittany Reardon.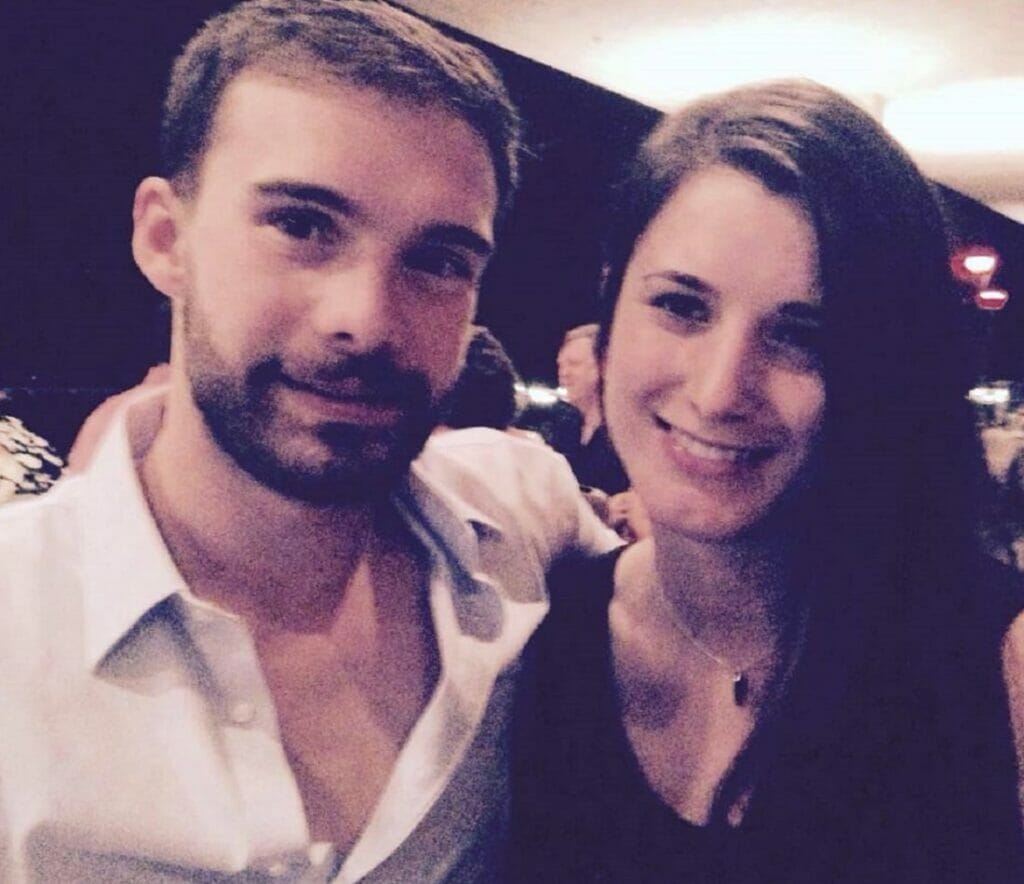 The Career Of Taj Monroe Tallarico
We've established that Taj showed some pretty sharp acting chops from a young age, landing his biggest roles in Lizzie McGuire (alongside his sister Chelsea).
But ultimately, he decided it wasn't the direction he wanted to take, choosing instead to follow in his father's footsteps, carving out a career in the music industry.
He's now best known as a singer, small business owner, and record producer. The finer points of his production catalog are kept pretty private, but it's thought that he's worked with some prominent artists along the way.
Steven Tyler & Teresa Barrick: Relationship Overview
Tyler married Teresa Barrick in Tulsa Oklahoma less than a year after divorcing Cyrinda Fox, the singer's first wife of 9 years. It was a small ceremony, and the proceedings remained relatively private, flying under the media radar.
The new couple had their first child, Chelsea, in 1988, and in 1991, Taj arrived on the scene too, but after 18 years of marriage, Tyler and Berrick decided to call it quits and filed for divorce, a motion that was finalized in January 2006 when Taj was just 15.
Teresa Barrick, Taj Monroe's Mother
Born March 26th, 1960, Teresa Barrick is a retired American fashion designer. She met Tyler in a Maui nightclub in the early 80s. Besides that, very little is known about her.
Not too long ago, a rumor circulated in the press that Barrick had passed on, but thankfully, this turned out to be nothing but a rumor that somehow gained traction online.
Despite the grim rumors surrounding her death, Teresa is very much alive, enjoying a life far detached from the limelight she found herself in after tying the knot with Tyler.
Does Taj Monroe Tallarico Have Any Siblings?
As you might expect, being the son of one of the most talented, successful, and, well – I'm just going to go ahead and say it – sexy rock and roll frontmen of all time, Taj has a few siblings, only one of which he is fully related to.
Both he and Chelsea Tyler are full siblings; while Liv and Mia are his half-sisters from Steven's relationship with model Bebe Buell and marriage to Cyrinda Foxe respectively.
Is Taj Monroe Tallarico Close To Chelsea Tyler?
Very little is known about Taj's familial relationships besides the one he shares with his father, but being that the two siblings are both singers involved with the music industry, it stands to reason that they'd share some common ground.
Is Taj Monroe Tallarico Close To Liv & Mia Tyler?
Again, the details of Taj's relationship with Liv and Mia are hazy to nonexistent, but there are plenty of photos that show the whole Tyler brood smiling and laughing together with their rock-star father, so I think it's safe to assume they're all civil with one another at the very least.
Is He Married?
On October 27th, 2018, Taj and his longtime partner, Brittany Reardon tied the knot in front of close friends and family during a modest ceremony.
The two met while Brittney was studying for a degree in Business Management at Bentley University in 2016.
Taj and Britney aren't parents yet, but they're still a very young couple, so who's to say what the future will bring?
Why Does Taj Use Tallarico Instead Of Tyler?
Taj is the only sibling to go by Tallarico instead of Tyler, the reasons for which are unsure, but we can imagine it makes up part of his efforts to distance himself from the limelight that follows his father.
Is Taj Close With His Father?
By all accounts, Taj and Steven are very close, as evidenced by Tyler's frequent posting of photos of the two having a blast together on red carpets, at parties, or just generally hanging out with a bunch of Tyler's rock star buddies.
Taj Monroe Tallarico's Net Worth
Considering his father's vast $150 million net worth, Taj could really phone it in and take life easy, but the 31-year-old has worked hard for his place in the music industry, securing for himself a net worth of $1 million.
Final Thoughts
There you have it — Taj Monroe Tallarico does his best to stay clear of the public eye, but inevitably, little tidbits of info slip through the cracks every now and again, and presented together as they are in this article, we get a spare, fleeting glimpse into his life.
Check out this video from Ossa to get some insight into Steven Tyler's children and their relationship with their father.
Taj Monroe Tallarico At A Glance
Name: Taj Monroe Tallarico
Place of Birth: Boston, Massachusetts
Parents: Steven Tyler & Teresa Barrick
Siblings: Liv Tyler, Mia Tyler, & Chelsea Tyler
Spouse: Brittany Tallarico
Net Worth: An estimated $1 million